This year was going to be an interesting Deer season for Birdee.  Her season was shortened this year and would be ending on Dec 5th due to a small surgery on her wrist.  That added pressure to the situation and feeling the need to tag out before then was building.
She was at it pretty much every night except for when I was out of town.
How her week played out…from her notes.
Monday I got home from work a little later than usual but still made it to the stand by 4:40.  I was busy doing my usual scan of the surrounding bush when I noticed movement straight ahead.  I can tell its a buck but not the one that has been hanging around, its a little 6.  I watch him walk into the tree's further, not even 5 minutes later the little 3 pointer comes from the opening to my right but doesn't come close enough for a shot.  He follows the other buck into the bush.  It's only 5 pm so I'm thinking lots of time they may come back, no luck 6:25 done for the night.
Tuesday is pretty much the same thing, get to the stand at 4:15, no sign of anything. Tomorrow is another day.
While at work on Wednesday I get a text from RJ, "yup, its a 6".  He had been out to the stand and checked the trailcam.  So now my mind starts wandering,  I cant pay attention at work and the texts keep coming in from RJ.  The buck has been hanging out around the cam and he was there at 7:30 that morning.
I get to the stand about 4:40, on the way out I pushed off a deer, unsure if it was a buck or doe cause all I saw was the white flag.  My buck two years ago was a similar scenario, where I had pushed him away and he came right back so I wasn't concerned.  I get in the stand and get set up and start the waiting game, the squirrel is doing his normal thing and the birds are squawking and carrying on.
I'm scanning and listening, at 5:20 I hear a different kind of sound to my right.  I lean forward a bit and look through the trees and I see legs and a belly. I wait a few minutes and out she came, a nice little doe.  She isn't my target but you never know who's lurking around with her.  I watch her for about 10 minutes and she keeps looking into the bush.  She is watching the buck walk towards her.  He approaches behind me from the left, he startled me somewhat with the direction he came from.
Needless to say I'm 100% ready with bow in hand already looking down the scope, waiting for him to come into view.  It didn't take long and he was broadside. To calm myself, I say to myself just before I pull the trigger is "here we go".  Squeezed the trigger and sent my bolt flying.
As he is running away I know I've made a great shot. I keep an eye on his direction and sit back and relax.  So I make my call to RJ and tell him he needs to pack it up on the water and get home.  Sorry to Tim and Grant who had to leave a hot bite, but thanks for coming to the ranch and sharing in my glory.
I called Phil, he is on his way and I call my uncle as well. My uncle and I team up while waiting for the rest of the crew and we practically walk right to the buck.
We got him hauled out, photo's taken and I actually field dressed  him myself with the walk through from my uncle and Phil, there was some pretty intense gagging and turning away to catch my breath but I never once lost my cookies.
2012 Season over!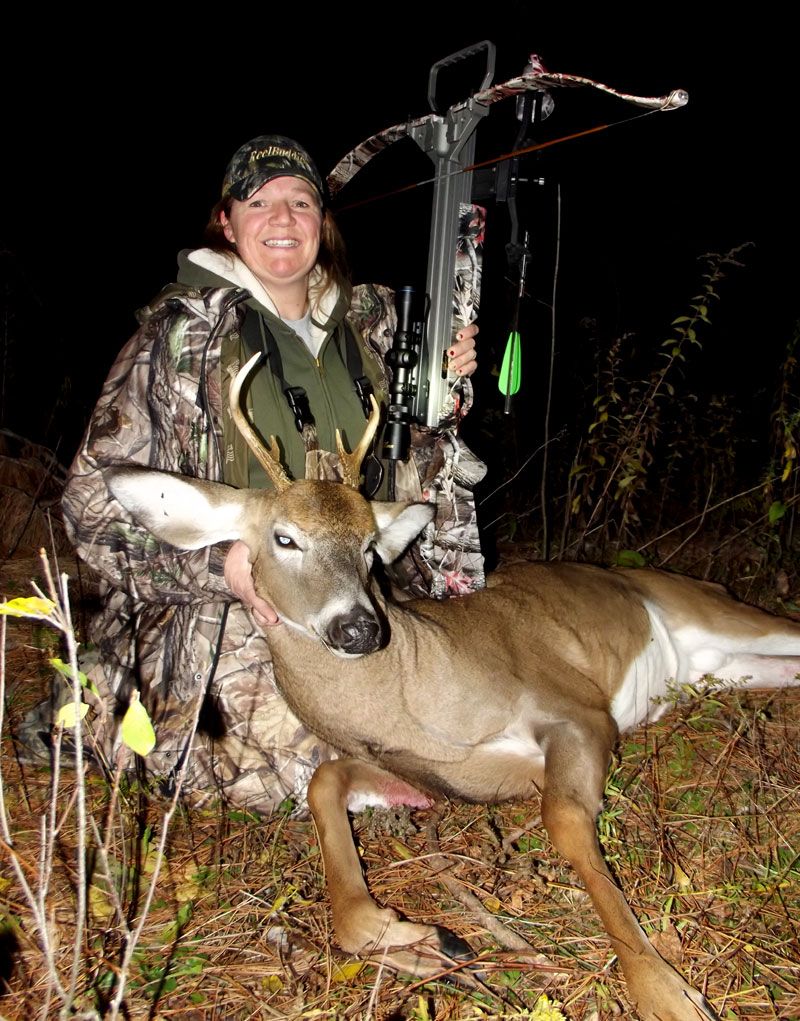 I would like to thank Shawn and Wayne from Bennett's Bait and Tackle for setting me up with the Excalibur Vixen. It's an awesome bow, I'm already looking forward to next year!