Sit down and grab a coffee, this one is a long one!
Birdee, like most hunters put in for the antlerless deer draw way back in the summertime.  She was not successful in obtaining a "doe tag" for this season.  We both knew this would present a but more of a challenge for her to fill a tag this year.
We did all the prep work for her site in the early Fall (as can be seen in prior entries).  October 1st came and she was hard at it.  Up until yesterday's fateful day she had sat in her stand for afternoon hunts a total of 16 times.  I sat with her in the stand one night but am a terrible hunter,  I just can't stay awake!  She's constantly poking me to wake up.  So I decided to stop sitting out with her, just no sense in me being in the way.
This past Tuesday night she sat out and had the button buck we've seen on the trailcam come out to visit her.  She sat quietly as he grazed 20 yards from her.  This did nothing but build her confidence.  He didn't sense her at all.  She loved it!  Without a antlerless tag she had to let him pass.
Thursday night we did some planning of the weekend.  I was to be away Friday steelheading so she was to be home alone.  She decided to sit both the morning and the afternoon.  The morning she went out in the drizzling rain and heavy frost.  No sign of anything.  Despite her efforts in the dirty weather she left discouraged.
That afternoon while driving home she had decided not to go out.  It was cold, rainy and nasty out.  Her mind changed completely when she watched a fellow hunter unloading his truck to head into the bush.  She thought "If he's going out, well I am too."
She suited up and started to make her way back to her stand.  There is a point in the bush where you can get a really good view of the clearing she hunts.  She always stops to see if anything is in the area.  Well today she walked up on our regular Buck visitor.  She froze.  He didn't spook off real quick just pushed back into the bushline.  She feared her hunt for the night was done.  She decided to keep on to her stand and settle in, hoping he'd return.
As she settled in she texted one of our hunting buddies.
4:45..(Birdee)…"If I push off a deer, will it come back?"
4:46..(Mossy)…"Maybe, sit quiet, what's the weather like?"
4:48…(Birdee)…"Rain and snow"
4:52..(Birdee)…"Got Him!"
Just like that, Birdee had her first Buck ever!  The Buck had simply slipped into the bush then spun around to head back into the area.  Birdee sent her bolt flying and had a perfect double lung shot.
As I was still out of the area on my way home from fishing Birdee called her cousin to give her a hand.  They found him fairly quickly and began the drag.  Birdee knew we wanted some great pics so the needed process was put on hold until I arrived to get the photos for her.
When I arrived Birdee and I did some celebrating!  High Fives and Hugs all around.  To see the excitement and the sense of accomplishment was worth every ounce of time and effort we put into her hunt.
Our buddy Phil had arrived to lend a hand and take in the excitement.  We setup for the photos then prepared the deer for the butcher.
Here he is, a nice big bodied 6 Pointer.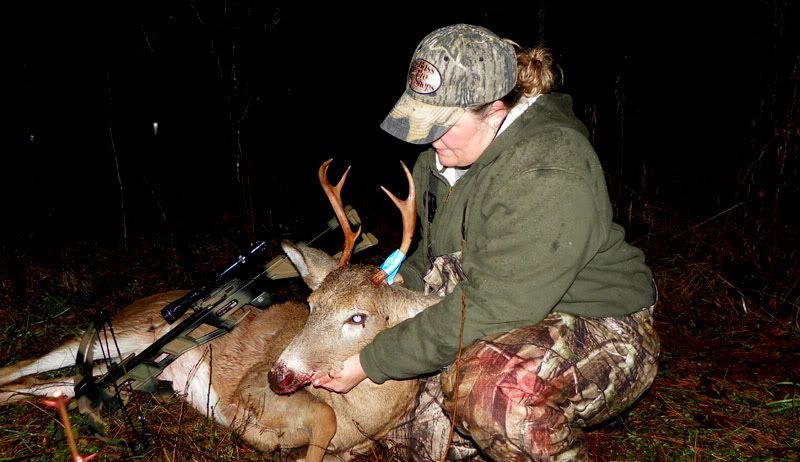 And the Glory Shot!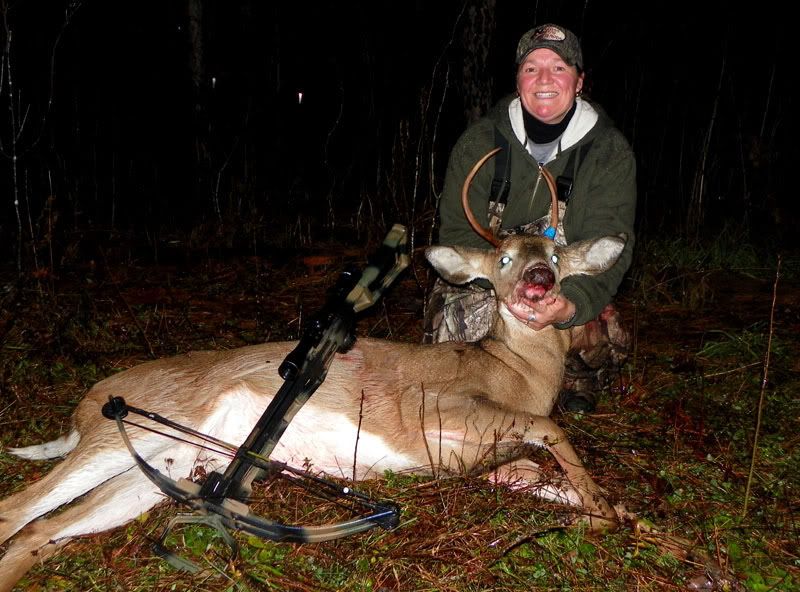 Before heading to the butcher this morning we made a trip out to Bennett's Bait and Tackle.  Shaun and Wayne have been a great source of information and support for Birdee since she began hunting.  Needless to say they were thrilled for her.  Huge thanks to them for all their help.
And so ends the 2010 hunting season for Birdee.  She's a happy girl!