Had the pleasure of guiding a father and son yesterday from Orangeville.  11 year old Kristian watches River Monsters religiously and loved the Gar show from the Trinity River in Texas.  Kristian read the OOD article on the Gar in Ontario and immediately started to bug his dad Carl if they could book a day on the Lund.
The day was booked way in advance.  Conditions are always hit and miss but we lucked out!
Everyone gets the same introduction to the Gar, the how, when and what to do once one is hooked.  Gave him the gameplan and it wasn't long before he was up on the front deck beside me.  Within 5 minutes we have a pair of fish in front of us.  First cast missed by about a foot wide.  Next was perfect and doesn't Kristian hook up.  I was floored.  It was awesome.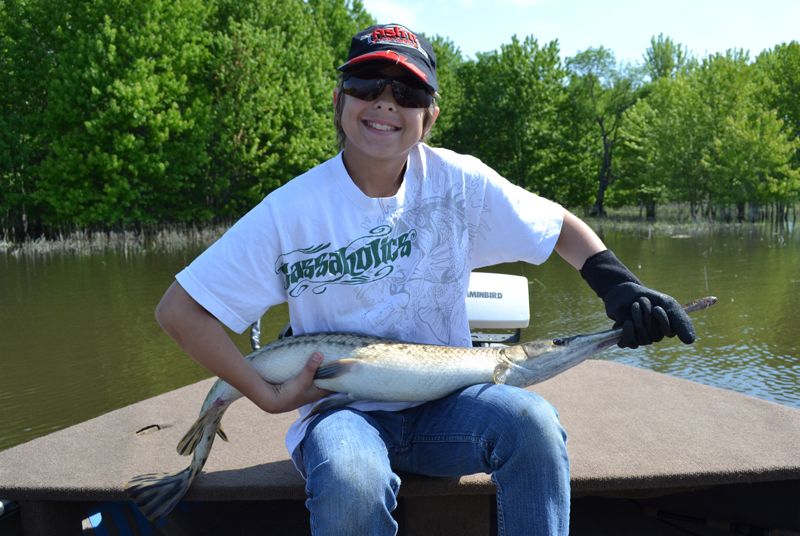 He threw the glove on and had that fish out of the net for his pic without instruction…most people just stand there wondering, concerned and sometimes scared.  Dad just sat back and loved it.
Fish number two…
Man it was a hot day, brutal heat.  His black hat was frying his head!  I said "Well young fella.  I'd say you've earned this cap."  I always have them on board for whoever catches the big fish of the day on trips.  The white trucker cap cooled off his noggin!
He landed another low 40 inch fish and turns to his Dad and says, "K Dad, you can catch one now" And doesn't he get a 50 incher…
That fish lit a fire under the young fella.  He wanted nothing to do with low 40 inch fish anymore.  "Let's find a biggun!" 47 incher.
Ended the day with his best at 48 inches…
It's days like this one that get tucked away in the old memory banks, both for Carl and Kristian, but myself as well.