Every year instead of a meaningless Fathers Day gift and Bday present I take RJ Sr. to Lake Ontario, we started this a few years back and it's just a great time to get away and do something we don't get to do alot.  This year I invited my Uncle Mike to join in on the fun!
And fun it was.
Launching out of Port Hope, it wasn't 15 minutes into our troll that a reel was screaming.  Mike was on it.  You can tell how long it took to get to the net!  It was dark when it hit and light when it made it to the boat!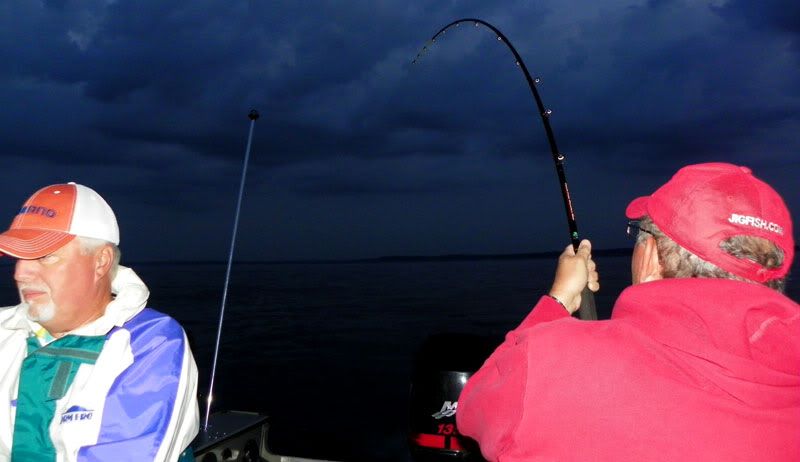 Good morning Mr. Chinook…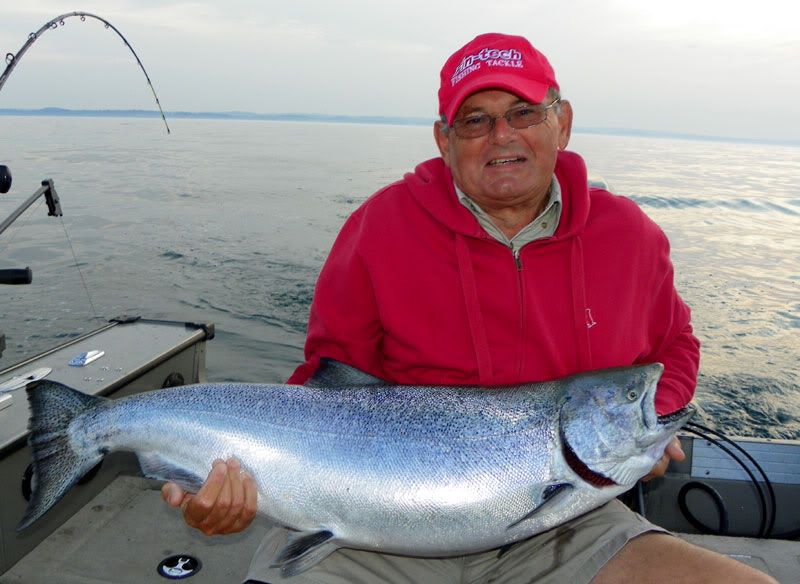 The rod rotation was an odd one.  Whoever was closest grabbed it.  We were so busy at times it didn't matter.  The steady flow of rainbows and smaller salmon kept us hopping.  We weren't 20 minutes without something firing!
RJ Sr. loved the show this Bow put on.  It had to have jumped 12 times.
Mike lucked into the rotation and landed his second mature 'Nook.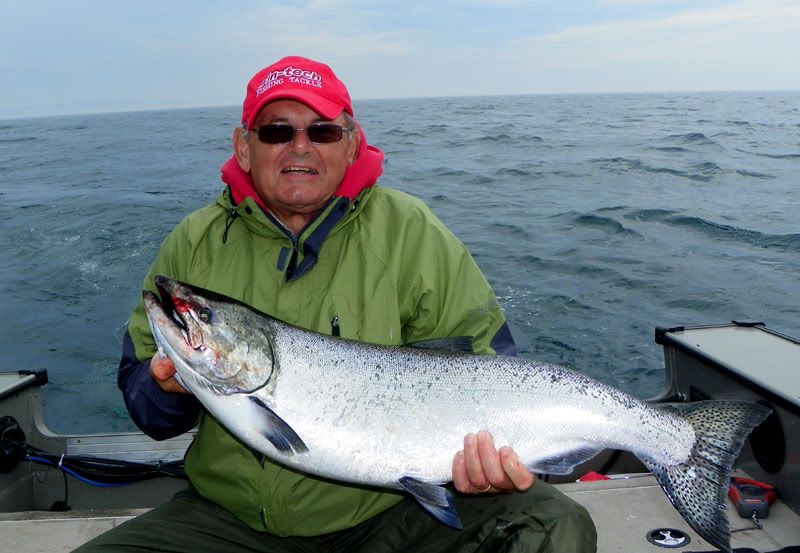 By noon we could see a huge storm headed our way.  We pulled lines and the Lund rocked its way back to shore.  We retreated to the hotel for a nap and decided we'd head back out at 5 if the weather had passed.  We were in luck!
We arrived to flatter seas and sun.  It didn't take long to have rods firing again.  We found a pocket of 47 degree water that just had the fish in it.
With two nice Nooks Mike was told it was back of the bus time!  RJ Sr. wanted some reel peel and it didn't take too long.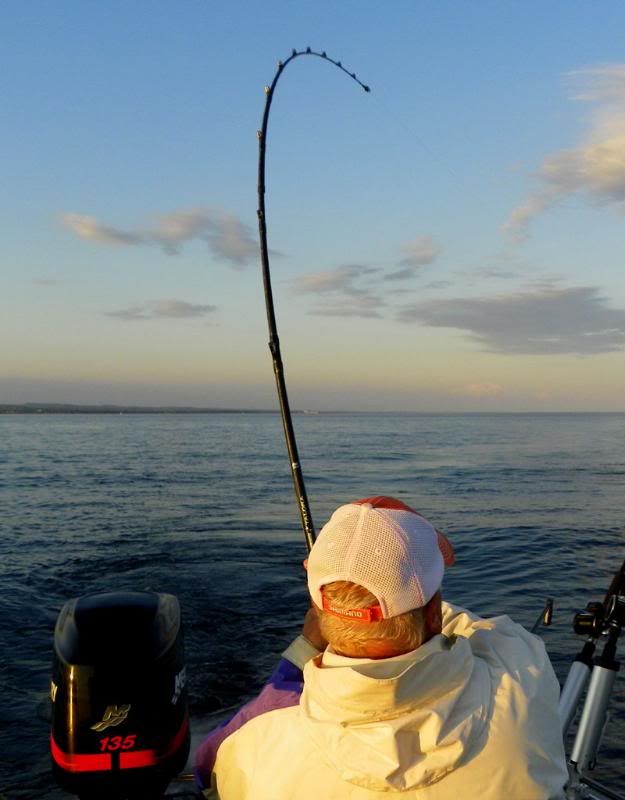 This was what he was waiting for!  A reel screamer that didn't stop until the Tekota line counter read 747 feet.  The battle was a long one but rewarding.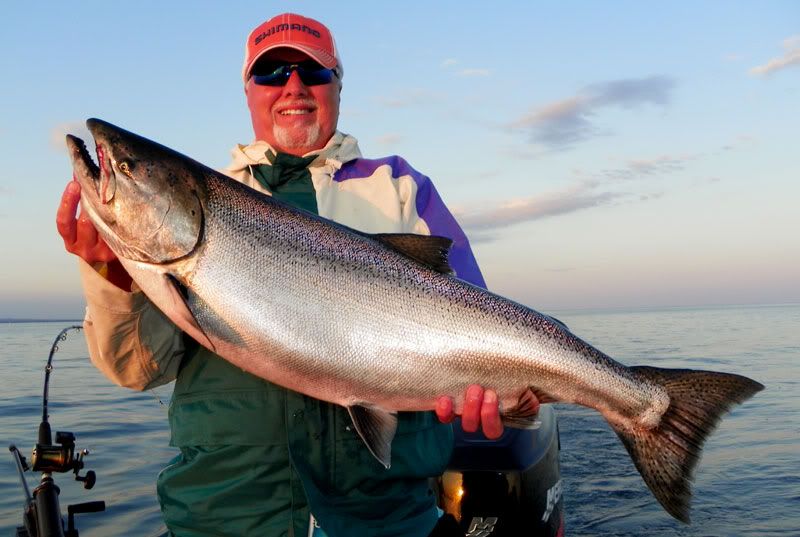 As darkness set I began to pull lines.  With only 2 rods left out a rod fired.  I was on it!  It peeled 400 feet of line on me in no time.  I had Sr. pull the other lines and throw the boat in neutral!  What a blast to fight this fish in the near dark!
After a quick late supper we crashed.
Up at 3:45 and on the water in the dark/fog/mist we made our way back out to our waypoints from the day before.  It wasn't long before rods were firing again.  Mike has a screamer battle him for at least 20 minutes that came unpegged 40 feet from the boat.  That started a tough stretch where I was left checking hooks!
We finally got some mojo back and started landing fish again.  RJ Sr. while hoping for more Kings handled this bow.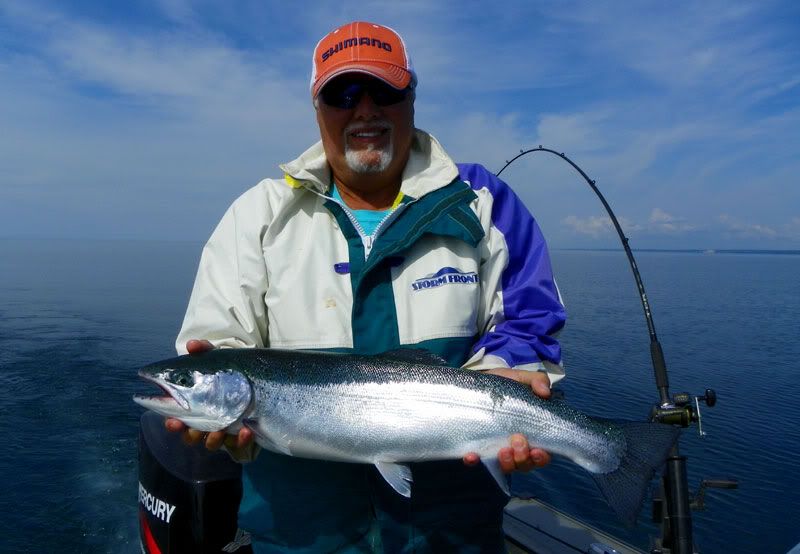 Note to self: Buy a net with a longer handle!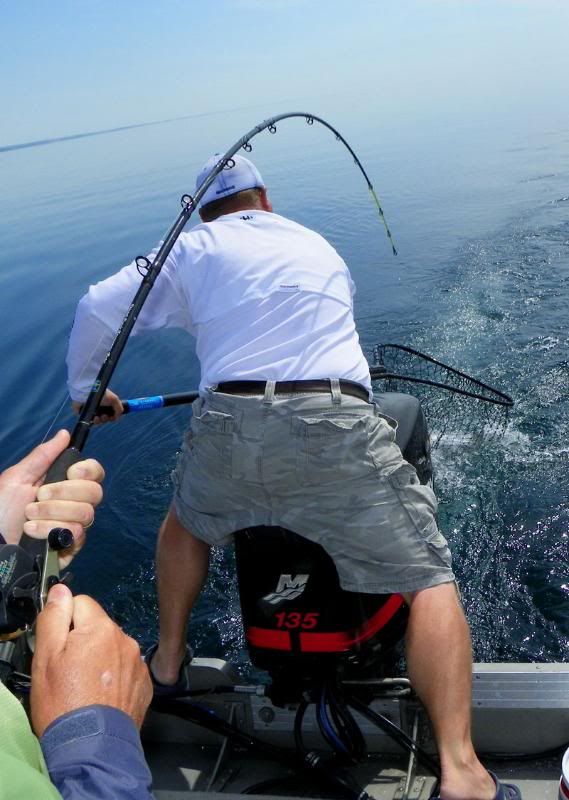 Our numbers over the 2 days of fishing were 40 for 47,  great numbers but we were a bit disappointed to not see more mature Kings in the area.
Our hottest setup accounting for about 75% of the hits was a 5 color lead core setup with a Michigan Stinger in the orange crush color.  The spoon and typical rainbow can be seen below.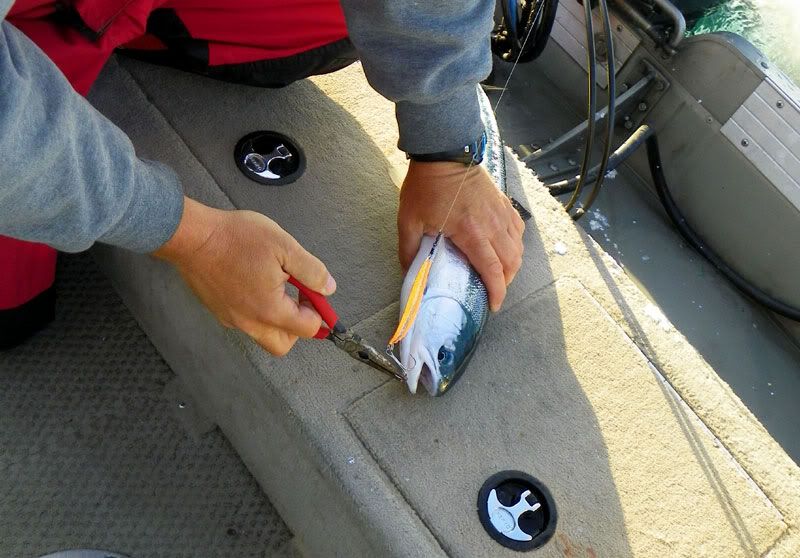 All our mature Salmon came on Spin Doctors and flies, running in the top 50 feet of the water coloumn.  They were run on both the riggers and the wire and braid dipsy setups.
I was thrilled with my rod holder track system I put on the Lund.  It worked fantastic and completely removes while doing other fishing.  Just an awesome setup!
The three of us had an absolute blast on the lake.  We pulled lines today at 11am and made our way home, thinking about next year already!