The Muskie….
Thursday I was invited by buddy Wally to join him and John Anderson on the Lower for Muskies.  Upon arriving at the dock I immediately saw the river was like chocolate milk.  My hopes werent high in even seeing a fish.
John worked his milkrun which featured some awesome water….what a treat to be guided for a change!
We made contact with 5 fish, I had a follow from a high 40 inch fish and John landed this 44 incher.
It was a pleasure to share a boat with John who knows the river like the back of his hand.  Plans are in place to do it again once the water clears a bit.  He can be reached at
http://www.ottawarivermuskyfactory.com/
The Smallie….
Saturday Birdee and I did Bassin 4 Bucks.  With a weather forecast from hell we weren't thrilled with what the day may bring but in the end it turned out to be ok after the morning rain let off.
We fished our butts off and landed nearly 30 keepers, mostly on cranks in 10-12 feet of water.  Fun way to fish and it kept us busy.  In this format it was tough as we had clone 2lb 13 oz fish all day which in this format won't cut it.
Birdee did pop what is likely her best Smallie at 3.44 that was later bumped by our buddy Phil…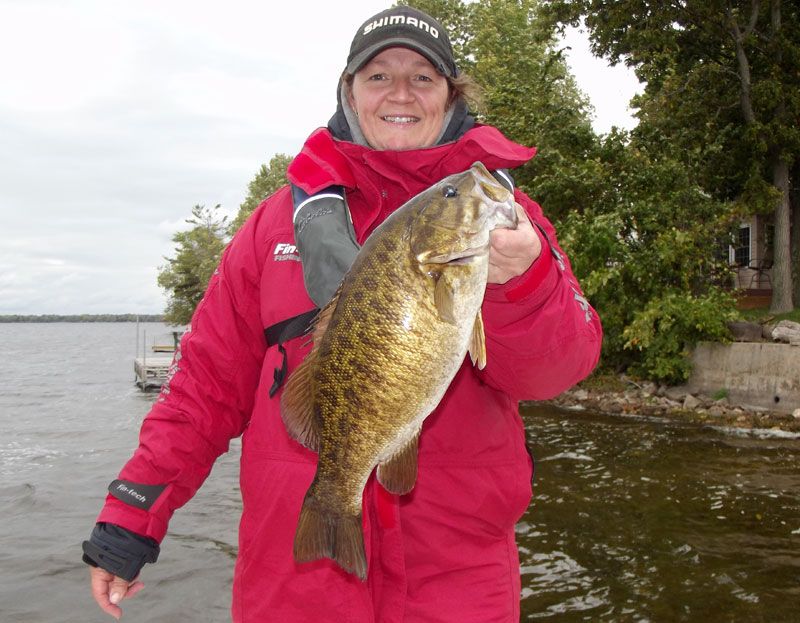 Great day we had, no money but it was an excuse for Birdee and I to spend a whole day fishing together something we haven't managed to do alot this year….
The MP…..
A few weeks ago I was asked by Tom Brooke (Shimano) if I could lend a hand.  When Mr. Brooke calls you answer.  This man has done so much for the industry and fishing in general it's unreal.
The Outdoors Caucus is a group that has been formed with various players in the Outdoors world.  Ducks Unlimited, various hunting outfits as well as Shimano are all involved.  It is their way to have our voices heard at all levels on gov't but mostly federally.
The Caucus decided to put this day together to host MPs aboard boats for a few hours fishing then a BBQ.  A well oiled machine this day was and an honor to be a part of.  I hosted MP Cathy McLeod from BC and her husband Gord.  Two great people that were obviously thrilled just to be on the water.
I decided because the river is a mess to simply bottom fish for whatever bit and they'd be happy.  It paid off with a few walleye for them, I never wet a line myself.
I'm not a politics guy myself at all.  I just don't get involved or interested for that matter.  It was a treat to have her being an MP aboard the Lund and asking me so many questions about everything that she seemed generally interested about me, our side project and the fishing industry as a whole.
Photo to remember the day…