Last week my ol buddy Phil expressed some interest in heading to the Niagara region for some Steelhead and Brown Trout drifting.  With not many options locally other than heading to Bay of Quinte to join the masses I decided to jump at it for possibly one last open water trip in 2010.
While Phil had secured his ride for the day I dropped an email to a buddy of mine who certainly knows the Niagara River.  Having guided on the river for years and fished it his whole life, my ace in the hole for the trip was joining Aaron Shirley in his Lund.
When we dropped the boats in Aaron let me know the conditions were way worse than he had hoped, water clarity was terrible.  With my limited experience on the river (9 days total) even I could tell it was dirty and terrible visibility.  Aaron made the call to check out the Bar first.  The Niagara Bar is the area where the river dumps into Lake Ontario.  With Lake Trout opening on December 1st I was game for that!  We made the run down to be greeted by some nastiness.  Rolling 5 and 6 foot waves crashing into the fast flowing current of the river made it unfishable.
We ran back into the river and began to fish some some of the popular drifts.  It wasn't too long before Aaron had our first fish into the net.  Now I just love Brown Trout!  To me they are the coolest looking fish around when they start to show their spawning colours.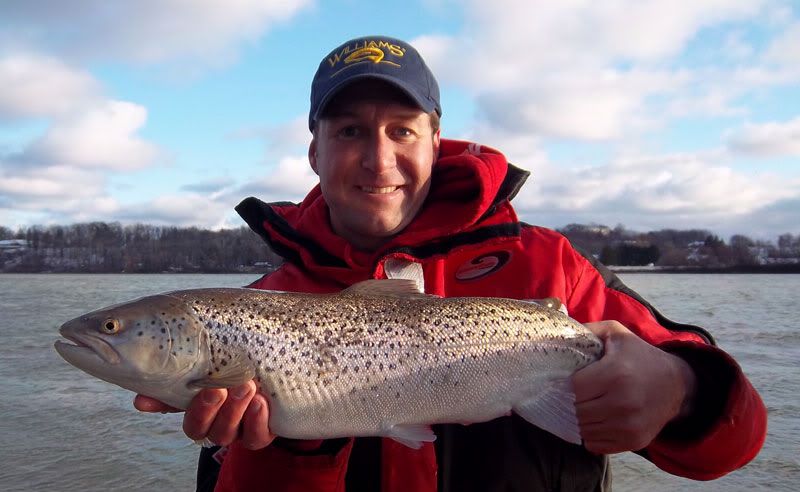 Aaron preceded to hit the next one as well, another Brown.  At this point as happy as I was to see some fish I started to think I may be about to get schooled for the day!  Then a I popped off a few.  Phew!
A Brown and a Steelhead.
We left that drift having landed 4 Browns and that one Steelhead all on roe in pink and white bags.
Aaron decide to run up above the dams to some clearer water.  In all my trips to Niagara I had never been up there.  If you ever want to question the power of water go for a boat ride up there, WOW.  Here's the view running up.  It is just such a cool place to fish.  GIANT dams with fast flowing water from them is just something we never see around here.
Shortly after we arrived Birdee texted me asking me how it was going.  I quickly filled her in telling her I needed to catch a laker to do the Niagara Grand Slam.  I literally hit "send" and my rod buckled.  This was no Brown or Steelie, the giant headshakes had me pumped right up!
Bingo! and a nice one!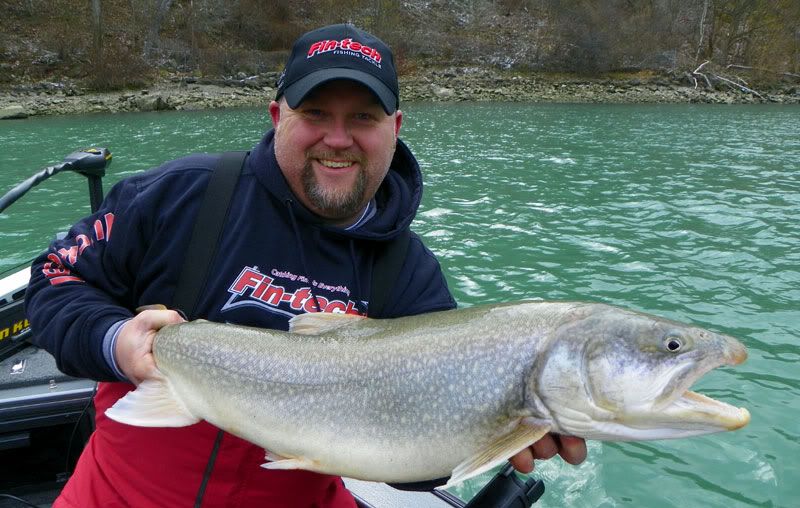 Ten minutes after I had texted Birdee she received another text.  "Grand Slam".  What a day I'm thinking to myself.  Fighting these fish on a 7'6″ Crucial with 10 pound test is a riot!
Aaron set the hook into a goodun awhile later.
This fish had Aaron circle the boat completely twice!  Once we caught a glimpse we found out why.  Big Steelhead.  What a beauty!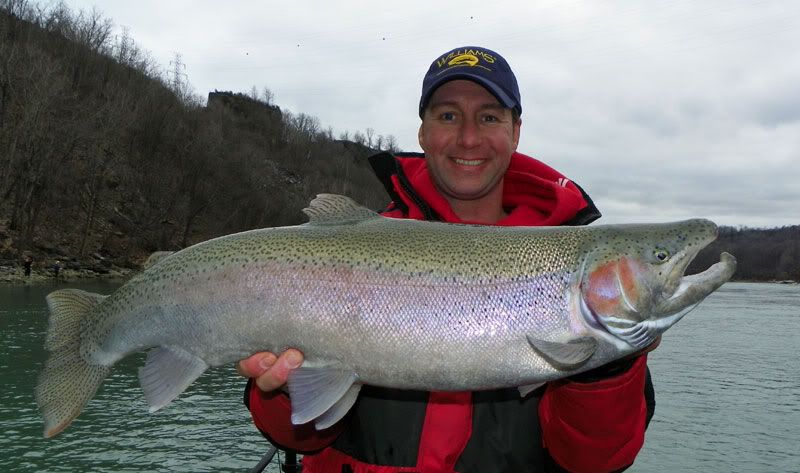 It wasn't too long after that when Aaron set into another, and completed his Slam!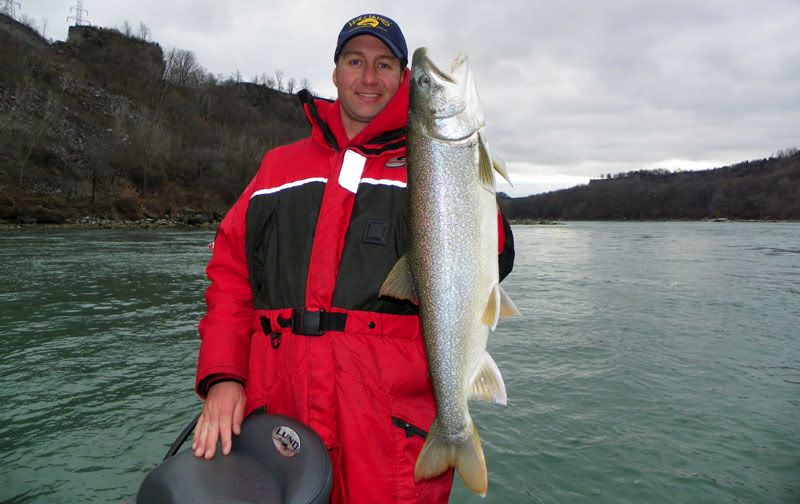 For a day that we both wondered how it would turn out with the conditions we managed to have 15 fish on and land 11 of them.  I lost two steelhead myself that will keep me yearning for more Niagara River action ASAP.
Huge thanks to Aaron for having me on board today.  I learned more about the river today than I had in all my previous trips combined.  Thanks a ton dude.
And so ends my 2010 open water season I believe, what a way to go out with a bang.