This past Saturday was Baitcasters 10th Annual Bassin 4 Bucks tournament on Mississippi Lake.  Birdee has always wanted to team up to fish this one but with the format being what it is I felt we didn't have the boat to be running around as much as you need to in this format.  With the Lund, we now have the means to fly around the lake.  We plopped down our entry fee and decided to give it a go!
The format is pretty simple.  $500 for Big Bass every hour and $100 for second Big Bass every hour.
The Saturday before we slid out for an afternoon pre-fish.  I've been playing around with the Smallies on the lake for the last month with some success so we looked for them that day.  Though Largies win most of the hours in the event I felt a Smallie could easily hop up and steal some of the loot.
The Smallies were around…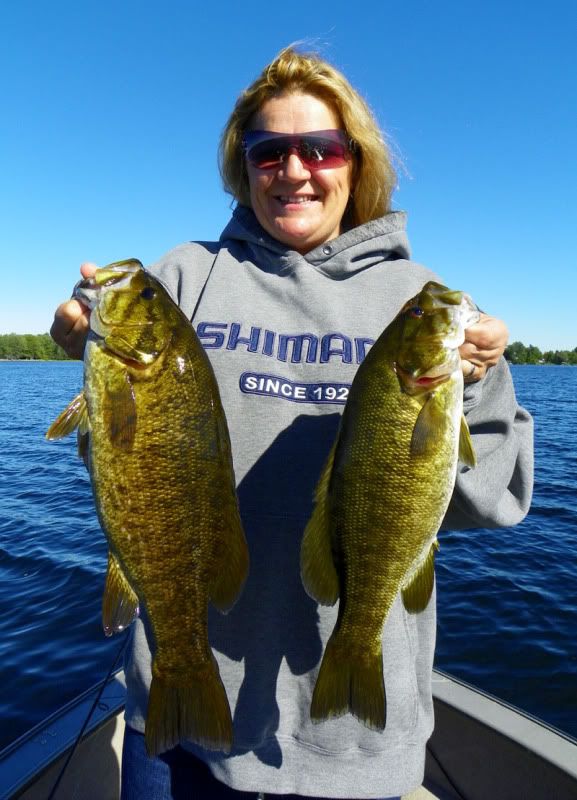 Birdee and I sat out in the boat the evening before the event and just prepped gear and chatted.  No pressure, just go fishin' and have some fun!
The temps morning of were about 3 degrees when we woke up….but we were ready.
Blastoff came and we ran to our first spot.  On the 4th cast I had a very solid pick-up on a Senko.  The fish swam at me and I never did catch up to it to get a great hookset on it.  When I did catch up I felt solid weight then nothing.  Ugh.
It took us a bit to get a decent fish in the well and when we did it was just under 3 pounds.  Traditionally you need a 3 pounder to get into the money for any hour.  We decided to get rid of the fish we had and run it back to be weighed in.  It was later bumped by .004 of a pound to knock us out for second fish of the hour.  Ugh again!
I had a real rough day out there, I lost a pile of good fish.  It was starting to get to me!  I still have no idea what was going on, just one of those days I guess.  Birdee was flawless with landing her fish all day.
Again we had the dreaded just under 3 pound fish on board but we decided to wait this one out.  Birdee later bettered it with a nice Smallie.
We weighed it in for the final hour of the day and it fell just short for second big fish of the hour, so no cash for us!  Ah well.
All in all we had a great day on the water landing nearly 30 Smallies and Largies, just couldn't get that one big bite to get paid.  We still had a blast and we are looking forward to next year already!