One the best perks of being accredited media for the Bassmaster Classic was being able to request to be a Media Marshal.  What does a Media Marshal do?  They ride along with the competitors in their boats for the day.  We are responsible for a couple of things.
BassTrakk is followed by tens of thousands of people online as they watch their favorite anglers at home or work.  Marshals are responsible for entering the weights of the fish caught by the anglers into the BassTrakk app that in turn go up online.
We are also there to keep an eye on any rules infractions throughout the day.  The notes I was sent was an extensive list of things that may happen and how to handle/report it.  The two anglers I drew were great and this was never an issue.
The number 1 rule for all Marshals is that we CANNOT help the anglers in any way.  No passing rods to them, no lifting the live well door etc.  Nothing.
I arrived at the dock at 6:15 to see my first days ride.  Casey Ashley, the defending Bassmaster Classic Champ.  He is boat 2 right behind Angler of the Year Aaron Martens.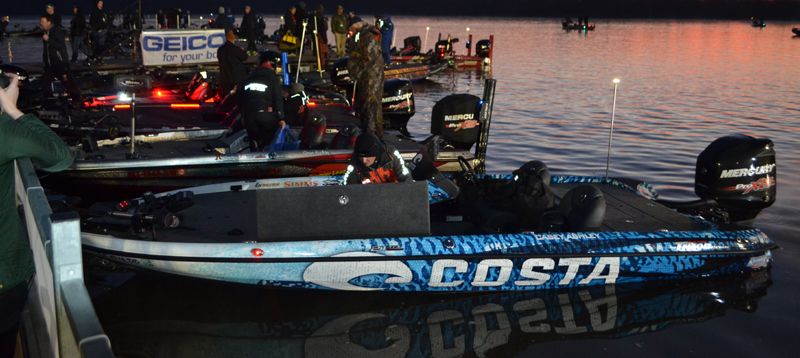 After a quick interview for the thousands of fans on shore with Dave Mercer I climbed aboard the Costa Triton.
The crowd on shore was crazy.  Imagine, this is for blastoff.
Casey is a good ol' country boy is about the best I can describe him.  Very welcoming and way more chatty than I expected during the Bassmaster Classic of all things.  He explained what he was doing and why often.
Like most, his practice was tougher than he hoped and despite finding some fish in practice he knew he was really just gonna go fishing and see how it turned out.
Readying for take off.
As boat 2 we were suddenly ripping across Grand Lake at 70 MPH plus.  He setup at the mouth of a cove and went to work.  The first thing I noticed was water color, very muddy.
He started with a jerkbait but quickly gave way to a crank.  Casting it as close to the bank/bluff walls as possible and working it back.  I was amazed by where he was throwing the crank, really tight to cover.  Most of the cover is wood that has been moved around Grand from the flood in December.  I'd wager he was snagged in something at least 75 times on the day.  Only once did he ever break off.  He was able to free his bait most times in under 5 seconds using the snap-bow the line method, very impressive to see that.  "I got lots of practice at that" with a chuckle he said.
Moving to a bluff wall he was hooked up on his 5th cast.  If I wasn't watching I'd have never known.  Not a peep out of him!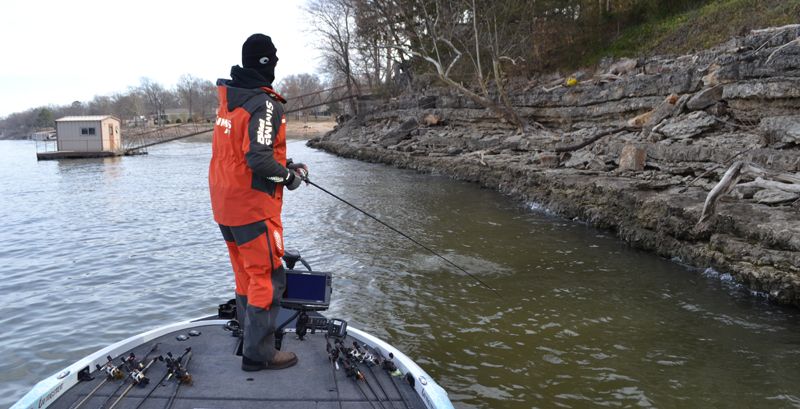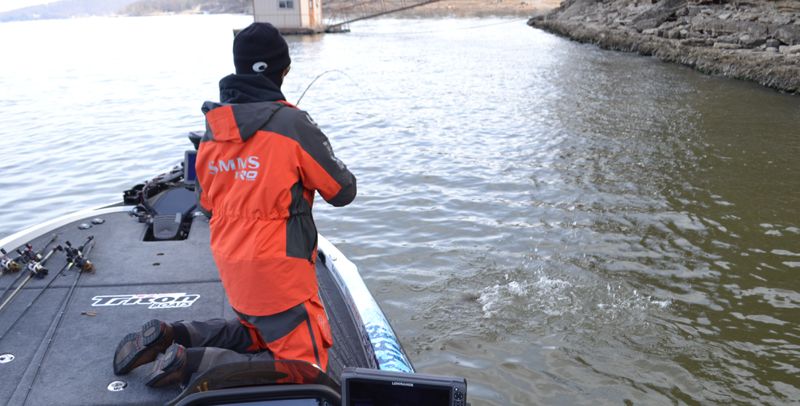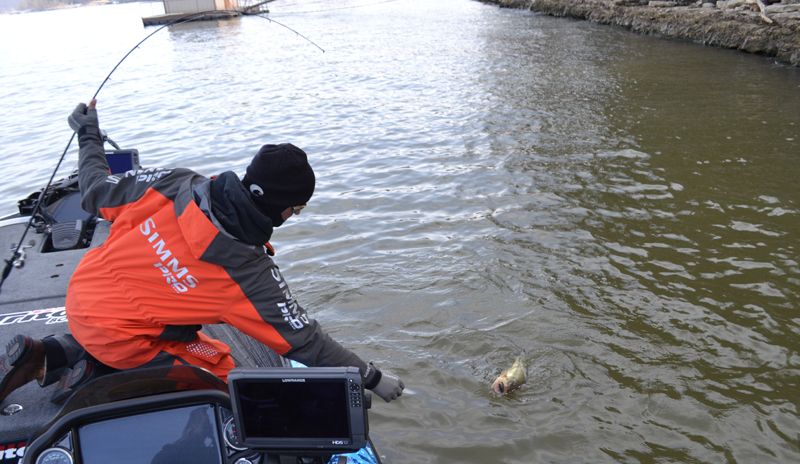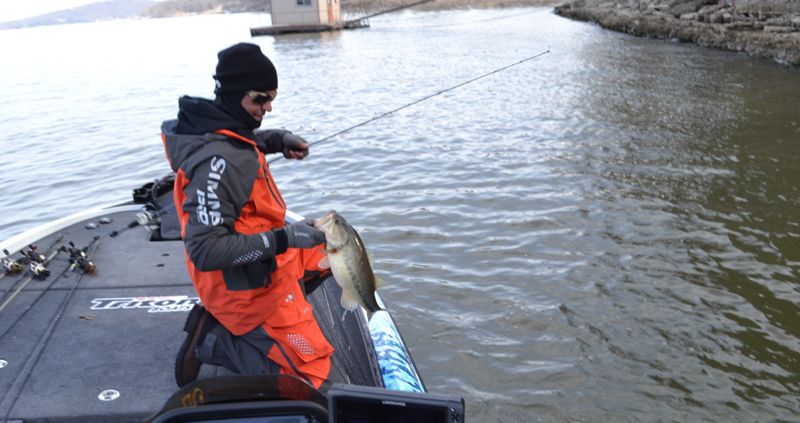 I remarked to him how calm and quiet he was, "Gotta be, no choice".  3 lber put into BassTrakk.
He plucked down this same bluff and picked up a couple more for the well.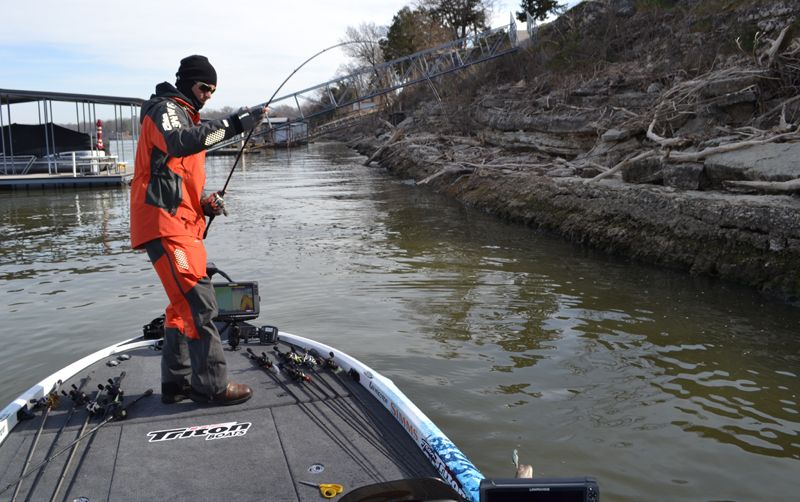 All bites came right off the edge of the bluff wall.  He would cast it as far as he could down the bluff and peel it back.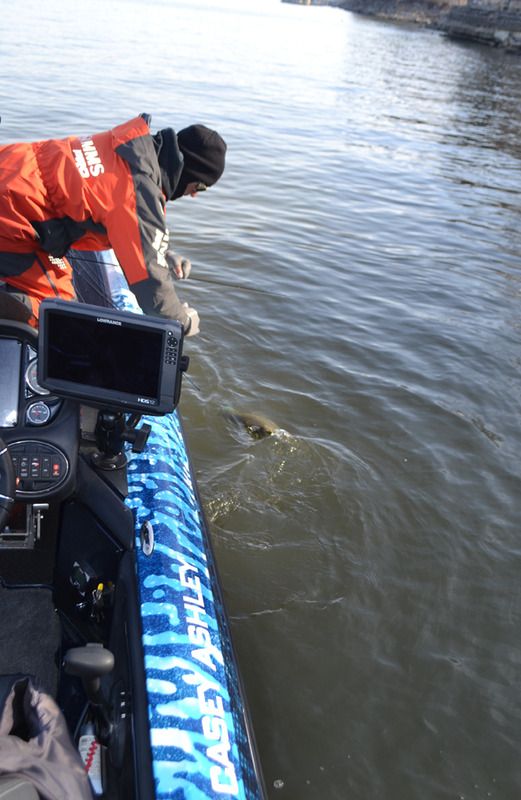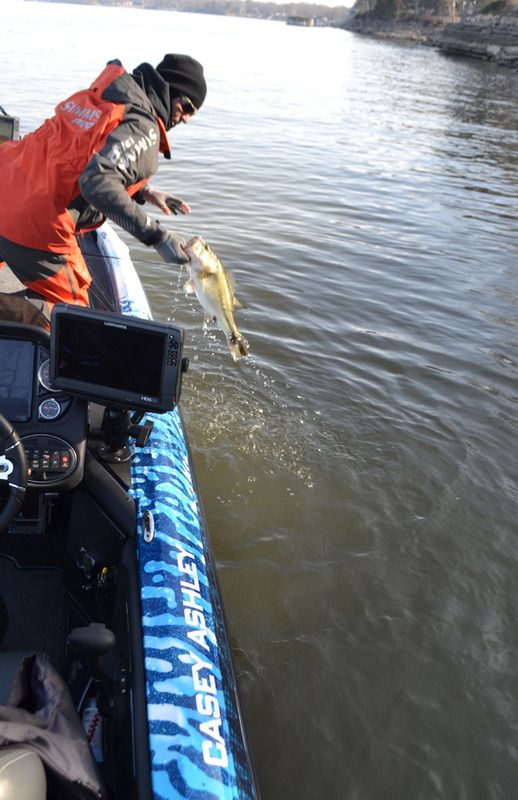 What quickly became apparent to me was Casey's casting skills are off the charts good.  I like to think I can cast and flip well, this fella would make me look like a 12 year old.  He was casting that crank over and under the cables that attach every floating dock on Grand Lake with accuracy that had to be seen to be believed.  When the jig came out he hit every target including those 6 inch openings between every floating dock.  He made 2 poor casts all day.  So efficient and impressive.
Had to duck a few times as we went through here!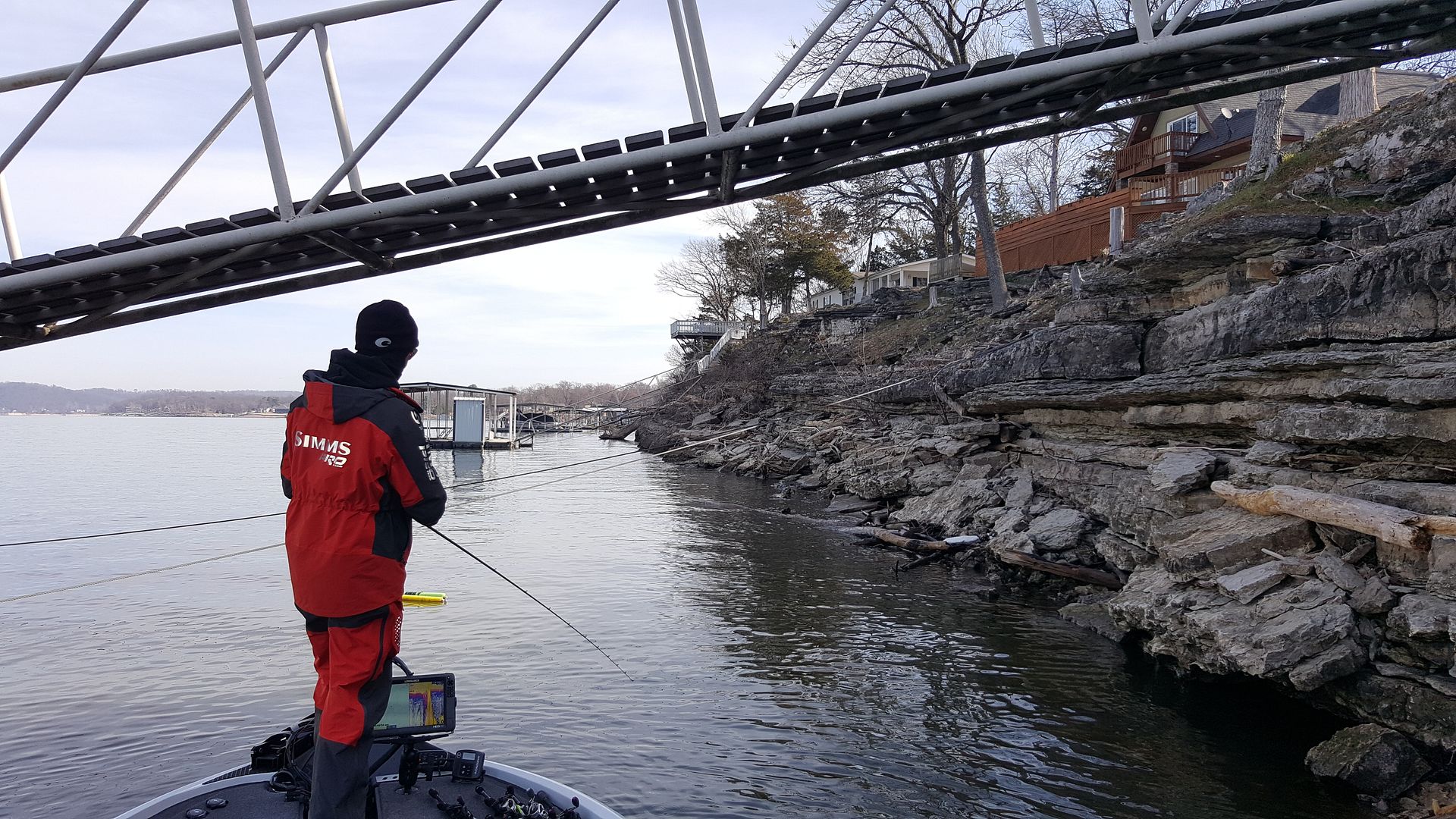 He retied twice throughout the day.  Both times it was the crank.  He would often cast it over the cables and reel the crank up and over it.  Not best for the line but that's where the fish were.
We bumped into Chris Lane a few times on the day.  Very cordial on the water with each other sharing water.  "From one Champ to another, Good Luck!" remarked Chris.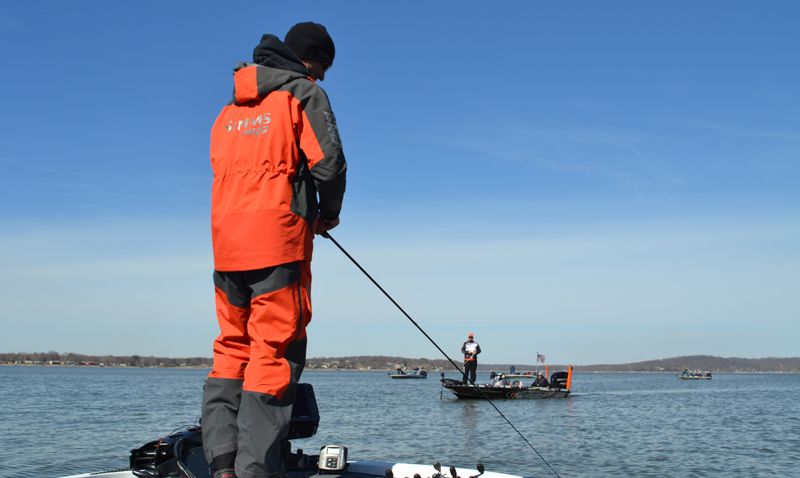 This one did need a quick measure…
Finished out his limit with this one from under the dock out front on the jig!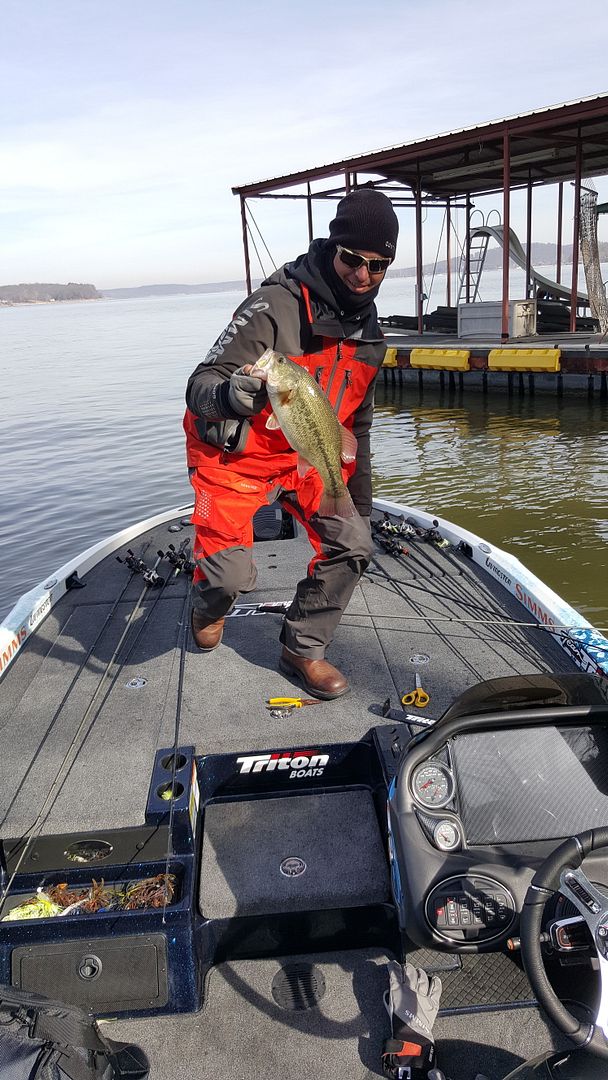 The day was over and it was time to rip in to check in for 2:45.
We pulled into the dock, I asked Casey if he needed me to get his truck or if he had someone prepared to do that.  "It's all yours buddy!"  Ok.  No pressure.  A thousand people at the ramp watching.  Bah, no biggie!
The fish checking station was up the road.  They check the water temp, oxygen level and state of the fish.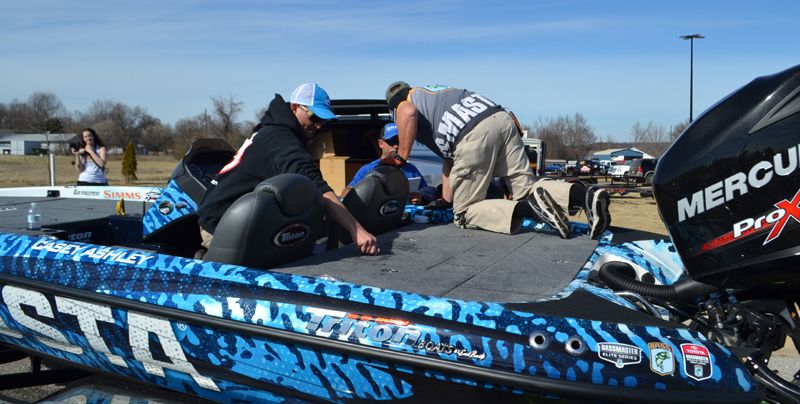 The ride from Grand Lake to Tulsa is 90 minutes.  I hopped in with Casey for the trip back.  He broke down his day a bit but was clearly happy with the result considering his practice.  We chatted the whole way back to Tulsa on every topic you could imagine.  From Country Music to Tournament life to the Fishing Industry we hit it all though we did talk St. Lawrence River for about half the drive!
He weighed in his limit for the day at 15 lbs 5 oz and landed in the Top 10 after Day 1.  He was plenty pleased with that.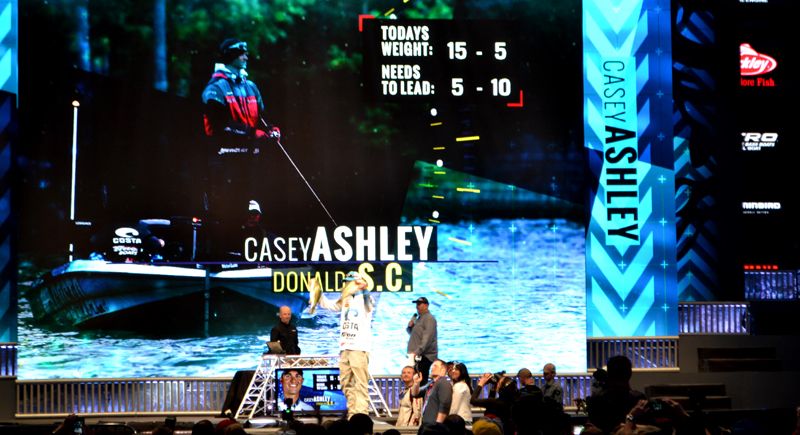 My first trip aboard a boat in the Bassmaster Classic was a rush.  Seeing these guys work at their craft at the highest level is a treat.  Though they aren't all that different than all other tournament anglers they simply and through arduous effort and financial risk have put themselves there.
Casey Ashley was a class act on and off the water, truly one of the good guys out there.