The minute our Canadian boy Charles Sim qualified to fish the Bassmaster Classic in Tulsa, Oklahoma I knew I was going to make the trek down to support him.  Once the travel plans were all confirmed I started to get to work on what options I may have while there.
Giving the folks back in Canada a glimpse of the Super Bowl of Fishing through my eyes was the plan.  I applied to B.A.S.S. for Media credentials for both RJnBirdees Outdoor Adventures and Fish-Hawk.net.  Shortly thereafter I received my confirmation email with full Media accreditation.  Little did I know what those credentials would entail but over the next two weeks it became apparent I was literally given a front row seat for this monumental event.
After a 22 hour drive we arrived in Tulsa.  That morning was Media Day.  All the competitors and their boats were setup inside the venue.  Anglers were sitting in their boats available for the 235 accredited media to ask them anything and everything they desired.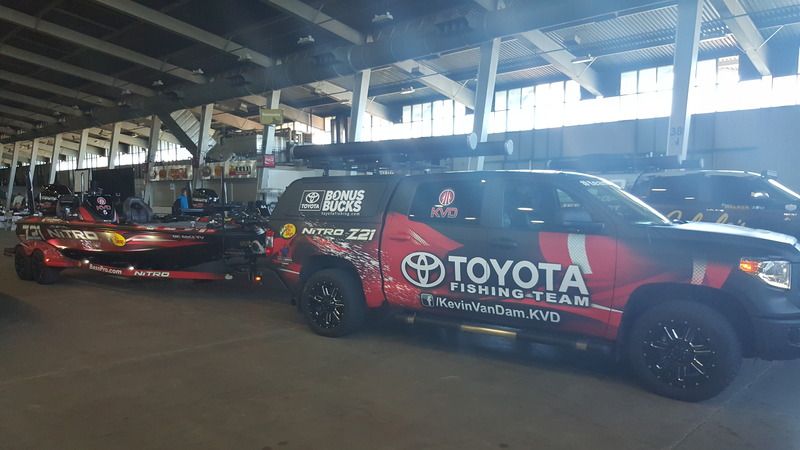 I struggled with this honestly, I pondered many of the hours on the road what I would even ask these guys.  I'm not a reporter and asking the same redundant bottled questions that have to be asked just isn't my cup of tea.
I made the decision to listen in on the questions asked then when they had a moment or two on their own I basically told them after a 22 hour drive I still couldn't come up with a question that would even be half way interesting!  They all chuckled at that and asked where I came from.  Once I answered Ontario, Canada the conversation started quick.  Aaron Martens, Greg Hackney, Casey Ashley, Alton Jones and Edwin Evers all jumped on the opportunity to talk about the St. Lawrence River.  They love that place.  Hearing them talk about the river and being able to insert some of my findings was awesome.  What would have been a question and answer period turned into a fishing conversation simply between two guys who love to fish.  SO much fun.
Charles was all setup and was is charming self with everyone.  He had told them about his Rubik's Cube obsession of late so one reporter asked him to get at it…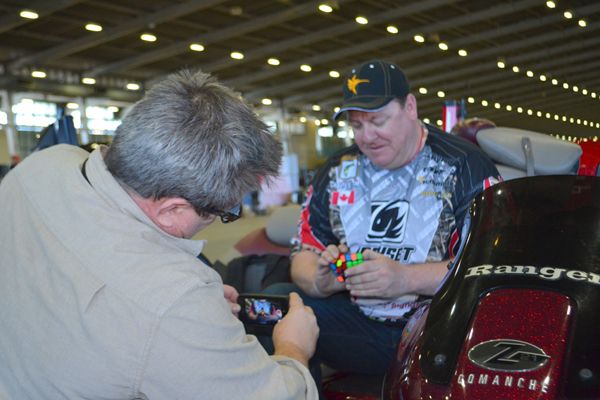 The Hookset.com ride fittin' right in between Bernie Schultz and KVD.
KVD was swamped at times.  He was asked on a scale of 1 to 100 how confident he was in winning this event.  His answer with a wink, 100.  Well, what else could he say???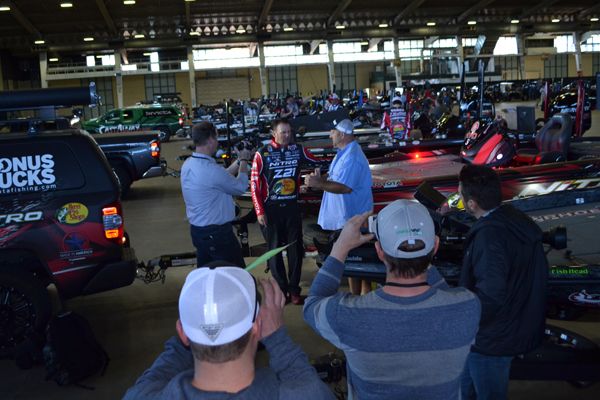 IKE was pure IKE on this stage.  At one point he was telling a lady reporter that the key to his week would be Dog Milk Bones.  The box of dog treats sat on the deck of his boat so it had to be true….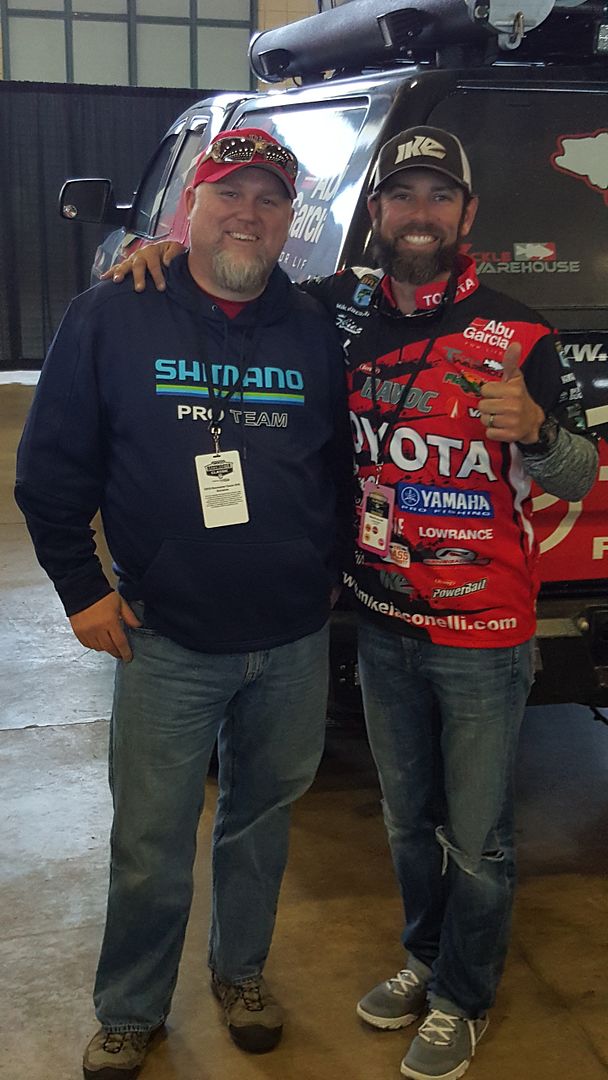 I'd recently seen a video that Aaron Martens released on Facebook about his tackle prep.  I asked him how many days he spent working on tackle versus on the water days.  His answer?  A staggering 3 to 1.  After seeing inside the storage of his Phoenix, he's not lying.  I bet he could find anything in that boat with his eyes closed.  Unbelievably organized.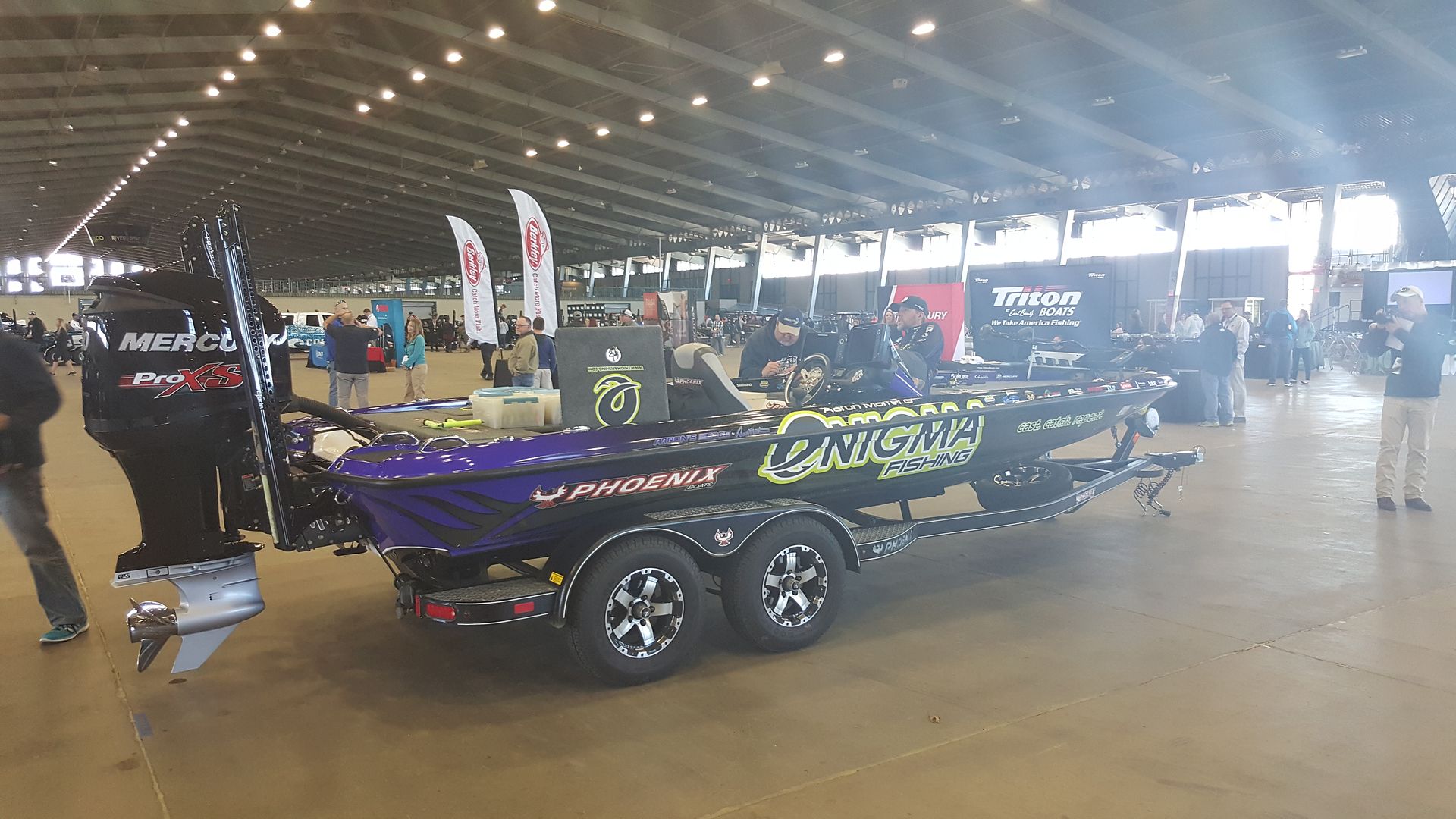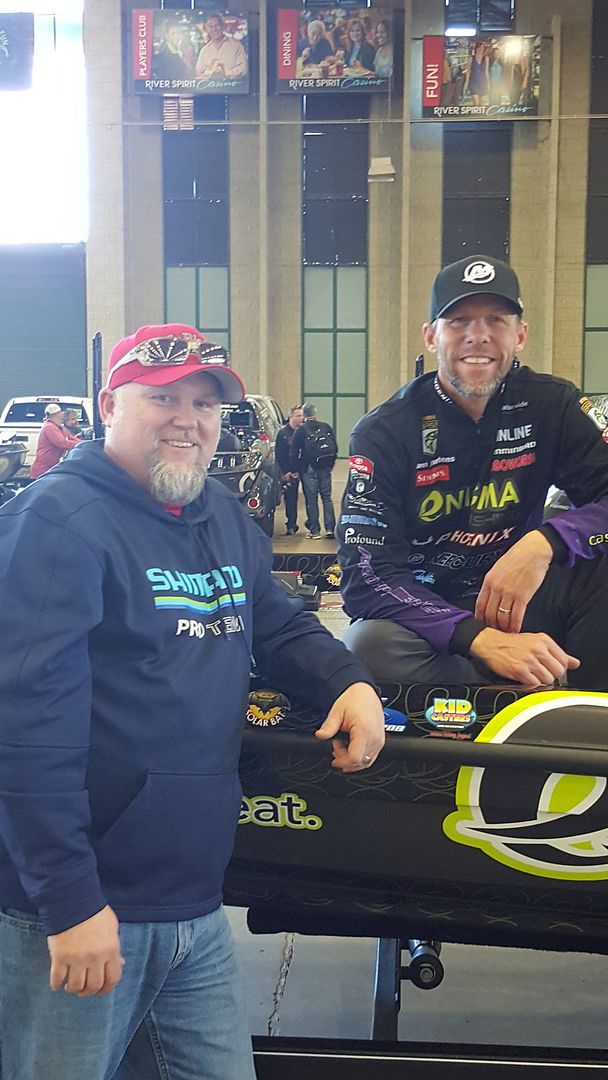 Edwin Evers was awesome to chat with.  I simply asked him if he was ready?  "I think so" he says with a laugh.  The local boys were feeling the pressure big time.  Little did he know how the tournament would turn out….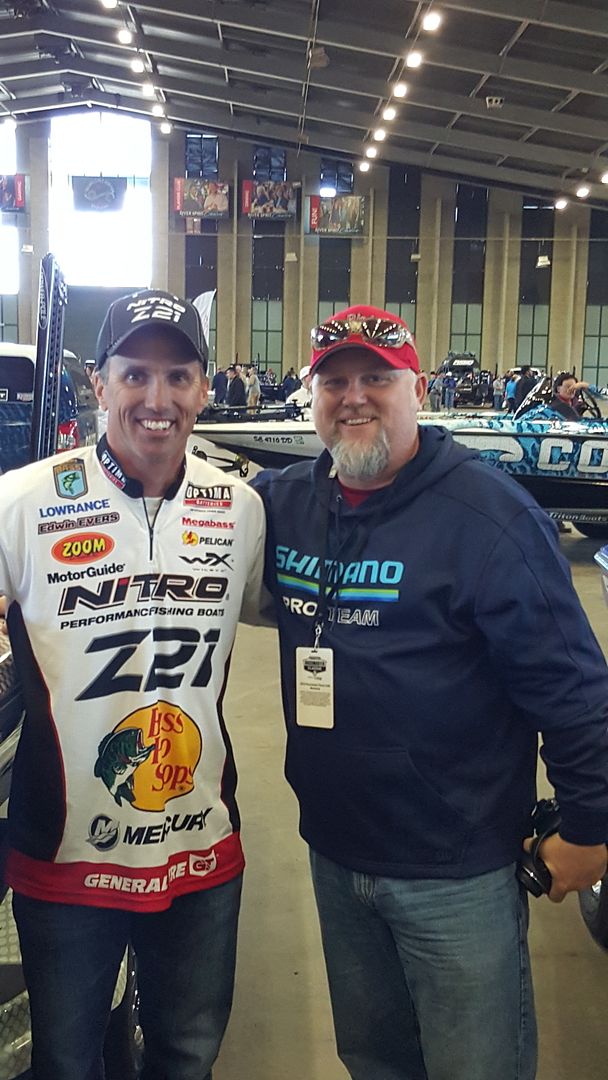 Brandon Palaniuk with the Rigid Industries ride…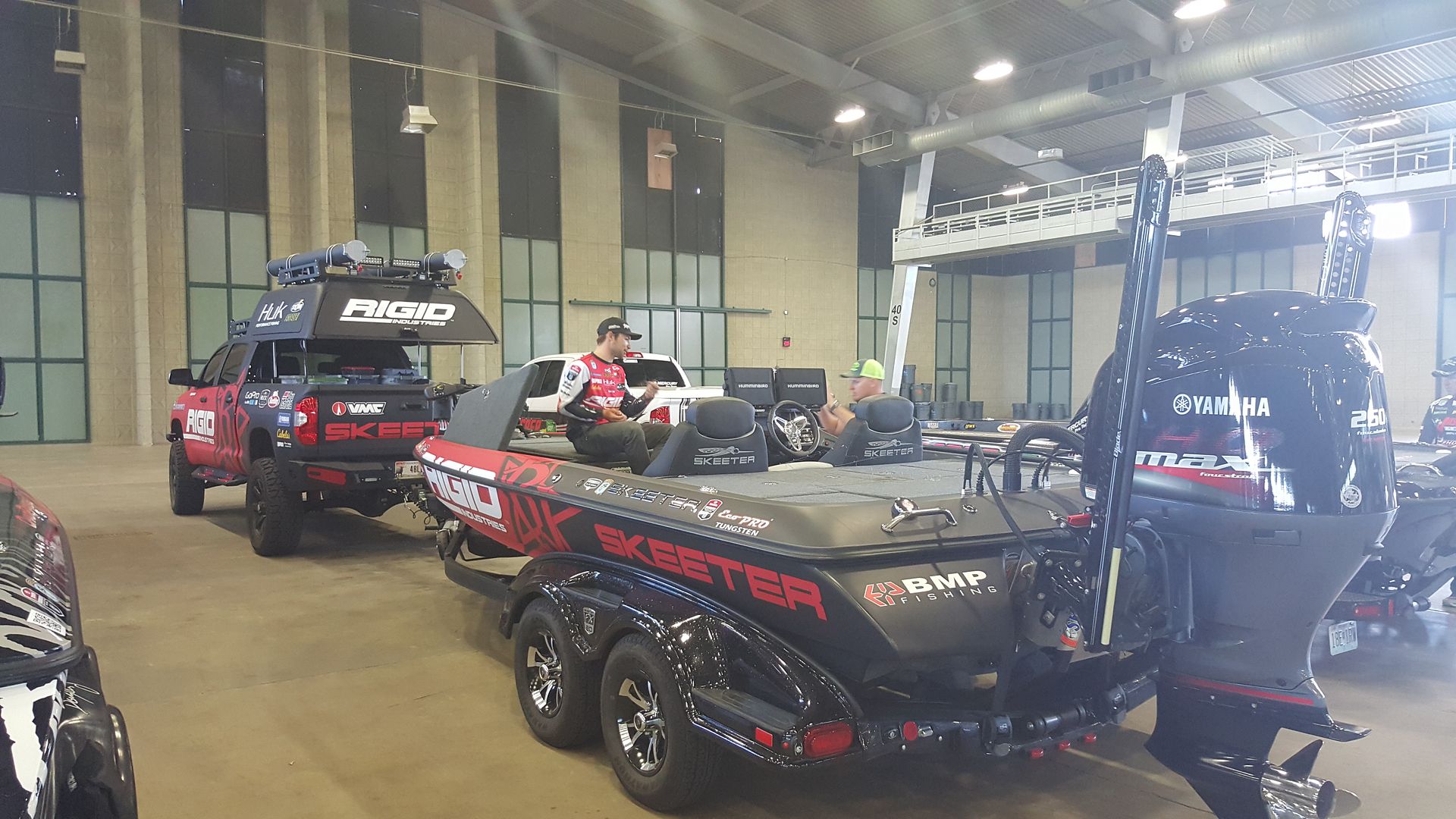 One my favorite guys to chat with was Greg Hackney.   He was exactly what I thought he'd be, a great fella that just loves to flip a jig like me!  Every tackle box in his boat was up and on the deck.  I'll hazard a guess at about $20,000 in gear!  Got any crankbaits?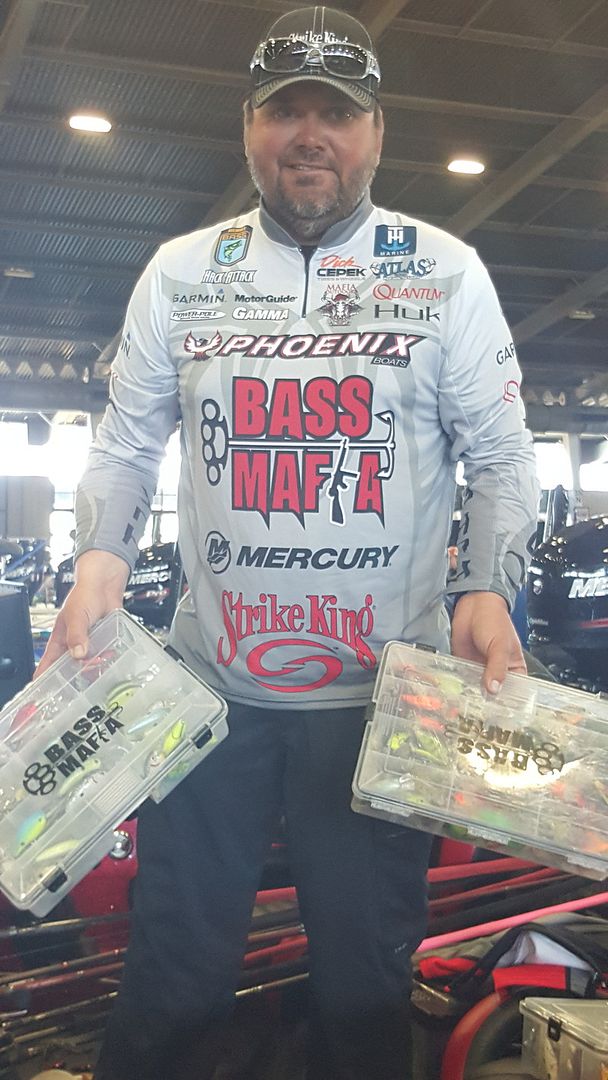 He couldn't stop talking about this bay on the St. Lawrence that he found in practice that he had 50-75 bites a day on the Frog.  He said it was the best fishing he experienced that year!  And yes he told me the Bay's name….;)
This was only Day 1 of an experience of a lifetime.  What struck me at the end of the day was something I knew all along.  Having been around professional hockey players and some of the biggest entertainers in the world in a previous job I had I tend to not get star-struck, they're just people who happen to be talented and have pretty cool jobs.  What made this a really cool deal was the common ground we could find in conversation, Fishing.  It was a real treat.