November 7th, 2015 is a day Charles Sim will remember for the rest of his life, he had qualified to fish the Bassmaster Classic in Tulsa, OK March 4-6, 2016.  An invite to the Super Bowl of fishing to compete for the prize of all prizes in Bass Fishing.  Little did we know Charles success would lead to a chance for all of us to go on his ride with him!
Getting some insight from Charles along the way long before he even hit the road for the Classic was emotional at times.  Fear of disappointment and uncertainty of how he'd do after a less than stellar first practice in December were at the top of the list.  All his closest friends could do was tell him it really didn't matter how he did, he was there!  Only the second Canadian to ever do it.  We all knew he would do Canada proud especially the guys who have fished with or against him over the years.  He really is a great stick and in my eyes the best guy we could have represent us on and off the water.
Chatting on the phone after the first 3 days of practice he was a bit down.  It was tough out there, stained water and a tough bite with the fish off a bit.  He recounts bumping into Alton Jones on the water, they had a quick exchange.  Alton asked him is he was having fun at least?  "Not really".  Alton urged him to start having some fun and it was then that it hit him.  Enjoy this, soak it in and live it up and see how it goes.  That is exactly what he did.
Seeing him at Media day he was in high spirits and had taken Alton's advice.  A small contingent of the Canadians found him!
     After media day it was an attempted night of sleep then get the Hookset.com Ranger into Grand Lake.  Game Day!
When I arrived at Grand Lake, there was no problem finding the ramp.  It was lined with 3000 people….wow.  Charles being backed in, the only ride at the Classic sporting snow tires!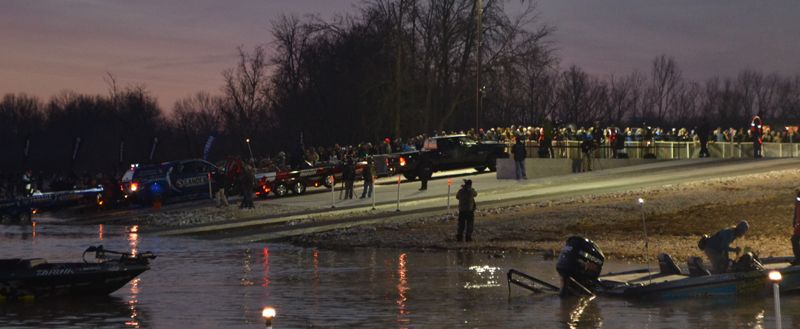 Sliding up to the dock next to Brandon Palaniuk.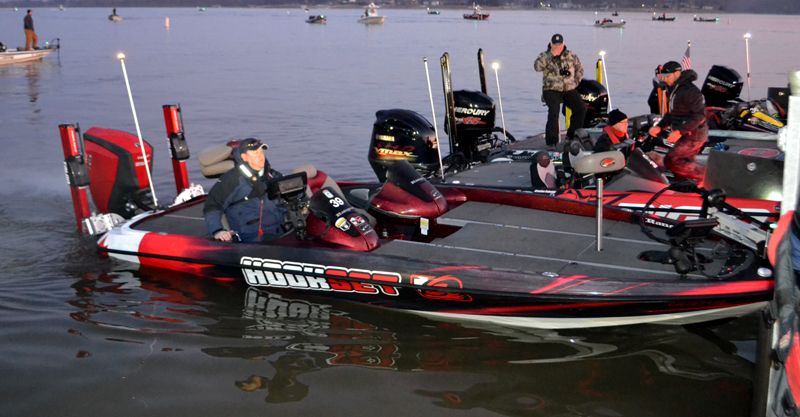 The bite was tough for most on Day 1, including Charles.  He certainly didn't embarrass himself as lots of well known names struggled.  Spirits for lots of guys were crushed but there was Charles all smiles.  He had figured it out how to enjoy this moment in his life and take all he could from it.
The weigh-in was a 90 minute drive to Tulsa to the BOK Centre.  When I first walked into the arena I was taken aback.  5 to 6000 people turned out for Day 1 weigh-in on a Friday afternoon.  Unreal.
Fellow Canadian Dave Mercer was doing his thing as Emcee.  Dave was born to do that gig and really knocks it outta the park!
As angler after angler came thru the anticipation for Charles to come thru the curtain was painful.  Here's my buddy about to go on the biggest stage in Bass Fishing.  He came thru and as you can see he was taking it all in!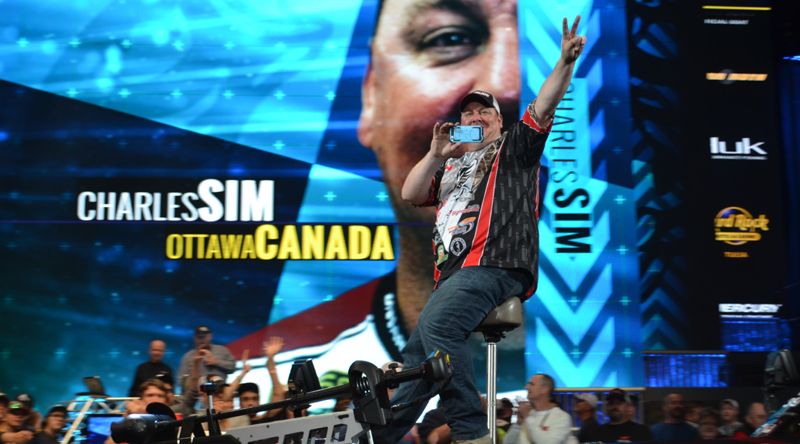 Just some of the Canadians who made the trek to Tulsa to cheer on Charles…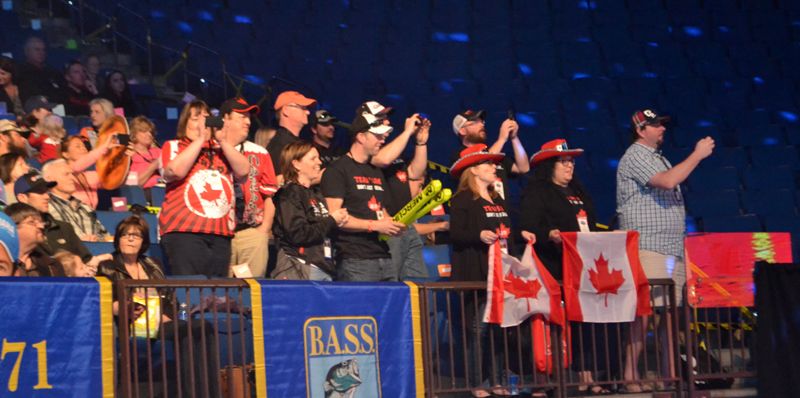 Charles had 2 fish for 4 lbs 6 oz and felt like a hug would help the situation…it did!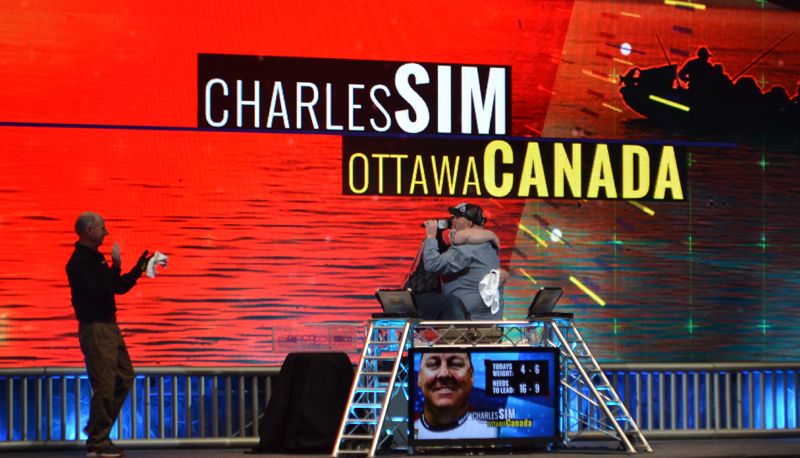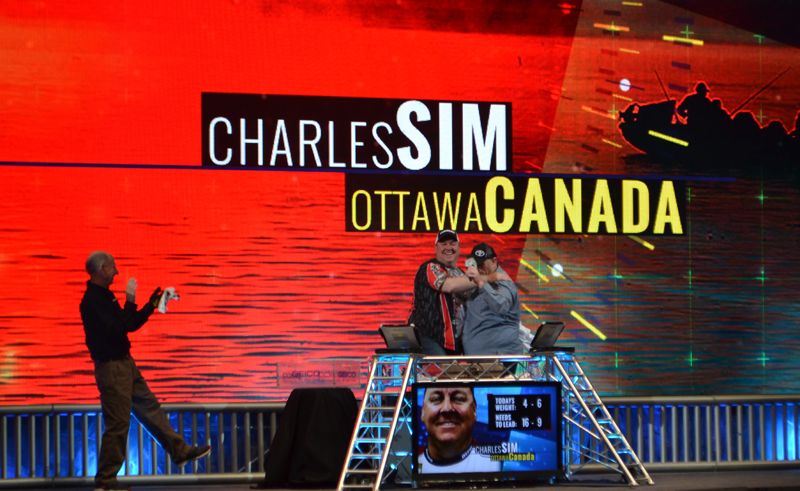 Day 2 was a day to just go out and fish and have a great time.  His spirits were high at the dock.
Odds were in my favor to settle in next to my buddy at the dock as I was in the boat right next to him.  Thanks to Ben Martin for this shot.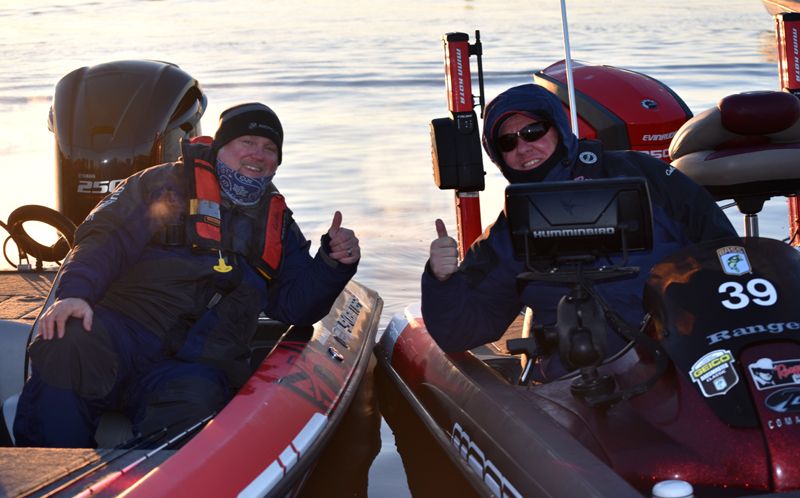 The parade of boats by the crowd of now over 5000 standing on shore!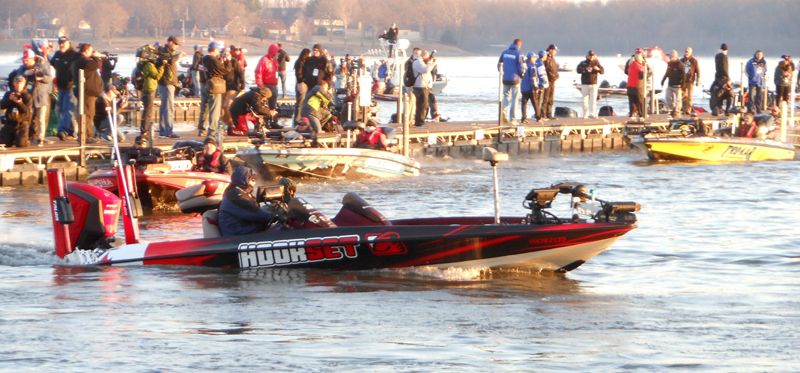 Throughout the day I was getting messages from back home how Charles was doing.  Some serious fist pumps went down when my angler had his back turned!  Charles was having a great day.  As I was getting these messages he drove by me to his next spot.

Day 2 came to a close and I couldn't wait to see the big boy.  He pulled the Ranger out and we packed it up.  His excitement from his day was palpable.  The roads were lined with people wanting to see the anglers.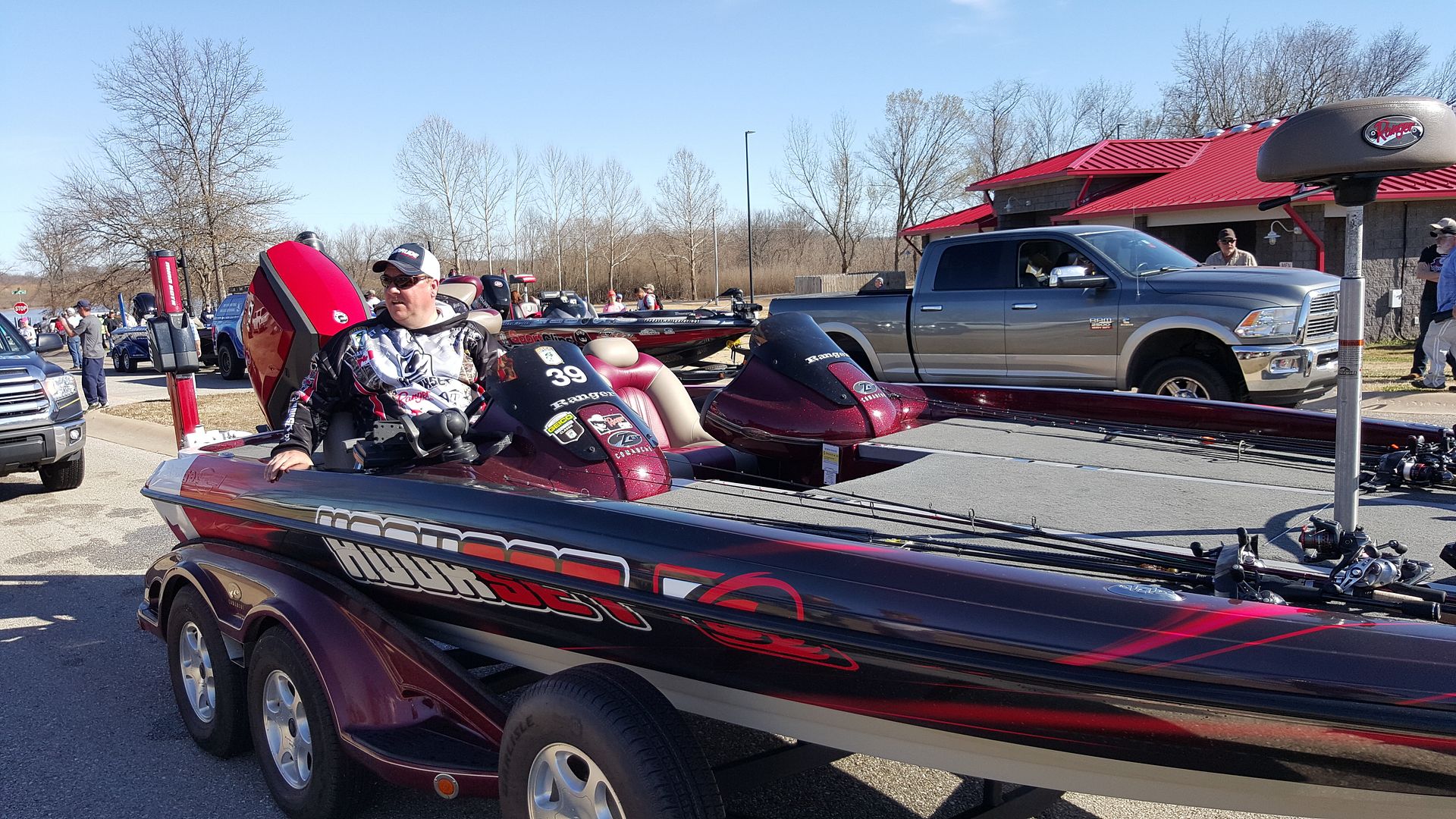 One young boy says: "You caught a fish in my cove today!"  Charles invited him into the boat to see the fish.  The boy and his family lit up.  Charles gave the young lad a tackle pack from Shimano and made his day.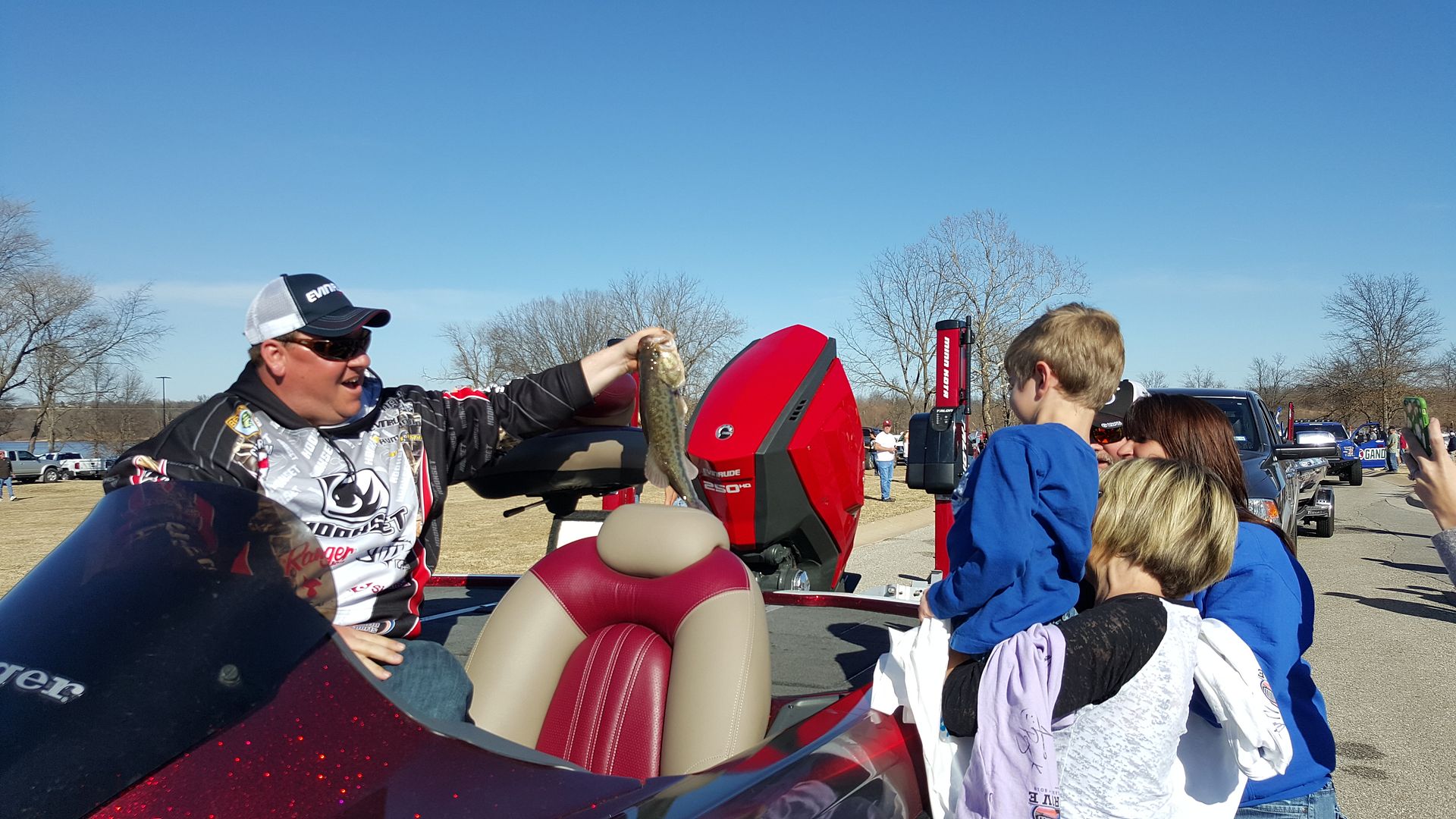 B.A.S.S. inspects his fish and we are soon on our way.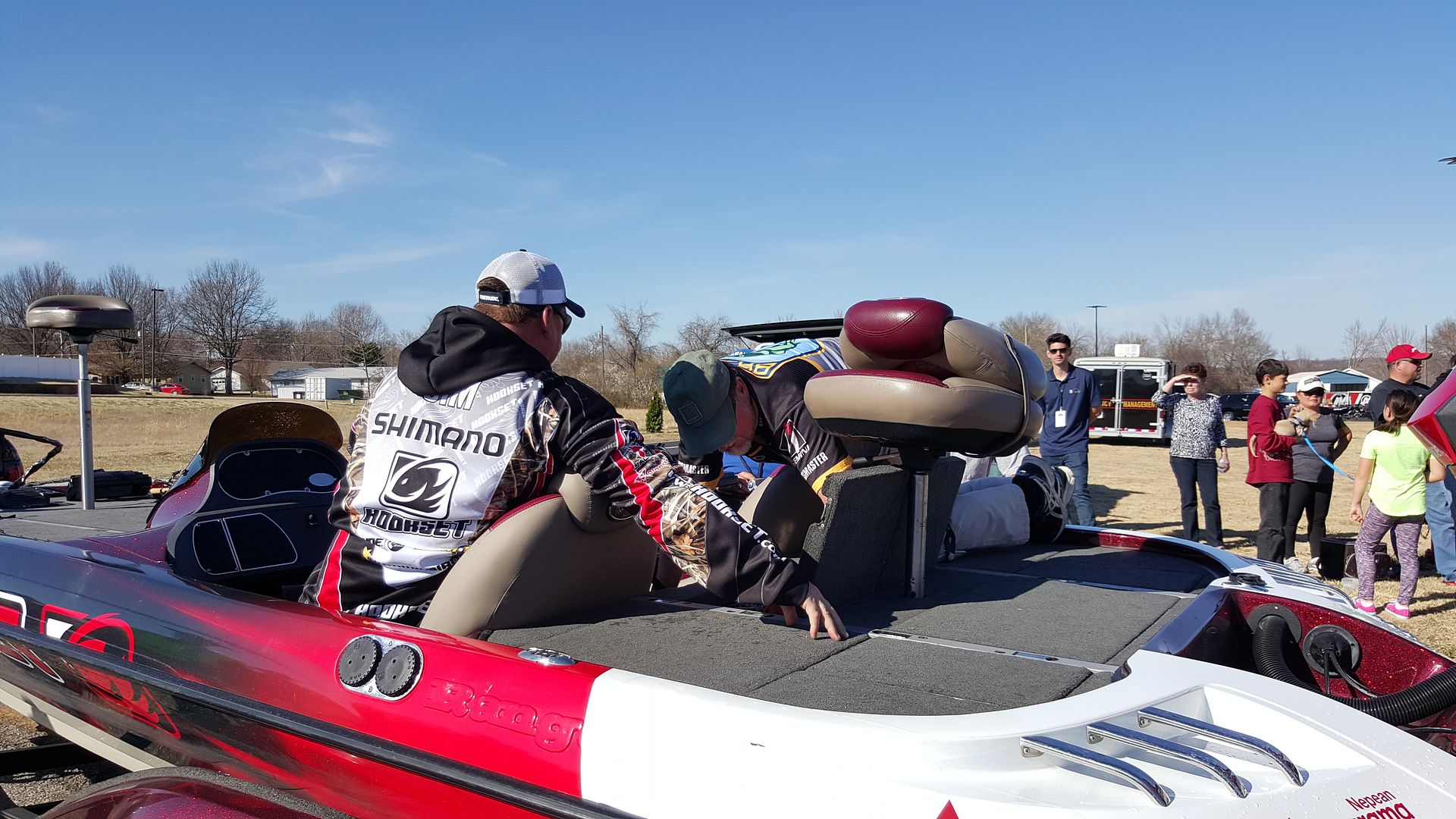 He deserved the chauffeur ride to weigh in!
I made my way to the arena floor to see the Hookset.com Ranger roll in.  The crowd really took to Charles due to his personality!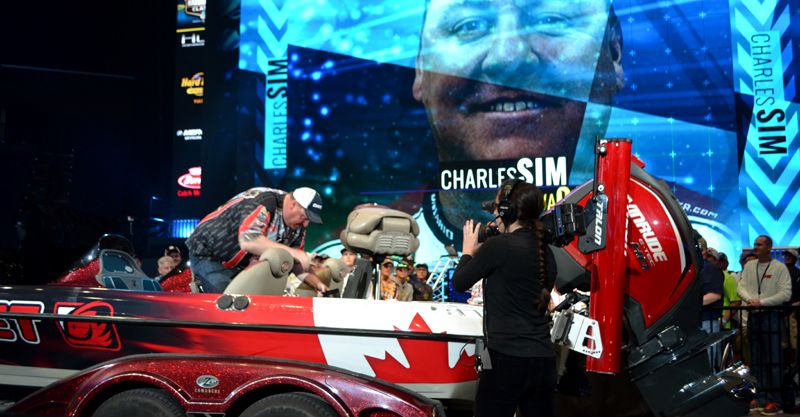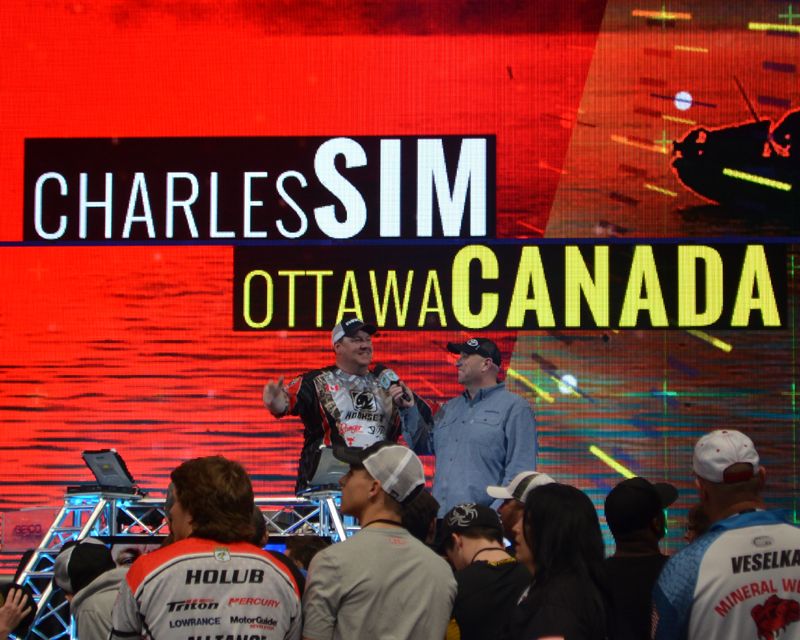 Weighing in 12 lbs 14 oz on Day 2 gave him a shot at making the cut to fish Day 3.  BassTrakk at one point had Charles sitting as high as 15th place.  Though the live scoring isn't overly accurate it sent Canadians into a tizzy back home online watching Charles have a great day.
In the end, he fell short by a measly pound to make the cut of 25 to fish Sunday.  His disappointment was short lived as we talked downstairs once reminded of what his goal was here.  He lived it up and did himself and Canada proud.
Charles has equated the Classic to a drug.  He can't wait to get that feeling again and he's afraid/excited that getting back there will consume him.  If anyone can that I know, it's Charles.
We all owe Charles a huge tip of the cap of thanks for taking us on this ride with him.  He did Canada proud on and off the water as we all expected and hopefully he will do it again real soon!