Fishing the Renegade Bass Series put me on the water for 32 days pre-fishing and actual tournament days and add to that fun days exploring new and old water it all adds up to ALOT of bass fishing!
Though I broke that nickel mark 3 times sadly it wasn't on tournament day!
A majority of the big buckets came while flipping a jig. This technique accounts for more big fish every year than everything else combined I bet. I went back to flipping with braid after finding mono too stretchy at times. I plan to experiment with Flurocarbon next season in clear water situations.
Birdee joined me a few times pre-fishing and thumped this good one out from under a real heavy mat!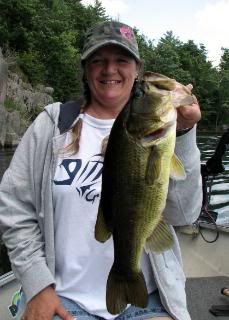 More Quality fish of '09….
It's December. I miss Largies already!