With Bass season opening in our area this past weekend everyone was pumped up.  Local boat ramps were loaded with those that so eagerly await this day.  While I had been locked into a long stretch of days of work I was was able to get away a bit early on Sunday.  Not opener but close enough!
When I arrived home I found the Lund already hooked onto the truck.  Birdee was ready to rock.  We decided to choose a not-so-busy stretch of the Rideau system to play on for the afternoon.  We dropped in after 2 pm.
On the run out Birdee told me she wanted to fish docks.  Lots of them.  No problem.  She set up with a Title Shot jig and Double Wide Beaver while I fished the edge with a Senko.
It wasn't long before my line tightened up and upon hookset this one was airborne!  Nice start to the Bass season.
We began to make the move deeper into this large bay.  There was an obvious algae bloom.  "Cheese" was all over the surface.  We began to flip the holes and edges.  I'm not a big fan of that stuff and have never felt the fish hold that great to it.  After 45 fruitless minutes I pulled the plug on it and headed out onto the flat.
Once on the flat I could see one area of the bay that wasn't coated in that bloom.  The wind must have moved it out of there, we made our way over there and low and behold the fish were there.
I went to a Mann's Waker crank while Birdee stuck it out flipping.  The crank really had them fired up.  A stop and go retrieve was the key.
After a few times on net duty Birdee was convinced the crank was the ticket.  We seemed to take turns on fish and boxed a few for some photos later.  As we slid by this one dock I saw her out of the corner of my eye put her rod down and pick up my flippin stick.  She beat me to it!
Under the dock skoots the Beaver.  Tick.  Hookset.  "Net!"
Birdees first Nickel ever.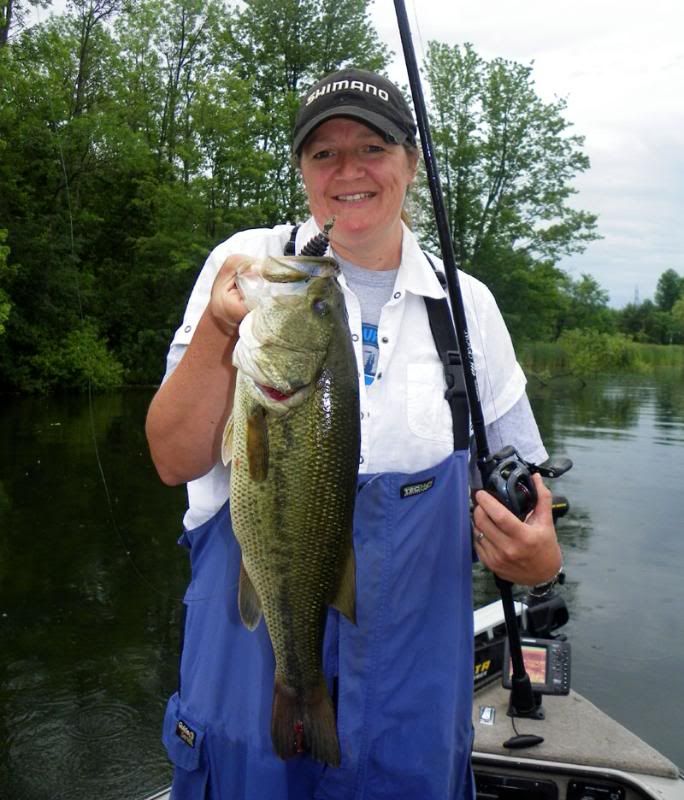 One happy camper she was!  I think I may have been happier.
This photo may just be headed for our wall.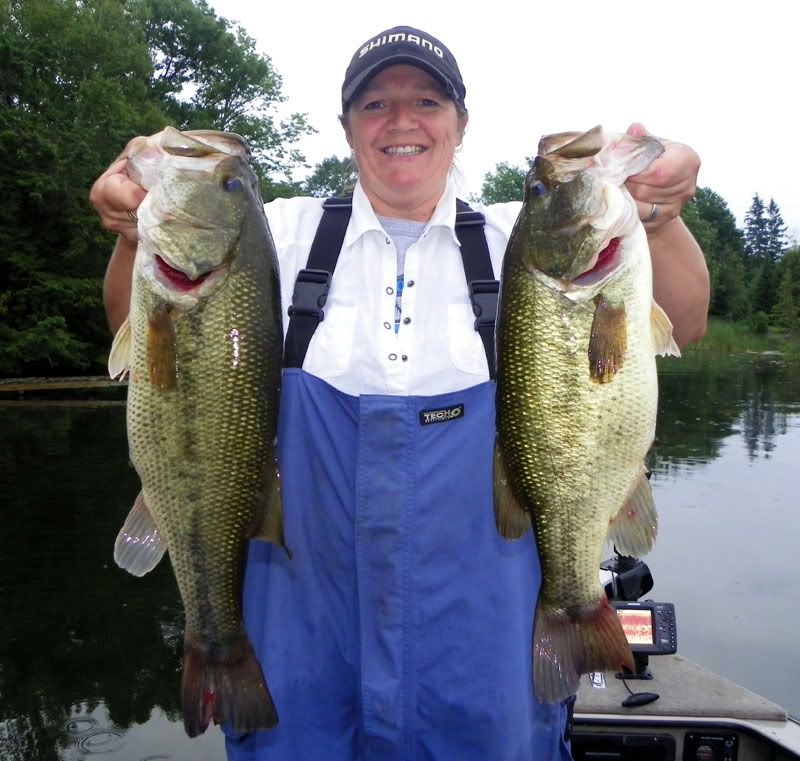 We had a great day on the water despite the rain that pelted us at times.  The fish were certainly fired up with the front moving in.  Perfect timing to lay a beat down on some Largies!