Birdee and I teamed up to fish a small derby on Mississippi Lake.  The event was pulled together by a few on the popular fishing message board in Eastern Ontario, Fish-Hawk.net.  Having never met most of the entrants other than to chat with them online it's always great to put a face to a name in person.  The event went off without a hitch and everyone had a blast.
30 anglers blasted off at 9AM and returned at 3:30.  Derby rules were one big fish, Bass or Walleye.
We also had a few young fellas join their Dads for the day.  Big Jim had set us up with some gear for them!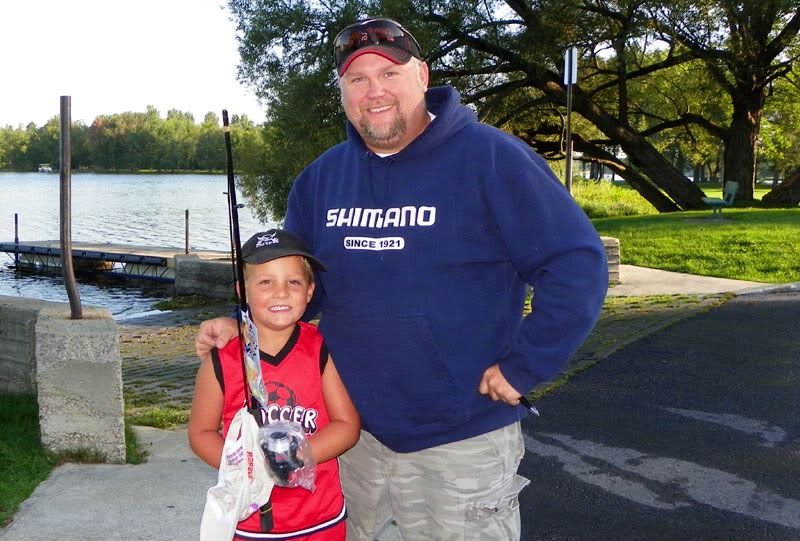 Birdee and I had plans to fish the SEBO the next day so we decided to fish completely new water to us.  It amazes me as much as I've been on Mississippi Lake I still found some great new water today.  It was a fairly steady pick for us today.  We started off in the rice fields that are always popular on the lake.  We usually go to the back of them but today stayed out and found steady fish under the floating mat that was pushed up against the rice.  Title Shot jigs with Beavers did the trick.
We decided to take a break and hit some docks for a change of pace.  Hit some new docks to me that looked promising but were fruitless.  Smaller fish on them today.
I boated our first fish we decided to keep off the end of a boat lift, turned out weighing 3lbs 2 oz., Birdee followed me up with a high 2 pounder.  Not winners by any stretch of the imagination.
We ran back to the rice to end the day.  After missing a really good fish under some mat that really cheesed me off we decided to let the wind (which I am sick of fishing in!) push us out so we could run back to the ramp area to end the day.
We decided to keep to the earlier pattern of fishing mat.  We cruised along a nice deep rocky shoreline that was full of it.  Thick mat with the odd hole in it.  Under the mat was 3-4 feet of water.  Perfect.  Birdee flips in, tink tink.  "I think I have a Sunfish playing with me" she says.  The line tightened and she rammed the hook home.  Out flew a nice thick brick of a Largie.  Surprising us both she simply craned it aboard.  A high five and a cull later it was 3:15.  Back to the ramp we go.
The weigh-in was done quickly on shore.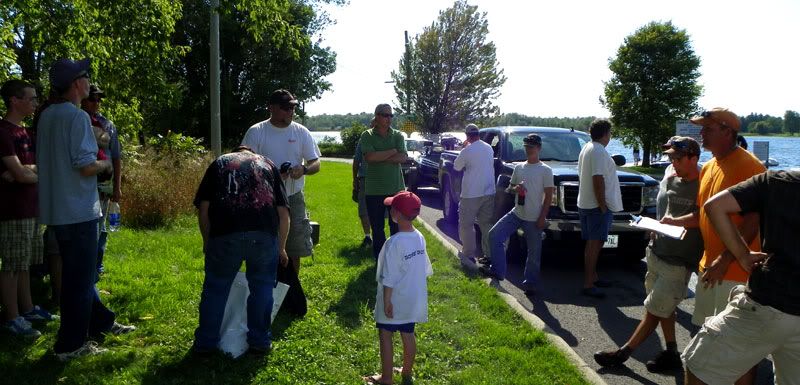 Alex got the party started with a nice Smallie.  He held the lead for a long time.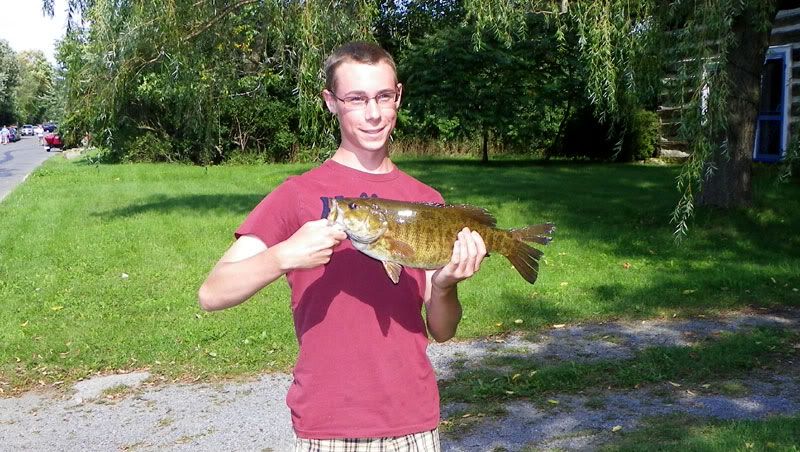 We had a few guys make the trek over from Quebec to join in.  Both teams brought in some decent fish.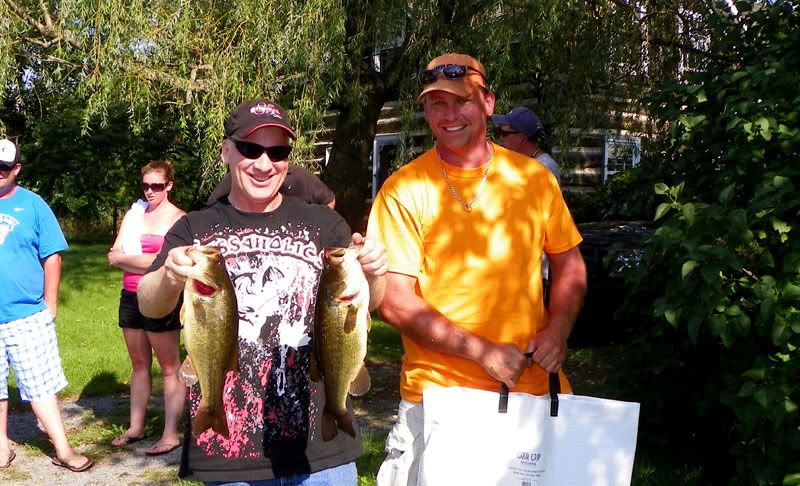 Everyone had weighed in but us.  I grabbed my fish and weighed in.  Big whoop.  Nothing to write home about.  Then Birdee went to the cooler.  Now I've known Birdee for a long time now, and I don't think I've seen her as proud of anything she's done in the past fishing wise than this.  Out came her fish.  It bumped Alex by an ounce for the win on the day.
We all retreated back to a local pub for prizes and chatter.  It was a perfect end to a great day on the water.  Through the help of many supporters of the day everyone went home with something.  Awesome.
We've decided to bail on doing the SEBO,  Birdee's goin shoppin with her loot from the day.
I could fish one of these events every weekend if they existed.  Getting people together who have one passion in common, fishing.  All walks of life come together and it just works.
Great day for Team RJnBirdee!