Many of you have heard the name Dale MacNair, he is known as the angler who may have landed the largest Muskie ever.  He promptly released the beast that fateful day in November 2008.  He was heralded for releasing that fish and rightly so.  That fish came in at 57 inches long with a girth of 33 inches.  By weight calculator that fish would have been right in the range of the world record if not bigger.
"The MacNair Monster"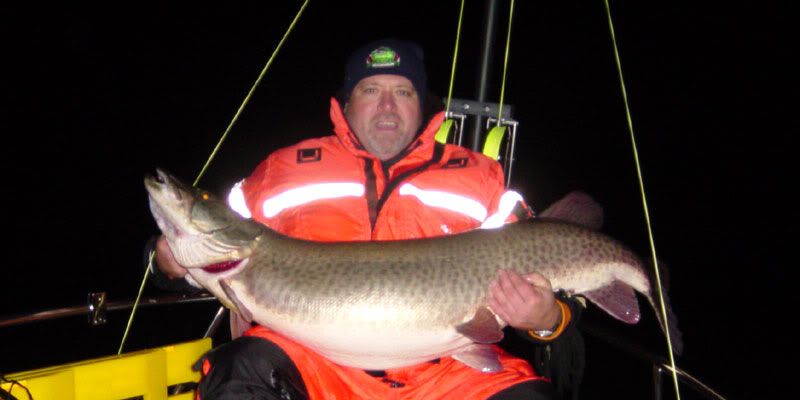 The "MacNair Monster" created huge buzz within the Muskie fraternity.  With anything there will always be naysayers and negative flack.  Having never met Dale I could only go by what his acquaintances had told me, that he was the most down to earth fella you could ever meet and just a super guy.  After the conversation I just had, I can confirm that 100%.
When Dale posted a photo today of another St. Lawrence Giant he caught yesterday I dropped him a note via Facebook.  I wanted to be able to share his story and provide you with some of the trials and tribulations of a Giant Muskie hunter.  Dale obliged within 5 minutes and was happy to do it.  I gave him a quick call tonight and here is the conversation.
RJ: Wow, dude.  That was some fish!
Dale: Thanks, ya it was something.  For a fleeting moment when I looked down in the net I thought "I can't believe I caught you again".  But after a quick look we confirmed it wasn't my big girl from '08.
RJ: So give me an idea how much time you've put on the St. Lawrence this fall?
Dale: (with a chuckle) I've got over 300 hours out there this fall. Every weekend since the beginning of September I've been down there.  This most recent trip began  last Wednesday night.  My girlfriend Julie and I fished hard Thursday, Friday, Saturday, Sunday and she just couldn't take the cold, wind and pounding conditions and decided to stay in for Monday's trip.  It's too bad really, that would have been her fish.  When that Tekota screamed I knew it was a big fish.
RJ: 300 hours? Wow.  How many fish have you caught in that time?
Dale: Two.  Julie caught a 50 incher a little while back and that one yesterday.
RJ:  WHAT?
Dale: It's really about the hunt for me, the thrill of the chase.  Seeing one of those big girls on the graph is just as satisfying as hooking one up.  This isn't a numbers fishery, it's big fish water.
RJ:  So you are marking these big girls on the graph first?
Dale:  We are constantly looking for bait balls.  The shiners ball up, the perch ball up and the walleye chase them around.  And well with Muskies like those big girls they eat em all.  We marked 4 "Supertankers" over the 4 days and just couldn't get one to go.
RJ:  So Julie didn't go out on Monday?  Who was with you?
Dale: My good friend and fishing buddy Sal Rotolo.  We knew with the New Moon there was a good chance something good may happen.
RJ:  OK, details.  You going to give it up?  What did she hit?
Dale:  It's no secret.  We are fishing the 40 Acre Shoal area.  It is a huge body of water out there.  She hit a 14 inch Jake Black Perch Holoform, trolled at 3.0 mph with 162 feet of line out.
RJ:  What depth is that bait running at?, they don't exactly have depth curves for 14 inch Jakes!
Dale:  We know by running them into shoals and bumping bottom.  With that line out it runs roughly 18-19 feet down.  We are usually running in and around 30 feet of water and know that if a fish is sitting on bottom she is one kick of the tail to crash that bait.
RJ:  What are you using for gear?
Dale:  I run a G Loomis 8'6″ XXL rod,  this is the best rod hands down in my opinion.  I felt every tick and headshake on the way in, just an awesome rod.  I pair it up with a Tekota 600 line counter reel.  For line I run 100 lb test Power Pro down to a 200 lb Gamma Flurocarbon leader.
RJ:  So how did that moment go down?
Dale: We had trolled for about 5 hours over these bait balls we had marked.  Within the bait we looked and looked and never came across any big marks within it.  We made the call to move to another area that Julie and I fish quite a bit.  It just happens to be about a sand wedge shot from where my '08 big girl came from.  The sun had set and we were absolutely freezing.  If we took our gloves off for a minute our hands would freeze!  With the wind howling out of the NW at 25 km/h and gusting to 49km/h it made for some brutal cold with windchill hitting -15 .  5 O'clock hit and what we call "Magic Time" came.
RJ: Magic Time?
Dale:  Yep, that's what we call it.  My big girl in '08 hit in the dark and over the years Sal has put lots of fish in the boat in the hours of 5 til 7.
RJ:  Go on, this is the good stuff.
Dale:  That tekota screamed and I was on it.  Sal's boat has some great lighting that just lights everything up.  As the fish approached the boat we caught a glimpse of her and she calmly slid into the net that Sal was manning.  It was like she knew she was going to be let go.  She didn't thrash once in the net.  The fight on this one was actually a lot tougher than my '08 fish.  Like I said, I thought it was the same fish from '08.  All that time on the water all fall came down to that moment.  There she sat in the net.
RJ:  How'd the release go?
Dale:  Piece of cake.  We cut the hooks free.  Grabbed the bumper board for a quick measurement and a few quick photos and slid her back into the 40 degree St. Lawrence.  She was 55 long by 27 girth.  When I look at the photos I wonder if her and my '08 fish are sisters!  They look a lot alike.
RJ:  That is just awesome Dale.  Congrats dude.  Nice to see the payoff for you and Sal.  I know Musky fishing is often a team game in the boat.
Dale:  Oh ya,  Sal and had more than a few high fives!
Here's Dale's frozen Loomis/Shimano setup…..now that is HARDCORE.
Dale's latest Giant.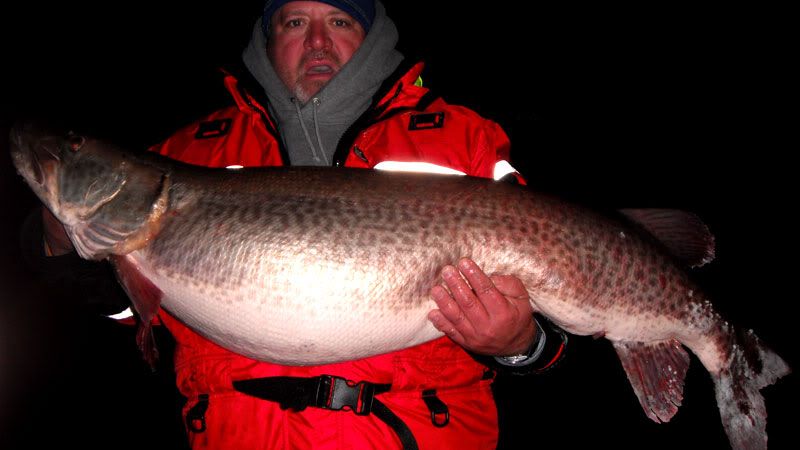 Thanks a ton for letting me put this together Dale.  Great talking to you today.  You Muskie nuts are cut from a different cloth, but after seeing the payoff.  I completely understand it!