Today was a day to just get out on the water and have a bit of fun.  It seems like a long time since I wasn't pre-fishing for a tournament or in a tournament.  My reliable Ol buddy Phil joined me, we decided to head to a smaller lake in hopes of seeing some less pressured fish and maybe a few real kickers.
I awoke to 4:30 AM to a lightning show like none other.  I considered canceling.  It was a pure downpour and looking at the radar didn't look like it was about to let up anytime soon.  We slowly made our way out with the always necessary stop at Tim Horton's.
We slid the Princecraft in at 8AM to threatening skies.  Distant rumbling in the clouds to the North left us wondering how long we'd be able to stay out.  We managed to stay dry for about 5 hours.  And when it rained, it wasn't rain.  It was buckets!
It was an interesting day fishing wise as the pressure changes that we could feel and the wind would change direction and pick up would directly affect the activity of the fish.  We'd go 45 minutes with no fish, then catch a dozen in the next 30 minutes.
Though we didn't take a ton of pictures today due to the rain we did manage to snap a few when we picked up two good fish.  Phil took big fish of the day today.  4 lbs 6 oz Largie.  Baby Bass Senko Wacky rigged in 14 FOW.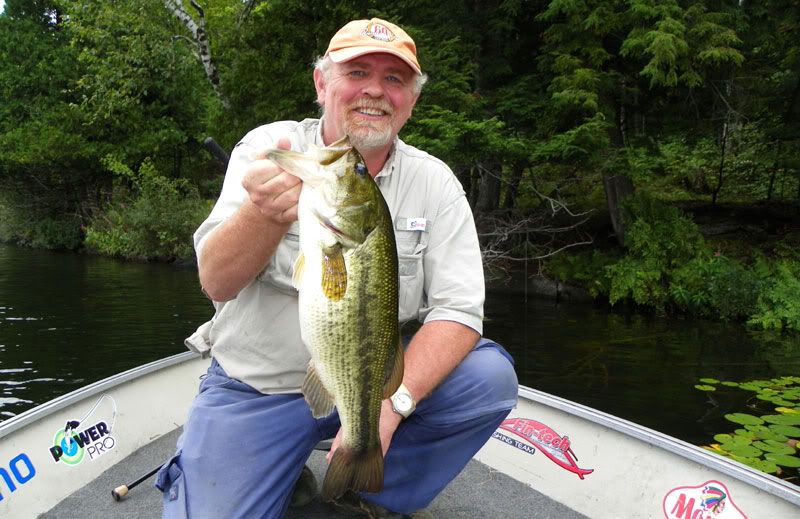 We landed in the ballpark of 50 bass today,  a mix of Smallies and Largies.  Lots of fun which is something I really needed and enjoyed.
I just couldn't top Phil's best on the day but this one had him concerned for a few seconds as its head came flying out of the lily pads trying to shake the jig.
Phil and I had a friendly wager today.  A buck for the first and a buck for the biggest.  Well I paid my 2 bucks today.  Gladly!  Thanks Phil, had a blast today.