Local Bass Freaks have been making the 4 hour drive South to Lake Champlain for years.  Schedule wise I've never been able to make it happen but this year a mid week trip was in the works so I jumped on board.
The states of Vermont and New York have a Catch and Release season for Bass so that's the draw to guys from our area to head South.
I've never been a supporter of this type of season for our area.  Being fortunate enough to listen to the top guys in our area who make a living working on the science of our fisheries speak on the matter makes for a no brainer to me why I don't support it.  Comparing fisheries that are hundreds of miles South to our waters is short sighted for FMZ18.  The sheer size of these lakes compared to ours is far from comparing "Apples to Apples" never mind the varying climate and longer growing seasons.
Fishing for pre-spawn or spawning fish is a reality that I'm 100% OK with when the fisheries can withstand it.  If I didn't think it was OK I'd be chastising EVERY angler that fishes from March til May everywhere but Eastern Ontario.  Absolutely ridiculous that anyone would think I'd have that type of thinking….
3 years ago while a new Bass season was being considered for FMZ18 we were presented with the science that did not support this for our area.  Once the panel heard that the spawn of the Bass in FMZ18 was pretty much done a week earlier than where the season sat a decision was made at that point to open the season a week earlier to Bass anglers delight.
Other areas in the province such as Lake Erie that ranges both into NY and Ontario could probably revisit the regs as one is open while the other is closed.
Now that the political part of this post is over let's get to the fishing.
The guys who had been going for years were helpful with some areas to fish and I had reached out to a few others for starting points.  This proved to be very helpful!
We hit the road early and made our way, little did we know what we'd run into.  SNOW.  Lots of it.
While stopping for gas near the ramp the poor Lund didn't look too happy.
We made our way to the ramp and had boats floating right quick.
The snow didn't let up until nearly 2 PM.  It was a little dicey!
The fishing kept us warm though.  Fishing 4 to 9 feet of water at the mouths of spawning bays was key.  Going ultra shallow didn't yield much.  Fish were definitely pre-spawn, water temps were low 50's.
I had decided I was going to throw a crankbait until my arms fell off.  I pulled one rod from the rod locker with a Jackall Aska 70 in Chartreuse Black Back and never put it down for 2 days.  It paid off big time for me.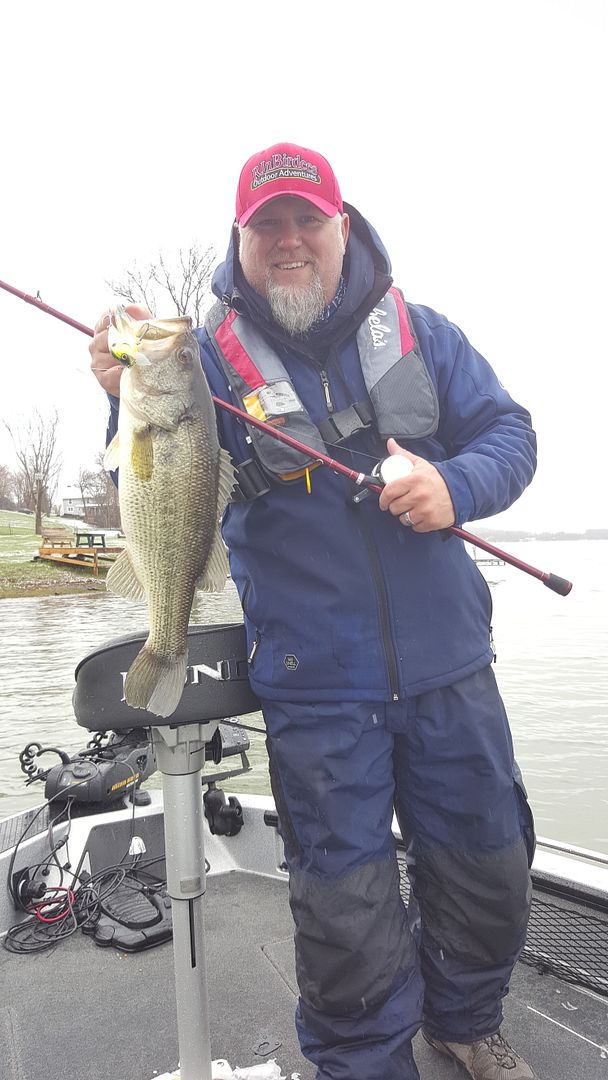 Double Header for Paolo and I, his was bigger.  He had the edge I think because of those slick kicks he was rockin' in a blizzard!
Brad and Paolo threw various baits.  Brad had the Chatterbait rockin' and caught more than his share on that.  His best on the trip was 4 lbs 10 oz.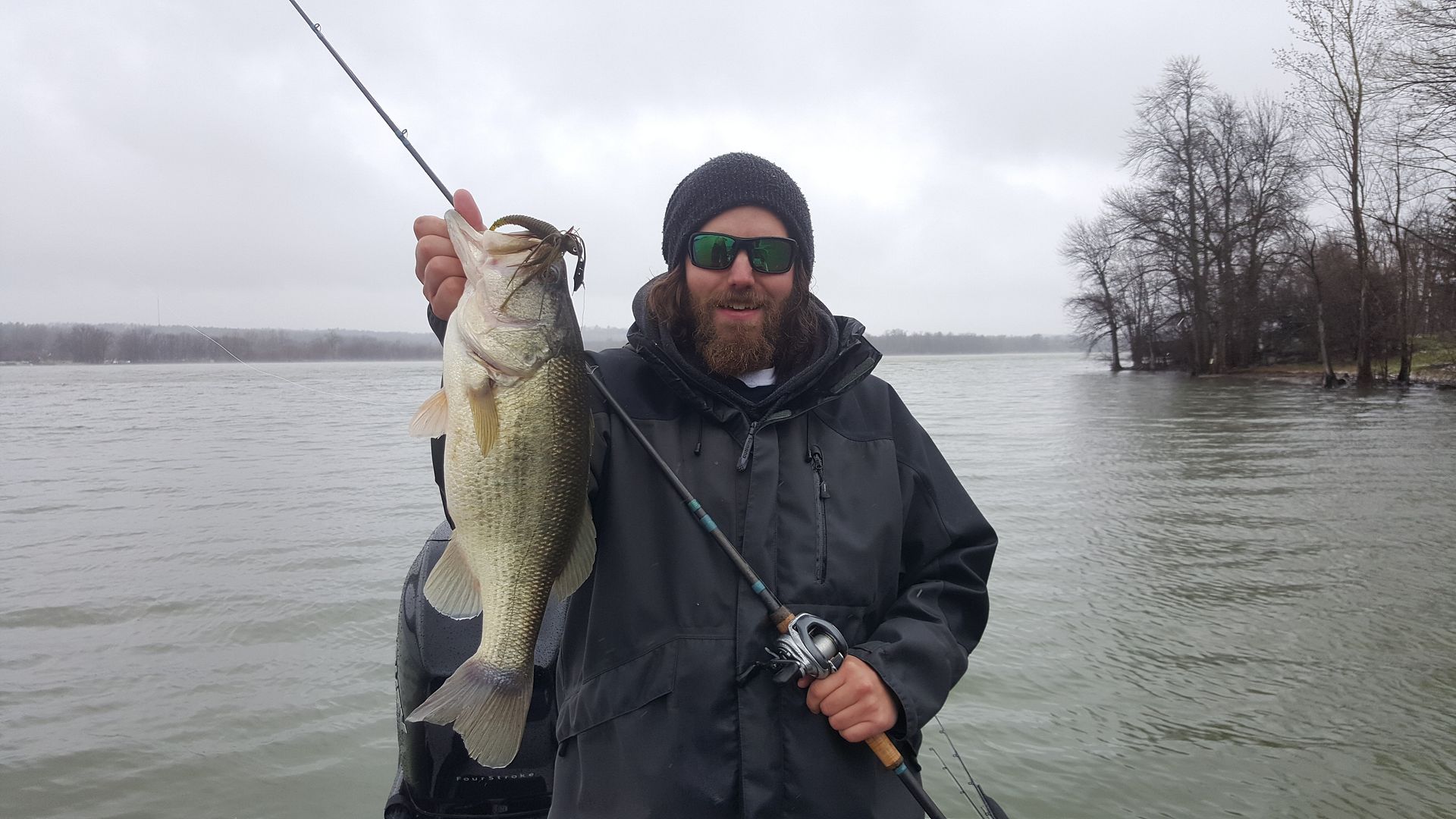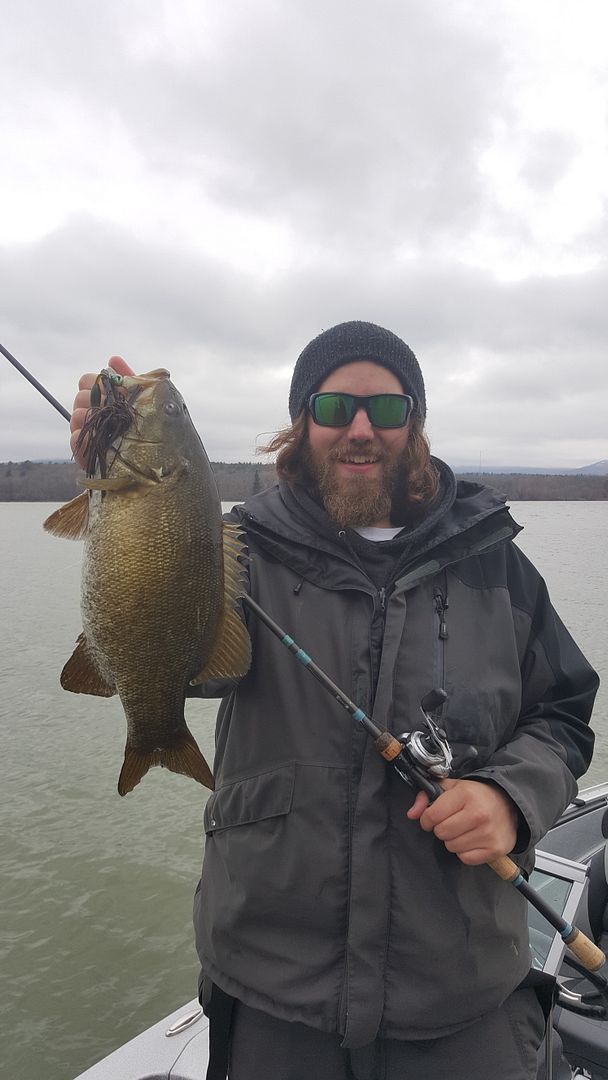 Two bonus fish for me on the trip were these two beauties.  The Pike hit my Aska with about 4 feet of line out right at the trolling motor.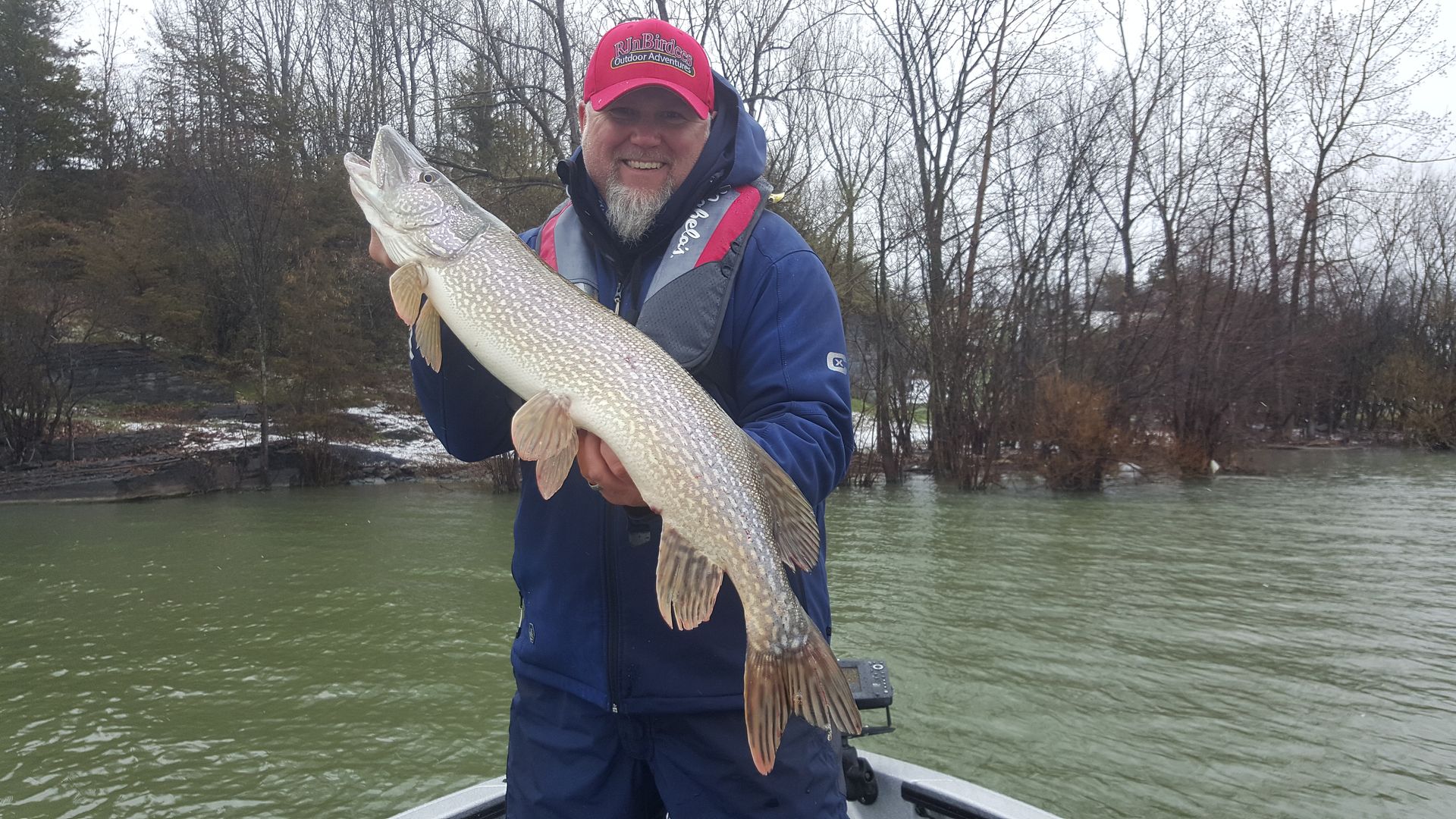 New Personal Best Chain Pickeral.  Cool fish!
We ended day 1 with over 20 bites in a half days fishing.  Great fun with two buddies in some challenging weather.  We headed back to the hotel, grabbed some dinner and all met up in our room for some drinks and laughs.  This is what these trips are all about to me to be honest.  The camaraderie with the boys and conversations about fishing went on well into the night.
Trevor and Pete reported back on their day.  Great numbers with a real toad of a Smallie for Trevor at 5 lbs even.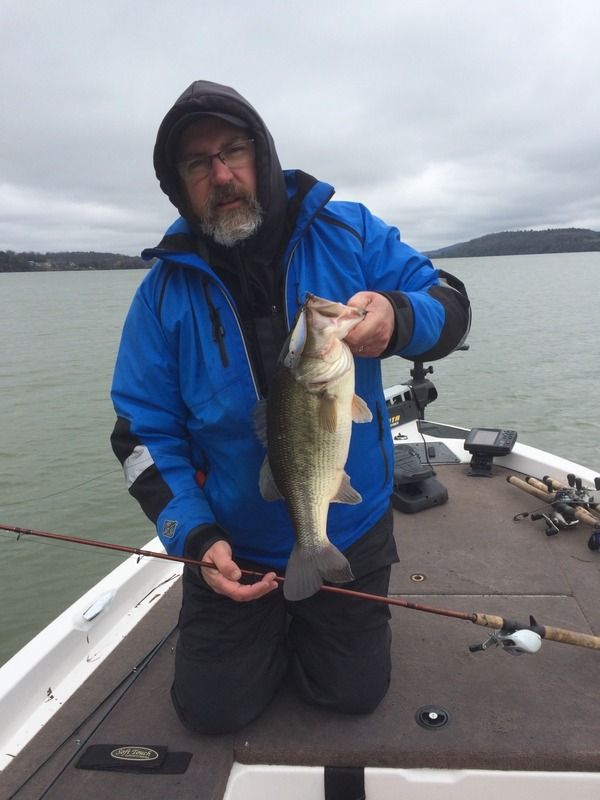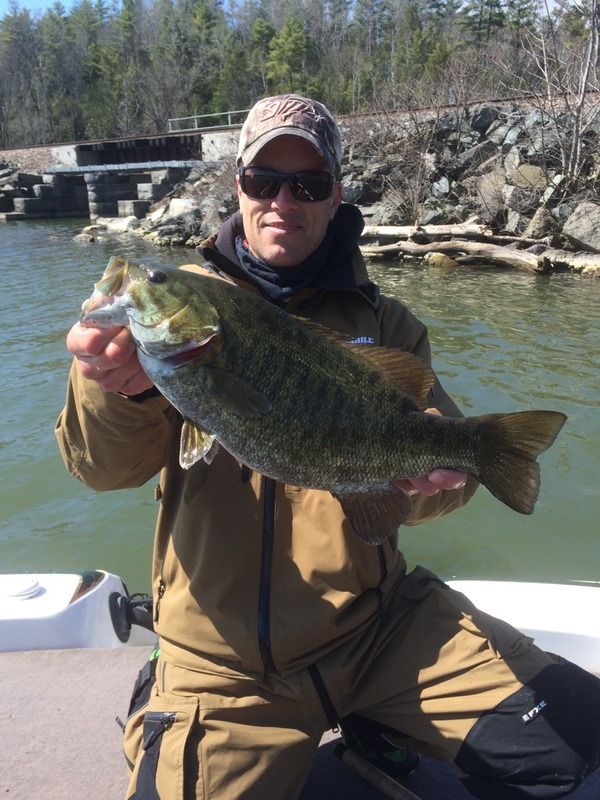 No rush to get out early we grabbed breakfast and headed for the ramp.  Noticeably warmer and the sun peaking we knew it would at least be a better weather day.  The bites weren't fast and furious but great quality.
My first bite of the day would be my best of the trip, again on the Aska.  4 lbs 10 oz.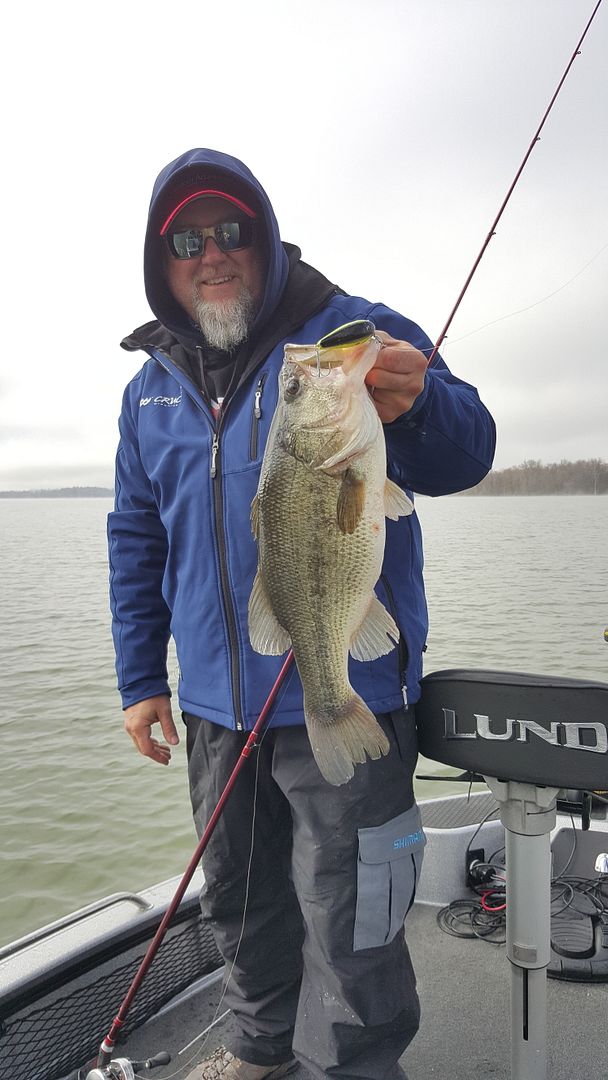 Lake Champlain is a beautiful lake.  We routinely saw Bald Eagles perched in trees.
The sun came out and off came the layers, quality bites.
Paolo's best came mid day on a Crank.  5 lbs even on the scale.
We packed up around 3 and headed for home.  The conversation on the way home of course led back to how this body of water differs greatly from what we have here in FMZ18.
First thing we noticed was our average fish on Champlain was way bigger than what our average fish is here.  We guessed nearly a pound difference in average size.  To put it in perspective we fished about 6 hours each day and certainly didn't grind it out.  BOTH days we would have been culling 4 lbers.  That's a dream day here for Largemouth in reality.  Their fish just seem to be bigger overall.  Longer growing season?  Not sure but there is a BIG difference.
One thing that did stick out to us was the lack of smaller Bass.  Between the 2 boats we boated over 100 Bass in 2 days, we had two fish between us under 2 lbs.  That's unheard of here with a large percentage of fish at 2 lbs or under.  We fished from 2 feet of water to 12 and never came across them.  Bait wise we certainly weren't using big baits that would keep them away.   What does it mean if that's the case?  I've sent a few messages to guys from both NY and Ontario that may be able to enlighten that situation.
Did I enjoy myself in NY fishing pre-spawn Bass? Yup.  Has it changed my mind on having it come to FMZ18?  Not one bit.  I'll always err on the side of conservation when it comes to our fisheries.  If there's a chance we could do damage to what we have here now I'll always say no to it to preserve what we have versus putting it at potential risk to what we are lucky enough to have in our area to enjoy.