I received an email from Ed from Paddletales a few days ago seeing if I was able to get out for a fish sometime this week.  We set it up pretty quick and decided we'd give the Lakers a go.  Jigging them up is always a blast on the lighter rods and a fairly consistent bite.
We slid the Lund in around 7 or so and we're jigging by 7:20.  It was a tough start and it wasn't long before Ed informed me he was a jinx doing this.  He'd struggled in his past trips.  "Now ya tell me!"
I hooked up first on a smaller fish around 3 pounds from 96 feet of water on a jigging spoon.  I quickly flipped it off at the surface as we had no intention of keeping any for dinner.
It wasn't too long after that Ed connected.  He ended morning fish with a total of three of these guys.
I finally set into something with a little more meat to it.  After a nice tussle from 120 feet of water this near black Laker graced us then hightailed it back to the dark depths.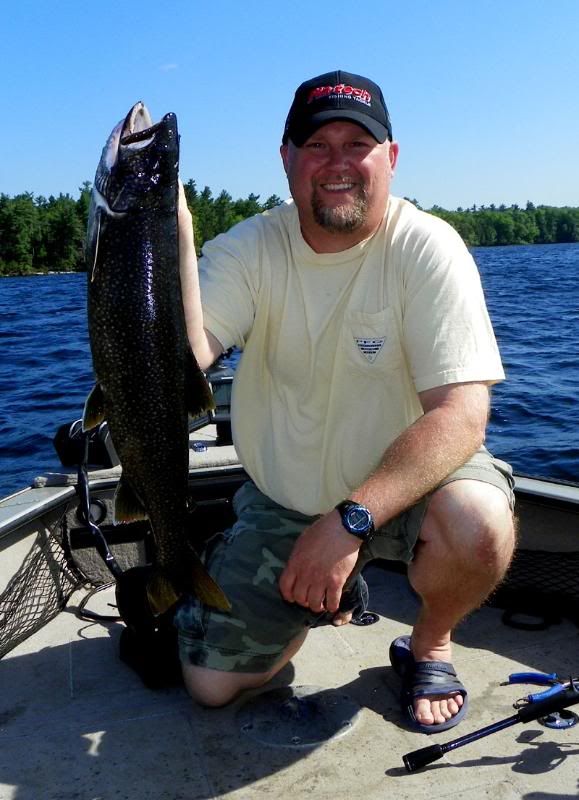 For tackle today I was using a Shimano Cumara 7'11" medium action rod teamed with a Shimano Curado spooled with 10 pound test mono.
The winds started to howl and even though we only had the morning to fish it was quickly becoming very uncomfortable to fish in the crashing waves.  Ed was up on me 3 to 2 when we left so that simply means to me we need to go back and do it again!
Thanks for dropping me a line Ed, glad we did it and can't wait to do it again.