This week featured a few trips on both ends of the spectrum.
Phil and I spent an afternoon on a new lake to us in search of Largemouth.  Rumours of big fish in the lake had our spirits up.  After a few flips to laydowns we had a few Largies on board.  That quickly came to an abrupt stop.  We pounded fallen trees for the next while and scratched our heads as we came up empty handed.  Time for a big move.
We decided to go for a tour of the lake.  We came across some fields of cabbage in 10-12 FOW.  We gathered that they weren't shallow so this was the next obvious stop.
While Phil worked a Double Wide Beaver, I for some odd reason picked up my frog rod.  Long bombed it and let it sit.  One pop of the frog and the water boiled.
We popped a dozen or so from the cabbage.  Great fun ramming the hook home on a jig or frog.
The best fish of the afternoon was caught on a LiveTarget frog thrown on a Shimano Crucial 7'6″ Heavy with 65 lb test Power Pro.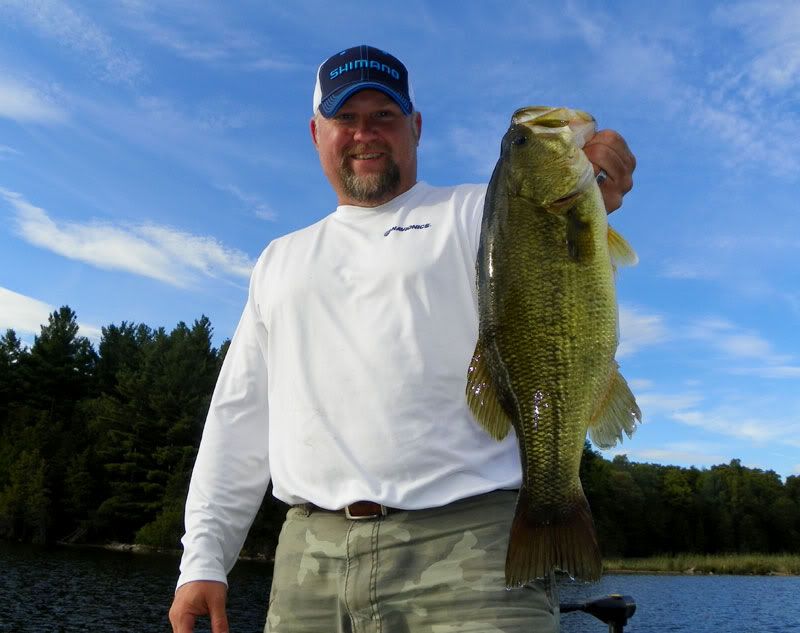 That night RJ Sr. called me.  "I'm up for a fish this week!"  When I asked him what he wanted to do he replied, "Big Smallies".  Now I had planned to do a lot more Smallie fishing this Fall so this would be a nice test.  While I certainly don't consider myself a Smallie ace, I'm working on it!  They are a freakin hoot to play with but can frustrate me to no end as well.
Off to the Mighty St. Lawrence River we go.  Armed with drop-shot rigs, tubejig setups and Senkos we set off.
We started by working steep breaks just off current that slid into 25-40 FOW.  The fish were edge sitting so a slowly sinking Senko drifted down the break was just too much for them to handle!
While I was rigging up a rod I heard Pops drag on his reel, then a big splash! Then a giggle.  I knew what he had found for himself, and a good one!
For the next few hours we worked various different breaklines with the same results.  Airborne Smallies abound!
We decided to throw a few in the well for a photo later that turned out great.  I think it took me longer to catch them in the livewell than in the River!
Gear wise for the Smallies was Yamamoto Senkos in Green Laminate colour, 5 inch.  Line choice was 30 lb Hi-Vis Yellow Power Pro with a 10 lb test Seaguar Fluro leader of about 24 inches.  Gamakatsu Finesse Wide Gap hooks on the business end.
Fall is here.  Let the feeding frenzy begin!