With the Laker season closing in Zone 18 in a few weeks I wanted to give them another go at some point.  When my local fishing buddy Rob sent me a note wanting to get out for a fish we both agreed it'd be great to give it a go.
We decided on an early start and an early return, so the departure time was 5:45 AM.  Sliding the Lund off the trailer at 6:45 we were off.  We motored out to an area Rob had some success last time out.  It didn't take too long with the use of his Eagle sonar to find the lakers and the depth range they were sitting at.  Bait balls were thick and filling the graph from 80 feet down all the way up to 60.  Solid hooks all around them.  Today was not a day for the dropshot as no fish were relating to the bottom at all.  Out come the jigging spoons!
It didn't take 20 minutes before the first laker was landed.  Then another.  Then another.  All in the 1 to 2 pound range and beautiful "natural" fish.  I finally set into something with a little more spunk.  Still not what we were after but a little more fun.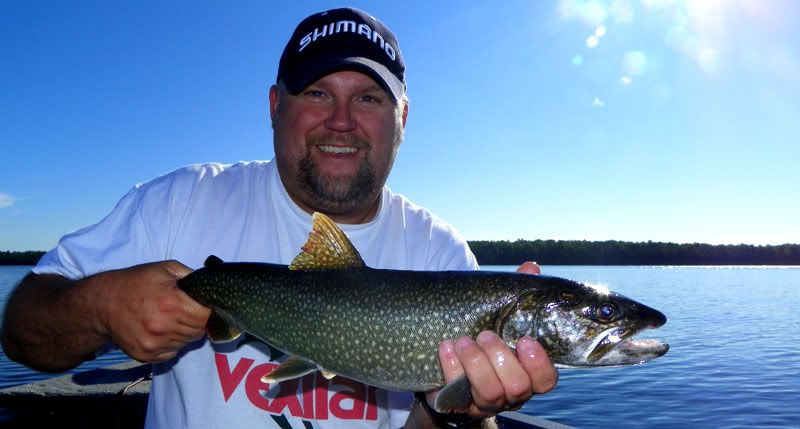 After plucking a few more smaller fish we decided to make a move.  The dreaded "leave fish to find fish" deal, which this time paid off.
We no sooner dropped the trolling motor to begin our drift and my rod buckled.  "Fish on!"  "Me too Mate!"  A nice double.  We tag teamed these two greasers, Rob slid the net under mine then went back to getting his topside.  Mine unhooked sat nicely in the net waiting for his to arrive.  When it gave its last "burp" we saw it.  A beautiful orange finned 10 pound laker.  One more kick of the tail and it decided it had played around enough with Rob and threw his spoon back at him.  Gone.
This was mine.
We reset on the same drift, and doubled up again!  3 pounders flipped off boatside.  They were smashing the spoon today sometimes as high as 30 feet below the boat.  Awesome.
While Rob was still somewhat bummed out about his lost fish his "broom stick" as I called it buckled.
After a great battle this burper gave up.
Everything went back today.  It was great to see them take off so quick with the cooler surface temp.  Often you would get a face full of water while holding them to release them.
Our departure time was nearing when my rod buckled again.  This was one of the best fights I've had from a laker ever.  We were able to watch him on the graph the whole time as he stayed right under the boat.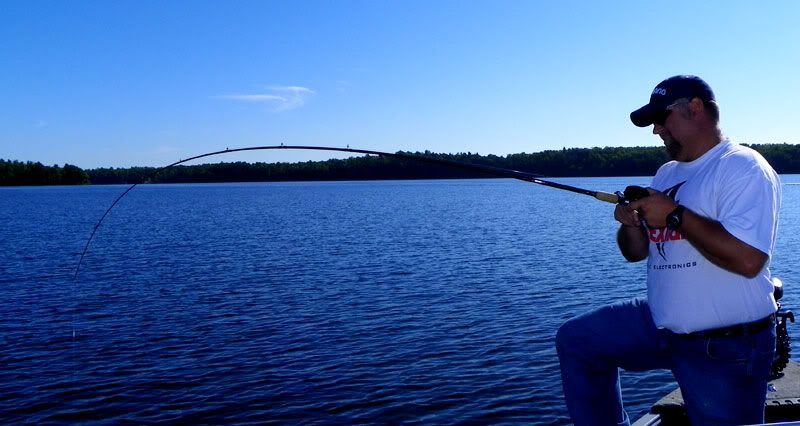 The result.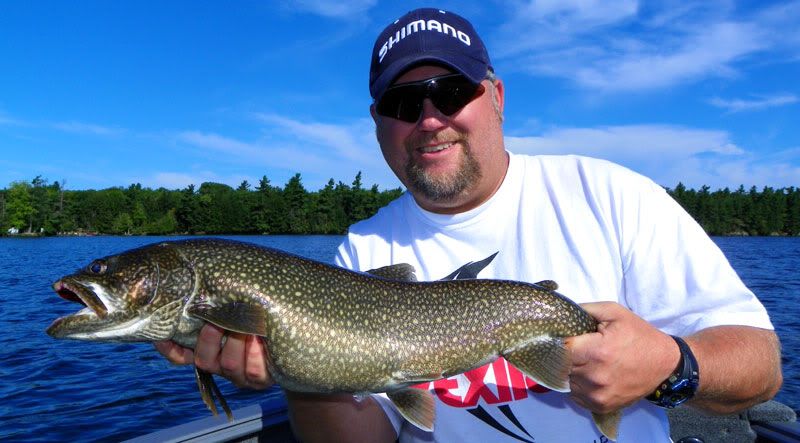 Back on the trailer by noon.  What a blast this morning.  Thanks Elton!