Birdee and I look forward to this event all year.  It's a great charity event ran by Matt Hill and his awesome group of volunteers.  The proceeds from the day go to the Multiple Sclerosis Society of Canada.  Over the years Matt and his crew have raised in excess of $36,000….incredible.
Pre-fish?  No time.  Let's just wing it.  It's a no pressure day and an excuse for Birdee and I to spend a full day fishing together.
Gameplan?  4 rods on the deck.  Two Flippin' sticks with Title Shots and Creature baits.  One Wake Bait and a Frog rod.  Simple.
Birdee began flippin while I went back and forth between the frog and crank.
A nice strike on the crank had the blood flowing.  "Please be a Bass!"…"Bah, damn Pike."…."Birdee, get the net!"  My first ever Tiger Musky.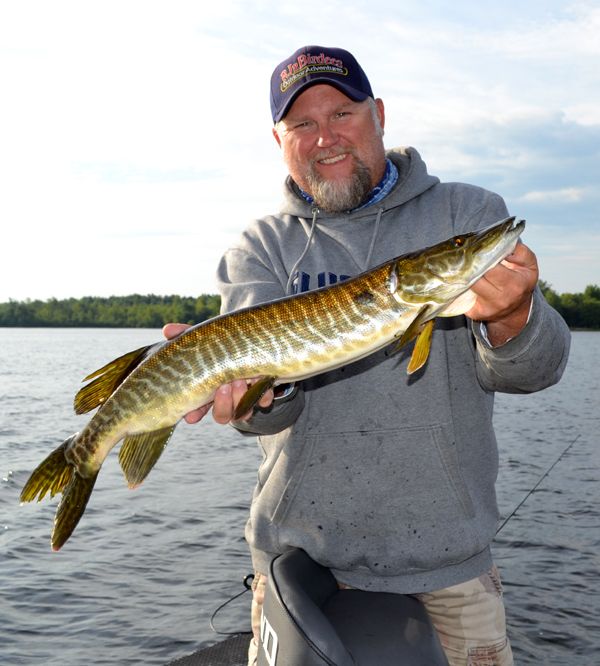 Things started a little slow on the Bass front.  We had decided to marry ourselves to one large area knowing there were good fish around there historically.
Once we found the right weed mats things started to come together and by 945 we were culling.  Flipping Creatures on Title Shots in the 1/16th oz weight just off the edges of mats paid off for us.  I always prefer to work the edges of the mat then try to bang your way thru it.
We culled 4 times I believe.  Having lost a few fish along the way we were a bit down about that but knew we had OK weight, not enough to win but enough to be satisfied with.
We weighed in 13 and change that had us settled into 9th place by days end.  We'd take it and the hundred bucks in groceries for our efforts!
Fun day for us and one we are already talking about for next year.