Had two great days on the water this past week.  Spent one day in search of Crappie and another Muskie fishing.
My buddy Tim joined me aboard the Lund in search of Crappie.  Tim being the Panfish editor for Ontario Out of Doors is obviously a passionate chaser of Pannies.  My affliction for chasing Panfish is deep rooted now and they certainly get my attention often.  We began by looking for the most healthy looking deep weed we could find.  We found it in 9 feet of water.
For baits I'm usually a vertical jigger while looking for Crappie.  Tim does alot more of the horizontal approach with cranks and spinners.  I was plunking my hair jig down thru the stalks of the standing cabbage.  I was able to watch my jig as it made its way down and when I saw a papermouth engulf my jig we instantly through out the marker buoy.  GPS works and we did that as well but nothing beats a marker buoy for this.
Once we had the area dialed in a bit I decided to go to a slip float setup.  This proved to be the ticket on the day.  Tim later changed it up as well as the success of the float was tough to argue.
We fished until dark and totalled nearly 30 Crappie between us.  Some nice ones too.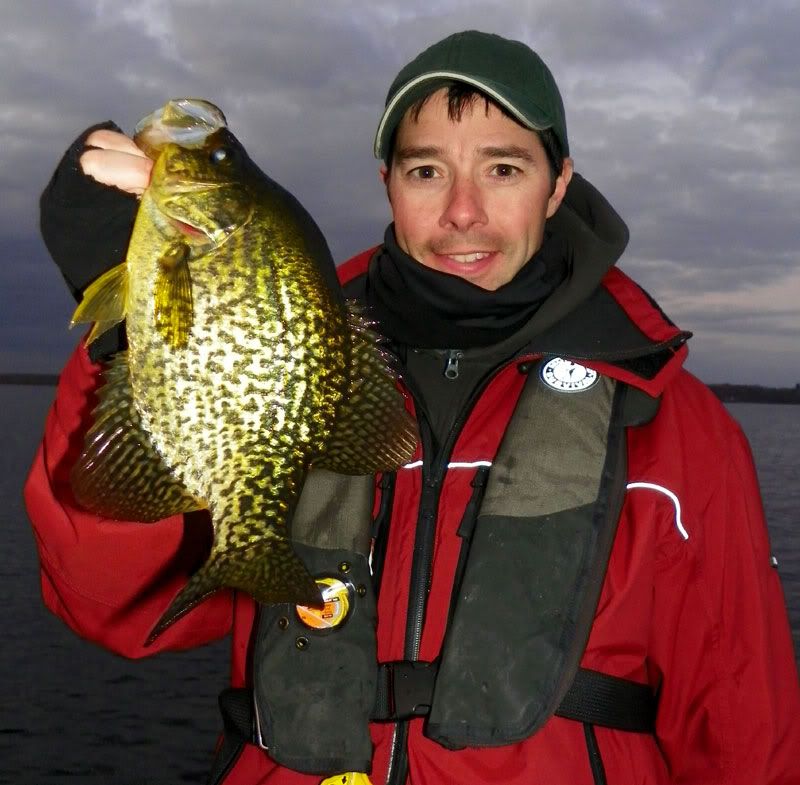 Fun afternoon and evening that was!
The next day to go to the other end of the spectrum, I had been invited to join GLoomis Pro-staffer Wally Robins aboard his Lund for a day of Muskie fishing.  Wally has years of experience on the River and his invite was greeted by a "Hell ya!".
We dropped the Lund in and in short order we were bombing big plastics baits into the cold depths.  Within twenty casts I had a VERY larger Muskie follow me in.  I figure eighted for what felt like 2 minutes as this fish chased it.  She took one big swipe and missed the bait completely.  After 5 or 6 more turns of the eight she engulfed the bait.  Wally and I watched her engulf it and spit it right back out in a fraction of a second.  Amazingly the line nor bait hit the side of her mouth as I never felt a thing in the rod.  Amazing and unbelievable all at once.  This fish had my knees knocking.  We visited her a few times again to no avail.  Next time.
Wally had the hotstick on the day contacting three Muskies and landing two.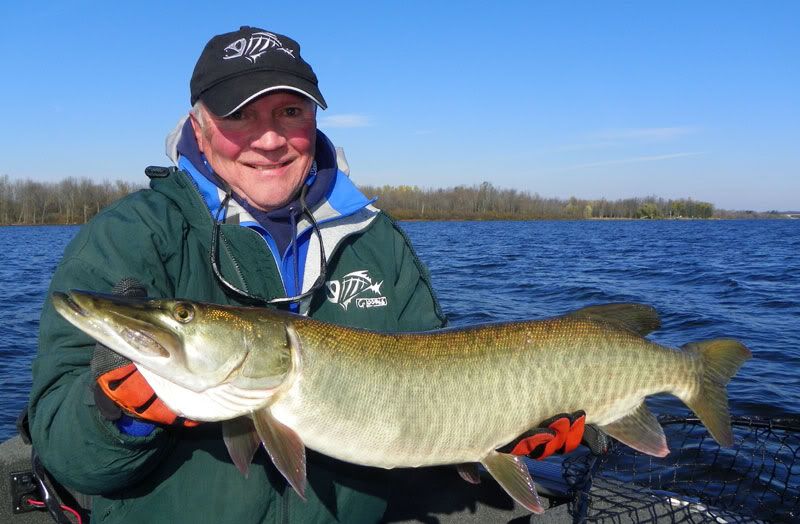 The hookset and battle this girl gave Wally was worth the price of admission!
It started to feel like "The Wally Show", until I felt that "thud" thru my 80 lb test Power Pro.
It was the first time Wally and I had shared a boat, but I guarantee you it won't be the last!