Received an invite from a few fellas on the other side of the Ottawa River to join them for a day hunting big Largies on what they call their Lake X.  Having seen the fish they pop from this body of water I was excited to give it a go.  We had arranged a small fun day derby that would cover the winners on the day's launch fee.  Derby time was to end at 4PM.
After a more than interesting boat launching arrangement we were off.  With the basic lay of the lake, Phil and I made our way to a steep rocky shoreline.  There we found some skimpy weed and not a ton of cover.  We poked around the shoreline and found a fair number of small Largies and Smallies.  Not too exciting.  But it is hard to get too upset about lacklustre fishing when this is your setting.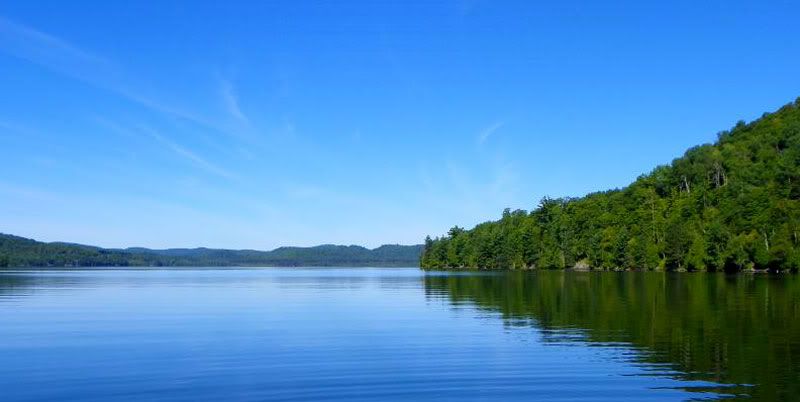 After awhile doing that we decided to go for a ride looking for some serious weed growth.  I stood on the bow and Phil ran the motor.  We came across a nice pile of Milfoil surrounding a shoal.  Looked great.  We plunked 5 Largies out of it but again nothing exciting.  Phil was all over the fish today with his traditional Senko rig.  I worked a variety of baits including tubes, craws, jerkbaits, cranks and of course the Jig.
We did some more running around until while running back to an area we wanted to look at again the Lowrance showed me what I had been hoping to find all along.  One of the most beautiful Milfoil beds I have ever seen.  It sat in 11 feet of water with the Milfoil reaching 2 feet from the surface in areas.  It was now 2PM.  I told Phil to get comfy because we aren't leaving this til 4.
Phil worked the outer edges with the Senko while I went right to the roots of it with the Flippin jig.  A 3/8ths Revenge jig did the trick for me.  I had plunked out a few from right at the base of the Milfoil.  Dropping the jig vertically down the open pockets was the ticket and on one drop the jig hit bottom, I tightened up the line and jigged it once.  The rod nearly got ripped out of my hands.  Monster hookset and Phil slid the net under her.
4 PM rolled around and we met up for a short lived weigh-in.  Once they caught a glimpse of that girl in our boat they began to release their fish.  We showed the fellas the area and they joined us for a bit as we continued to plunk the area.  The boys obliged a photo before they set em all free.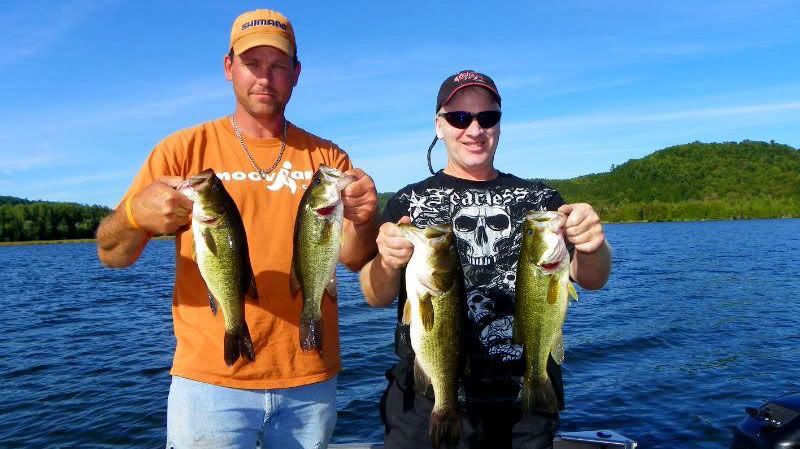 Phil then turned into the hot stick after he switched up to the jig.  We couldn't muster anything up more than 3 pounds after that but the jig bite was hot.
We pulled the boat out at 6.  A decent enough day with big numbers for Phil on his trusty Senko but size was disappointing with the exception of that one tank.  Some days one fish can make the day.  That one made mine.
Huge thanks to Paul and Craig for the invite, a favour Phil and I will return, no doubt about it.