Everyone makes the trek to the Bay of Quinte region in search of those famous Giant Walleye.  When the invite came to join a group heading down for a few days I accepted.  Grant McAllister from G2 Angling put the group together which had the likes of JP DeRose, Derek Strub, "Big" Jim, Todd Currie, Steve Barnett and myself.  Quite the motley crew but for sure to be a good time.
Thursday was a busy day for those who made their way down that day.  A great day for numbers but no big fish.
After a great meal on Thursday night with more than a few tales told around the table we set our plan for the morning.  With a 5:30 wake-up we all turned in early.
Our team hit the ice Friday morning with vigor.  Grant and Jamie from G2 ran our gear out to the 27-36 foot flat we were fishing while we made the walk on foot.  By the time we had arrived they had our shacks opened and the heat on.  That was a nice touch.
When I dropped my transducer into the frigid water I was marking fish instantly.  The action was fast and furious for the first 3 hours.  Lots of fish landed and more than a few lost.  A pattern began to form.  Call them what you want, dinks, cigars, or nursery fish.  We were on top of them.  While the size was a little to be desired there were lots of fish around as you wouldn't go very long without marking a fish on your Vexilar.
He had the hot hand most of the day going between his trusty Jiggin Rap and a Hawger Spoon.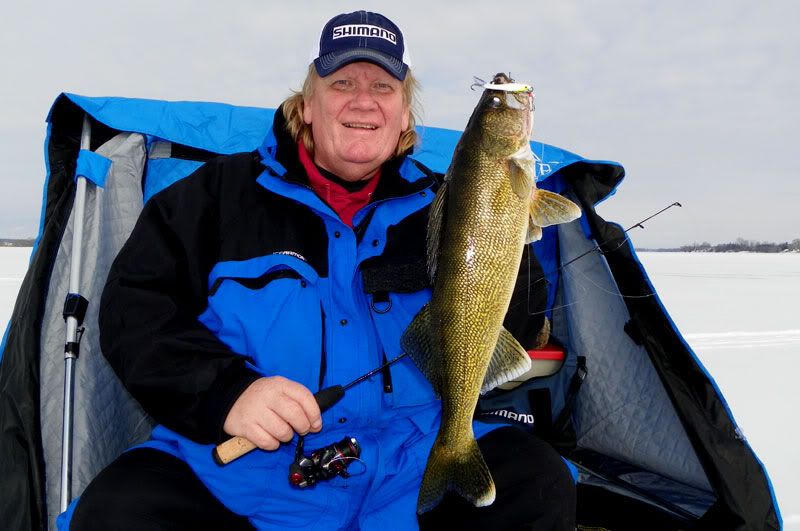 "Big" Jim held court while we took a big of a break before the SW Ontario guys headed home.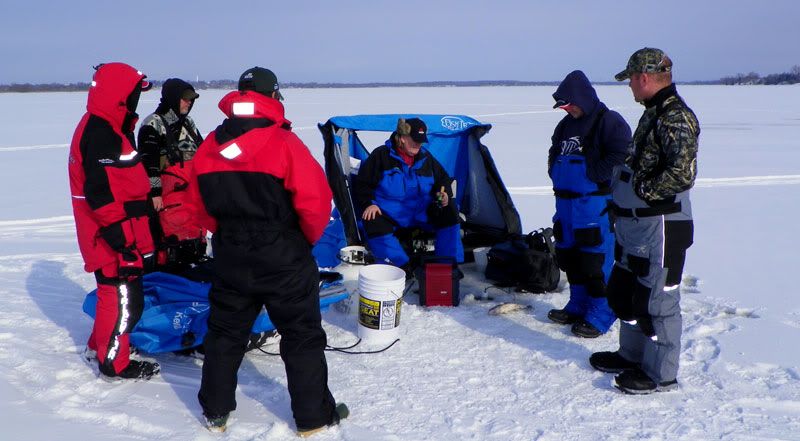 "Big" Jim doesn't fish near as much as he used to so it was awesome to see him back at it.  He never left that seat from 6:30AM until we packed up at 5PM.  All the while secretly beating up on the eyes!
We stuck it out until near dark and headed for shore.  While the day may have been disappointing size wise it was A-1 for the company, laughs and yes the walleye.
Huge thanks go to Grant and Jamie from G2.  Two solid fellas that are as outfitted as you can be to guide on the ice.  They run a great operation and do everything for you but go down and make the big ones bite.  After all in the end it is fishing.
Every one of those small fish I'd catch I'd ask them the same question, "Where's yo Momma?"  She was hiding yesterday.  But she can't hide forever, I'll be back for her.