Even though my time on the Renegade Bass Series is more than likely over I always plan to help out the club whenever I can.  I just believe in what they do and how they handle things, so volunteering to fish their Pro-Am was a no-brainer to me.
The Pro-Am format is fairly simple.  Folks sign up for the opportunity to hop aboard one of the boats with the "pros".  My partner was Chris Coker.  I spoke to Chris in the middle of the week and he was pumped up about it to say the least!  We spoke for awhile and when he said to me on the phone, " I just wanna win, we gotta win this man!".  I chuckled and said we'd just go do our best and we'd see where we sit at days end.
Tournament mornings with the anticipation of what the day may bring always gets the heart pumping a bit more.
I had told Chris about a few docks I knew at times held some big fish.  Off we went and by 7:15 I had flipped a 2.5 pounder aboard the Lund.  Nice quick start.  We slid into the docks and when my line tightened up as a fish picked up my jig I rammed the hook home.  After a few anxious moments with the fish going the opposite way with the line wrapped around the dock leg, Chris was perfect with the net and after a quick high five we were beaming.
We had our kicker.
We plucked away the rest of the day flipping jigs, chucking Senkos and Chris was working his trusty Pop-R.  He later requested the net and I slid it under another hefty fish in the 4 pound range.  I knew at that point we had a shot at winning this.
Working shorelines and docks then later some flats we had a mixed bag of Largies, Smallies, Pike and Big Pannies.  Late in the day we hit a fish that I thought had maybe sealed the deal for us that we put at over 3 pounds.  We were both getting that antsy happy feeling!
2 O'clock was coming near so we made the run back to the weigh-in.
We tidied the boat and sat back to relive the day we had together.  What a riot.
As we intently sat and listened to other teams weighing in and the scuttlebutt on the water was "lots of fish, no size" we started to feel better about our chances.
The boat was pulled out and the fish bagged.  Chris pulled his big girl out.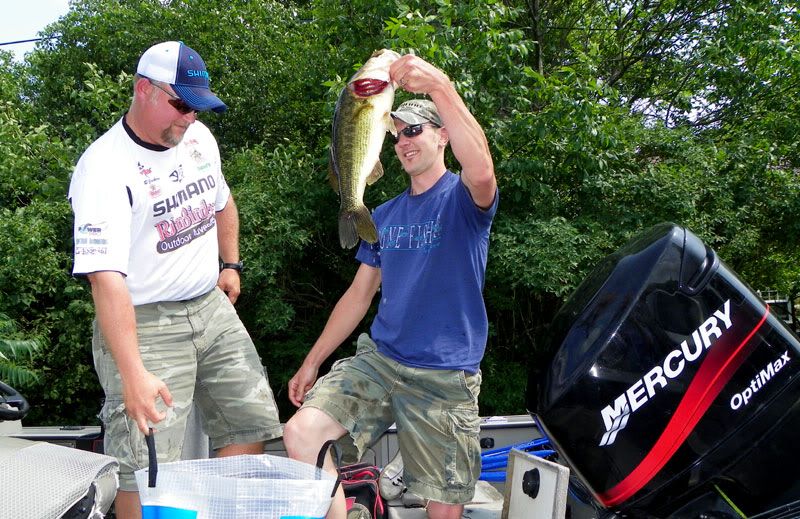 Then Grandma came to the party.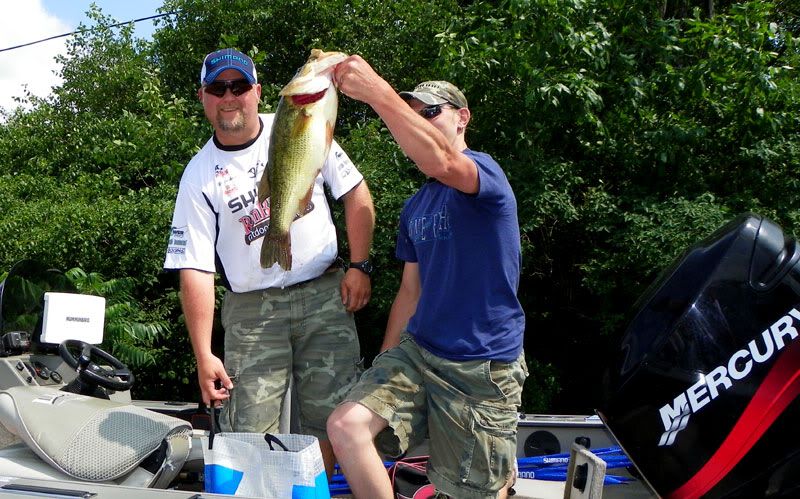 We both took the stage to see our weight.  Wicked.  19 pounds even.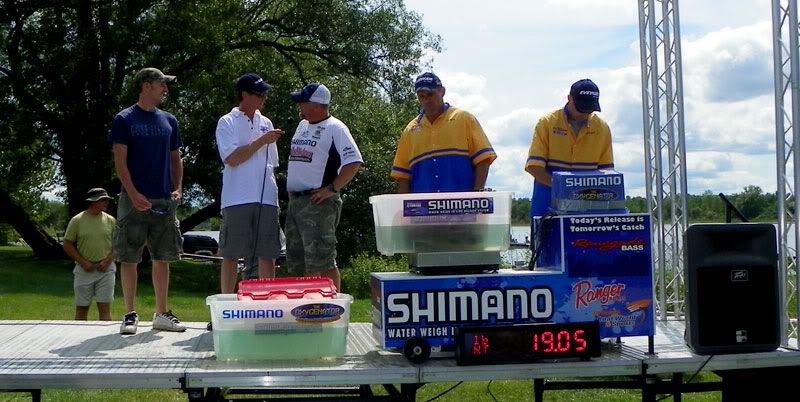 The big girl weighed in at 6.30. (Thanks to Paulo Chiuchiarelli for this pic)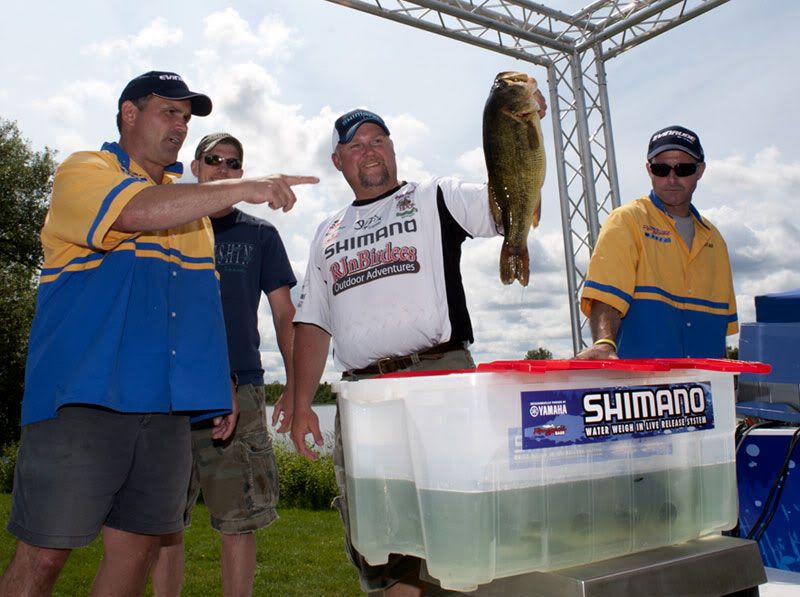 Chris and I snapped a quick pic before sending them on their way to the Live Release boat.
Then we sat and waited to watch others weigh-in, it wasn't much longer and then it became official.  We had won.  I'm buddies with a few guys who have won Renegade events before.  It's something I had always hoped I'd experience.  Just a cool deal.
Chris was great to have on the boat today.  It's always easy going when ya just go fishing.  We talked about fishing, our jobs and just life in general.  I know he had a blast today but I can assure you, SO DID I!
Chris walked away with a load from Renegade including a nice HDS-5 Elite sonar from Lowrance as well as a rod and reel, but I think the smile will be his big prize for the next little while.
Thanks Chris, fun day buddy.  Thanks to Renegade for putting these together, I'll never miss another.