Ah.  The Ottawa River.  Some hate it, some relish it.  Either way it can be a tough fish for everyone.
This years water level made for some interesting decision making in regards to what bays you'd like to attempt to enter.  Stumps were exposed that we had no idea where there as well as rockpiles.  Sure is a different looking river when you have it so low.  Water clarity in most areas is terrible with a foot of visibility if you are lucky.  One bay had less than 2 inches of visibility.  It's going to be a challenge.
It took Len and I about 3 days to completely lick our wounds from our disaster weekend on Lake St. Francis.  We learned a lot by the mistakes we made and hopefully never have to deal with that again moving forward.  Being 5 pounds out of 40th is a daunting task.  But on the Ottawa River anything can happen.
Our mindset going in was to simply "wing it" and let the chips fall where they may.  If we were to hit 16 to 17 pounds on the day we'd have a shot at getting in to the Classic, maybe.  We decided to only pre-fish one day.  No sense in stinging fish a week before and opted to just check on a few areas that always hold fish for us.
For our pre-fish day we had an old buddy of mine aboard.  Billy lives in Rockland so it made it easy for him to join us for the day.  Bill's a real character and we enjoyed our day having him out with us.
We started on a Smallie spot.  Yes Smallies.  Sand flats were holding the smallies off the main flow of the river.  No real big fish landed but it is an option on tournament day.
We then moved into a few of the bays that are just off the river.  Weed growth is not like prior years at all, low water all year is likely the culprit.  We worked around in those bays for a bit and picked up fish on a variety of baits.  While running a shallow running crank my rod was nearly ripped out of my hands,  I was able to get a good look at it while I shook it off boatside.  Easily a 5 pound plus Largie.
We decided to start making our way back to the ramp and stopped to check out one more weedline.  It was in rough shape.  Dirty,dingy water.  I flipped my jig at the edge of the pads.  Tick.  Then nothing.  Tick Tick and my line jumps.  I gave it the Ol TV hookset as we say and am into a good fish.  One flash in the dirty water and it was aboard.  Nice 5 pounder…..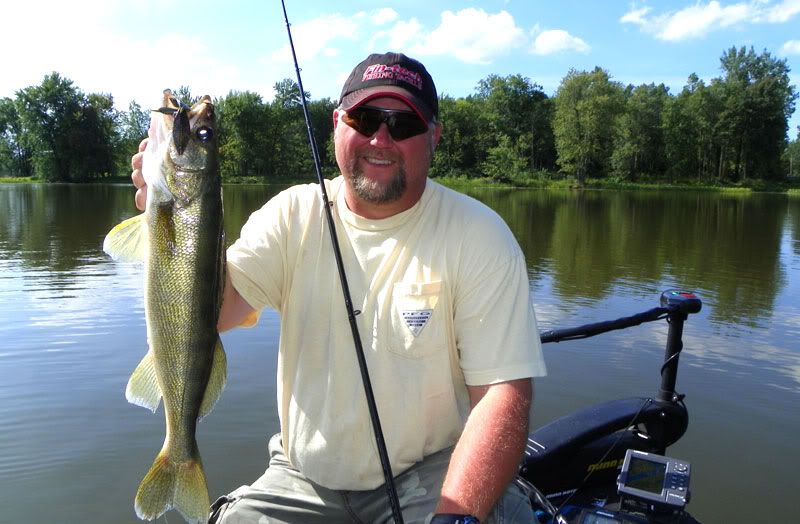 Stinkin' Walleye…..
We ended the day with a photo of Len and our guest.  Two decent fish that will get lost in the mud that is the Ottawa River.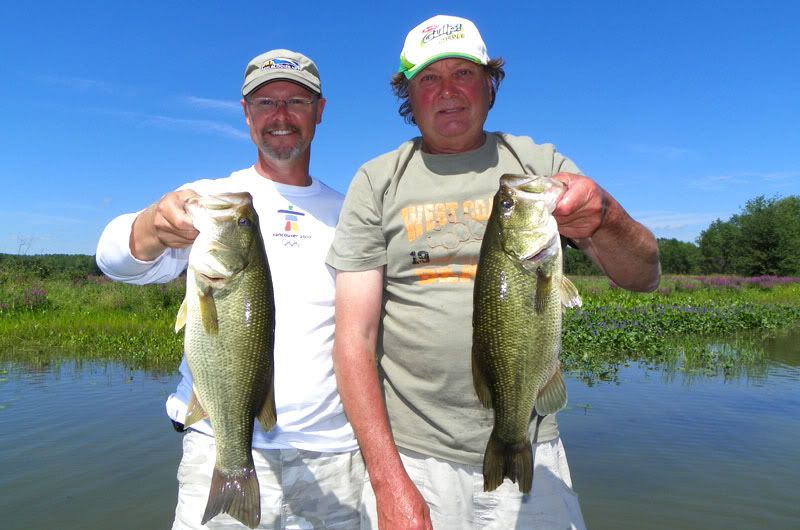 Leading up to all tournaments I get that nervous energy starting on Thursdays and it just builds.  This one was a bit different.  We were realistic in knowing it'll be tough to jump up and get into the Classic so it was billed as a "Try to Smash em day".
Gameplan was fairly simple.  Hit the Smallies first for a quick limit with hopes of one or two of them being in the 3 pound range then go "kicker" Largie hunting.  To do that we decided to cover water and lots of it.  The fish seemed to be scattered off of cover in pre-fish so fast moving baits ie. spinnerbaits and shallow cranks were the plan.
Tournament day came and blasted off to our Smallie area.  By 8:20 we had that limit we were looking for.  One was 3 pounds and another high 2 pounder.  Somewhat what we had in mind.  The right call had to be made at this point.  We could have stayed there and probably upgraded these fish a bit, but not what we needed.  A pair of big Largemouth is what we needed to kick our weight up to what we needed.  We just didn't think the smallies would get us to that weight.  So we left.
We visited the popular bays of the Lower Ottawa and worked our butts off in hopes of a few kickers.  Other than having our baits slammed by pike, which always gets the heart racing, it just didn't happen for us.
We weighed in a little over 10 pounds which ended our hopes for the Classic.  We likely would have upped that weight had we stayed on the Smallies but that would have never reached the 16 pound plus mark.  We knew we made the right call but it just didn't pan out.
Our buddy Charles Sim took the tournament with a 20.93.  He also claimed the Team of the Year title with his partner Nigel Touhey.  Charles is a great guy and for the time he spends on the water it is well deserved.
And so ends our Renegade season. It can be classed as nothing more than a huge disappointment for Len and I.
I hope you've enjoyed following us this season through the site and as much as it was difficult to report on our tough season I'm glad I did.
Huge thanks are in order for the following folks. Wescar Corporation, Ontario Iron Works and Paintball Paradise for their support this season.  We also can't thank our friends and families enough for their support.
Good Luck to all fishing the Classic out of Morrisburg. My pick to win?  If they can get to the big lake, Charles and Nigel in a season clean sweep.  Go get em boys!