Earlier this week Charles Sim filled me in on a small gathering of tournament anglers hitting Big Rideau Lake for a 5 fish limit tournament.  Charles decided on an interesting format, 1 fisherman per boat.  I was excited to give this a try!  No net man.  No conversation.  You make all the calls on your own and live and die by your own decisions.
While preparing the boat I decided to pack fairly light.  Senko, Tube, Crank and a Flippin Stick just in case.
While checking the weather to plan my day I was discouraged by the forecasted winds out of the west building throughout the day.  I wanted to fish a flat near the main channel, but that forecast if true would make it tough to fish.
I dropped the boat into the water and upon returning the boat I noticed the dock area was loaded with panfish.  I thought to myself, "Perfect".  The Largies will still be shallow and likely hungry.   We pulled out of the launch area at 8.

After a bit of a run in the cold temps, I started working the area by throwing a shallow running crankbait.  The good ol Mann's -1 had my livewell filled with water by 8:30.  A high 2 pounder.  Now being alone with no net man it makes for some interesting moments boatside so I decided to "crane" everything.  I had no decision to make in regards to getting the net so it became much easier after that.  Being that I'm fishing against fellow Renegade Bass anglers I knew I had to at least get a limit!  Too much pride on the line to come back with my tail between my legs.
One thing I did notice about fishing alone, you feel at times like you aren't covering water at all.  Finding that happy medium of boat control and making sure you were actually working the area properly took a bit.  At times I felt like I was stuck in one spot for too long then sometimes I blew through an area and felt like I neglected some of it.  Once I had that down pat I started to load em up.
I decided to make a shallow pass.  Water ranging from 4-6 feet of water was worked with the Crank.  I had 3 undersized Largies across the shallows.  I switched up to a tube jig and moved out to the next break.  Now working in 6-8 feet of water I started to pick away at them.  By 9:30 I had my 5 fish limit.  Culling time.
Moving deeper yet again I hit paydirt.  Now at the 10-12 foot mark I hit those way points.  I've always heard and read of Largemouth "schooling up" in the late Fall but had never really hit a big school of active fish.  Today I did, in spades!  It was the best string of fishing I've seen in a long time, maybe ever.  The first pocket of fish came just off a weedline on the deep edge.  In one 30 minute stretch it seemed like every cast I either caught a fish or had one take the bait and spit it on me.  It was nuts.  What I haven't mentioned yet is the fact that it is pouring rain.  Truthfully the fishing was so good I probably wouldn't have noticed anyways!
I culled up a bit but not a lot.  All were clones in the 2.2 to 2.7 range.  Fun but I knew I would never win the day with those guys.  I sat down to have a bite to eat and think about my next move.  While enjoying a sub and I just started shaking my head.  I had caught 33 Largies in 4 hours.  Now was decision time.  Do I go look elsewhere for that "kicker"?  Do I stick around and just keep pounding away on them hoping for a bigger fish to cull with?  I decided to stay and have some fun!
Here are the baits that did the damage today.
Tubes on a 1/8oz. Title Shot jighead were hot early.  Long bomb casts and almost deadsticking it letting it slowly sink was the ticket.  I found that if I caught a fish I could quickly unhook it and then flip the Senko right back in the same spot and it would get bit right away.  That happened ALOT.
Time moved on with still no big cull,  I was only gaining ounces.  At 3:40 I set the hook onto a heavier fish.  I scrambled to the net on this one.  Nice cull this was adding a 4.3 Largie to the box.  The day ended at 4 and we all pulled out to start weighing in fish.  I had a feeling I was one good fish short.  Story of tournament life to be honest!
Some nice fish were brought in!  Dave with a nice Smallie.
Pete was up next and weighed in a real Duker.  She tipped the Berkley to 5lbs 3ozs.
I weighed in next and didn't make the grade.  Pete's kicker bumped him ahead of me by 3 ounces with his total of 15 lbs 3 Oz's.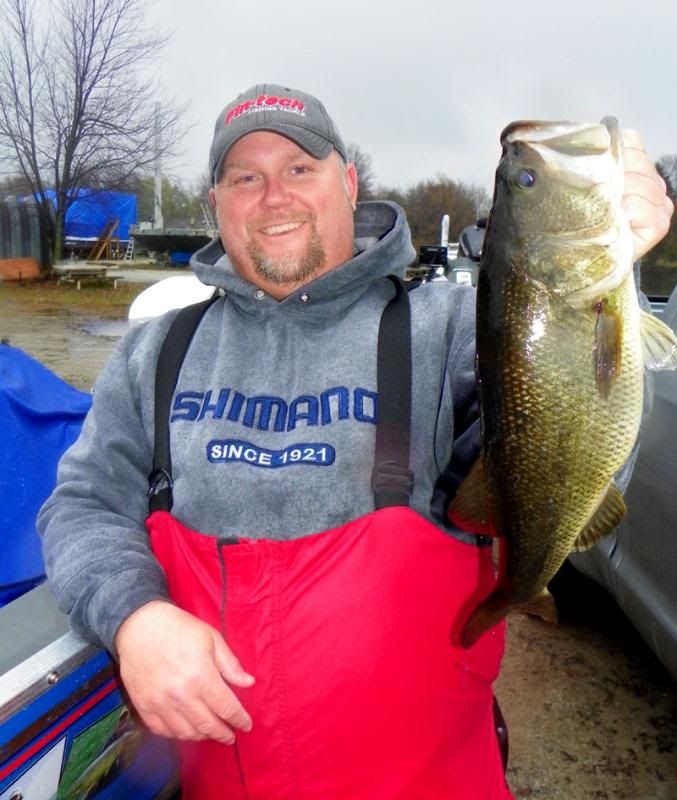 Up next was Charles.  I guess that's why he's going to fish the FLW next year!  Nice sack of fish Charles.  He bumped Pete out of first with a 16 plus pound limit.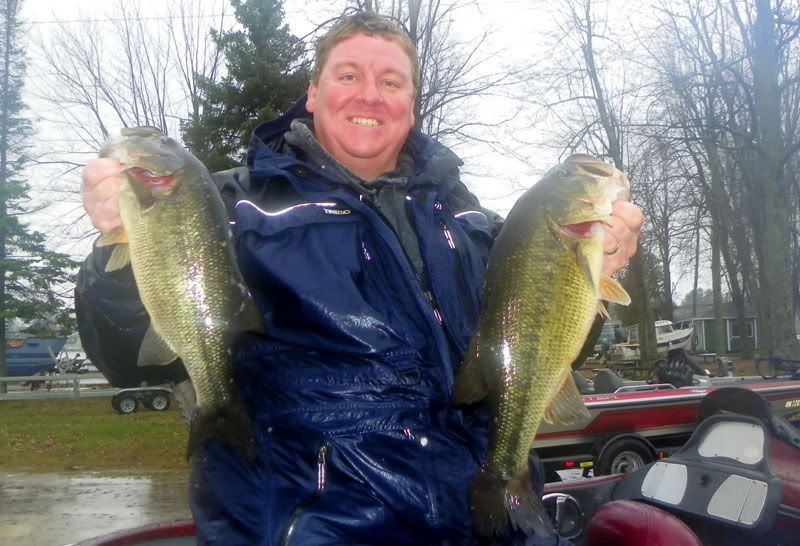 Though I didn't win the day I felt like I made the right call to stay.  I had a blast.  When weighing in I noticed my hand.  Some serious Bass Thumb today!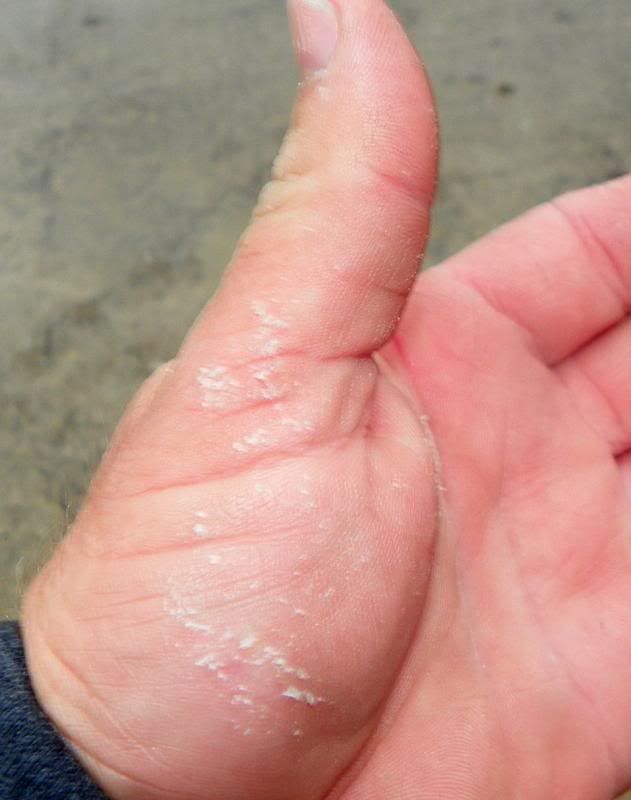 Thanks for a great day fellas.  Some friendly competition is always welcome!