Ice fishing season is in full flight.  The lakes are getting safer for vehicle travel so it was time to put our ice shack on ice.  We had decided to move it to a more productive spot and where we originally had it for the first 3 years of its life.  Lower Rideau Lake.  It is a virtual shanty town out there!
While the permanent shack isn't the best way to fish as you simply sit and wait for the fish to come to you it can be a ton of fun.  It becomes a bit of a meeting place and it gives the kids a chance to wet a line in serious comfort.  We slid it onto an old way point and prepared it for its resting place for the next two months.
Birdee came along for the setup which now takes us zero time.  We hit the lake edge and 25 minutes later we were fishing.  It's a great setup and I don't think I'd want to do it any other way.  While we setup, Birdee and Ariel took the rugrats for a rip on the sleds.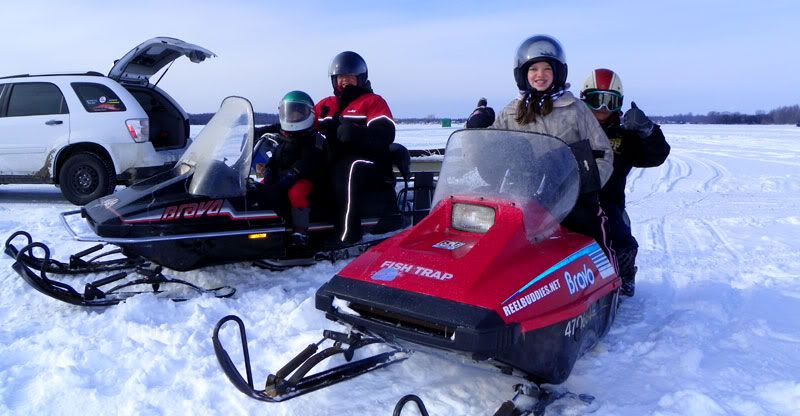 Once the boys realized there were some fish to be caught they hopped into the now warm shack.  Emmerson and Ronin were very amused by watching the perch attacking their jigs on the underwater camera.  Emmerson laid a beating on the perch.  Ronin would just say hi to them them throw them back down the hole.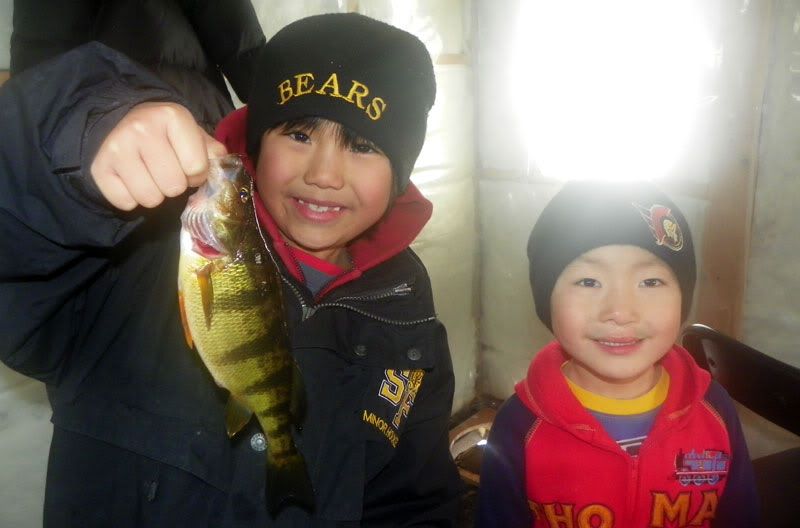 The shack is in place.  If you are in the area and you see a vehicle out at it, feel free to swing by to say hello and come in and warm up.  Visitors are always welcome.
While at the shack Gord and I discussed our plans for Sunday.  A plan was hatched and even the best laid plans go south sometimes.
Our plan was to hit a small out of the way lake that I had heard had some big Perch and Crappie in it.  With the expected freezing temps we decided to start a little later.  On my ride to meet Gord I passed one of those flashing signs that tells you the temperature.  It read -31.  Ugh.
At our meeting place, Tim Hortons (where else?) I decided to fire up the sleds to get them warmed up while we had a quick breakfast.  Both fired right up and purred while we sat inside discussing how insane we were to be going out on this frigid day.  Gord loaded his gear into my truck and off we went.
We arrived at the landing area and I decided to fire up the sleds again while we prepared everything.  The long track fired right up.  As I was starting the other the long track stalled out.  Odd.  Pull, Pull, Pull.  Nothing.  Puzzled I opened the hood.  If I wasn't freezing to death I would have punched myself in the face.  No gas.  I swear I looked at that last night.  So off I go to get fuel.
We had unloaded all the gear so Gord stuck back with it until I returned.  As I'm driving down the road I'm getting text messages just explaining to me how much of a jackass I am.  He didn't need to tell me.  I knew!
I was back within 30 minutes, ok maybe 45.  Got the long track fired up and portables hitched on.  Party time!  I take off taking the lead and jump the snowbank and out onto the lake.  I feel like I'm being bogged down a bit so I gun it.  SLUSH CITY!  I'm bogging down bad now.  And after hoping I'd get lucky and get out of this slushfest I didn't.  Stuck in pure slush.  Ugh.
After about 20 minutes we freed it up enough to get a run back onto some shoreline and up and off the messy lake.  No fishing here today.  I would have taken a photo for humour purposes but at this point I likely would have fired the camera into the bush.  I was a little hot under the collar!
Do these two guys looked thrilled?  Snotsicles!
We re-trailered the sleds and loaded the gear.  Time for a Plan B.  We decided with the temps being what they were to just retreat to our shack for the day.  It would be warm and we'd likely catch some fish.  The issue we now faced was the key was at my house which would add at least 90 minutes of hassle to go get it.  Being two smart guys we decided to simply go buy a new lock, and a set of boltcutters to get the other one off.  $50 later we were in business!
We arrived at the shack and quickly realized we made the right decision as the wind was now ripping and deadly cold.  The lock was cut off and the heater fired up in no time.  The radio was turned on and we settled in for an afternoon on the panfish.
Perch were the first visitors, then we had two big schools of Bluegills visit us.  The Vexilars were lit up and the fish were hungry.
I somehow convinced Gord to shoot this video!
We pulled the plug on the day before the Crappie bite would really start but we felt somewhat redeemed on what was a disaster day in the making.  Dozens of panfish visited us in the shack, nothing of size but loads of fun to play with.
My day nearly ended in the biggest GONG of all.  While backing the ski-doo trailer into the laneway I missed our new truck by about an inch.  That would have sent me off the deep end!  Happy to report I'm inside, alive and warm now.