The tradition continues.  Rather than giving RJ Sr. something material for Fathers Day and his Bday we spend a few days down on Lake Ontario chasing Salmon and Rainbows.  I only do it a few times a year but love it, and there is no question he's addicted to "Reel Peel".
Along for the trip this year was my brother Kevin.  His workload is hectic so getting him away for a few days was great for him!
We set the alarm for 4 AM and hit the hay.  I had prepped the rods and everything was ready to rock.  I was a bit disappointed when we launched as it was very light out at 4:45.  That early first light bite is key out there and I felt like we missed some of it.  Turns out I was wrong.
Reels were screaming and rods were thumping.  Briefly.  Lost gear and fish was a nuisance and it really started to get to me.  I was re-rigging everything on the fly.  It was a very frustrating day for me personally.  We had the fish on that we wanted but for one reason or another they didn't make it aboard.
We ended the day 6 for 13.  Tough landing ratio!  Best fish of the day was this beauty Brown Trout for my bro.  Best Brown ever in my boat…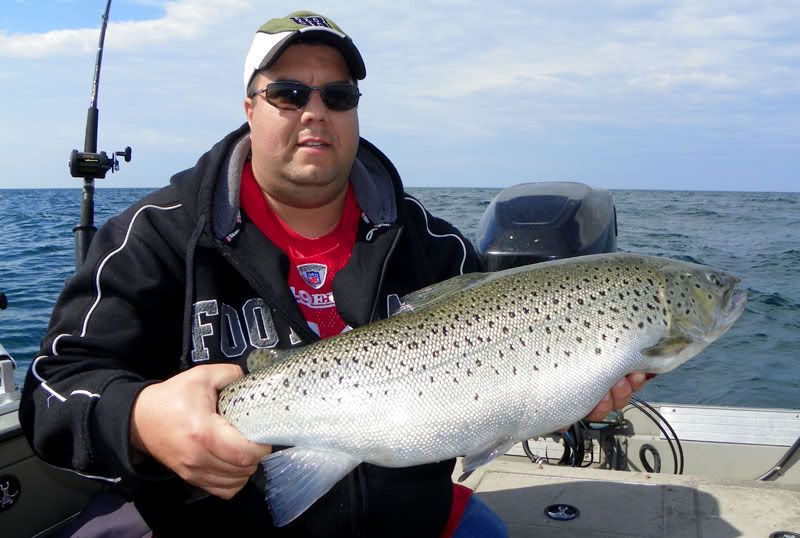 We trolled into the sunset that night.  My mind was racing in preparation for the next day…
That night I prepped everything again, and set the alarm for 3:15.  No messin' around!
We weren't setup 15 minutes when this was the scene.  Two screaming Tekota's!
Kev's was a Rainbow while RJ Sr. had the Chinook he was lookin for.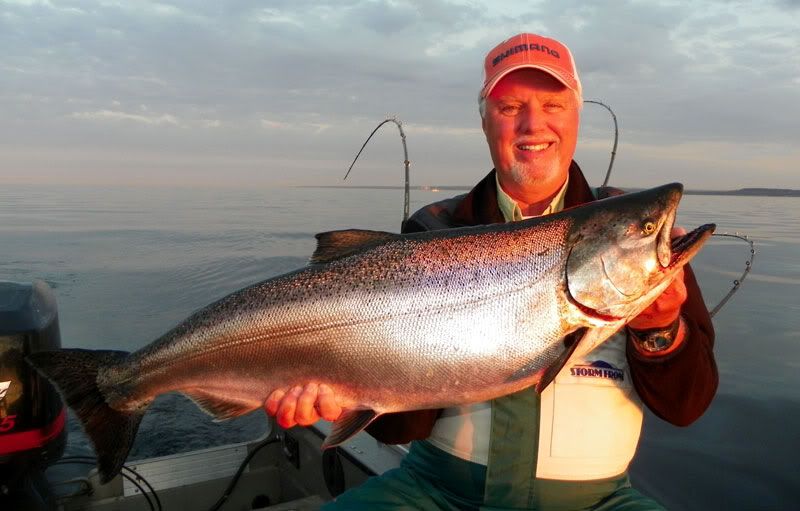 Rod rotation was somewhat in place but when my turn came and it wasn't another Rainbow I handed er off to my bro, after the handoff it screamed off 475 feet of line!
Happy boy!
We found a warmer pocket of water that had some bait kicking around in it so we just worked it hard.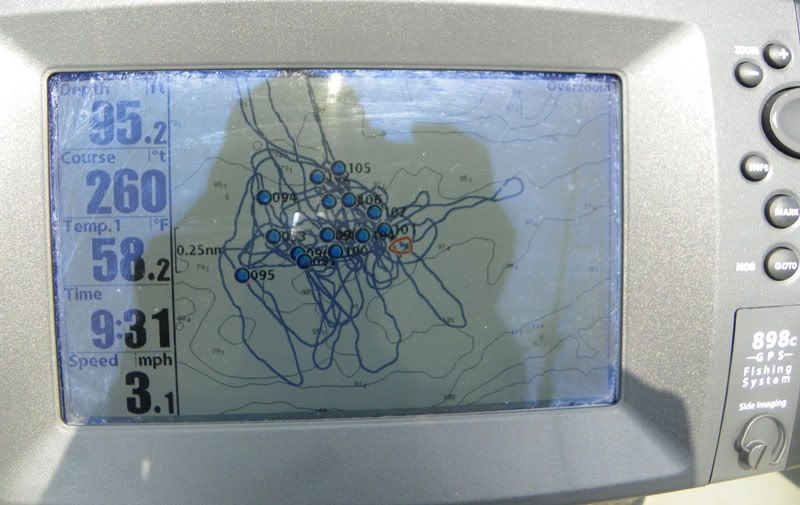 We had a pretty steady pick of a nice mix of smaller Chinooks, Rainbows and another Brown.
In all the Rainbows we had, Kev had yet to get one on his turn.  When the annoying leadcore rod fired and the Bow was jumping about 3 miles back he was on it.  His "hat trick" as he called it.  King, Brown and a Bow.
A downside to the trip was the amount of fleas in the area.  Made for a pain in the backside at times.
As the morning went on we decided 10:30 was time to pull lines and head for home.  Around 10 the deep rigger fired.  I was on it.  Lucky enough to have our best Bow of the trip on the other end.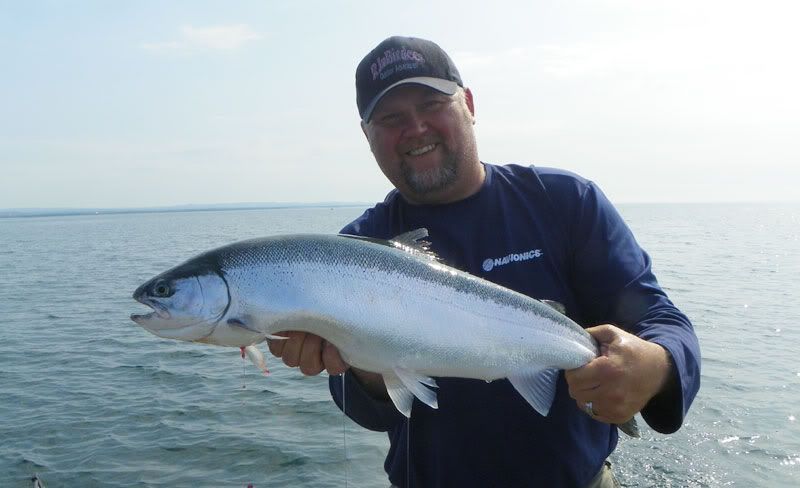 Pulled lines and headed for shore.  15 for 15.  Redemption.
After all the lost gear and frustration of lost fish, this photo just takes that all away……