My passion for fishing is 100% the fault of one man, My Dad.  He is totally responsible for this sickness!  With schedules what they are these days we rarely get to fish much together but with his B-day and Fathers Day being inside of a week we had to keep the tradition alive we started last year and do a 2 day trip.
Last year we went to Lake Ontario but with the lake not setup properly temperature wise the salmon weren't in our area as of yet.  We hit the Steelhead well, but though we were happy with our results I know Dad yearned for more!
Plans were in place, we left Thursday night to ensure a nights sleep and a pre-dawn launch to attack Lake Ontario.  By 5:15 we had lines down and by 5:30 we had our first "rip".  A mid sized Chinook Salmon came unpinned on one its runs and though disappointed I knew the salmon were in the area now.  Game On!
Doing a true rod rotation I was up next and scored a little football Brown Trout. Not what we came for but the skunk was off.
With Dad up next he picked up a small Rainbow Trout.  No photo as I much prefer to release all my Rainbows by flicking them off at the back of the boat.  A lot of people put a ton of time in effort in restoring and maintaining the Steelhead fishery so I try to release em all.  I was up next and as hard as we tried I wasn't able to release this fine Steelie.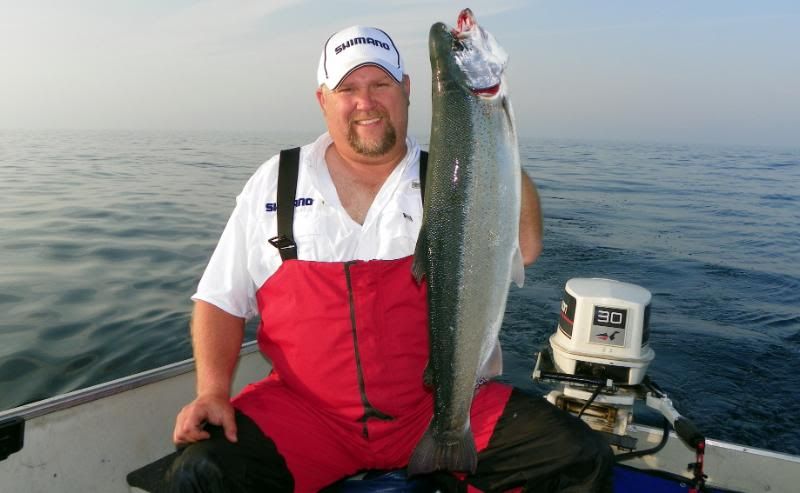 Now I imagine everyone is thinking "Hey where is RJ Sr's fish???"  Don't worry!  The Braid Dipsy with a Spin Doctor and Fly Combo bounced hard, and line started screaming off.  Dad was on it!
When this fish hit the net and a few highfives and belly laughs later we snapped this pic.  Dad first "real" Salmon.  21 lbs 14 oz.
I was thrilled to say the least!  Mission Accomplished.
We stayed out on the lake all day, ate Breakfast, Lunch and Dinner out there!  After the sun gets high the Salmon tend to disappear so we switched up a few things to more of a Rainbow setup, and beat up on them for awhile.  Once the sun started to dip around 4 we swapped up the slim spoons and back to our Salmon spread.
The back left rigger behind me driving bounced hard.  I was on it in a jiffy.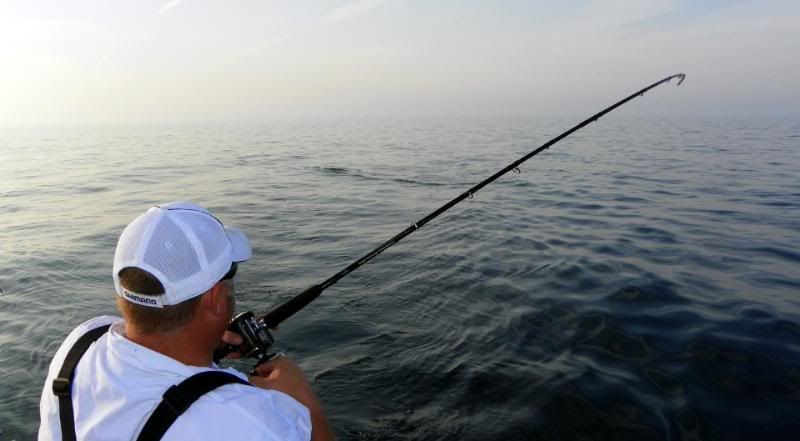 Dad slid the net under it and she tipped the scales at 19 lbs 14 ozs. Nice.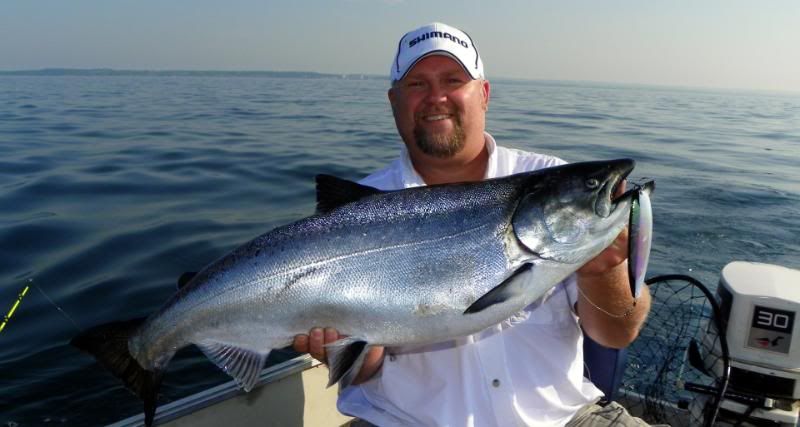 A short time later the wire rod was absolutely slammed.  Dad was on it and stood there simply holding on as this fish peeled 400′ of line of his reel while he giggled the whole time.  Pure Reel Peel.  After a sore arm and about 20 minutes later we had her aboard.  26 lbs and change.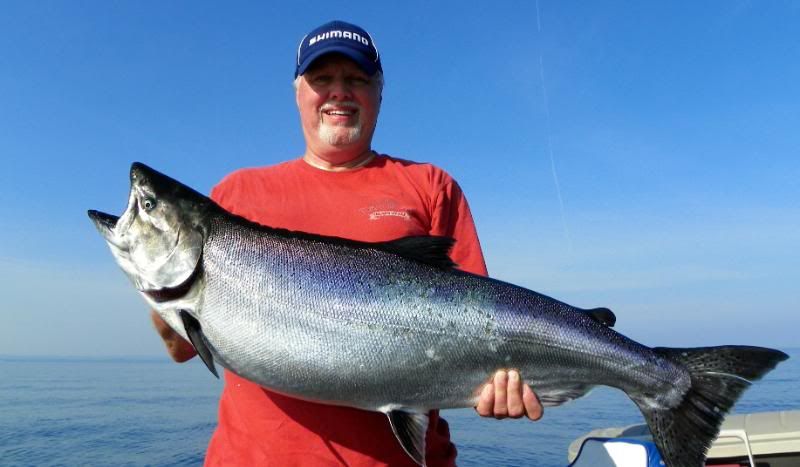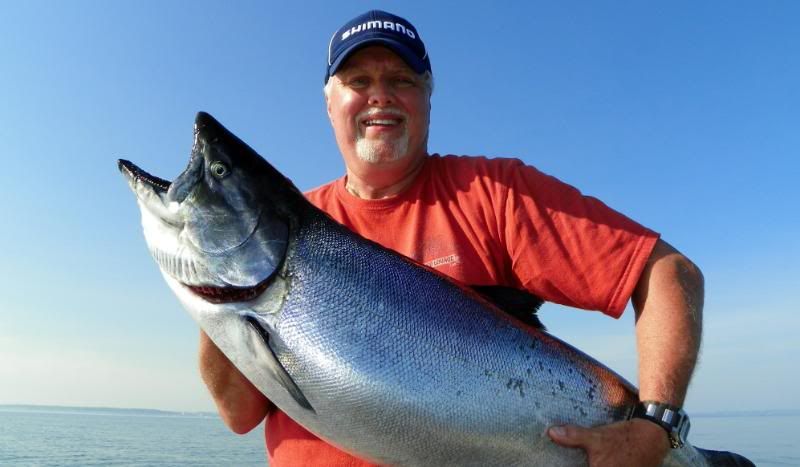 We were simply thrilled now.  The best ever Salmon on my boat.
We retreated to our hotel for some much needed rest.  Up early and back on the lake by 5AM.  A slower start this morning, but the wire fired again and I was up.  What a battle this girl gave me.  25 minutes later she was in the net.  A 26 and change for me. Wicked.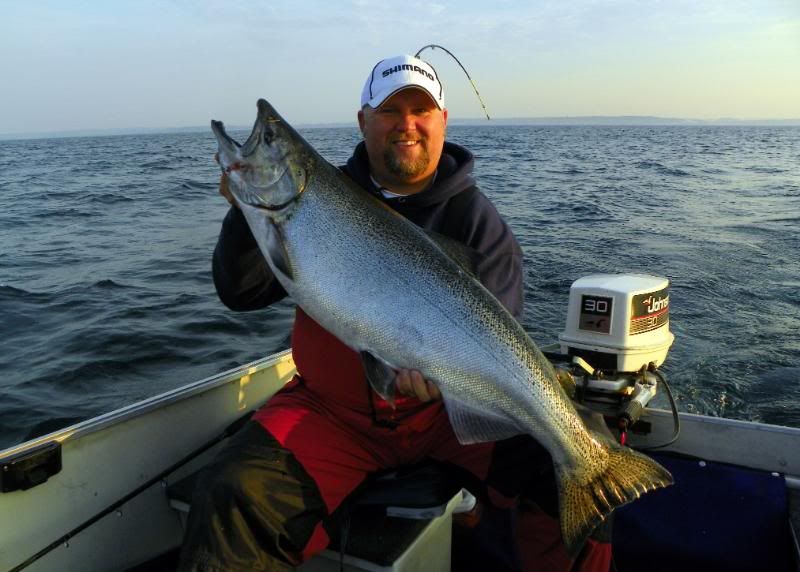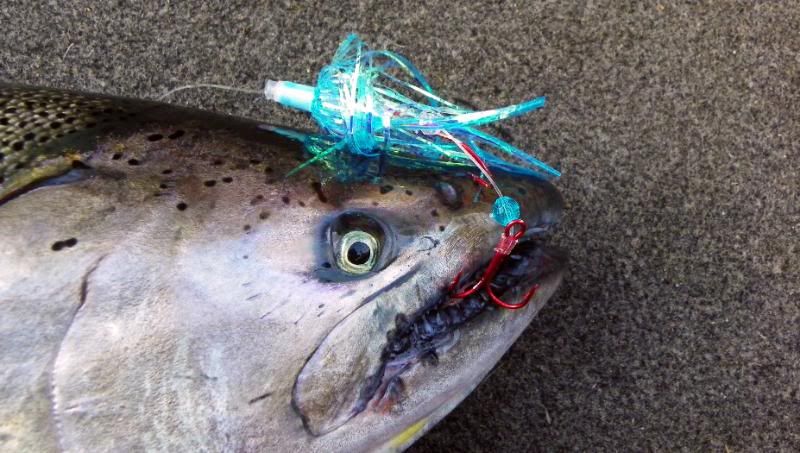 We pulled the chute at 10 AM this morning and went in for some Breakfast then made our way home still talking about the fishing we just experienced. What an awesome 2 days on the water.  Totals were 15 for 20 on Friday and 4 for 4 this morning.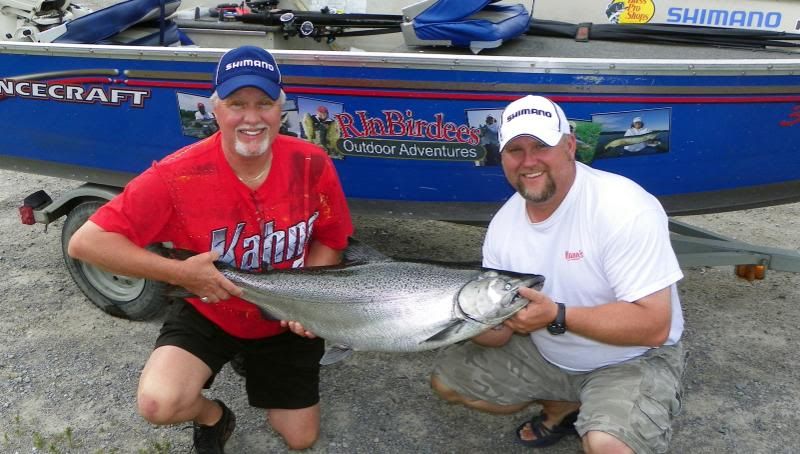 Thanks for joining me Pops.  Some great memories made over the past 2 days!