Birdee and I hit the shack tonight for an evening fish.  As hard as we try we never seem to be able to get there before 5, which means we pretty much miss the HOT bluegill bite and have to wait around until darkness sets in for the Crappie to get active.
They threw us for a bit of a loop tonight with the 'Gills going pretty good when we arrived and the Crappie arrived shortly after that.
Birdee was on fire tonight with various baits.  Diamond jigs, Darters, Squid Jigs all took fish for her.  This plump 'Gill took a diamond jig and 3 maggots.
The Crappie moved in at dark and were fairly neutral in the few hours we were out.  Some serious coaxing was needed to pluck the near dozen we managed topside.  I found a pocket of active 'Gills in the dark which is a bit odd but they kept me busy for the better part of 30 minutes.
Birdee with her two best from the evening.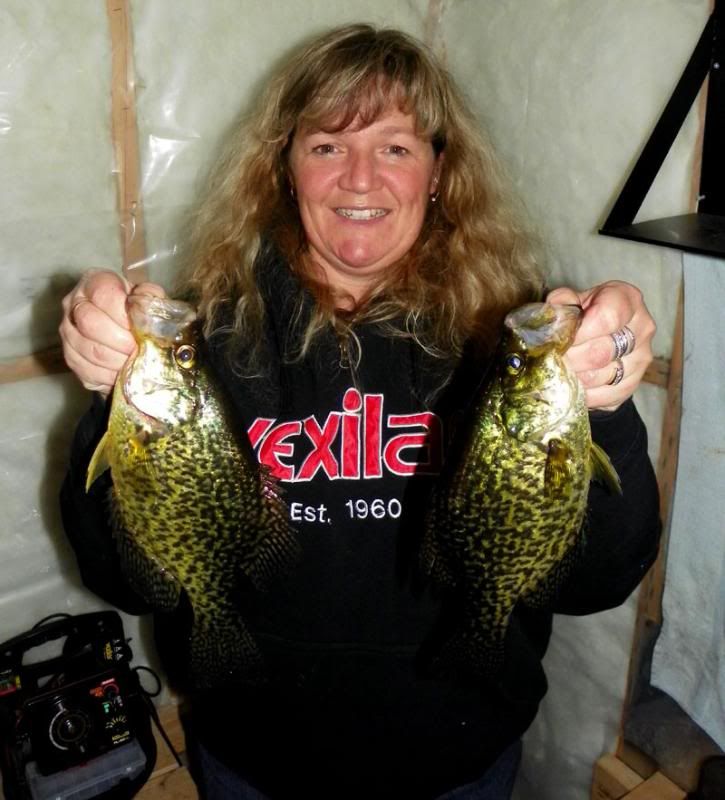 It's nights like this that make all the work and effort of having an ice shack worth while.  Dinner, some laughs and some fish.  Perfect.