As a family we knew, as painful as it was going to be we knew it was time. Our boy Sinker was all of our best friend. Making the decision that they say is the most loving thing you can do for your pet was easily the hardest decision I've ever made.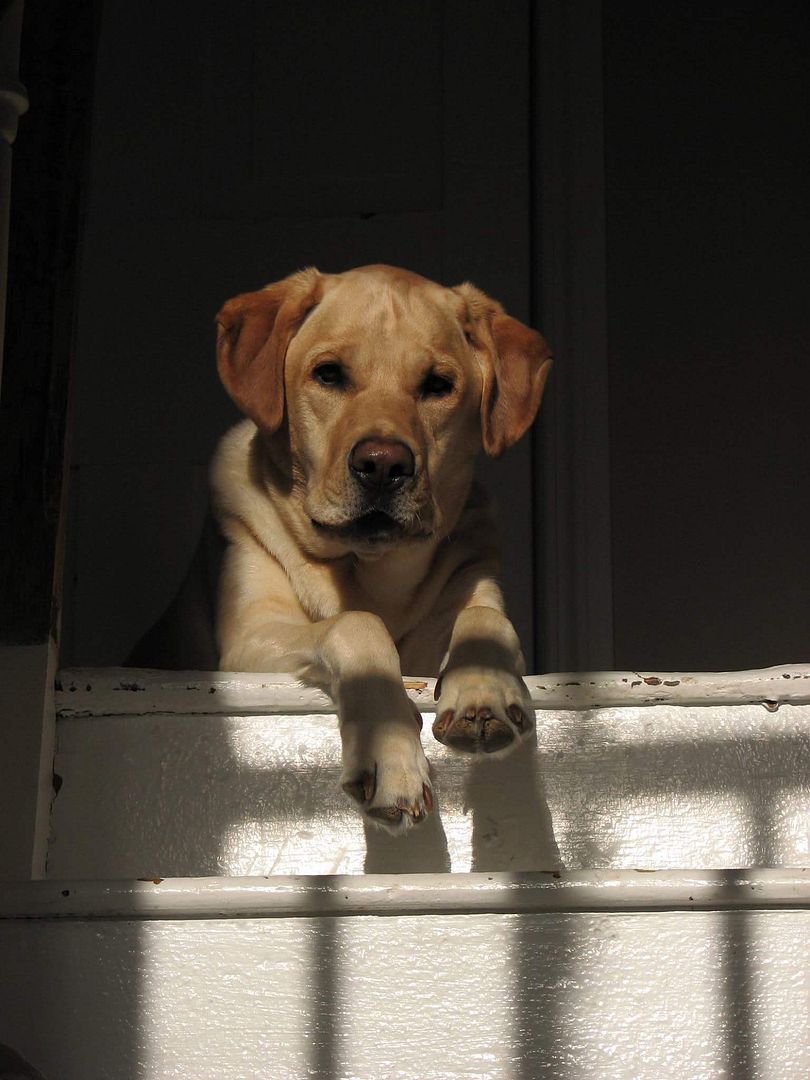 Sinker left us on July 17th. We were crushed. I cried for two days straight. As I'm attempting to write this I'm having to stop because I can't see to type. In my life I've never felt loss like that. I didn't know how to deal with it, still don't really. They say in time it gets better. I will agree with that but we still think about him daily and miss him dearly.
Rewind 5 months when I was sitting in Shimano Canada's Peterborough offices being told I was being awarded this trip I was like a little school girl. Minutes later my flight is being booked to Yellowknife. To say I was a little pumped would be an understatement. I'd been to GSL before but not for the Plummers Lodge experience.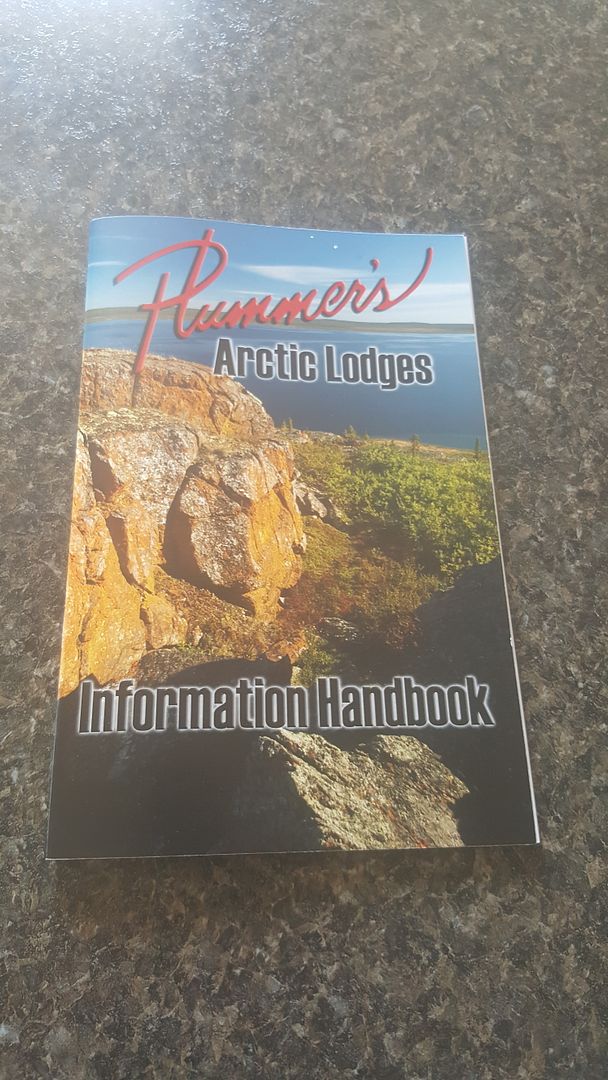 The crew was assembled. Bob Mahoney, Steve Sherman, Jim Bayne, Lee Branscombe, Buck Tytler and myself. Buck is another pro-staffer with Shimano while the rest of the crew is who basically makes Shimano tick in Canada and has for years. While I had met them all at various functions over the years I was looking for to getting to know these guys in a social setting.
We flew into Yellowknife and spent the night as flight into the lodge wasn't leaving until the morning. A great meal and some much needed shut eye for myself was needed. I hadn't slept much that week.
Early morning we were shuttled to our plane. Wow. She's an oldie!
We jammed in off we went. I threw on my headphones and listened to some tunes to buffer the noise from those two giant props.
45 minutes later we were on the ground.
20 minutes later we were eating breakfast, 30 minutes after that we were fishing.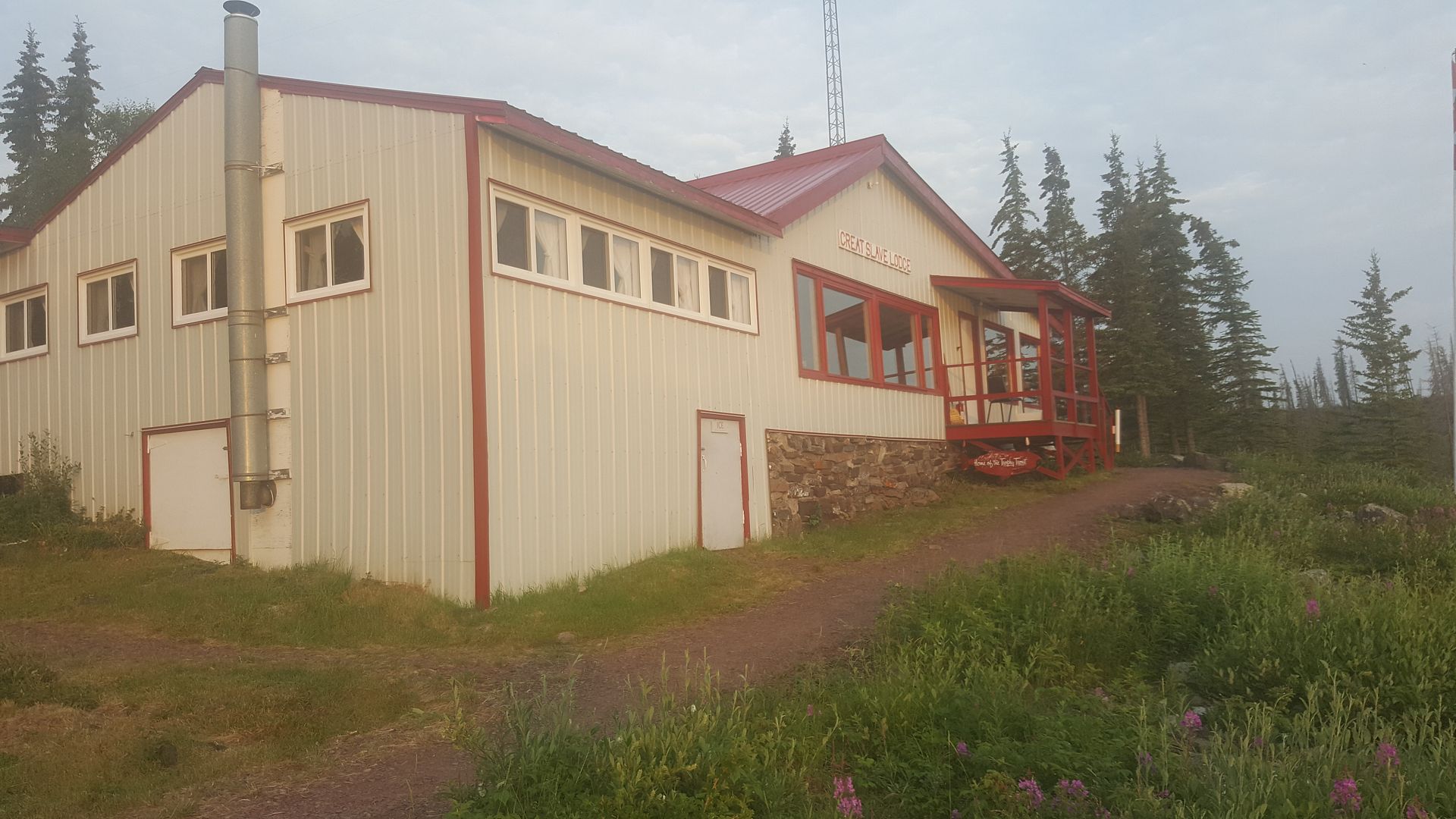 We hooked up with our guides for the stay. Alex, Bryce and Bob. Bob oversees all the other guides while there, he's a pleasure to talk to and knows that area better than anyone. Alex is just a real fisherman. Always in tournament mode and attentive. He's just one of those fishy kinda guys, I love hanging with those guys. Bryce was a good dude but was on an emotional roller coaster from day to day with how the fishing went in his boat.
If I have learned anything from guiding is that you never get too high when things are great and never too low when it's a battle. I don't care who you are or where you are you do not wail fish everyday. It's fishing. Bryce and I had some great chats about that among other things. In the end, his boat put the two biggest fish of our trip over the gunnels.
We planned to rotate guys thru each boat so we all had a chance to fish together. It worked out great. You want to get to know someone? Get in a boat together for 5 or 6 hours. All these guys were top notch anglers and better people. They all knew what went on back home before we left at my house. In their own way, they let me know they felt for me and my situation I was dealing with. That meant a lot.
The fishing was wild. We'd lose track every day on numbers. Shaking high teens Lakers off boat side constantly. It was a work out too. Advil every night!
10 minutes into the first day Buck was hooked up. Little did we know we'd never take a photo of a fish that size again.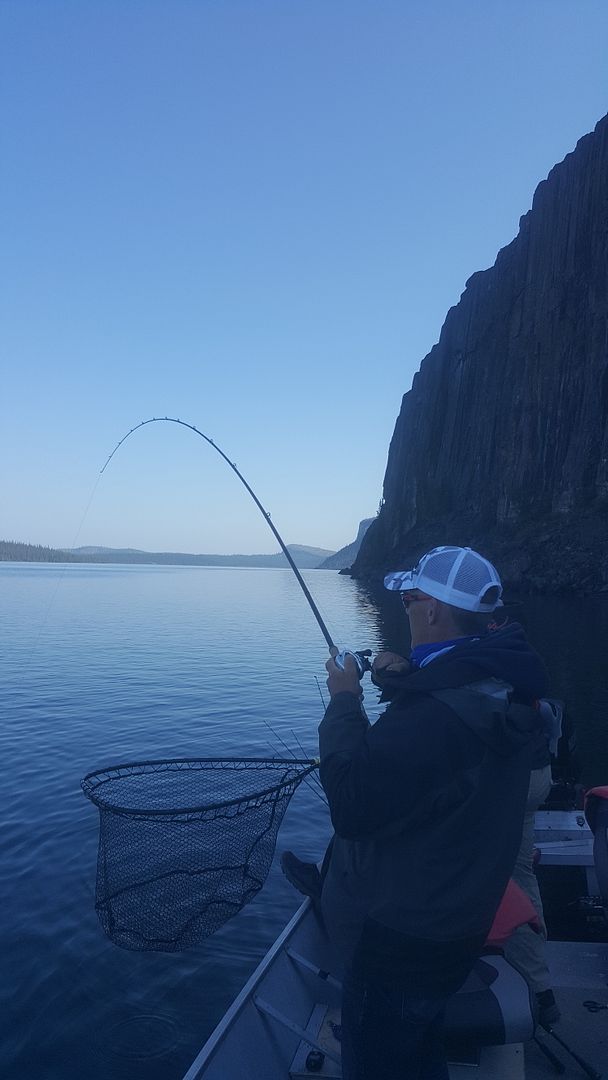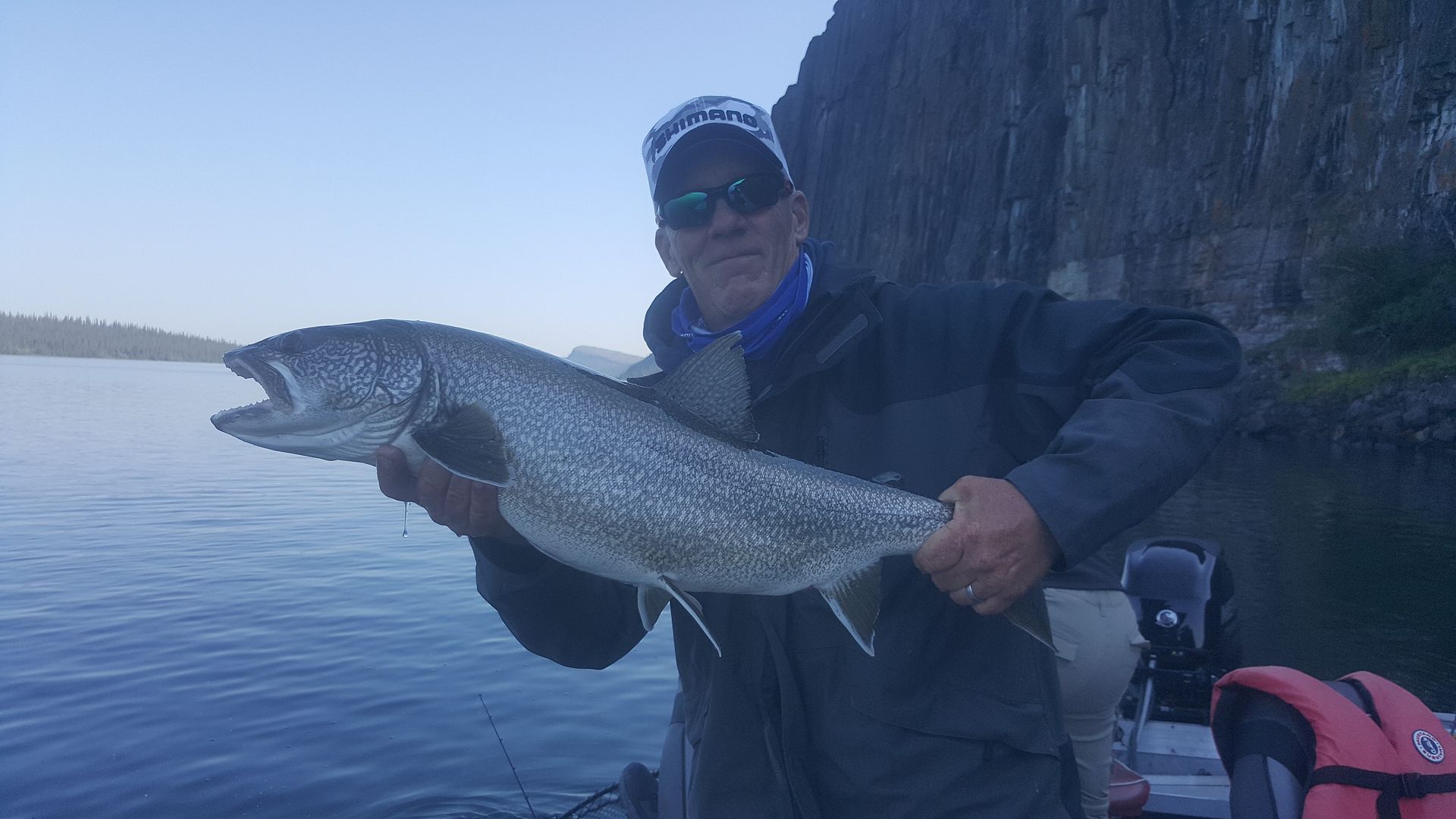 I way preferred to cast or jig for them so we did a lot of that. The thunk on the jig is unreal.
Gear wise we took heavy action flippin' sticks. I was using the new Gloomis IMX Pro with a Tranx. I've played with the Tranx enough now to say in my eyes that is one of the best reels Shimano has ever made. We beat the hell out of those things and zero issues.
Some of the guys snuck in new Curado K's to give them a beating. They handled those Lakers with ease. 50 or 65 lb Power Pro to a 6 foot fluro leader on all setups.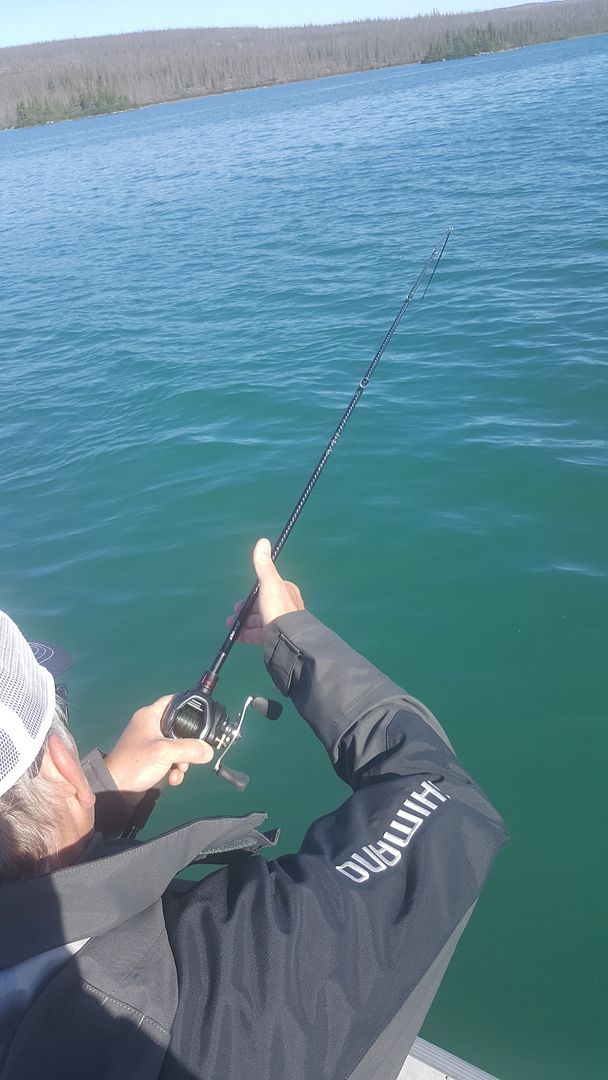 That photo is Jim trying to finish off the back end of this double header.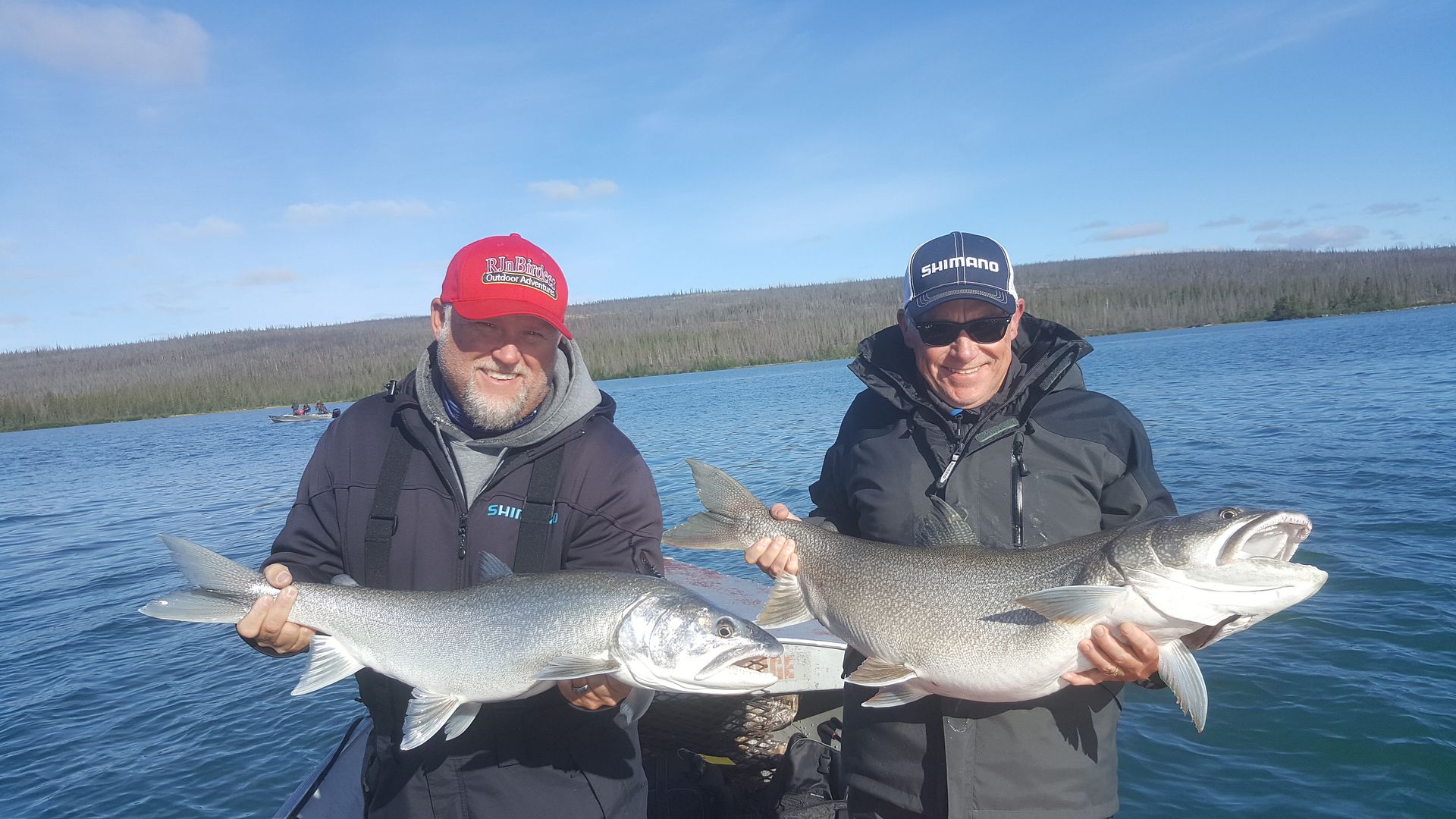 The first evening I decided to knock Grayling off the bucket list right at the camp.
Trying to remember who, what and when is impossible. What I do know is everyone had a Laker over 30 lbs, some multiples. Here's some of the highlights.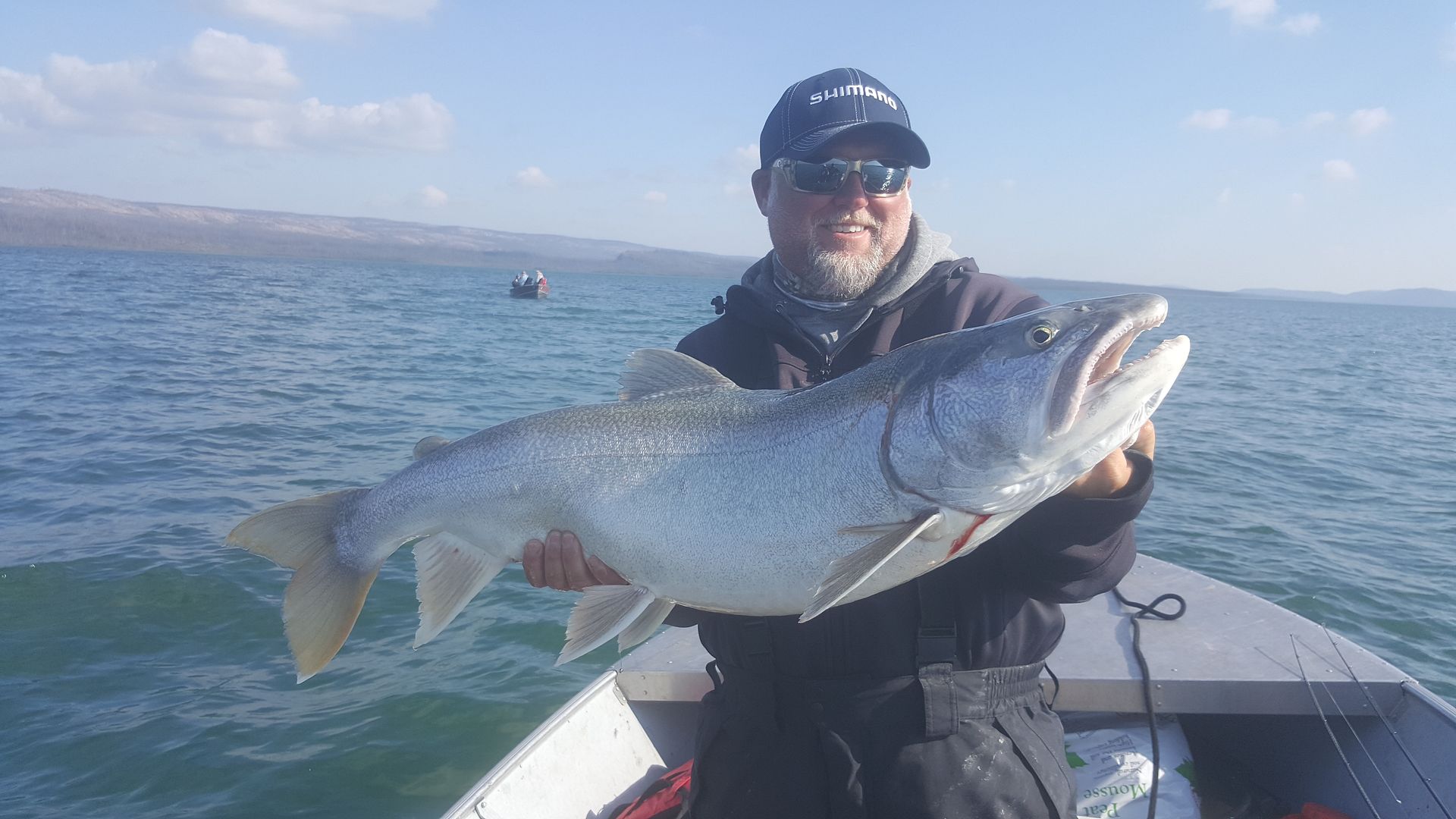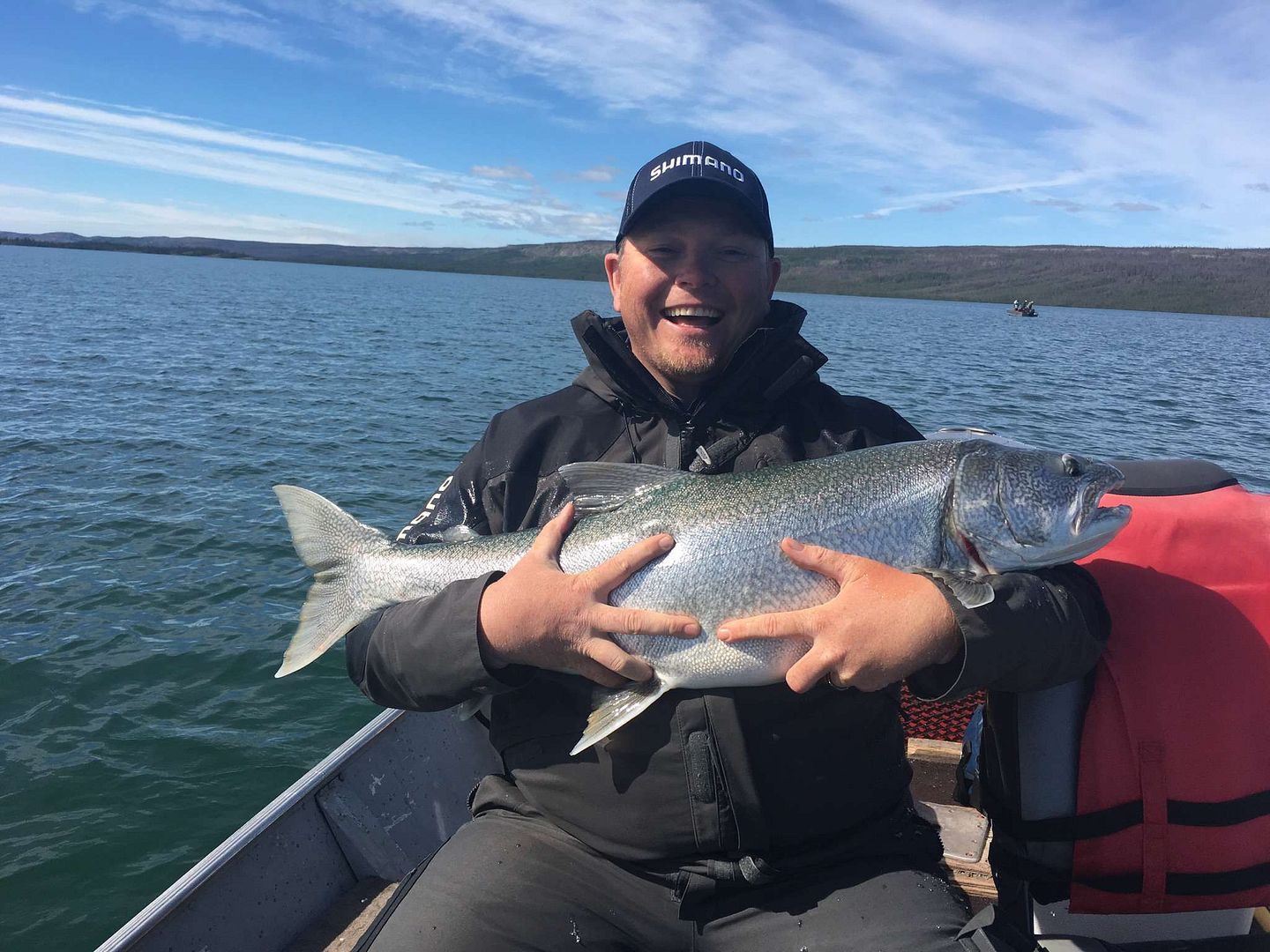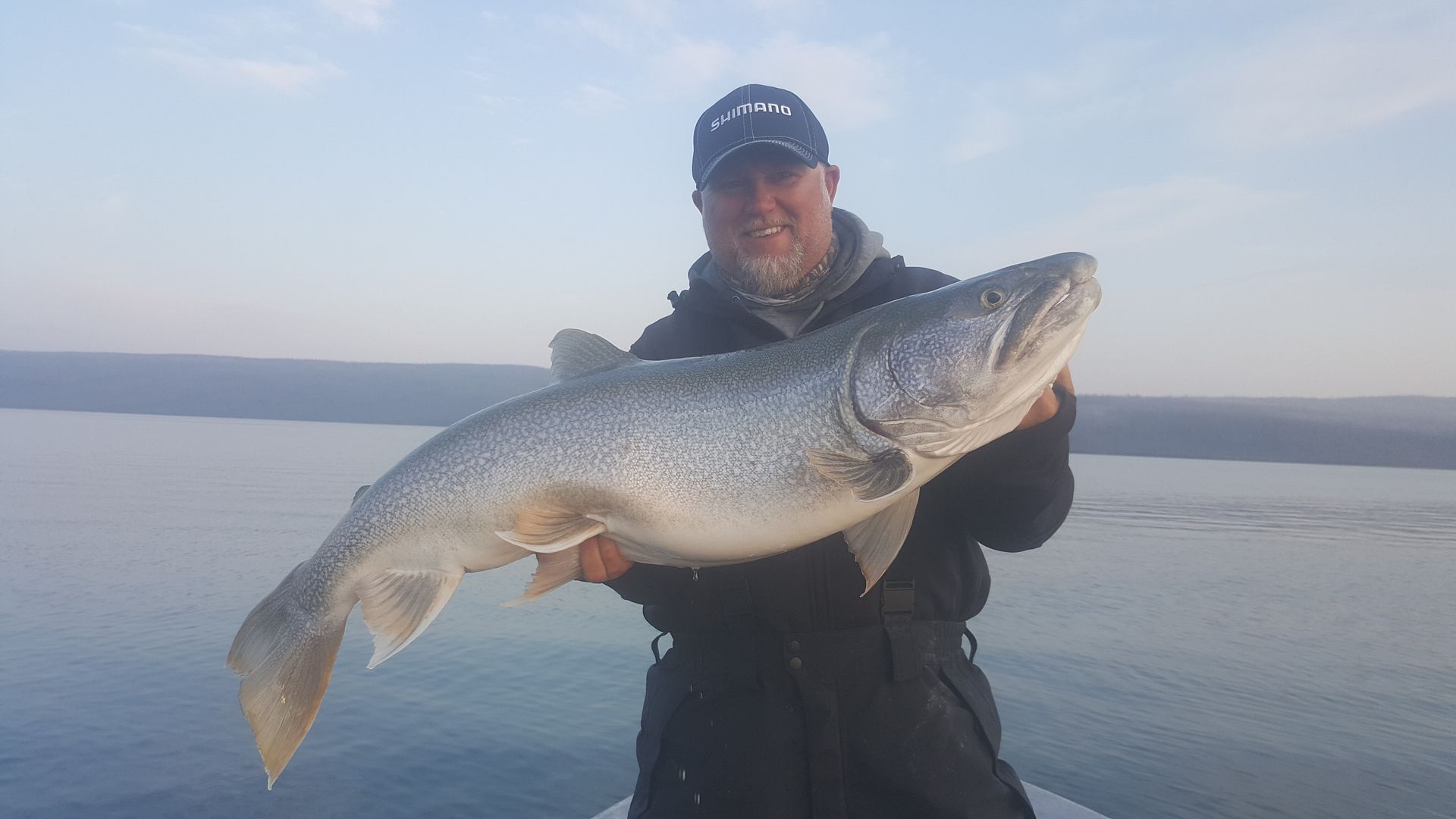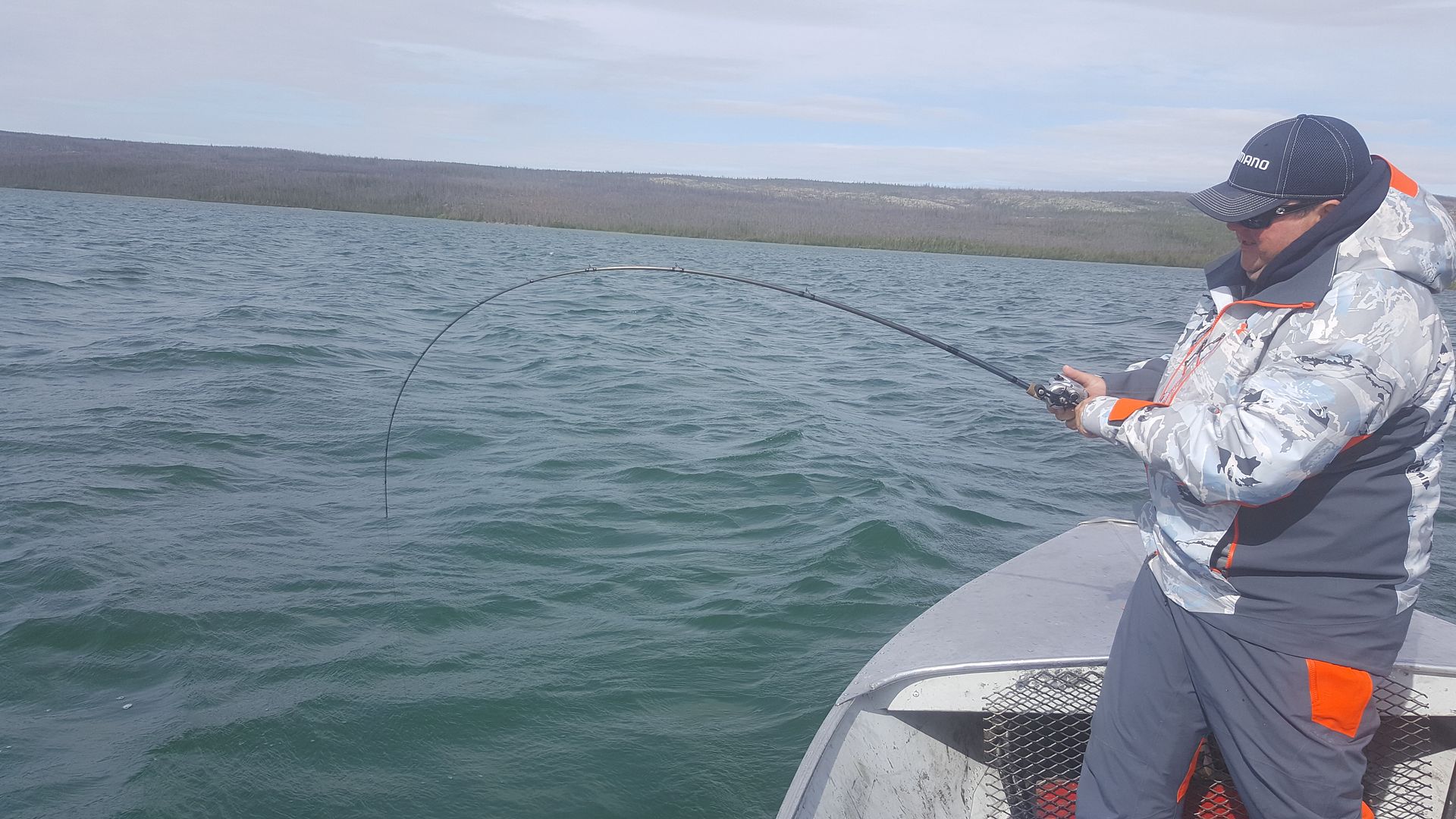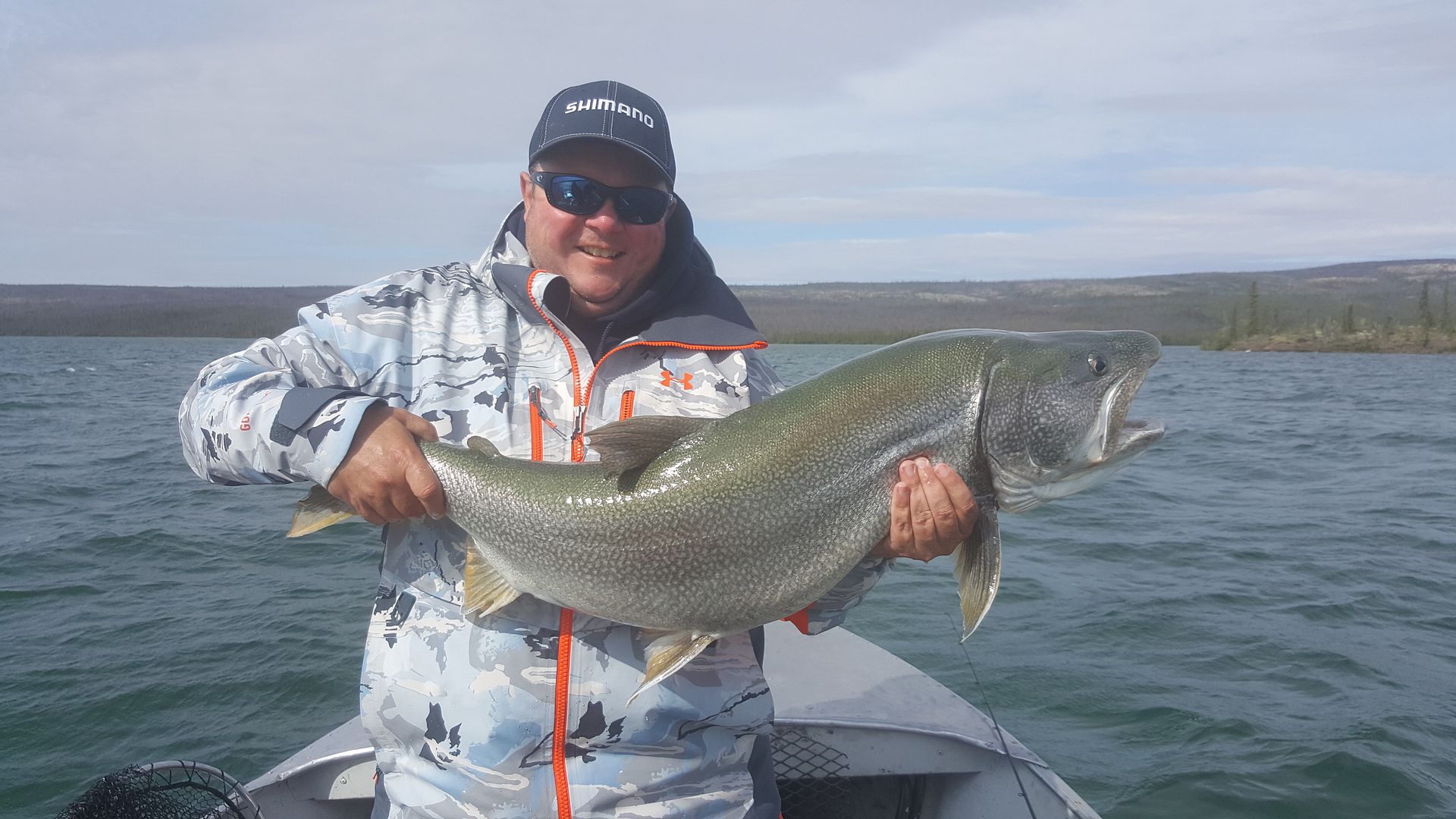 The timing couldn't have been better or worse for me to go away. It was a great distraction but I found myself wondering how the girls were doing back home. How were they dealing? I know I was still struggling even though I was having the time of my life on this trip. I almost felt guilty at times.
Shore lunches. I'm not a huge fish eater but when in Rome you do as the Romans. These boys could cook. Though I'd often rather fish right through the meals were awesome. The setting wasn't tough to take either.
When Bob started working on this deal we had no idea what it even was until he threw it in the fryer.
Wow. Deep fried bread. Unreal.
One afternoon we watched from a distance as Steve was fighting a fish for what seemed like forever. Once we saw the net dipped we slid by. Clearly that's why it took so long…
Not too long after I was tussling with what would be my new personal best Laker. Advanced Taxidermy has the measurements of 44 x 26 and a lifetime memory will grace our walls at the house.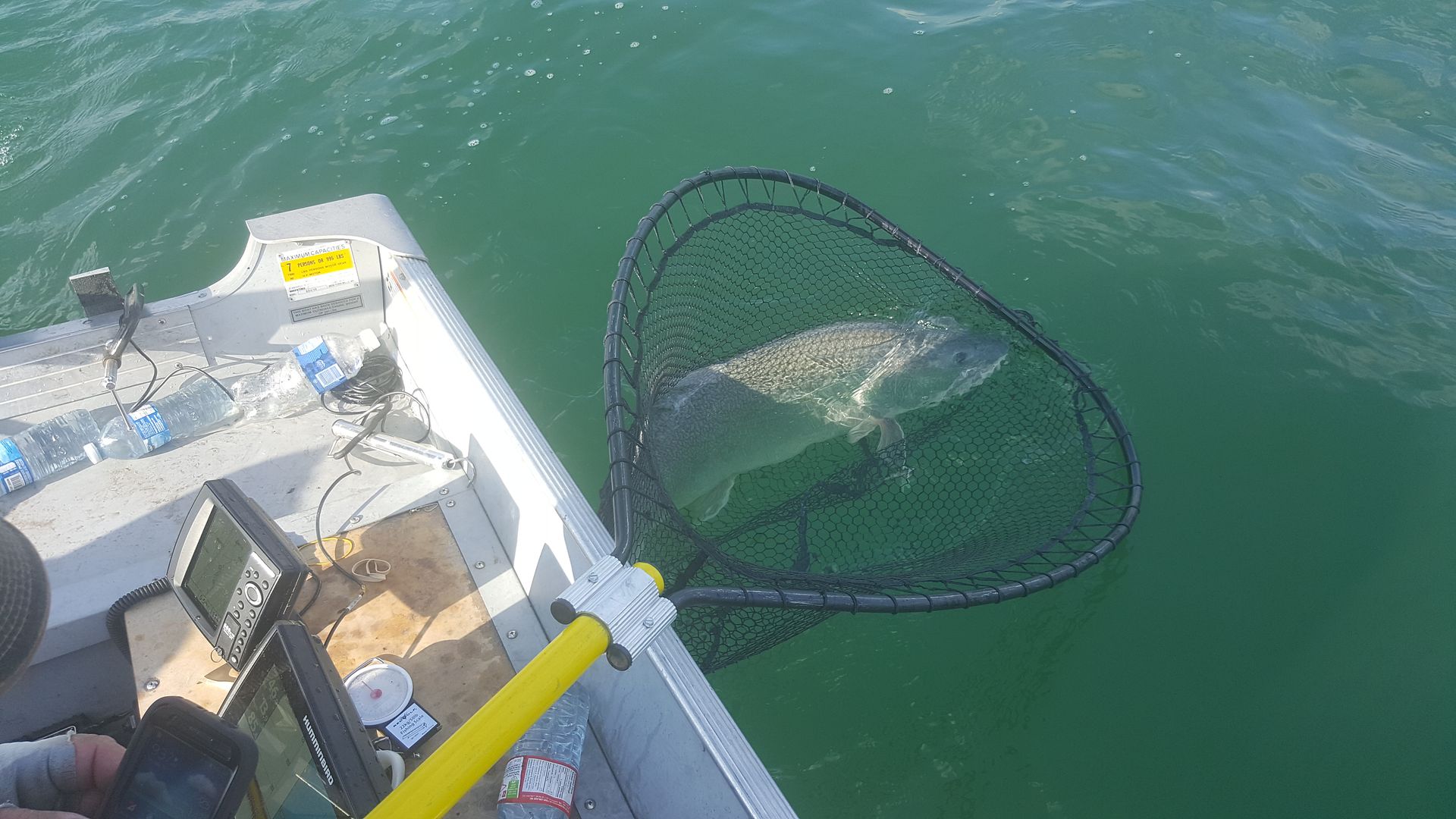 One would think that would be the highlight of my trip but it wasn't. This next fish I'll never forget. While sliding in towards our shore lunch spot I asked if Alex if anyone ever casted that area. It seemed like a decent area, 20 foot flat off a point dipping out on to the deeper edge. He said giver so I stepped up on the bow of the boat and let out a bomb cast with the jig.
I let the jig sink on slack line until I saw the line twitch like electricity went through it. I engaged the reel and rammed the hook home. Now when you set the hook on these Lakers they all feel the same until they get to the boat. If it's a teenager you can manhandle them a bit, over that they have a mind of their own.
I spent the next 25 minutes like this.
This fish beat me up. Back sore, elbow throbbing. It was a cumulative affect over the trip but I wasn't sure who was winning a few times. After a 30 minutes fight the net slid under her.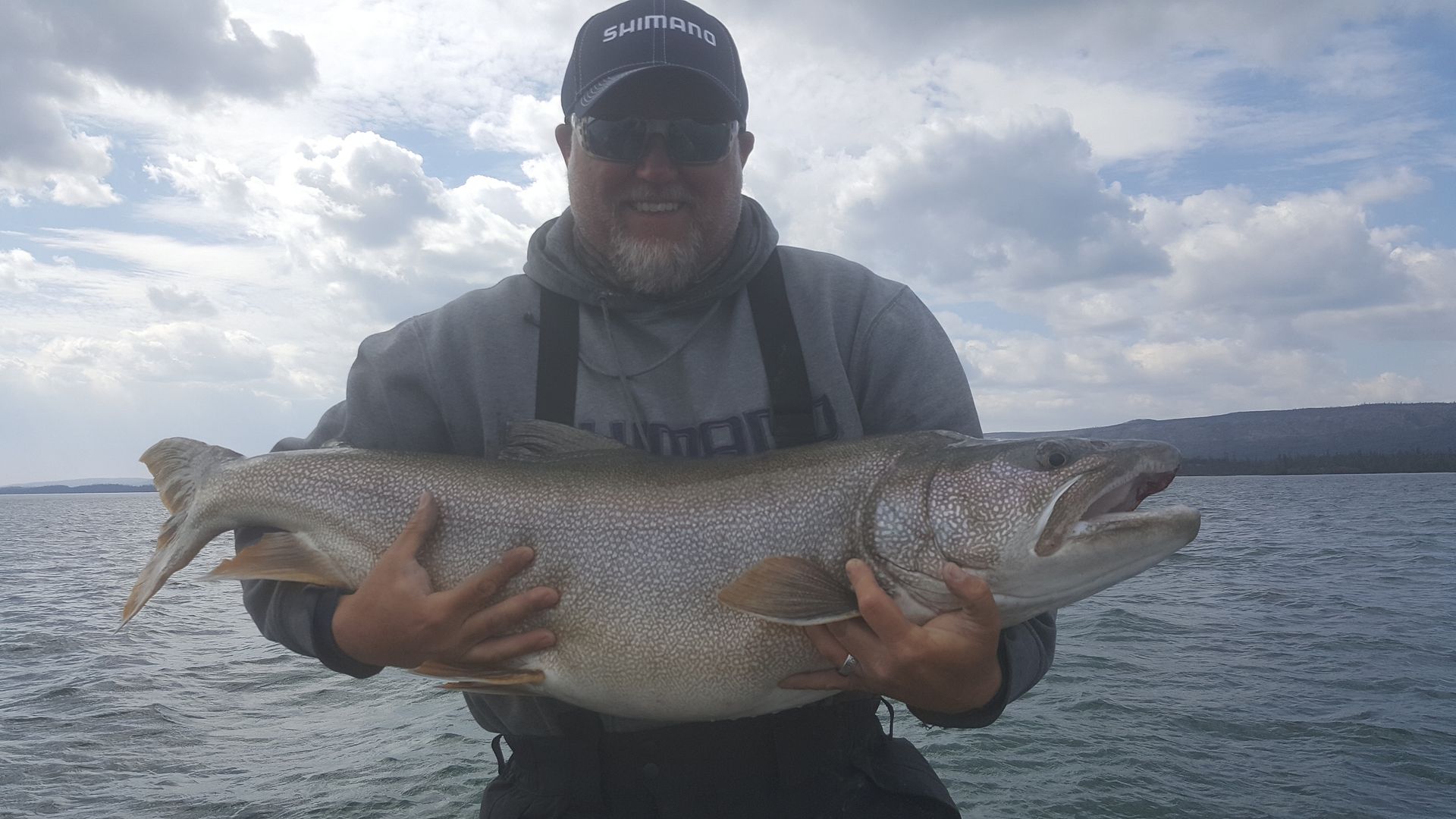 I don't drink beer but I had to celebrate with Sherm.
Plummers Lodge on Great Slave Lake is an amazing place. This trip was such a treat for me and I cannot thank Shimano Canada enough for having me along. It's a trip I will never forget. Friendships made and loads of hooksets, that's what life is about to me.