This past week was a tough one fishing wise but a ton of fun with a few different buddies.
I spent a half day back out on the Muskie hunt with my buddy Wally.  It was slow going until he leaned on his Loomis and announced "This thing is alive!".  Nice clean fish and always a treat to see em swim away.
I took a skunk that day but Wally needed the company as the tears flowed as he came to the realization that his boat had just completed its last trip of the year!  haha!
The next day we did a bit of a roadtrip.  With my bro-in-law Gord and buddy Ian along the Silverado hit the highway.  In no time, I was picking up a fancy new pair of waders and boots for myself.  At least I'll look the part!
We rigged up and headed creekside.  I was floating a bead while the others were using roe.
While standing at the head of the run I was drifting my setup down the edge of the current break when after about 20 drifts my float dropped.  I set the hook and a beautiful big coloured up Rainbow flew about 3 feet out of the water.  My eyeballs nearly popped out of my head!  After a short intense battle this beauty came unpegged.  It was such a quite violent deal that I had absolutely zero control of this fish at any point which Gord really got a kick out of, all I could do was laugh!
Not too long after Gord has his float drop and he landed his first ever floated Rainbow.  He loved the fight in the current and was thrilled to see this pretty fish.
"Hold him up Gord".  Ok maybe not…sploosh gone!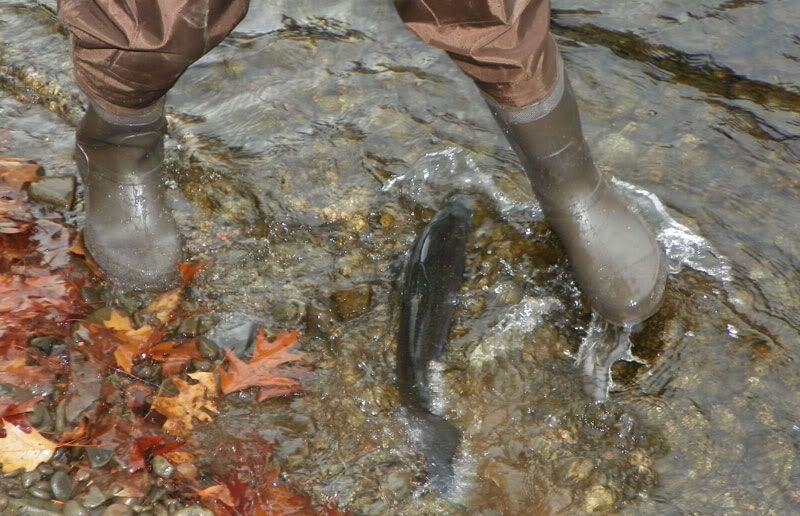 Ian and I were still skunked, but kept at it.  We made a move to another area and I lucked into a nice Brown to end the day off.  Low and Clear water made for some tough fishing but still a blast with two buds on the river bank.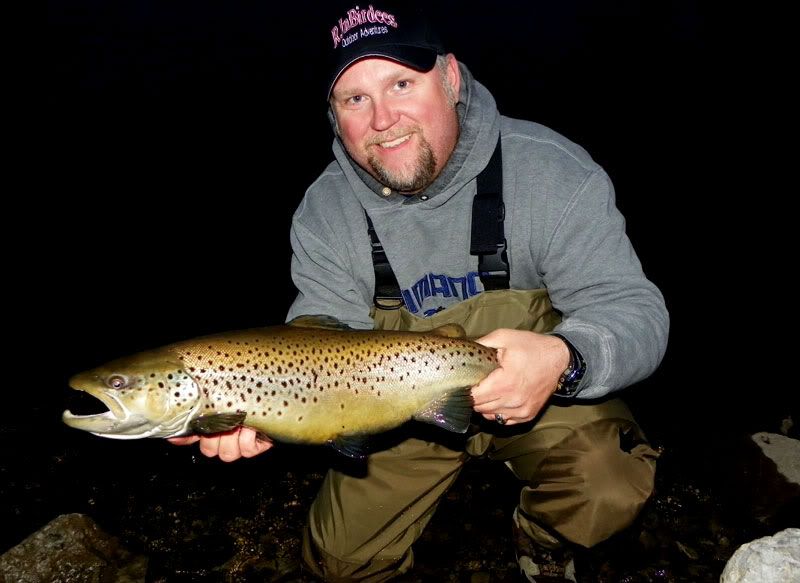 Busy week ahead, hoping to get out one day this week!