Birdee and I hatched the idea a few weeks ago to add a small derby to our annual Vexilar Demo day.  The demo day is a great way for folks who have never tried a flasher unit to get out and use one before they make that purchase.  Derby plans were hashed over one night and we rolled it out.
A three hour derby.  Big Panfish (Crappie, Perch, Bluegill or RockBass)  every hour would take home a prize pack.  Prize packs were loaded!  With the support of Vexilar, HT Enterprises, Shimano, Bennetts BaitnTackle, Bits and Baits and Fish-hawk.net they were stuffed.  Door prizes were also handed out for those who braved the frigid temps that finally arrived the day of the event.
To enter the derby the fee was 5 dollars.  All proceeds was being donated to the Kelly Shires Breast Cancer Foundation.  Do some reading on this incredible foundation, certainly a worthy cause.  Before the day even came when people realized they could not make it out on the ice they sent in gracious donations.  Often when Birdee was taking registration money people wouldn't accept their change and it also went into the pot.  It restores my faith in humanity when you see things like this.
Despite the VERY frigid temps the troopers stuck it out!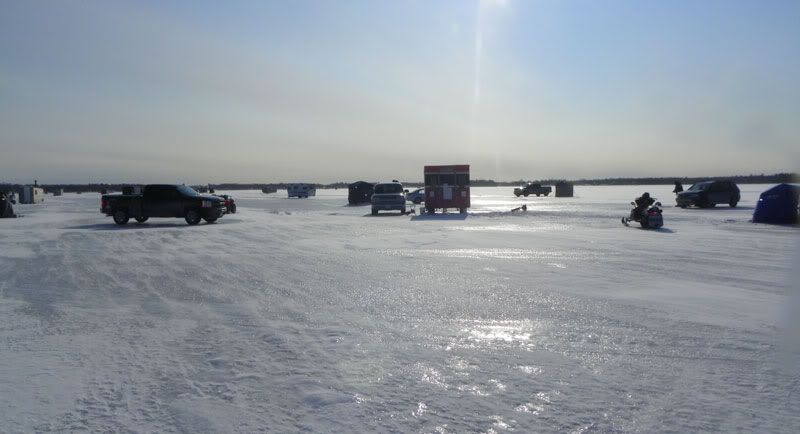 Onto the fishing.  The first hour saw a handful of fish returned to the shack for measuring.   The lead had been bumped a few times until Bill Foton slid by the shack with a beautiful 12 1/8th inch Crappie!
Inside our shack we had a few of our buddies fishing.  The fishing was tough for them with the traffic above the ice with people coming and going all the time but they had a blast.  Thanks to Big Jim for coming and spending some time with us today!
The second hour was led early and eventually won by Brian Steele with a 10 1/4 Rockie!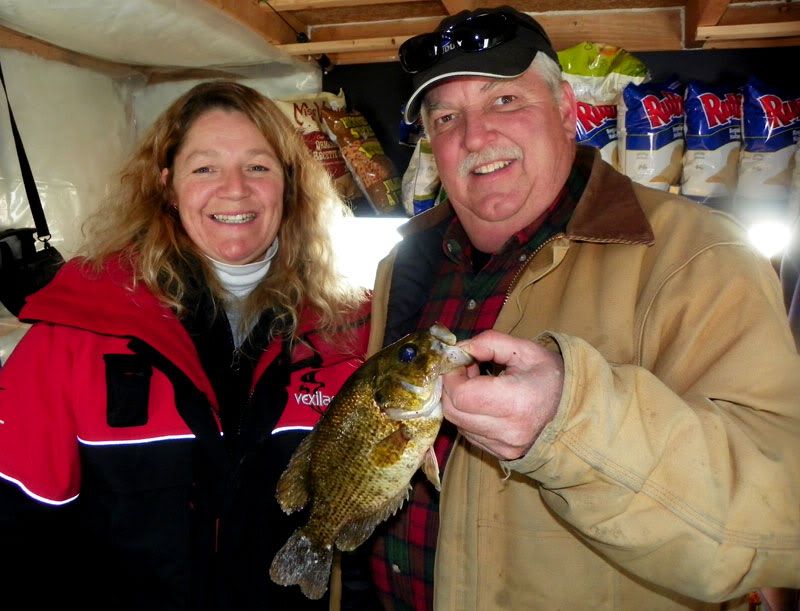 The final hour was an interesting one as a school of Bluegill had moved through the area and many fish made their way in to be measured.  With the lead at 8 1/4 inches, Dave Foton knocked on the shack door.  He was sure some proud of his catch, and he should be!
With a 13 7/8ths inch Crappie! TANK!  This fish had to be over 2 pounds. OINK!
The day ended and we quickly assembled to hand out the prizes.  We kept it short as it was howling wind and cold.  Even Muskie Dude Dale McNair made his way out for the day.
Dave was still on cloud nine with his fish and has decided to get it mounted, it will be a great piece!  The prize pack enhanced his day even more!
In the end, Birdee and I can only see the day as a success.  It went off without a hitch and next year will only be better!
The best part of the day?  We raised in excess of $500 for the Kelly Shires Breast Cancer Foundation.  Thank you all.
RJnBirdee