Birdee and I have fallen in love with Cuba.  Our annual pilgrimage down to enjoy the sun, beaches and the Cuban people was planned sometime in the Fall.  We invited our good friends Markus and Alison to join us, they hopped at it and quickly booked their trips and would fly from Halifax to meet us.
Since this would be our 4th stay at this resort, we knew what to expect.  Each trip we learn more about the area and the fishing opportunities.  Though this isn't a "fishing" trip by any means we usually spend a little bit of time wetting a line.  With Markus along this year, we planned to sneak in a little more.
Last year we spent some time with a fella we met down there on his boat.  It was mainly casting flats to Barracuda.  Our gear was a bit too heavy for this last year so I decided to go a bit lighter and not having to drag down a rod tube was a nice bonus.  Shimano Exage travel rods pack nice and are actually a very nice rod.  I threw in 4 2500 size reels and at the last minute threw in my two Soroccos.  They are 8000 sized and loaded with 65 lb test Power Pro.  Ultimately that was a great decision.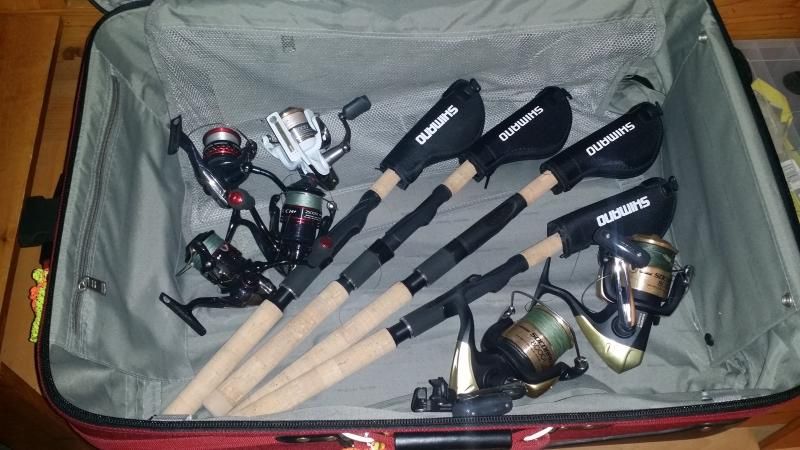 We left Ottawa around 5 and lucked out flying over most of the lakes we fish, that was cool.  Wicked sunset too.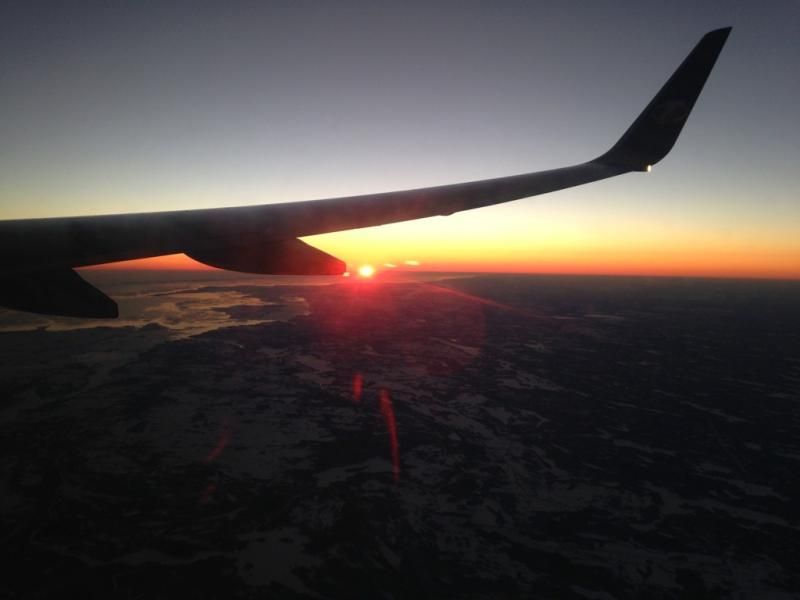 We landed and were in our room before 10, unpacked and enjoyed a drink on the pier to start our vacation.  Mark and Ali were to land the next morning.
They arrived with no issue and the fun started.  The weather was awesome, 27 and sunny with very little wind.  We did some snorkeling around the pier and saw various fish such as Lionfish, Grunts, Cudas, Wrasses and Tangs.
That evening we took a stroll down to another pier to fish for the evening.  Fishing in the dark with a full sardine on a ledger setup netted Mark a solid take around 11PM.  I slid down the stairs to hand-land his first Mutton Snapper.  Cool Fish!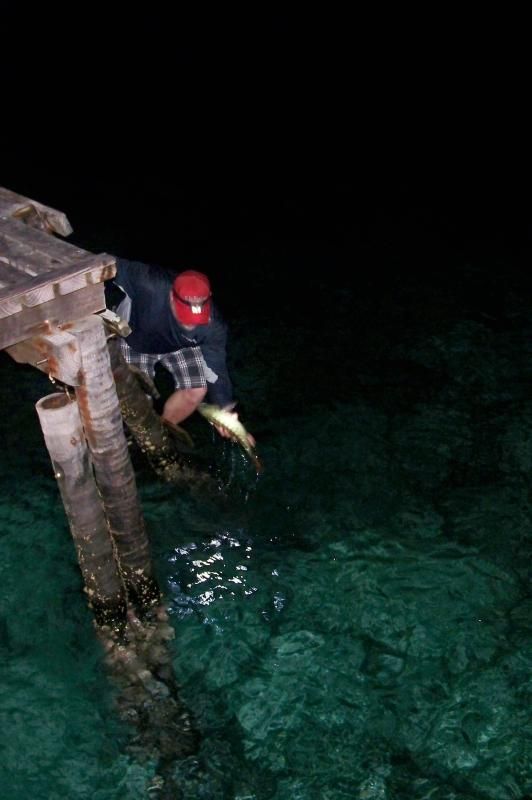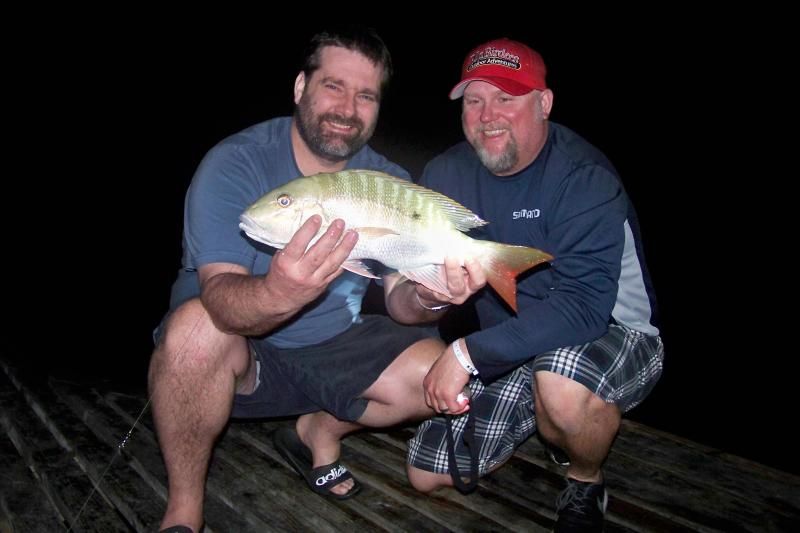 While chatting with some of the other fisherman that evening we got word that the morning bite has been great with a school of Amberjack piling into the pier at first light to snack on the huge schools of "Sardinas" that were under it.  Game on!  Good thing I packed those bigger reels!
We met at 6am and made the trek over.  I had packed some tiny ice jigs to catch ourselves some sardines.  This worked fine but when a local fella gave me a Sabiki rig it was game over for the sardines.  I thanked him by giving him the pick of the litter from my Plano box, I thought he was going to die.  He took a saltwater X-Rap, he was beyond happy.
The sun started to rise….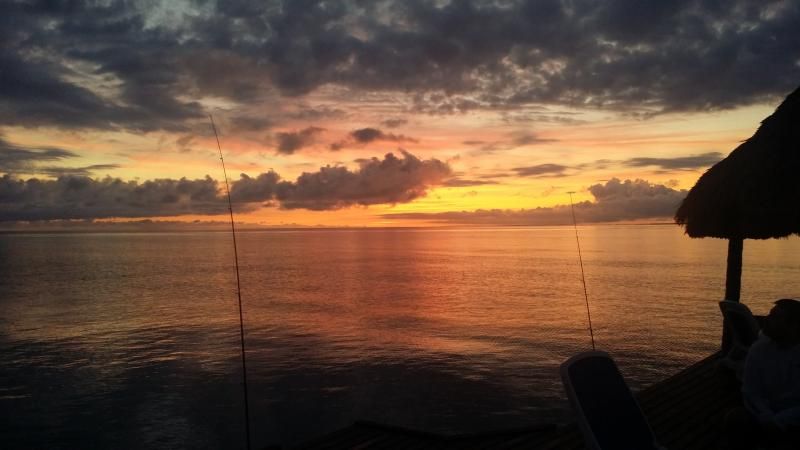 We noticed the fish seemed to be busting along the pier so we moved our rods onto the inside of the pier a little bit down from the pier head.  It wasn't long before we noticed guys down the pier hooked up.  They were walking our way with fish on so we decided to clear lines to avoid getting in their way.  When I picked up my rod it got hammered.  Wow.  100 yards of line just peeled off my reel in about 5 seconds.  Game on!
You'll notice in the pics that the length of this fight is evident by where the sun is at the beginning and the end.  50 minutes of mayhem.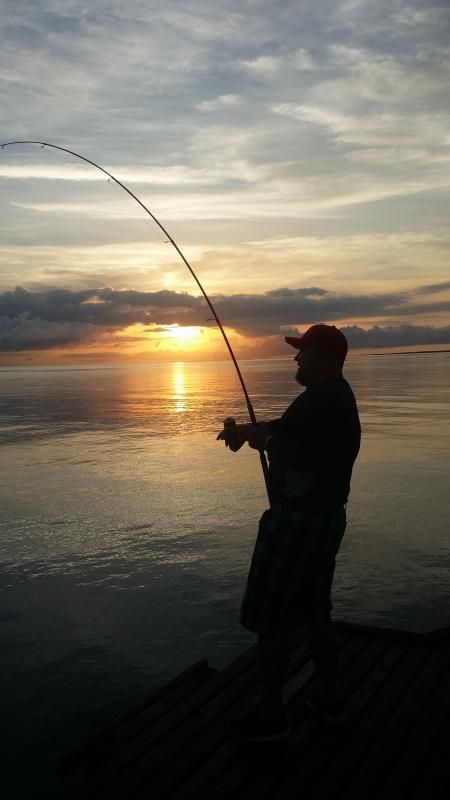 When the fish finally turned back towards the pier after about 25 minutes of the gain 10 feet lose 30 feet game it came along side the other pier head.  We caught a glimpse of it, it had 4 more swimming with it like it didn't even know it was hooked!  It made a move for the pier that had me very nervous.  The 4 with him made their way under the pier but I was able to turn him away from it.  Now alone, it ran back out front of the pier.  I was able to gain back on it a bit and gingerly wrangled him to my Cuban buddy with his gaff.  We didn't want keep the fish or kill it by any means and were hoping he'd mouth gaff it but it wasn't his style.  Either way, my arms were finally able to relax but the smile on my face was probably stretching every muscle in my face but I didn't care.  What a rush.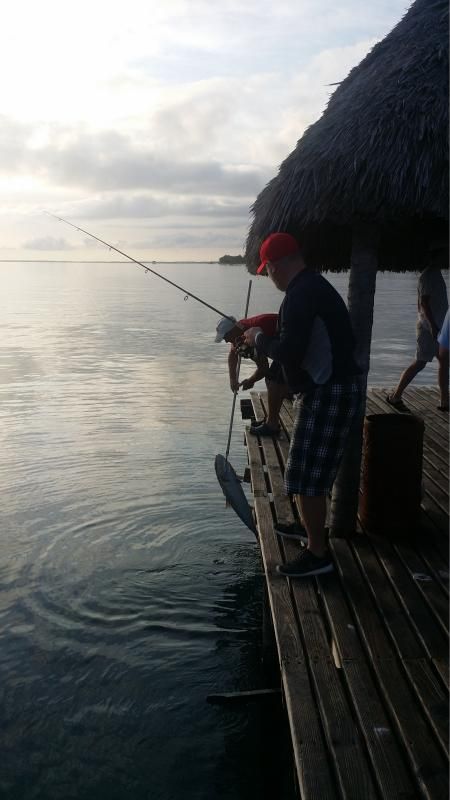 We did try to release it but it had basically spent itself in the fight.  We took it back to the hotel and gave it to one of the watersports guys, he was over the moon.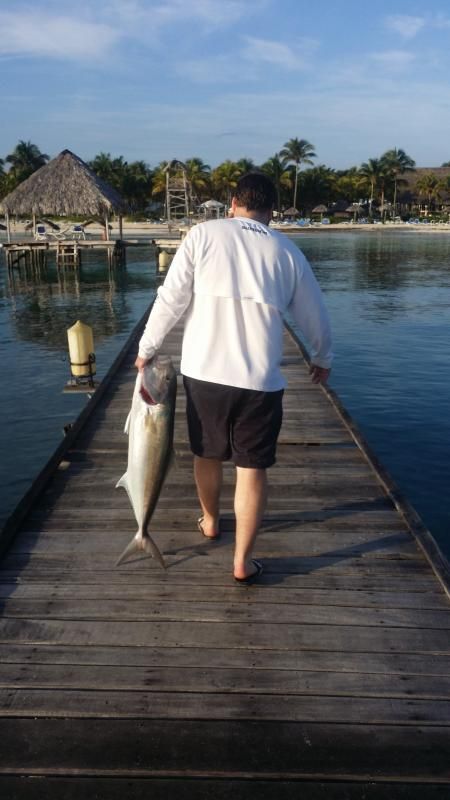 Of course, we spent every morning on the pier after that. We became the baitcatchers for a few of the guys.  The camaraderie on the pier amongst Canadians and Brits was awesome.  Everyone helping each other, catching bait and lending out gear to those in need.
The Sabiki rig was deadly.  4 flies on a 5 foot lead of mono, the sardines ate it up.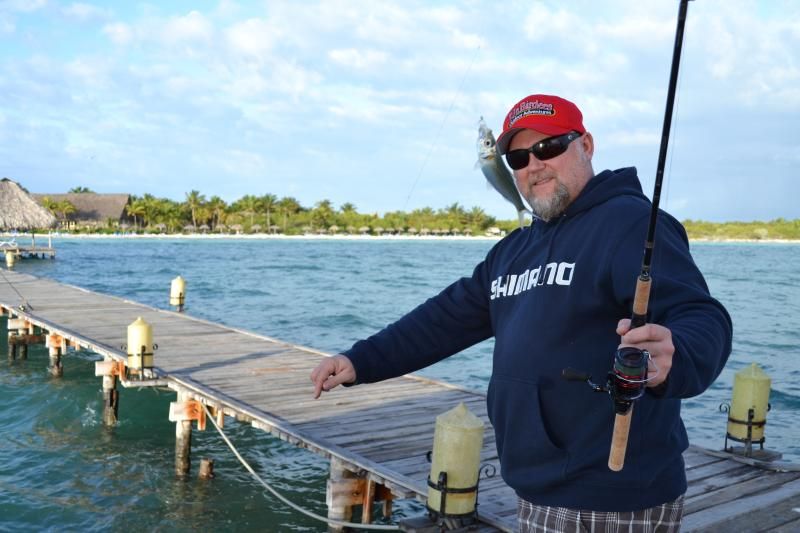 Our two buddies every morning would join us as well.  A Pelican and Gannet were friendly for the most part, as long as they were getting their share!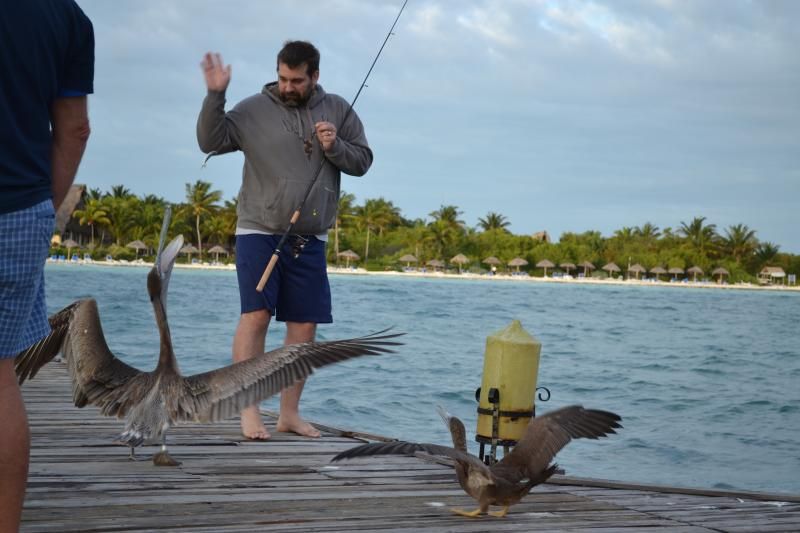 I wasn't touching another rod until Mark landed one.  His fish weren't so friendly.  With 6 on, 4 went right to the pier legs and broke him off.  The other 2 went out to sea and never came back.  Dumping all the line off the reel to the arbor before having to tighten down to try to turn it so we didn't lose all the line led to breakoffs of 65 lb test.  Though a little disappointed, the fights he had got that adrenaline rush he was looking for.  He couldn't feel too bad though, considering we witnessed at least another 40 hookups from others fishing and nobody landed one.  These fish are insane, period.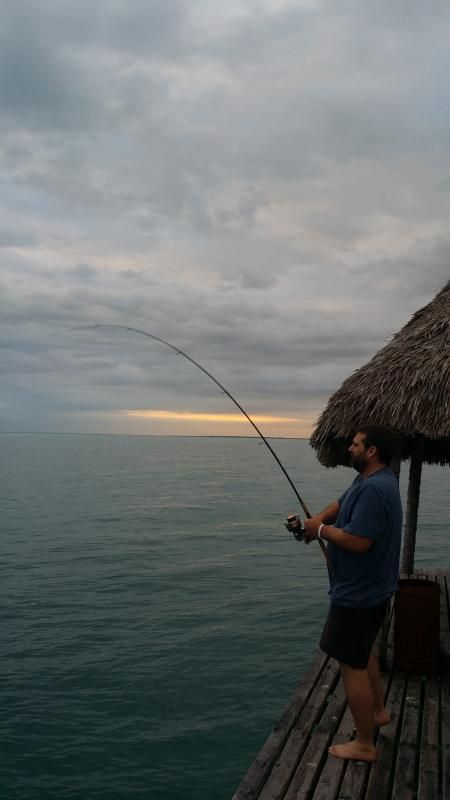 Ooooooooops….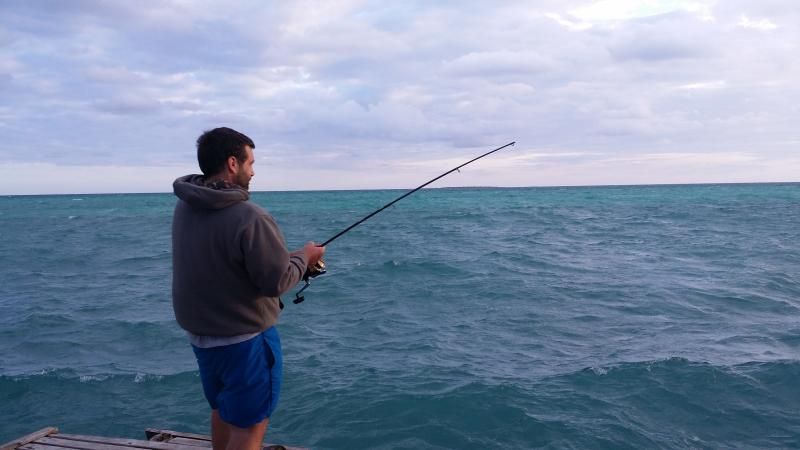 Next year is Mark's turn to get his mitts on one!
One afternoon we hopped on the bikes at the hotel and toured down to the causeway to check it out.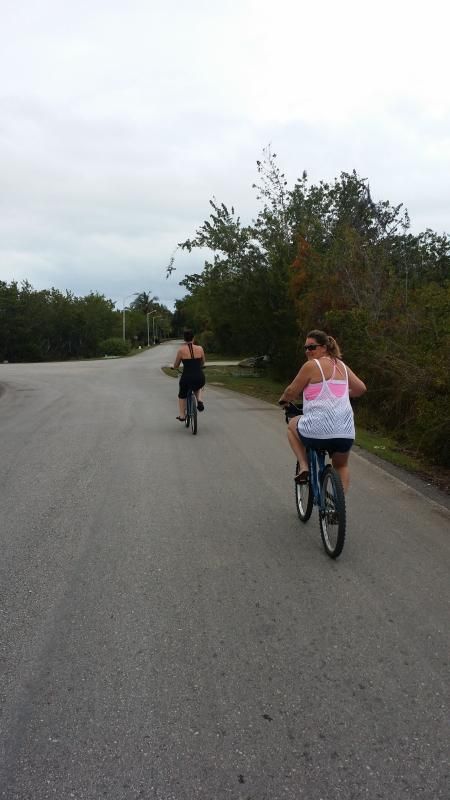 They're erected two statues of Hemingway on the causeway, they're great.
The tide was wrong when we were there so we hung out for a bit before retreated back to the resort.
The next day we decided to spend a couple hours out on the Hobie Cats looking for Cudas.  Trolling at about 7 mph we took 10 vicious strikes and landed 3 Cudas.  One decent one and 2 dinks.  Fun way to fish but I prefer a real boat with a chair rather than laying on a couch!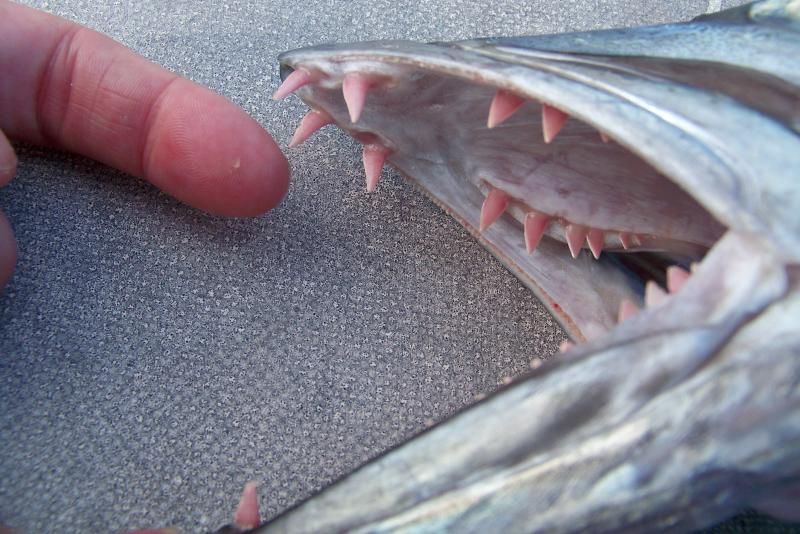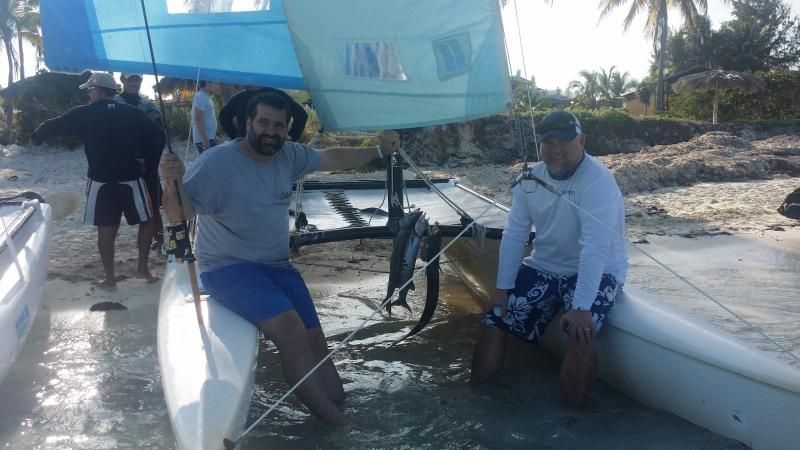 We spent some time snorkeling at a gem of a spot we found one of our times in the area.  We now call it "Starfish Heaven".  It truly is an incredible place.  We snorkeled for the afternoon and came across at least 50 stars.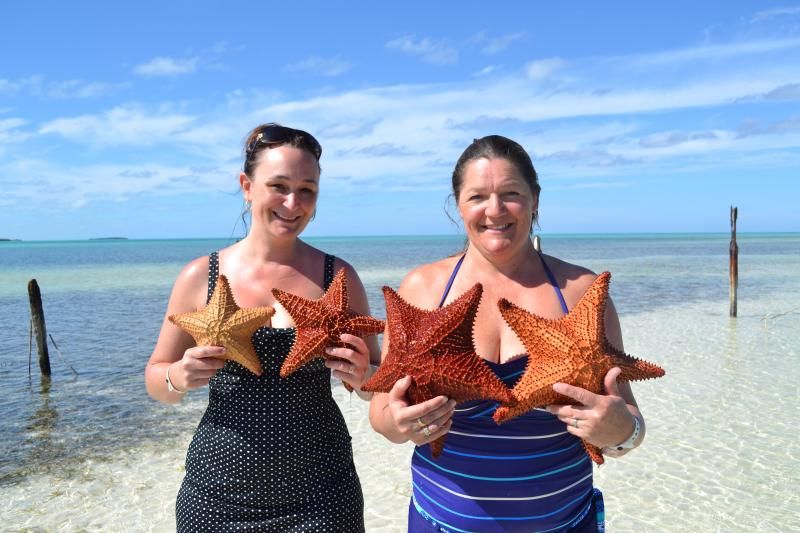 Our last morning on the pier I lucked into a Needlefish.  It ate a full sardine on a ledger setup.  Bonus!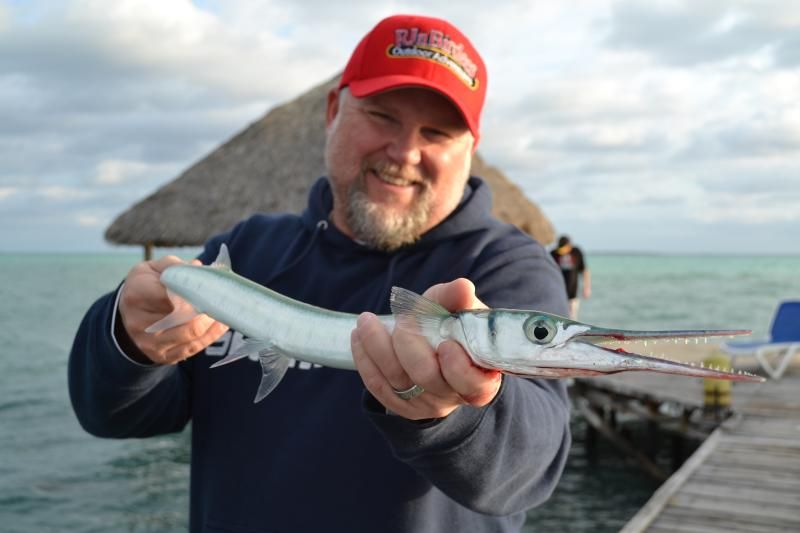 Reality is though we did fish everyday we didn't fish a lot, a couple hours a day tops. I'm not a fan of dropping $450-500 for a boat ride, we figured we could catch some fish on our own and we did.
The last day we had Mark and Ali experience the RJnBirdee Cuban horseback ride.  Hopping aboard the local nags is always a hoot!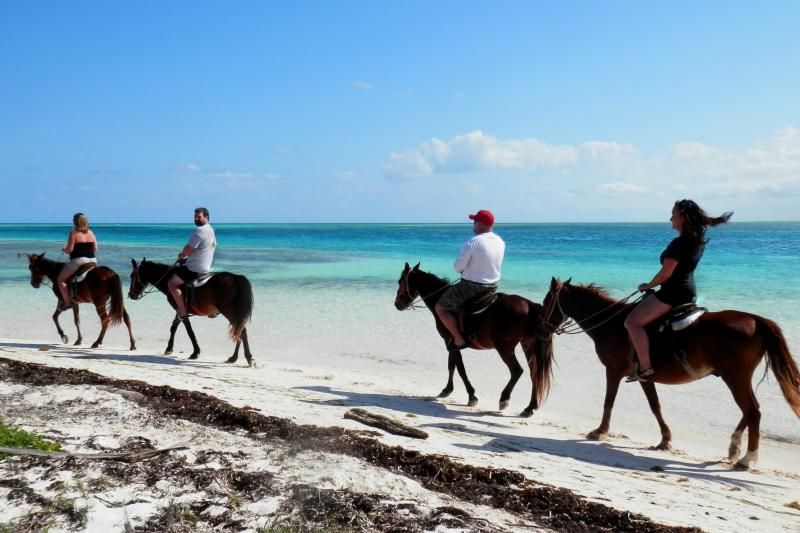 We spent most of our time chillin on the beach, the restaurants or the bars, oh and Birdee fed the birds!
It was the best vacation we've ever had, we didn't want to leave.  The only saving grace is planning has already begun for next year, that's what the girls tell us anyways.