This is a trip I've always wanted to pull together.  The beautiful spotted Muskies of Lake St. Clair always had me intrigued.
With my first week of holidays booked for the year I began putting this trip together.  I asked my old standby buddy Phil to come along as well as my brother-in-law Gord.  With our Lund in tow we left the ranch around 10 am.  The drive was uneventful and surprisingly short.  We arrived at Belle River just before sunset and got settled in.
The next morning we launched out of Belle River and made our way out into LSC.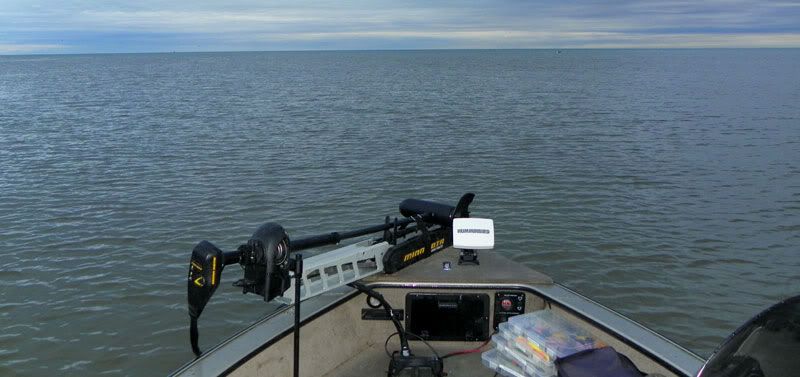 Once out on the lake you are permitted two rods per angler so we ran 4 planer boards and two inside rods.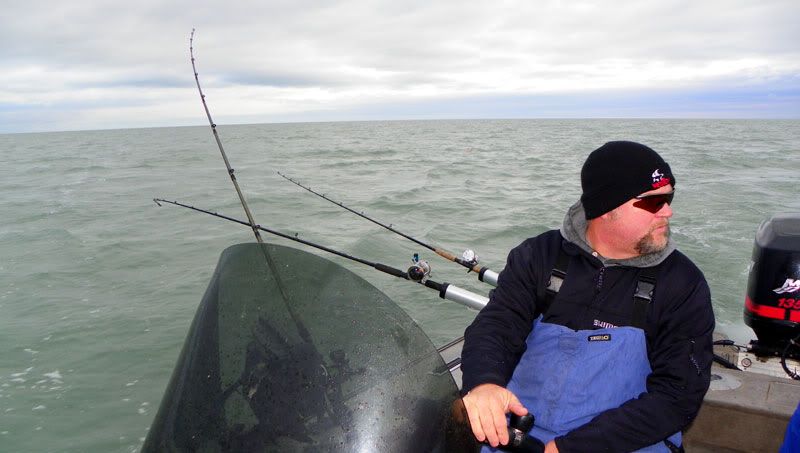 We ran plugs off every line.  Being that we were in such shallow water we ran very short leads off of everything.  For baits it was a mix of Depthraiders, ShallowRaiders, Believers, Jakes and Grandmas.  All fired.
It was a good thing we had a long drive because deciding rod rotation took a few hours!  Not really.  Gord was up first, then Phil, then myself.
When a board popped off Gord was on it and landed our first of 13 LSC Muskies.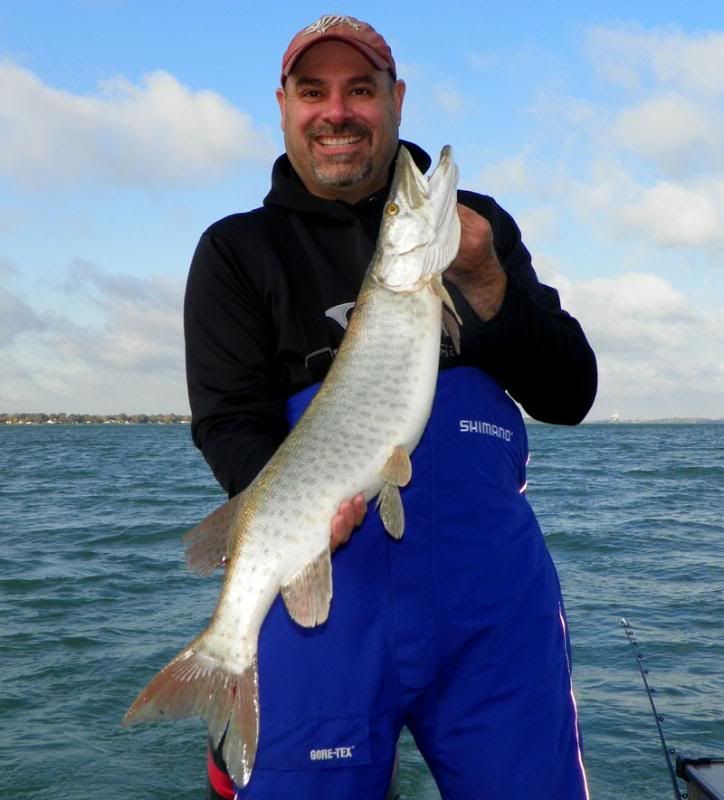 I modified my planer boards by adding a snap swivel at the back end so when a fish would hit the bait it would simply pop off and slide down to the top end of the leader.  That worked great!
You'll notice the off colour of the water in a few photos, less than ideal conditions.  I had sent a note to local guide Bob Devine for some guidance on water conditions and just the lay of the land, he was very helpful in helping us decide whether it was worth the drive or not.
If you are in the area and want to be on fish, drop Bob a line.  Great guy and knows Lake Erie, St. Clair and the Detroit River like the back of his hand.
Phil was up next…
I was on the rod next and was greeted by this…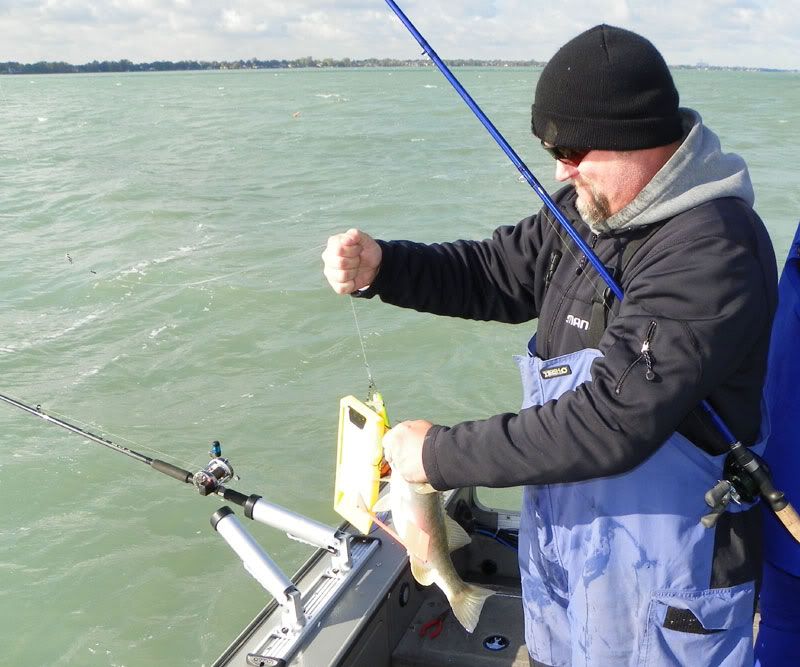 The guys were nice enough to let me not lose my turn with the Smallie.  Board fell back again, Walleye this time!  Bonked it off at the back of the boat.  We are Muskie fishing, where's mine???
Here she is…
Shortly after that fish the wind began to howl, and I mean howl.  After dropping Gord off on shore to settle his stomach Phil and I headed back out.  We agreed it was the worst water we had ever fished and after taking four waves over the bow and one over the stern we turned and headed for the marina.
Ugly…
The next day Bob had offered up a seat in his Ranger for a few hours.  Gord being a walleye guy I offered up the seat and he jumped at it.  It was worth it.  Not even 20 minutes into their time together Gord popped this one.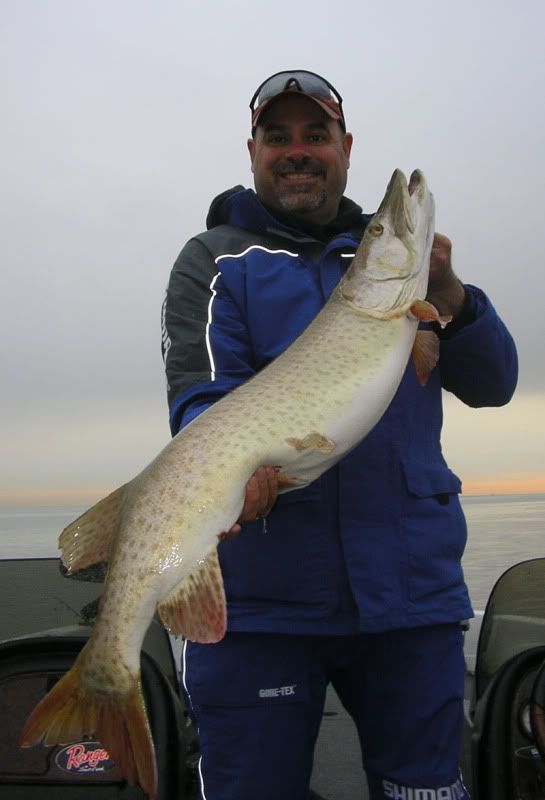 Phil and I decided we'd head to the lake again and in short order had our four rod spread back out.  Rods were poppin for us too!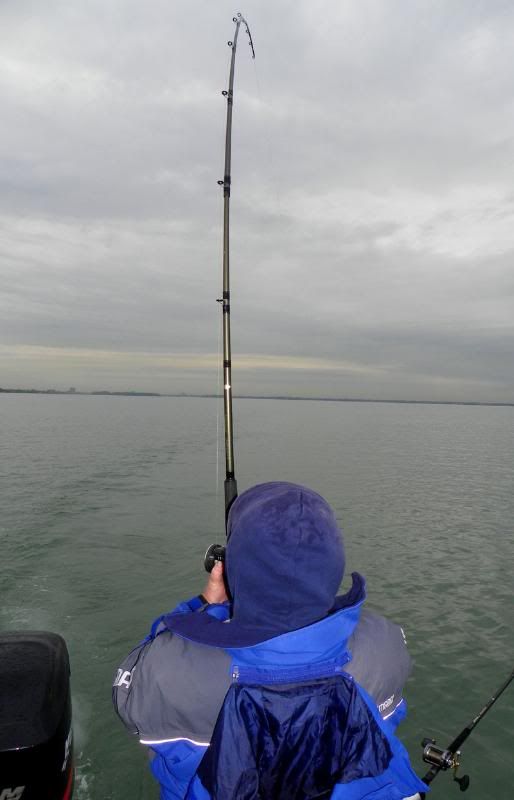 Being that we were trolling multiple rods when we'd hook a fish we would throw it in neutral and only put it in gear to assure the fish was coming up the back of the boat.  We'd net them and bring them aboard.  I had all the release tools at the ready, we cut only one hook throughout the trip and every fish kicked off in a hurry.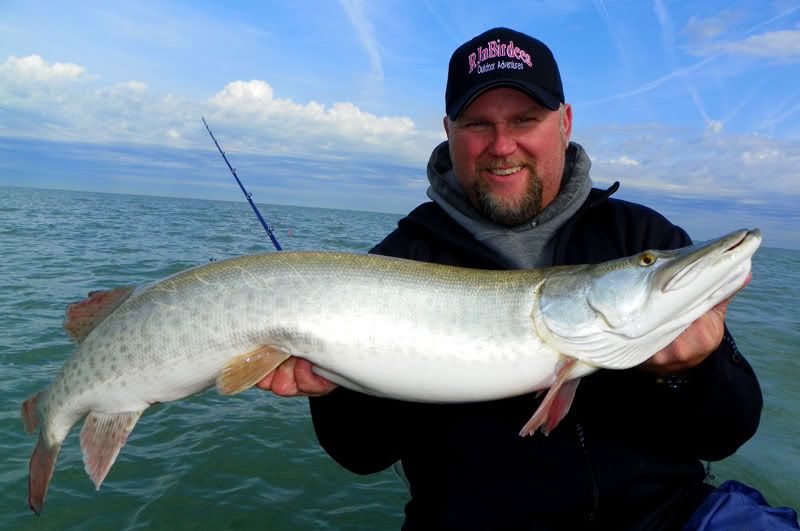 Gord rejoined us and he was on one in short order!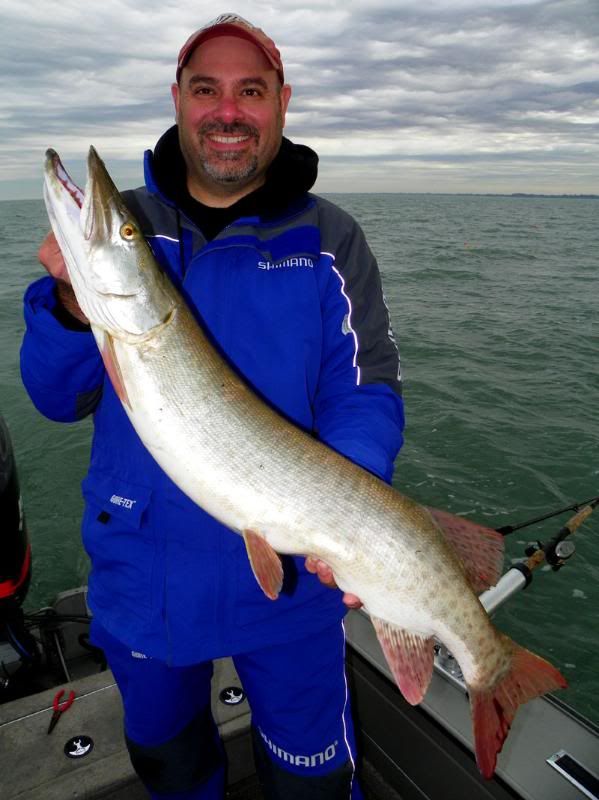 I was back on the rod and after another Smallie encounter the board was plunged!  The result.  Likely the prettiest fish I've ever caught.
As I was clearing the lure from the net from that fish Phil hopped up and grabbed a screaming inside line.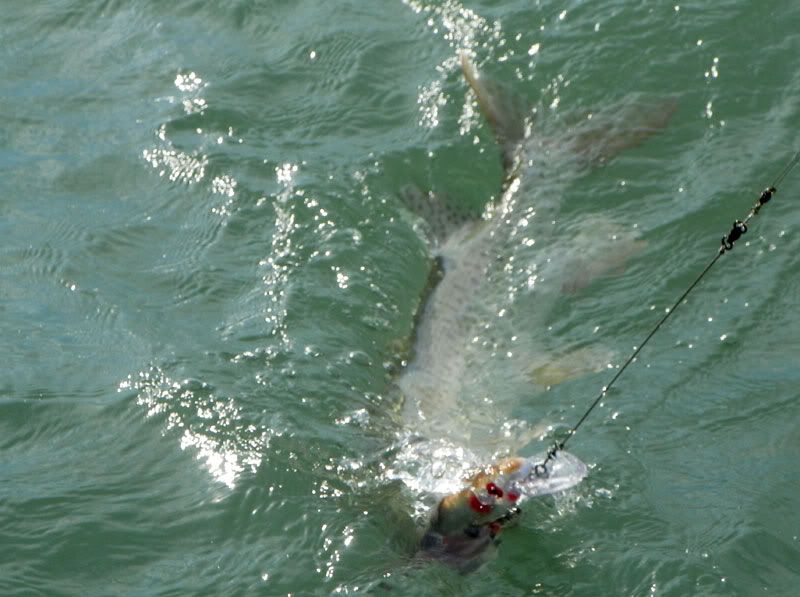 By now we are giggling like schoolgirls.
Phil ended the days fun with this little fella.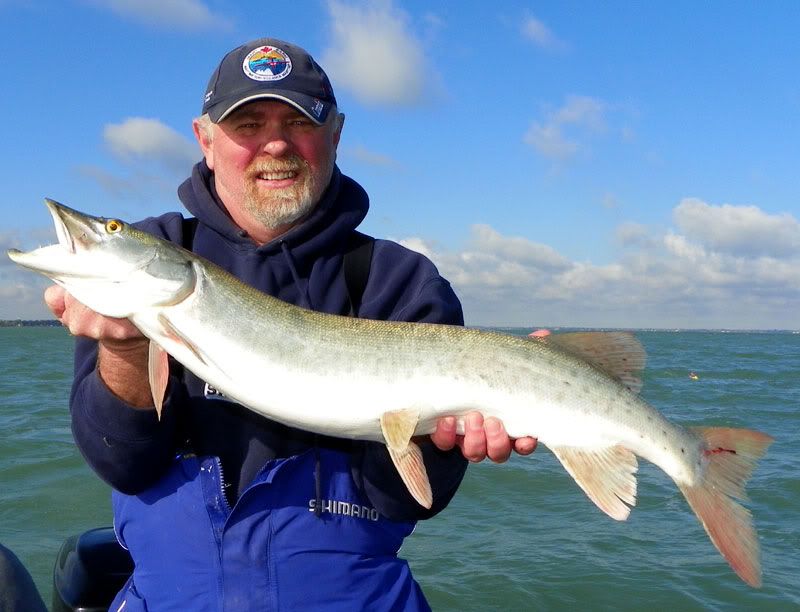 The next morning we put in a morning fish and it wasn't long before this was the scene!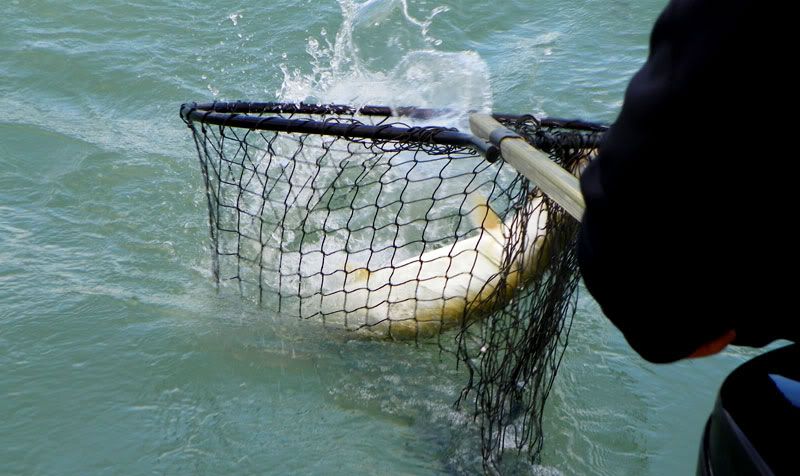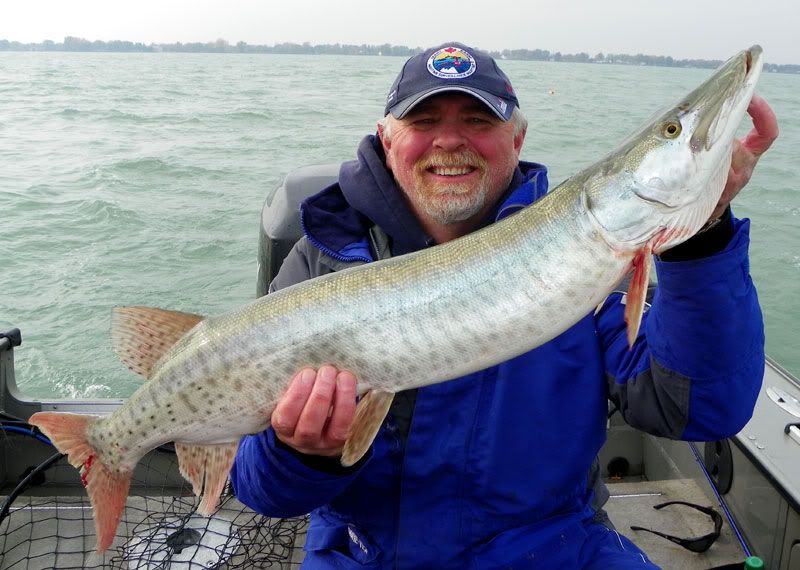 Sadly the trip had to come to an end.  The wind switched to the North was going to dirty the south shore of LSC badly making it even tougher conditions wise.  We hit a small window of fishable water and made the best of it.
This trip lived up to what I wanted it to.  I will be back every year, all I could think of while there was how much Birdee would like it.  Her turn next year!