Snag This!  first appeared on Fish-Hawk.net many many moons ago.  She was a eager teenager that simply loved to fish.  Though at times it seemed odd to have a teenage girl hanging with the fishin' guys she fit right in as her passion to fish was on par with the group, her ability to catch fish just raised her stature within the group.
Having known Christine for about 10 years, Birdee and I have watched her grow up.  It's like watching your younger sister become an adult.  It's been great to see.  She is no longer a teenager looking to get out fishing but a woman who has started off on here career with  the Canadian Armed Forces.  She is now stationed in Cold Lake, Alberta.
But she did come home for a visit.  When I heard she was coming home we setup a fishing day for her and our buddy Tony to join me in the Lund.
What would we fish for?  Pretty easy choice as Christine and Tony love Largies so that's what it would be.
We put in a long day on one of the Rideau Lakes and our results were great.  Boating 60 plus Largies on the day between us kept us busy.  Tony sight-fished our best fish of the day at 4lbs 10 oz.
We snapped this pic at days end, loaded up the Lund and hit Dairy Queen on the way home.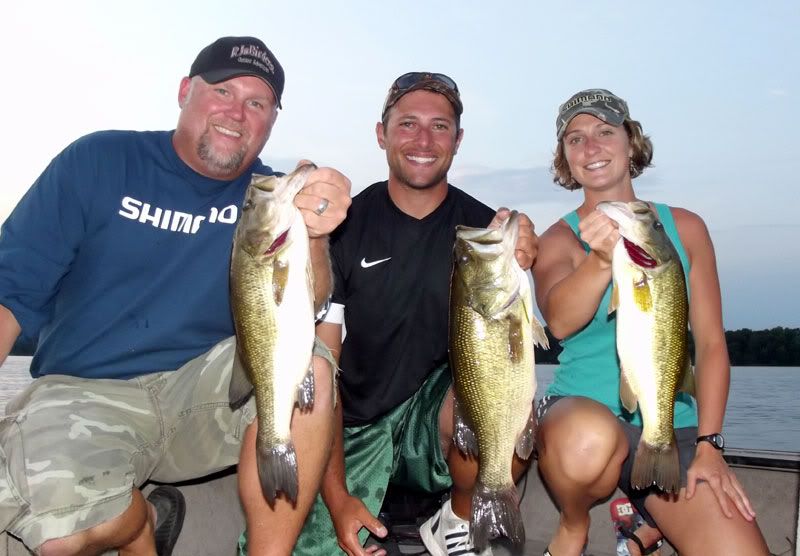 The three of us decided on the way home that this is an annual outing from now on whenever Christine is in town to visit.  Good Times!