In continuing with my newly found affection for Smallmouth I've been looking to expand to look for the biggest and the baddest.  Fishing tournaments on the St. Lawrence River and always hearing of teams that made the run to "The Lake" that then return with huge bags of Smallies always drew my interest.
But how do you do it?  That is BIG water, with countless points and shoals.  Huge flats, limestone boulder strewn points and steep drop offs.  It's all awesome water to fish but there is so much of it out there!  I dropped the dime and made a few calls to a few fellas I know that have been out there with some success, just to ask for a few starting points.  They obliged and I came up with a checklist of areas I at least wanted to check out.
How anyone was ever able to fish out there without the use of a GPS unit and a Navionics chip is beyond me!  The Navionics chip put me right where I wanted to be and also guided me safely out to the areas I wanted to fish.  Being that it is big water and the first run I made was 9 miles, I couldn't physically see where I was headed.  The chip led the way.
My boat partners for the day were Tony and Ian, two longtime fishing buddies that were excited to give this a go.  We started on a steep break that went from 10 feet and within a  cast length we were in 35-40 feet of water.
I started with a tube jig, Ian with the drop-shot and Tony with a rattling crankbait.  It wasn't long before I leaned into a Lake Ontario Bronzy!  What a start.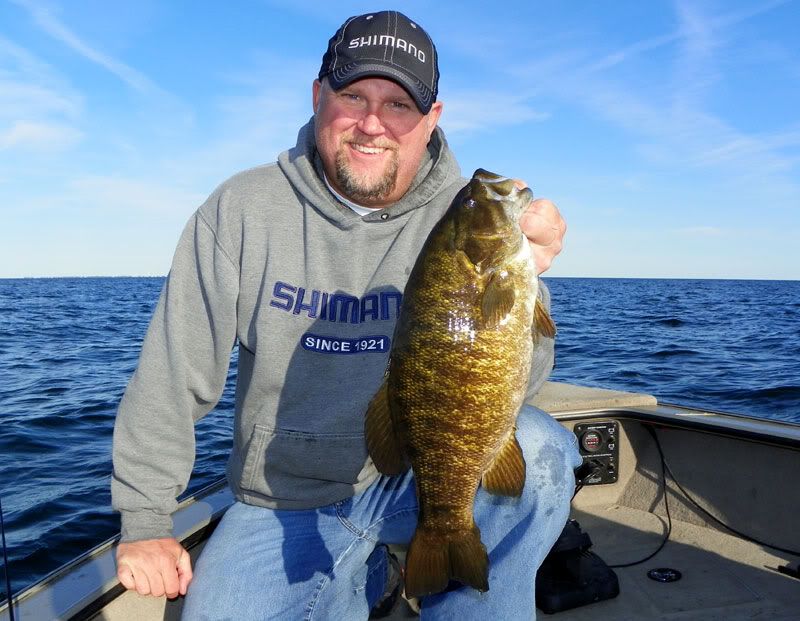 We picked away on this breakline and put two more decent fish on board, but we wanted to check out a few more areas so we took off.  All the while I know we were all thinking "we're leaving fish to find fish".  Usually Dumb.
On another steep break, Tony leaned into one that ate up his tube.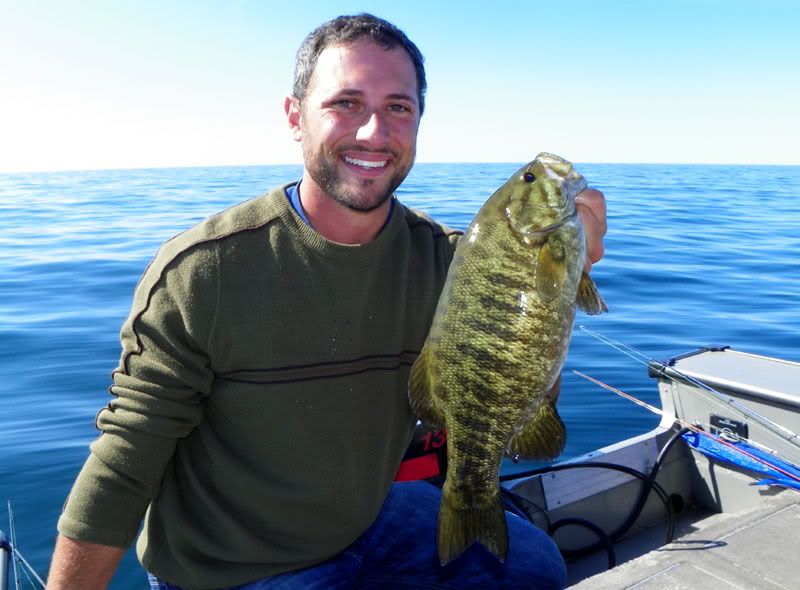 Working for Frito-Lay allows a few snacks to make their way on board the Lund.  Tony loved the "Snack-Hatch"!
As the wind started to build we made another move to another flat.  There Tony's tubejig was crunched again!  He figures this is his best Smallie ever.
I had switched up to a drop-shot rig and as we drifted along in 26 feet of water my rod loaded up.  Party time.  This fish gave me an awesome battle and really re-affirmed my love for these brown fish.
Final pic of the day…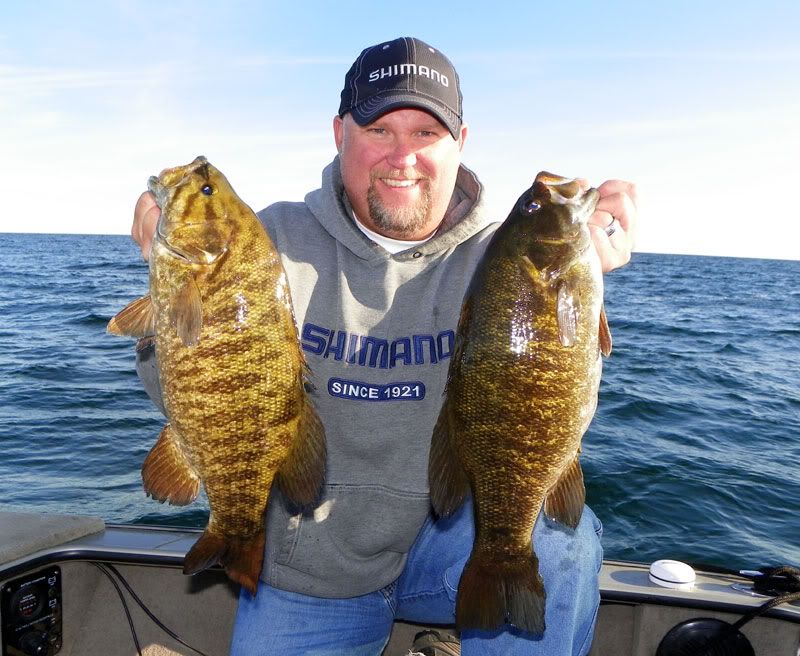 We pulled lines around 6 and headed for port.  The winds had picked up quite a bit and greeted us with some heavier than we expected seas.  Though the Lund was up to the task there was no need to beat upourselves up running in so we took it easy.  If you do decide to head out there just be careful, things can be on top of you pretty quick out there wind and wave wise.
I deemed this trip a success after basically going blind out there.  I will definitely be back soon to spend some more time learning the area, and playing with those big fall footballs.