This is officially now a yearly event!  Last year we put this event together fairly last minute and managed to raise a little over $600….
The charity we support is the Kelly Shires Breast Cancer Foundation.
Their mission statement….
The Kelly Shires Breast Cancer Foundation was established to help women/men who have been diagnosed with breast cancer. There are many unforeseen expenses they may face, and which their health insurance program may not cover.
Our mission is to provide financial assistance to women/men in these situations in order to make their fight with cancer a little less challenging.
Such a worthy cause!
We ran the same format as the year before but lengthened the day and made 5 prize packs available to be won.  Longest Panfish each hour took home great loot bags full of gear.  Without the support of HT Enterprises, Bennetts BaitnTackle, Shimano Canada, Radioworld and Vexilar this event would not exist.  Huge thanks to them for their support.
We had 78 registrants on the day.  Weather wise was great.  Sun beaming down and no wind with temps hovering around zero.  Perfect.
A few of the fish that made their way in to be measured….some winners here!
A bonus this year was having Mossy's Smoke Shop setup a BBQ to serve up some of his famous sausages!  What a nice treat to have that.  At the end of the day Steve Moss handed us a nice chunk of change towards the foundation.  Classy guy who cooks up some mean "meat treats".
The hourly winners!
At days end we assembled the large group to hand out some door prizes that included a $100 gift card from Radioworld.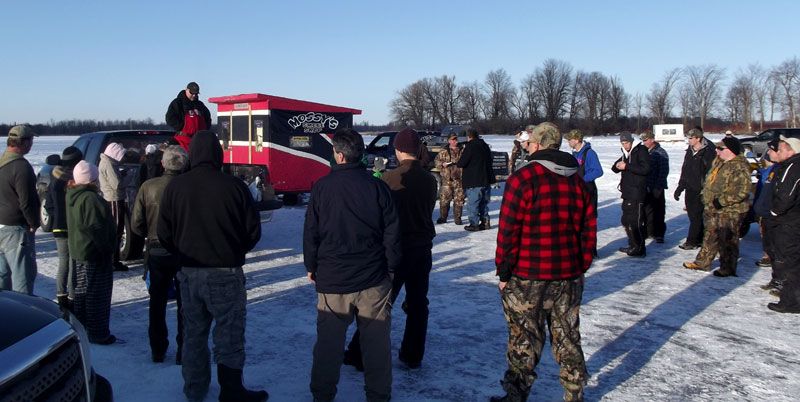 It was an incredible day.  Birdee and I sat down that night and just kind of looked at each other smiled and realized how great day it was.  In the end we raised $2150 for the Foundation.  Not far off from 4 times what we did last year.
Thanks a ton to all who came out and again to the companies that support what we do, without you these days aren't possible.
See you next year!