2012 is a big year for me.  I turned 40.  Yup,  I'm officially able to be called a cranky old man.  One of my closest friends, Markus also hit that milestone this year.  How to celebrate hitting middle age?  A cool fishing trip.  Deal.
We thought about various options, most of which cost an insane amount of money for what you get.  He mentioned coming out there to give the Sharks a go.  Well it didn't take long to say yes to that!  I made a few calls and had us hooked up with the best in the biz.  We had a date with Art Gaetan who ownsBlue Shark Charters based out of the Eastern Passage near Halifax.  A crew was assembled in quick order and the anticipation began to build.
I landed in Halifax and was quickly whisked out to the Nova Scotia countryside to meet some more of the crew.  A few of my buddies from Ontario had flown in the night before so they were all settled in.  After a few pops we decided to hit the hay as we had an early morning and long exciting day ahead of us.
Up early we grabbed the required Gravol and Tim Hortons and headed for the wharf.  Once we arrived at waters edge we caught a glimpse of Art's setup.  Wow.
Art was along shortly and in short order we started to make our way out into the thick fog and building waves.  Sea sickness doesn't really grip me as I make a concerted effort to always keep an eye on where we are going.  It was difficult in the dense fog but it paid off as the sickness didn't get to me.  Others weren't so lucky.
After a long steam out to the structure Art has been fishing we came off plane and Art went to work.  Art has been at this a long time and has it down to a science.  I really appreciate it when I someone has really put a lot of thought into his setup and Art definitely has this down pat.
The chum bucket went over the side consisting of ground up herring that is then frozen.  It slowly sends out a slick of fish guts and oil that we could see far as the eye could see once we had been drifting for a few hours.
For rods Art uses top of line with Shimano rods and reels.  Way smaller gear than I was expecting but those silky drags make up for it.
The setup is pretty simple.  The boat side slips with two rods out one side of the boat with large floats on them that release once a fish takes the bait.  They are about the size of a 2 liter pop bottle to give you an idea!
The business end of the rig is fairly simple.  Top quality terminal tackle ups your odds.  Cut up Mackarel is the bait of choice.
Settling on rod rotation was up next.  The fellas insisted I went first as I put the trip together for everyone which was a nice gesture on their part!  Then the rest of the crew drew cards to determine order. It worked out great.
Roughly an hour into the drift a float popped and I was on it.  One off the bucket list, my first Shark.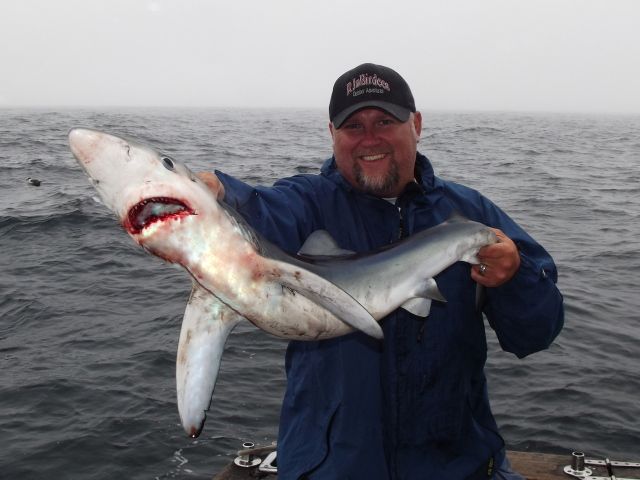 Markus was up next and also landed his first.  Apparently we stumbled thru a nursery compared to what came next!
Our buddy Skoots was up next!  He was into something with a bit more of an attitude!
Happy Skoots!
Matt was up next and he felt the power of the beast.  Just deep solid weight that doesn't want to come boatside.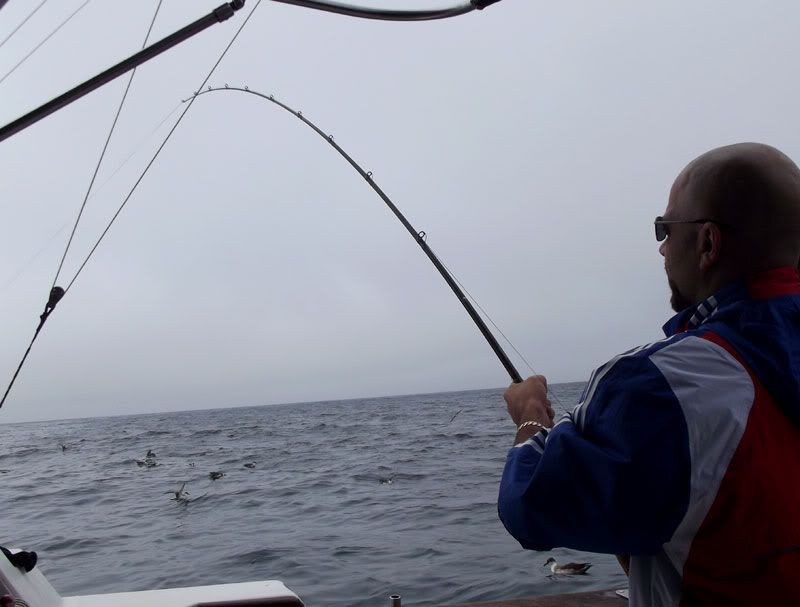 Matt was ecstatic.  He's a big shark fan and this was a bucket list check off for him.  Next up is swimming with them.  Nutbar!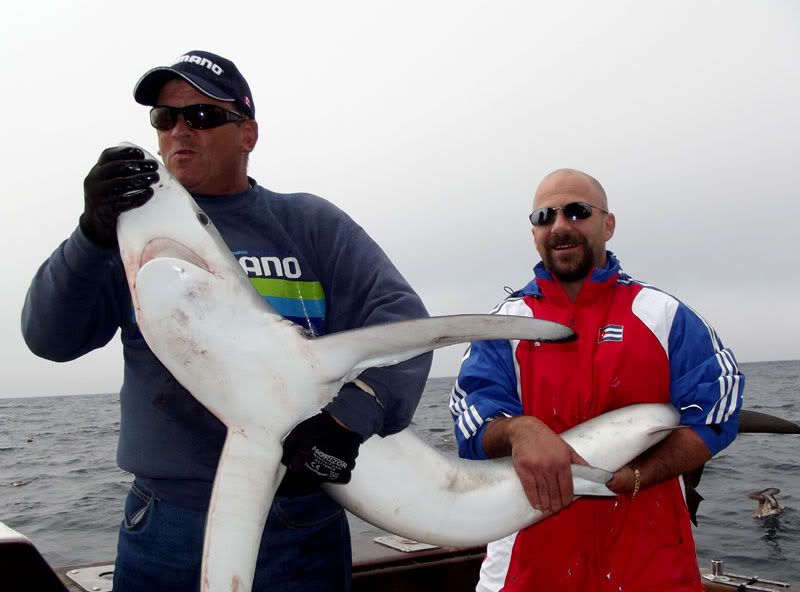 Gus was up next and really leaned into this one.
Next up was Tony.  Markus and I had settled into the fly bridge up top to get a birds eye view of the action.  We spotted a big shark as it flew right by the boat thru the slick.  It wasn't long before it found our hooked up Mackarel and it was game on.  Tony buckled into it and the battle was on.  About 10 minutes into the fight the hook popped free.  Heartbreaker.
We decided Tony would still get his turn and it wasn't 10 minutes later when another fish was hooked up.  This one was bigger.  Much bigger.
At this point Art was looking at Tony and asking him if he was ready for this…haha!
Solid pressure and unable to move the fish Art decided to get Tony hooked in.  Out came the harness to give him some relief on his now burning arms.  Off came the hat and the sweat was pouring.  haha!
Tony was into minute 40 of the fight when Art noticed a piece of Mackarel had slid up the line just under the now sliding float.  "That is bad news, we need to get that off there!".  He went on to tell us the story of a client who fought a Mako Shark for hours only to have another shark bite down on a piece of bait that had slid up the line just like this.  Well sure as hell.  The same thing happened, Art called it.  Another shark swiped at that bait and bit right thru the 200 lb test Power Pro.  No match for those choppers!  Pure heartbreak.  We did get a glimpse of the beast.  Ballparked at 12 feet and 300-350 lbs by our captain.  Wild.
Tony was done.  Smiling ear to ear with the experience and now just another reason to come back again.
We had a father and son combo on board.  What are the odds of this????
Pure bedlam that ended when both Sharks arrived boatside at the exact same time and tangled then bit their way out of the tangle by biting off everything.  Gone, both of them.  Again father and son grinning ear to ear!
Jason was up next and he ended up with our longest landed of the day..
Our day ended with smiles all around.  Tony's fish was the most talked about fish on the planet that day I'd bet!  What a rush.
A few words about Art.  I've met and fished with many fisherman.  This guy is top notch in my books.  Great guide, funny as hell, insightful and like most people I know just freakin' loves to fish.  He can be reached at http://www.bluesharkcharters.com
It was a trip I'll remember for awhile, or until next August when I get back out there!