With threatening skies and a wet forecast facing us we still dropped the Lund in with hopes of a big day.  "We" on this day was myself and my buddy Tyler.  Tyler is a good stick who is planning to hop up and fish Renegade next summer.  Best of luck to him and his partner Olivier next year!
I decided I wanted to give the Smallies a go first,  I dropped two heavy fish that had me shaking my head but did land this 4 lb 1 oz Bronzie.
By now the rain seemed to not be developing which was great,  it was Largie time.  To me once the water temps hit 60 degrees it's time to start bombing crankbaits for buckets.  Covering water and looking for feeding fish, and we found em!
Despite the fun of setting the hook on a fish, the pesky pike were becoming a bit annoying.  Tyler set the hook on a better fish and when I inquired if it was a good one he replied, "pike".  The fish took him for a good ride and did a 180 around the Lund and at one point gave me a flash of his side.  That is no pike.  After a few tense seconds and a nifty net job she was aboard.  Tyler landed his best Largie ever at 5 lbs 7 oz.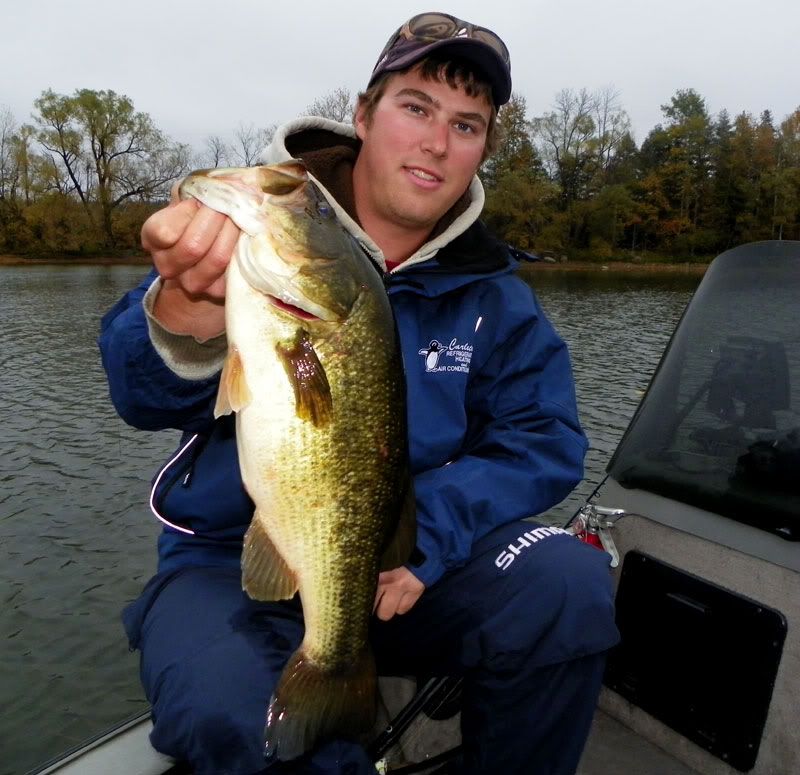 For baits, we were using various Wakebaits that travelled just under the surface.  I was throwing mine on a Shimano Cumara Crankin Rod with a Curado spooled with 10 lb test mono.  I may be changing up to braid on my cranking reel though.  I lost a fish that I attribute to the stretch of the mono.  Not a fan of that so stay tuned on the braid change and how it affects things.  I feel a soft cranking rod will stop the potential of the braid pulling the hooks from the fish so we'll see.
I did set into a 4lb 6 oz Largie later on in the afternoon which I somehow forgot to photograph at the time,  must have been the hot action!
We tallied up our 5 best on the day, we would have broken the 20 lb mark nearing 21 if not hitting 21 lbs.  You just have to love having the lake to yourself on a weekday!
Awesome day Tyler, let's do it again soon dude.