I've made a concerted effort this winter season to be smarter about planning trips.  Very few evening trips or single day trips but planning 2 or 3 day trips, traveling a bit and  making it a social event with a group is the plan.  Catching up with old fishin' buddies while we hit the ice, chill at the hotel or grab a meal together is a win-win situation.
With the Bay of Quinte only a 2 hour drive from home it's hard to deny the urge to make the trek down the 401 to the fabled Walleye Capital of the World.  Chances at 10 plus pound Walleyes aren't common elsewhere yet Quinte still kicks them out pretty much daily.  While the fight on these fish is average at best it is undeniably exciting to see those big Gold bars pop their noses out of an ice hole.
The crew for this trip consisted of Ian, Pat, Rob, Luke, Brandun and myself.  Great crew all with Quinte experience.
We set out into an area that is pretty much a large flat, depths ranged from 26 to 30 FOW.  Nothing special really, just a path on which these fish move.
Quinte can be hit and miss without a doubt.  We didn't wail them but we all caught fish with nearly 30 Walleye coming topside.  As it was very cold we didn't take all that many photos in fear of having the fish freeze on us.  None of us wanted to kill or keep anything.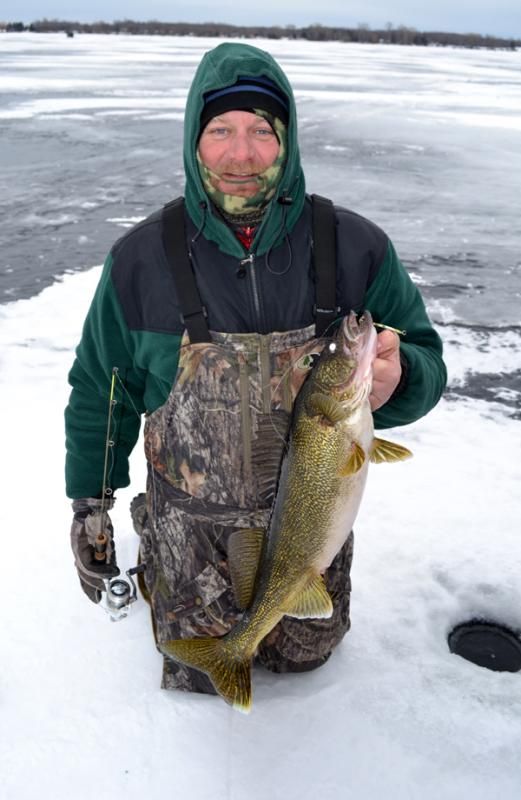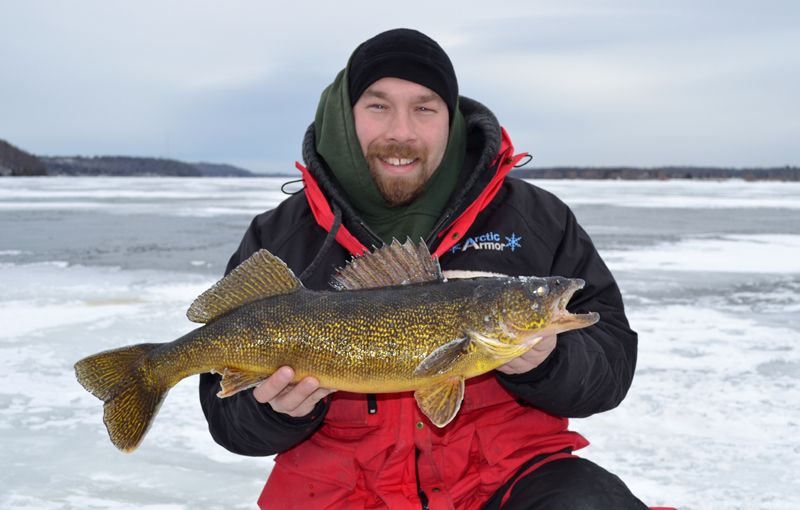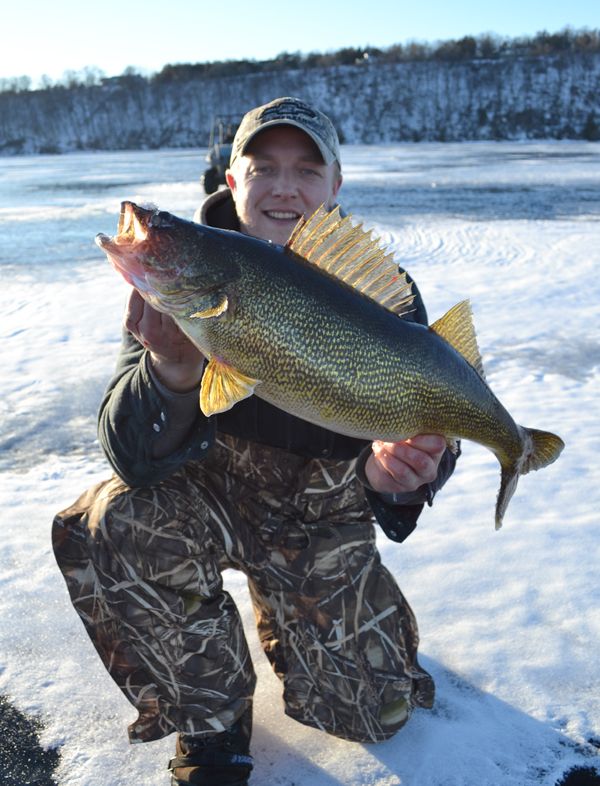 Tactics to ice these fish was fairly simple.  Unless someone was telling tales we were all using jigging spoons (3/8ths to a 1/2 oz) tipped with at least 2 mud minnows.  Color wasn't a major factor as we all basically used different colors and caught fish.  Vexilars were humming along giving us our eyes under the ice to keep us on the fish.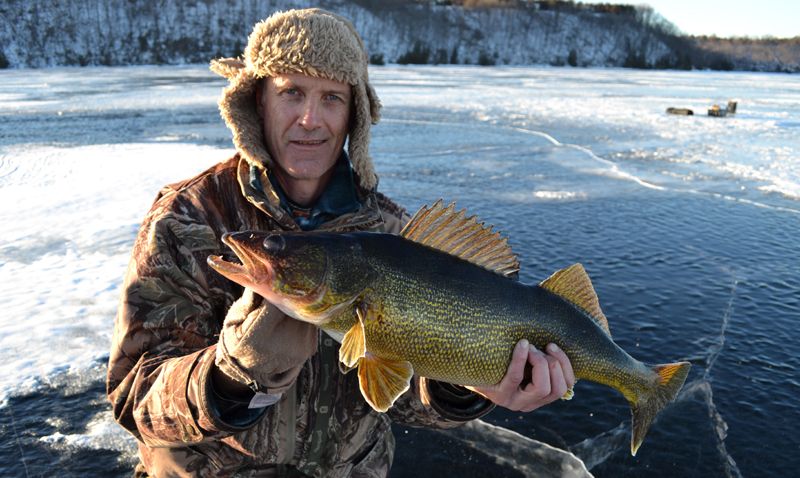 Giants in Training!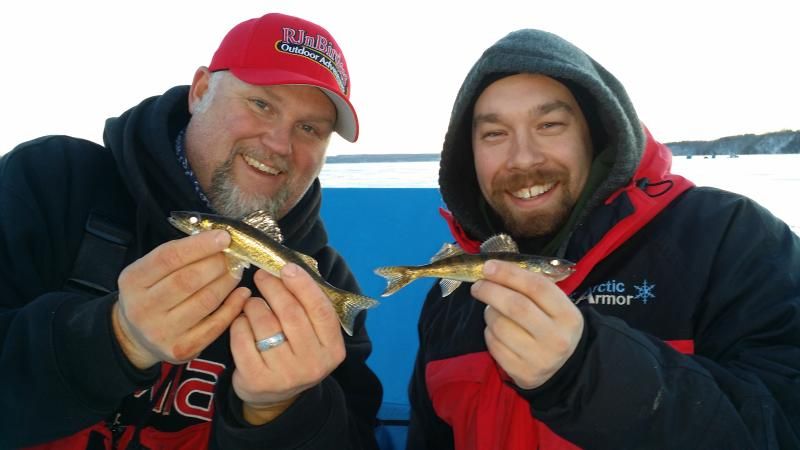 Brandun has spent the last few years looking for 10 plus pound fish, he's lost so many at the bottom of the hole he doesn't want to discuss that anymore!  He's landed loads of fish from 9 to 9lbs 14 oz.  but never that 10 plus fish on the scale.
All I heard from my portable hut was, "Got her!"  I peaked out the window to see him walking towards me with a big old girl in his arms.  I'd say ya did!  No guessing at weights, slid her on the digi to see her land an ounce under 12.  Nice old, healthy girl that was released back to where she came from.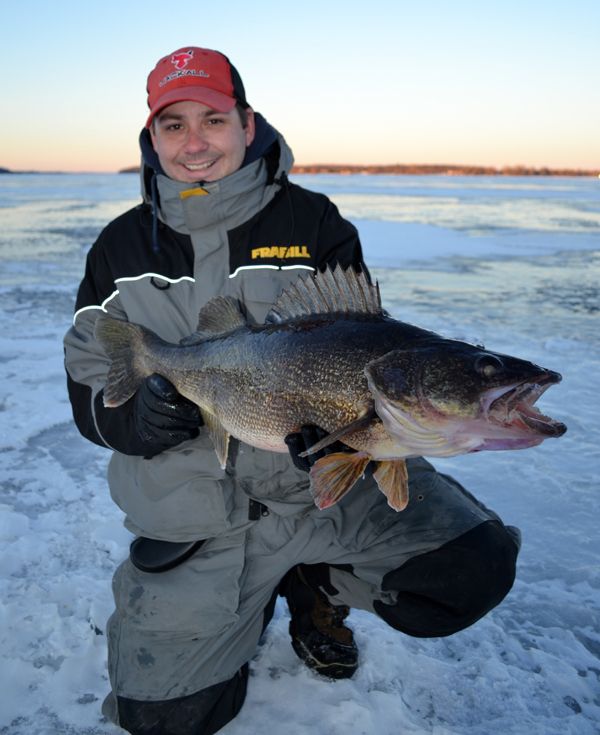 Not much I enjoy more than seeing someone be successful.  He earned that fish 100%, his reaction was awesome and the whole group were thrilled for him.  That's what fishing is all about with the right crew.
Photo for the Wall of Fame at the ranch?  Yup.
Tough to beat catching up with buddies, catching a few fish and sharing a laugh together.  Sign me up for more!