When the text arrived to my phone letting me know who my day 2 angler would be to marshal my eyes lit up, Gerald Swindle. Noted funny man, fierce competitor and fan favorite. This was gonna be good!
Arriving at the ramp is always a cool deal. It's 6 AM, with a storm barreling in on us and the fans are there 20 deep.
Made it to the boat to meet the Gman but when lightning approached we headed for the hills. An incredible lightning show skirted us and it wasn't long after they started to let the boats go.
With the boat numbers reversed for day 2 we were one of the first boats to take off, the run was a piece of cake with clean water in front of us. The run was about 12 miles I'd guess up the Seneca River, then into one of the creeks off of it.
When we came off plane he told me his gameplan. "We're gonna fish 100 spots today". I'm thinking Huh? "Gonna fish as many of these pockets as I can, I know exactly where the fish are sitting in the pocket so we won't be long in any of them". I told him I'd leave my life jacket on to make it easy to move with the main rather than take it on and off all the time.
Now these "pockets" are small. We don't have anything like them on our systems. They're just like small fingers that shoot off the side of the creek. Some are 3 boat lengths deep and 5 wide, small. Some are 100 feet long and 50 feet wide, still not big. These are key spawning areas and he had the fish pegged where they were sitting in what he called the "ditch". "Dead center of every one of these pockets is a ditch, it could be a foot deeper or 4 feet deeper but the fish are sitting right dead center".
He caught his first fish on his first cast, in the ditch of the first pocket. Dialed in.
Then we moved and moved and moved. Most pockets he would cast 6 to 10 times and gone. Throwing a Jackhammer Chatterbait right down the middle of the pocket had him a limit fairly quick.
The odd time he would see a clump of grass out on its own, he'd hit those too.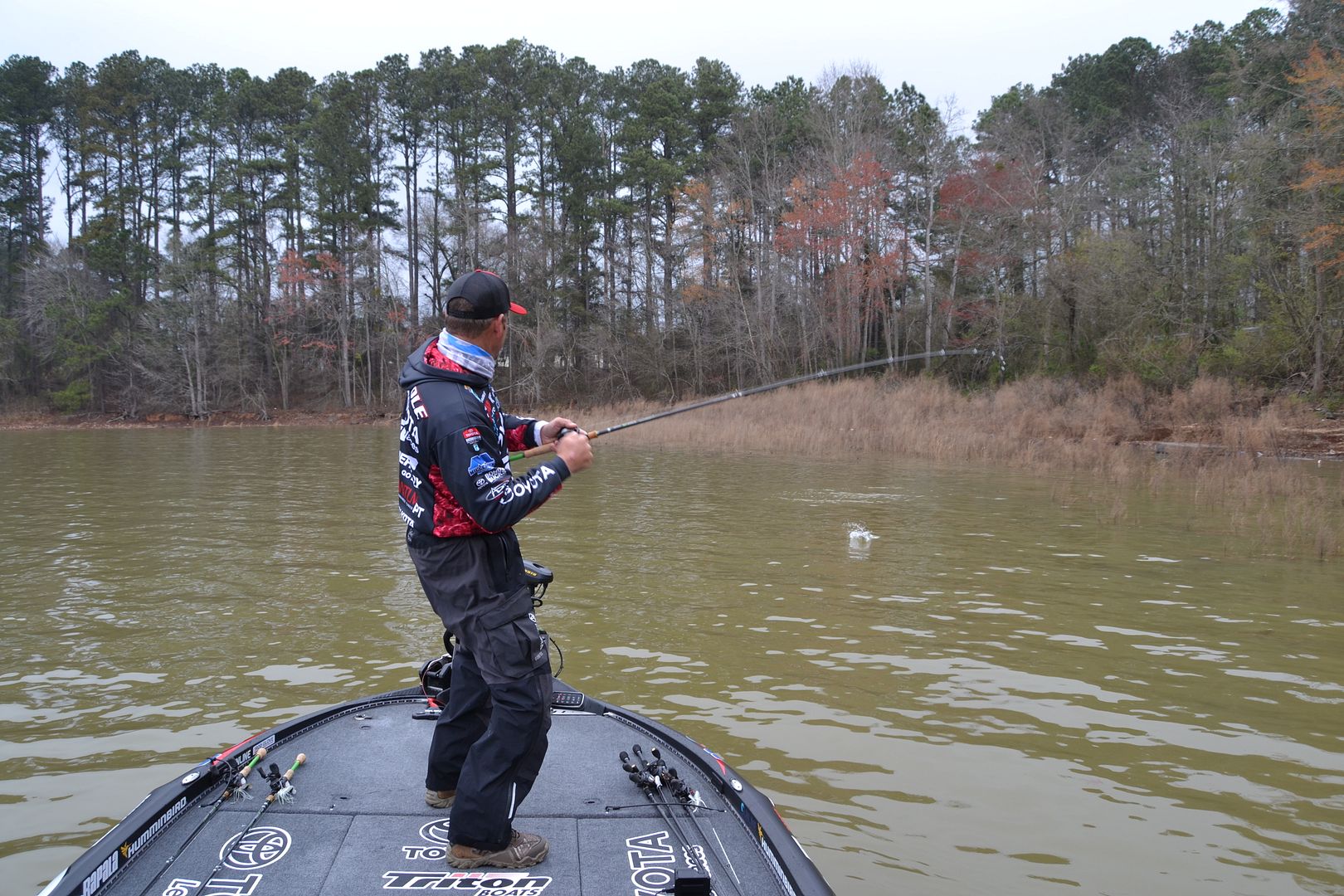 He was very talkative and funny in the boat as expected. An exchange he had with a wild turkey on shore was priceless. He called the bird right down to the waters edge then asked it what it was gonna do now?!?!
Around 10 am and 30 pockets fished, the wind started to blow. He turned to me, "My Canadian friend, it's about to happen. I'm getting me a big sack!" The wind was key for all these guys (ask Jason Christie). The next 3 pockets we fished he had to cull. It was happening.
He was getting fired up big time. The fish were where he pegged them and he was pretty much calling his shot in the pocket.
After this fish, he went to start his main engine to move to the next spot. It wouldn't start. He tried it 20 times, wouldn't start. He thought it was low voltage so he shut off all his electronics and livewells and installed a battery booster and let it sit while he motored over with the trolling motor to the next pocket.
Now I can't help him in any way. I can't suggest anything. Him thinking it was battery set him back a bit. I knew it wasn't. It would turnover 20 times and the cranking would never go weaker, it just wouldn't fire. I can't tell him that though!
Wouldn't ya know it the next pocket…
He culls the fish and tries the motor again, no go. He looks at me and says "Well my Canadian friend, I don't think it's the battery." At this point I agreed and told him my rationale. He grabbed his cell and called the Mercury techs. They quickly told him it's not battery and that he's dead in the water. He asks them to get him a boat ready and he's just going to confirm he can switch boats with BASS.
He calls Tripp the tournament director, no answer. Calls Chuck the assistant tournament director and he answers. Tells him the situation and it's game on. Now he just needs that boat. Calls Merc guys back and they haven't moved yet. Frustration is setting in that his Classic is sliding away on him and no one is trying to move very quickly.
Biggest issue on shore was the guys not understanding where we were. They were getting sent GPS pins and pretty much exactly described where we were and they weren't understanding.
The kicker to all this was BASSlive showed up while this was just starting. I hopped out while they put a cameraman in the boat while he tried to sort it out on the phone.
Gman handled this so well, waaaaay better than most. His only frustration was with his original phone call not being answered and that he felt people weren't moving fast enough on shore. There was no profanity laced rants as reported. He fished along the bank while we all waited.
The boat arrived and the switch began. As marshal, I had to check all his safety gear and livewells, then watch the transfer of fish. Piece of cake. He grabbed 4 rods, one tackle tray, his sandwich and a Mountain Dew. At this point BASSlive asked if they could have a cameraman on board and he basically told them "I need to be alone to fish for a bit, you can follow but I'm taking him (me) and I'm going fishing". Understandable really. He had just lost well over an hour of prime fishing time when it was really happening for him.
He idled off in the new boat. It has Lowrance units on it. He struggles to even get a map up on at the console, looks at me and I tell him even if I could help him I haven't a clue as I run Birds too. He just laughed, "Great! No mapping!" and hammered the throttle.
We go ripping into a long pocket and come off plane. Drops the trolling motor and the front unit doesn't work. "Great! No sonar!" Didn't phase him, PMA he says. He hadn't fished a dock the whole morning but he beelined right for this one. Picked up his jig rod and skipped it under. In 1.3 seconds suddenly his best fish of the day was flopping in the bottom of the boat! I'm looking down at the fish on the floor when I look up and he's 3 inches from my face and greets me with a giant bear hug! "Can you believe that?!?!?!"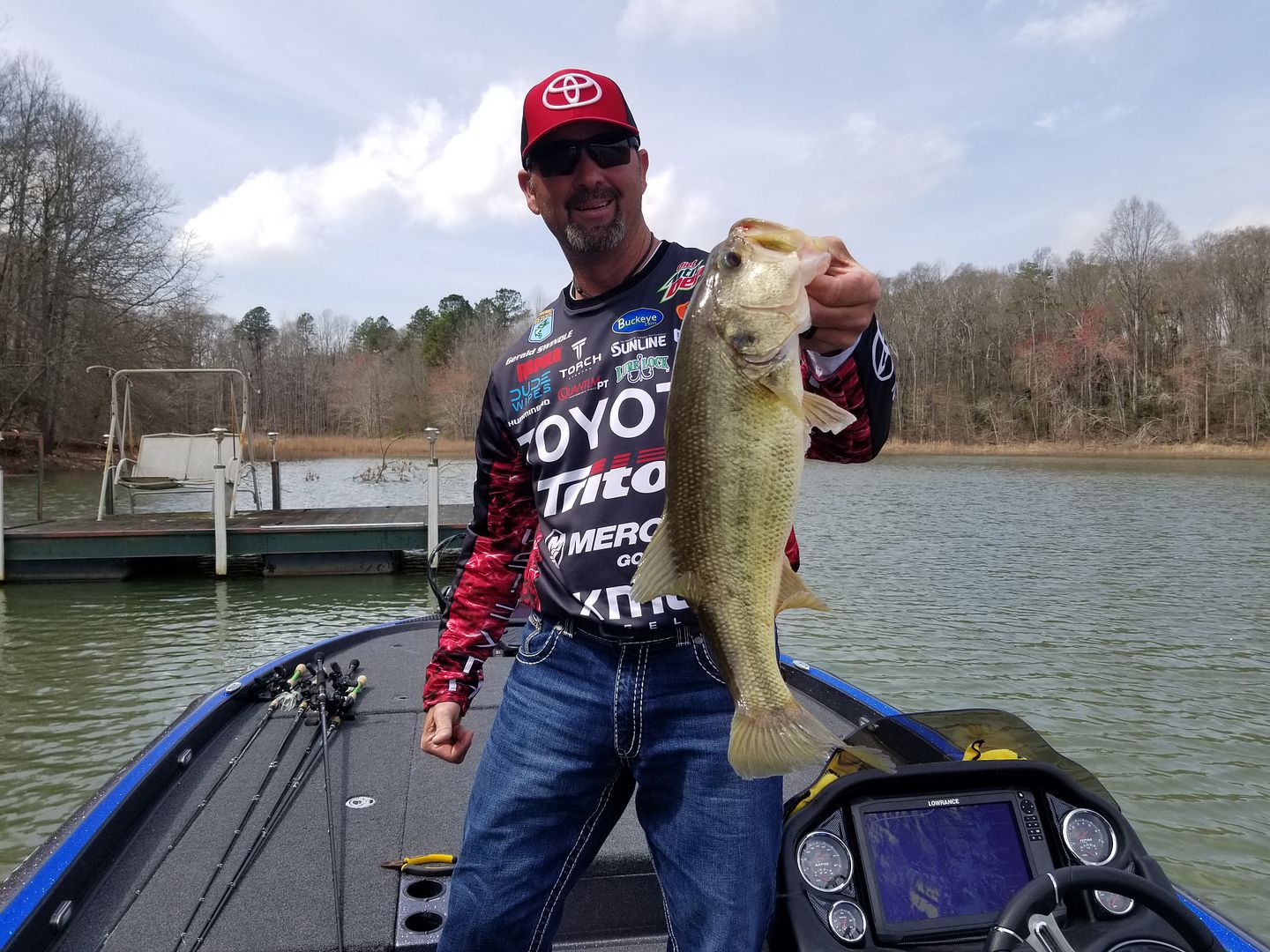 He started to run pockets again picking off a fish in about half of them. Culled out a few more dinks and the day wound down, we ran back to check in. Lulu as he calls her had the trailer already in the water for him to get out of the water. She pulled us out and the fish were checked by BASS. Off to weigh in.
As marshal, I'm to stay with his fish. The weigh-in location is 45 minutes away so I hopped in the backseat while Lulu drove us back. He recounted his day to her and she had a positive spin to everything. He could have come undone, but he didn't. He handled it like a champ and certainly wasn't out of it.
Gman is known for his on stage chatter, he didn't let the fans down this time around again. He's one of a kind.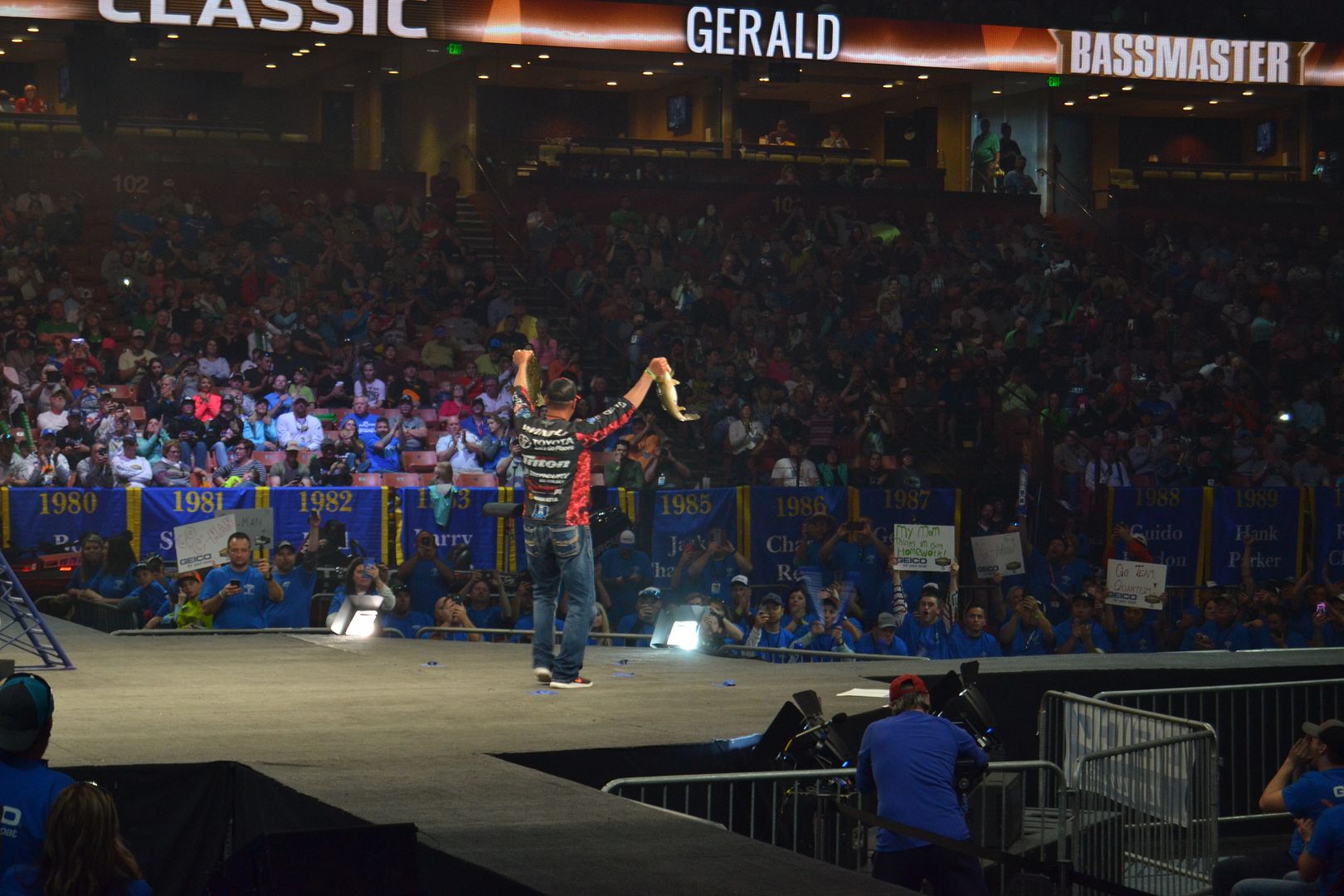 He weighed in 15lbs 7 oz. way less than what I had sent in to BassTrakk. That's the norm. They all sandbag a little bit. He made the Super 6 and I was thrilled for him. The motor break down set him back over an hour and his prime bite window, he didn't let on but I bet ya he's still wondering what could have been…I know I am.