My cousin has a beautiful cottage over on the Quebec side, when the invite came to use it we jumped at it.  It's been a crazy busy summer with over 3 months of either working, guiding or away on a trip.  A few days of laid back cottage life sounded great.
We loaded up the Silverado with the Lund in tow and picked up my folks and were on our way.  It was tight in the back for the ladies as Sinker insisted on getting a jump on the laying around!  We managed and were dropping the Lund in the lake before 11.
The plan was for me to slowly putt down the lake until I saw someone waving at me from the cottage dock.  I had never been there yet so I had no clue what cottage it was.  Something else I had no idea about was the fishing.  I was told Smallies and Pike only, fair enough.  I never asked about how big the lake was.  Well I quickly found out.  Likely about 2/3rds the size of Constance Lake in the Ottawa area for an idea.  VERY small compared to what we normally fish.
As I putting down the lake at about 5 mph I came across something that caught my eye on the sonar.  A great looking mid lake hump that rose from 25 to 10.  The top of it had some weed on it reaching 2 to 3 feet off bottom.  I began to circle it dropping waypoints on the Bird.  Within 5 minutes I had it plotted out.  We were definitely going to fish that.
Settled into the cottage and we weren't long before we were putting our way over.  I started with a Tube jig, while Birdee and RJ Sr threw soft stick baits.
3rd cast I feel the tick we all love on my line, tighten up. The fish is swimming at me and by the time I caught up to it I could see the fish with my tube in its mouth only to watch it spit it out!  I was somewhat shocked at the size of the fish I just lost.  I didn't have to wait long to see it again as Birdee 2 casts later is requesting the net.  I turn to see a pig Smallie clearing the water every 4 feet back to the boat.  New PB Smallie for Birdee.
Nice first fish!  About 5 minutes later I'm requesting the net.  Wow.  These are the first two fish we landed.  Where are we?  Lake Ontario?  Nope.  Tiny lake in Quebec.
We plucked 3 lbers off that hump for an hour then decided to look at some shoreline stuff.  Random fish all over 2.5 lbs all along the shore, great fishing.
The aforementioned 3 straight months of being busy may have finally caught up to me.  Pure agony in my right elbow.  I now know what it is but at the time everyone suspected tendonitis.  3 trips to emergency, 4 prescriptions, 2 trips to physio, one to massage and now one to a chiropractor it's been narrowed down.  Pinched nerve in my neck that is sending referred pain to my elbow.  Not fun, really sucks.   I spent most of my time at the cottage covered in ice packs trying to numb the pain.  I personally fished about 5 hours the whole 3 days.
Due to that situation we all relaxed, played cards and sat on the dock taking in this late summer weather.  We did fish prime time every night, twilight.
I'm guilty of forgetting how much fun Smallies are.  Been dragging drop shots and tubes on the St. Lawrence too long is my guess.  NOTHING beats banging Smallies and big ones on topwater.  An hour a night I could no longer feel the pain due to the sheer adrenaline that came over me watching Smallies blast topwater bait.
Bait?  The Jackall Pompadour.  My lord did they hate that thing!  And when they did it was an aerial show every time!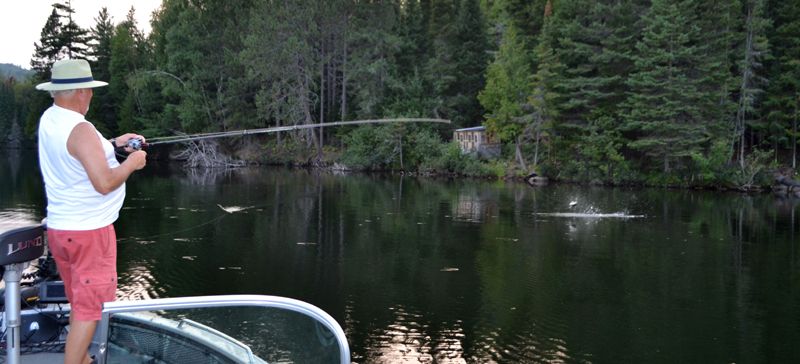 The final evening RJ Sr. bumped into his best fish of the trip, absolutely destroyed the Pompadour as it Clipped and Clopped its way back to the Lund.  Unreal way to end this short vacation.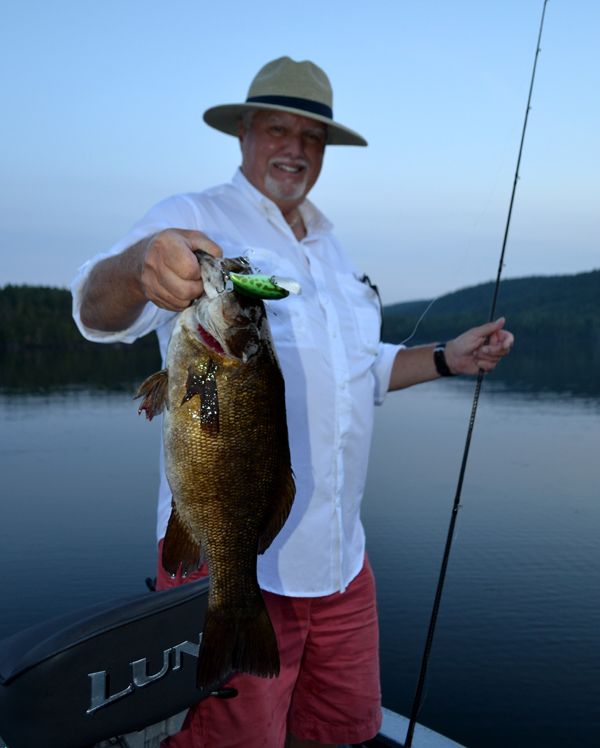 It was a great few days away to kick back, despite my issues I had a blast.  Still floored at the quality of fish in this tiny lake.  We didn't catch a fish in 3 days less than 2 1/2 lbs.  Not sure what that says about the state of the lake but for the lack of fishing pressure it gets I'm sure it is fine.  I know we had a blast!