After a day on the water with defending champ Casey Ashley I was pretty pumped up about getting out in the Rigid Industries Skeeter with young gun Brandon Palaniuk for Day 2.
I made my way down to the dock to find Brandon fiddling around with some GoPros.  I waited til I could catch his eye and he realized I was his ride along Marshal.  He welcomed me aboard and says "I heard you're a pain in the ass".  I was stumped for a second, he laughed and then tells me Paul Shibata texted him that morning telling him I was a buddy of his.  A good chuckle at 630AM.  That set the tone for the day.
Blastoffs at the Bassmaster Classic amazed me, huge crowds.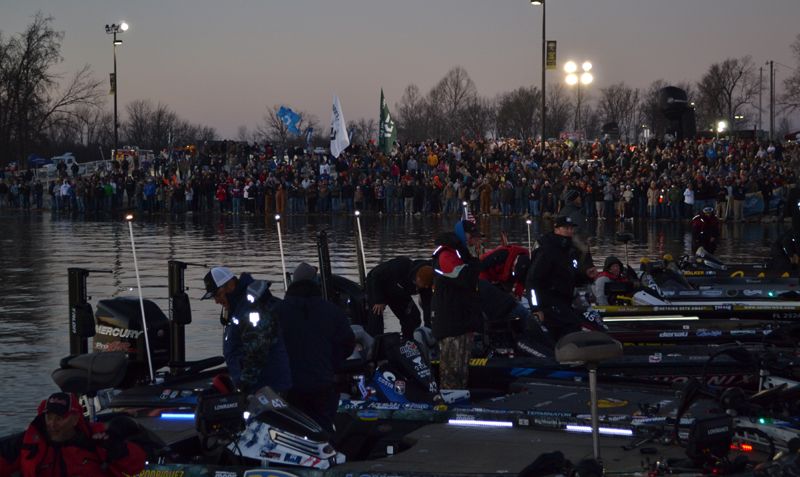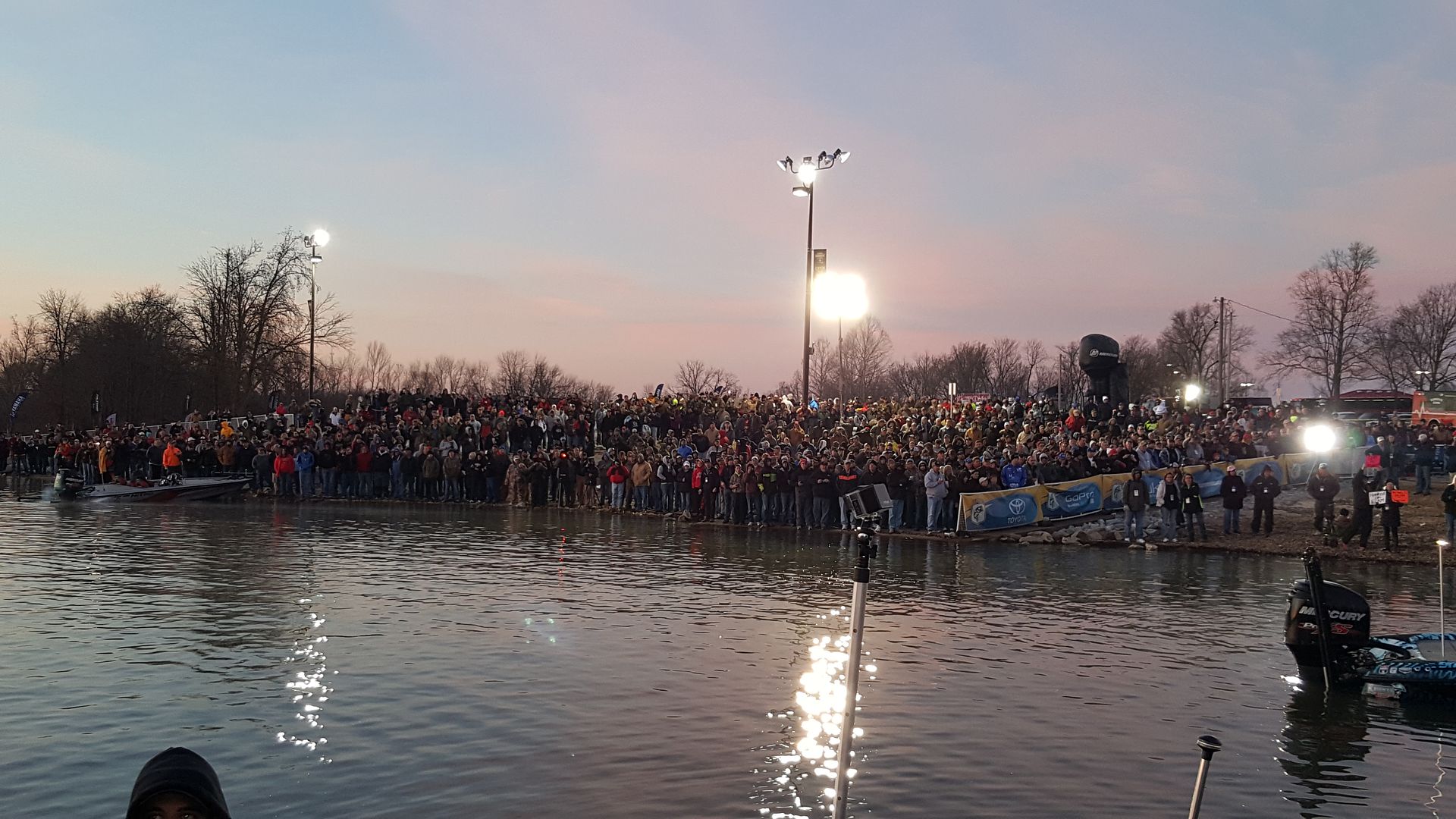 We made our way past the Geico Gecko and away we went!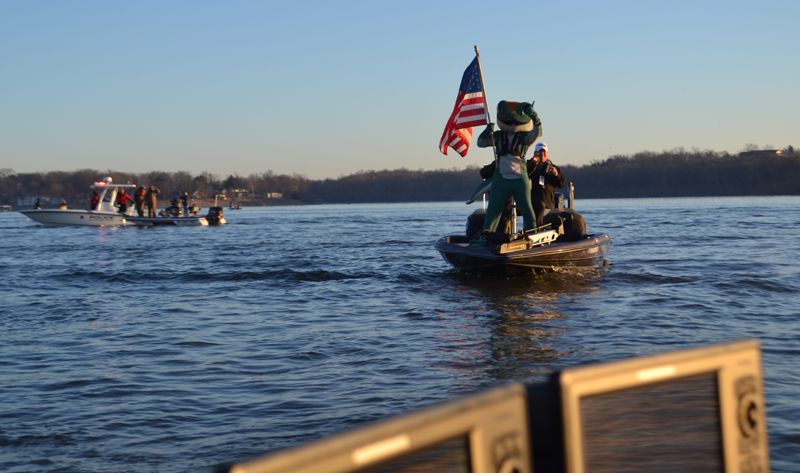 The first half hour of the day told showed me what this kid is all about.  We made a 10 minute run to his first stop.  He was pleased to see he was the first one there as it was a very tight spot that only one boat could fish.  He kept shoulder checking to make sure he was alone there, even a fly-by by Randy Howell confirmed to me this spot was known by a few of the anglers but Brandon was there first.
He made 4 casts, still shoulder checking.  Spectator boats showed up to watch him by this time.  He slipped off the spot a bit and started to work down the shoreline about 40 yards down to a dock (still watching for any anglers coming) fishing along that shoreline he made it to the dock.  While pitching around the dock he spotted a boat coming.  He bee lined back out of the dock and tried to get back to the key spot but it was too late….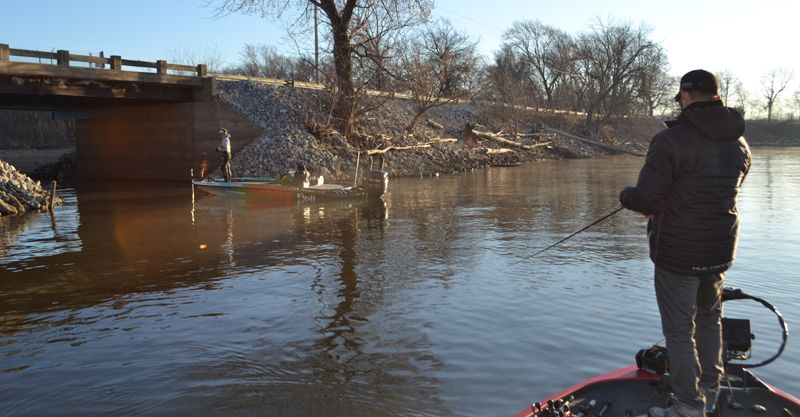 Bernie Schultz had watched him from a distance move off the spot and once he felt he was far enough off of it he zoomed in and setup.  All Brandon could say as he trolling motored over was…"No. No No!, Damn!"  His frustration was evident but not with Bernie.
"Were you the last boat to leave Bernie?  I was watching the whole time to see if anyone was coming and figured I was good!".
"Nope, I pulled up on that point over there and watched you leave"
"Well played Bernie.  Well played."
What happened next even hurt me to watch I can't imagine how it stung Brandon.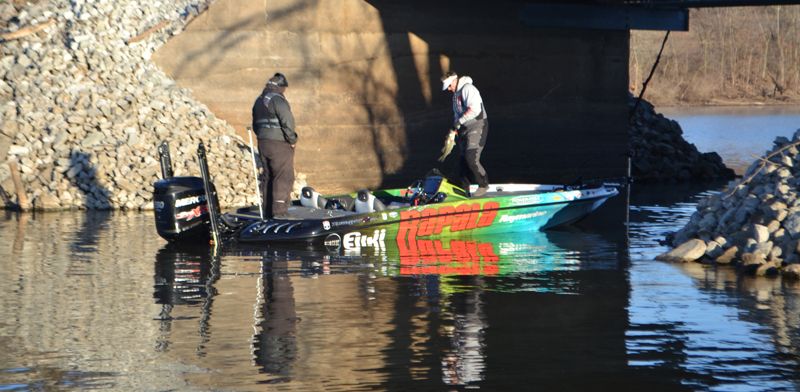 He couldn't stay and watch him fish (I don't blame him).  "How long you planning to stay Bernie?"
"Likely an hour or so" Bernie answered.
And off we went.  Brandon was frustrated with himself.  "I made the right call but just made a terrible decision to go over to that dock".
I was curious to see how he'd recover from that, especially with Bernie slinging that solid 4 lber into the boat in front of us.  He handled it like a pro.
We moved into a cove not too far away and on the 3rd cast on the crankbait…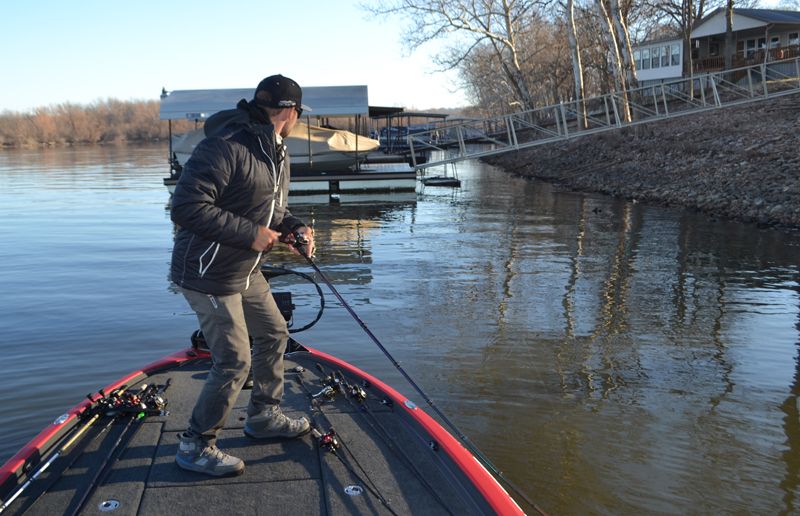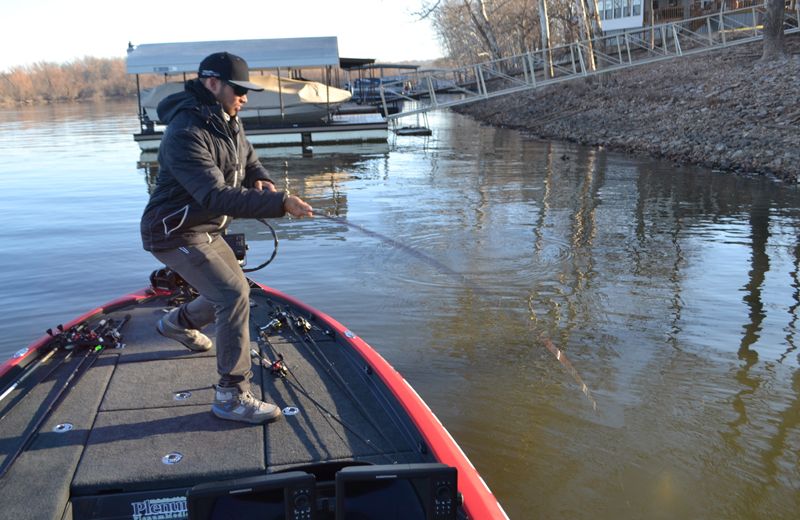 One thing I learned quick on this first fish…the kid moves fast!  That fish was in the livewell before I even got a look at it.  3 lber sent in to BassTrakk.
He fished the cove for a bit and started to wonder where his family was.  His family had two boats on the water to follow him around cheering him on.  They weren't long until they were on the scene.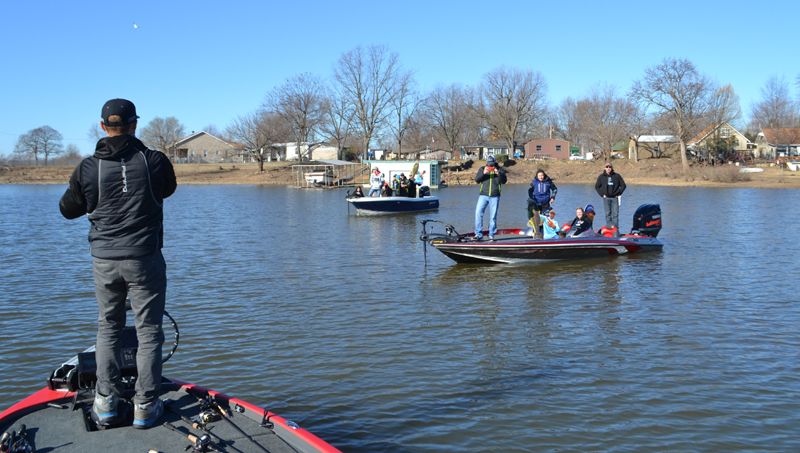 He poked around a bit more then off like a shot that Skeeter shot.  He guided us back into a very small cut where he said he picked up a few bites in practice.  Halfway thru the cut he prepped a jig.  Real pork trailer for those who are curious.
I don't care who you are or what level you fish at.  EVERYONE loves getting bit on a jig.  He was begging to just see that line twitch that we all love!
Working on a channel swing with a log up against shore it happened.  He flipped in and even from the back of the boat I saw his line jump.  Awesome.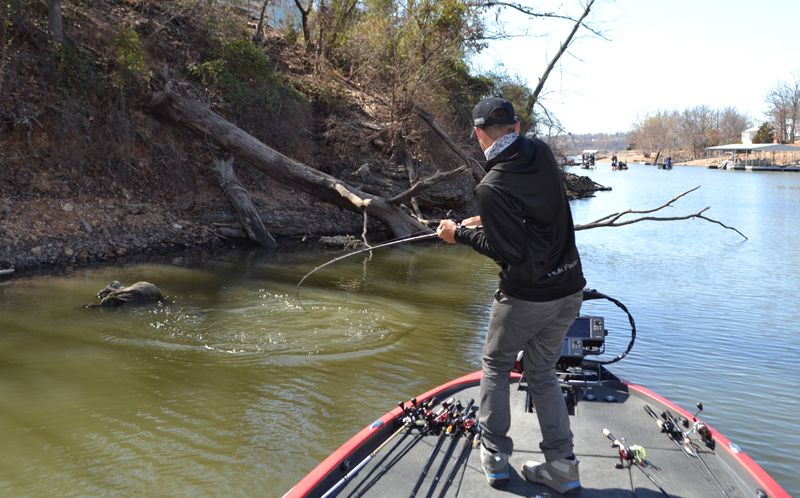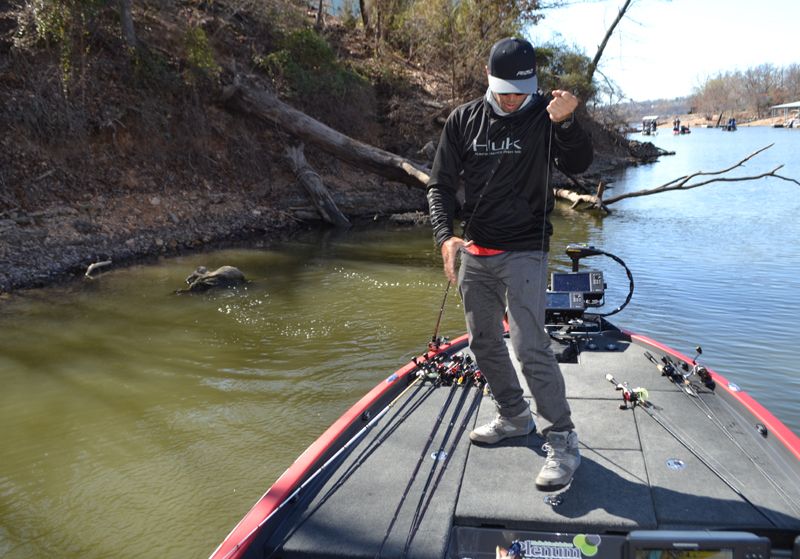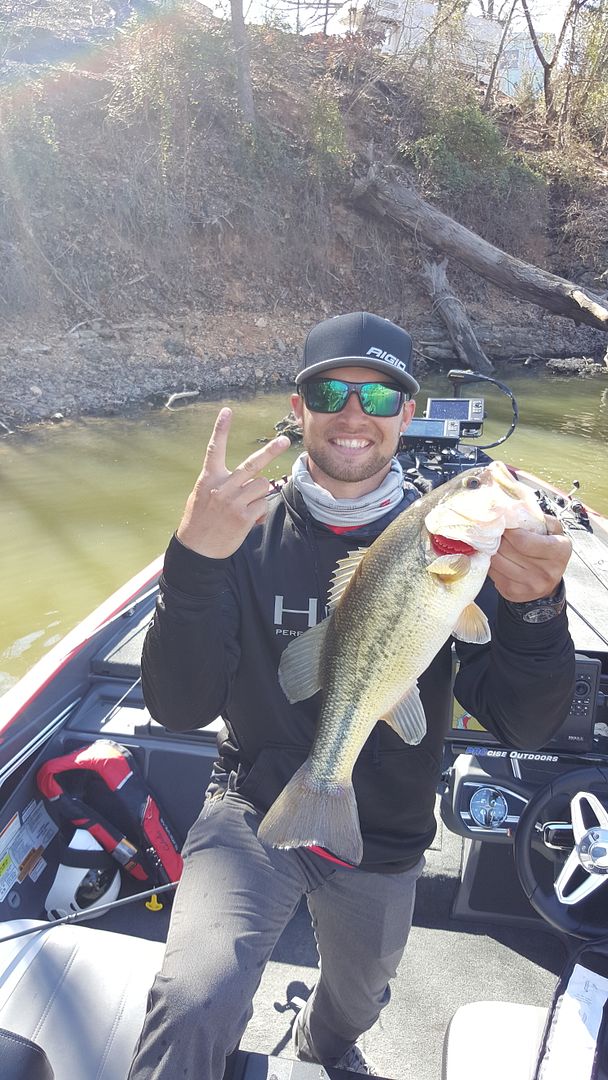 We moved on to a few more coves and Brandon was noticing the shallow water starting to come to life.  Turtles everywhere, Bluegills starting to pile up under docks and birds chirping.  Spring was arriving right before our eyes.  "This lake is about to go on fire within the next 3 days".
A fruitless few hours didn't have him deterred at all.  He told me he didn't have a bite the day before until after noon so he had confidence in some areas late in the day.  One thing I can say about both Casey and Brandon is that there is ZERO panic.  It could be on the inside but I never once saw a second of it.
He often had to idle thru a group of spectators before hopping up on plane.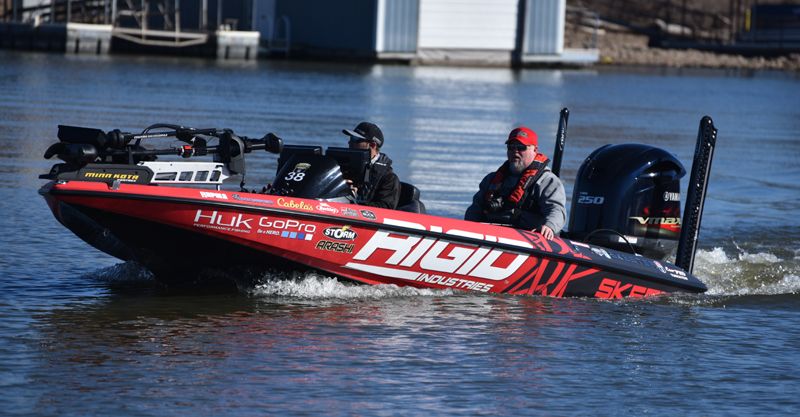 Spectator boats…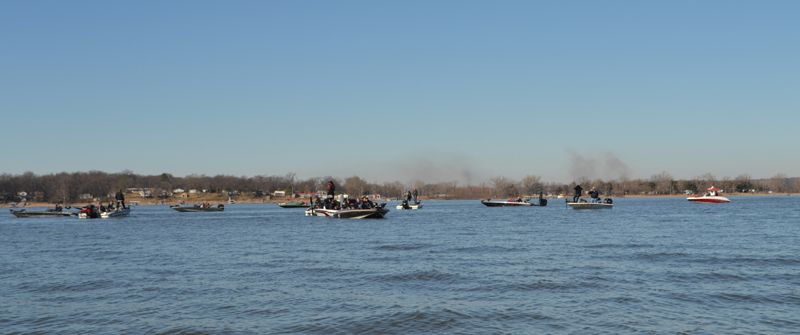 We made a long run to his area from the day before where he caught a majority of his fish.  It took 3 casts before he was boat flipping another keeper on the spinnerbait.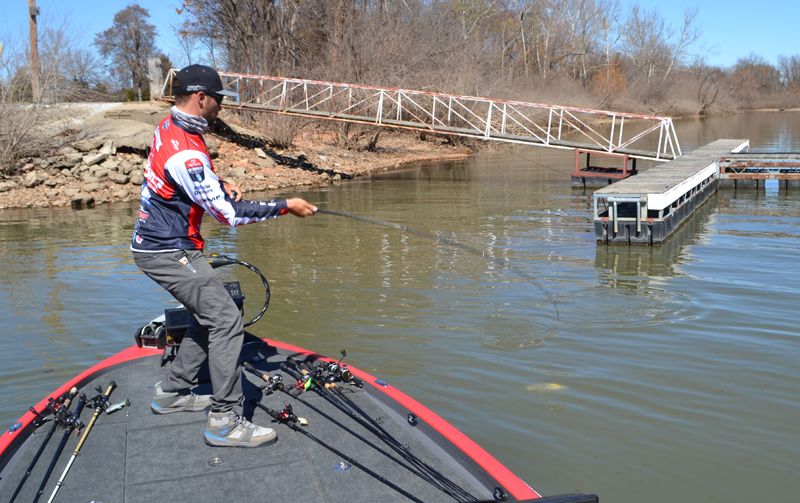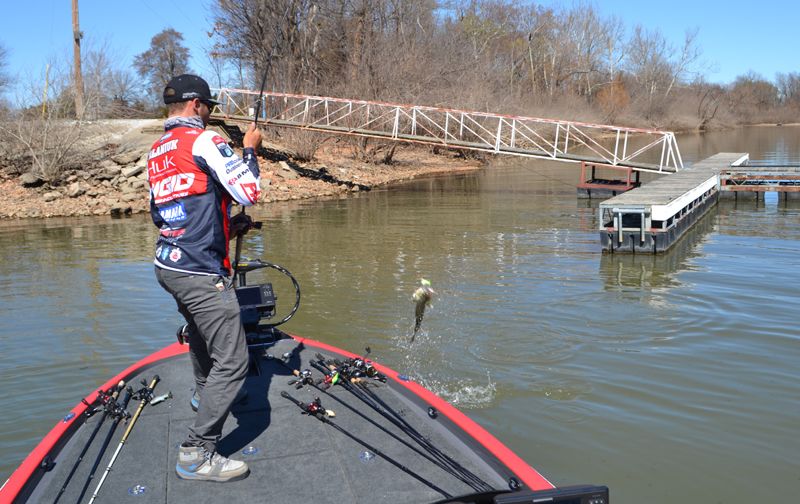 An hour to go in his day he made one more run to another area to find a local boat fishing it.  The local boat waved him over and got out of his way.  A very welcomed move.
Still working that spinnerbait we reached a creek mouth that had one stick standing way off shore.  "Any little bit of cover is all it takes".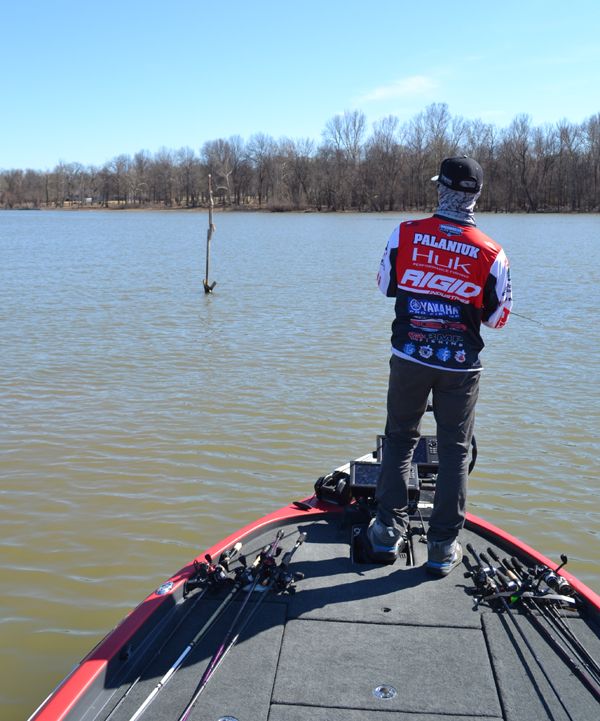 I looked down for 3 seconds and next thing I knew Brandon was beside me in the back of the boat!  His rod was bucked over and he was trying to catch up to this fish that was coming at the boat.  A boat flip later and I think at this exact moment he knew he wouldn't be working the Expo on Sunday.  I knew awhile before that, but am not allowed to share any of that info with him.
Fist pump and a high five and he was fishing again.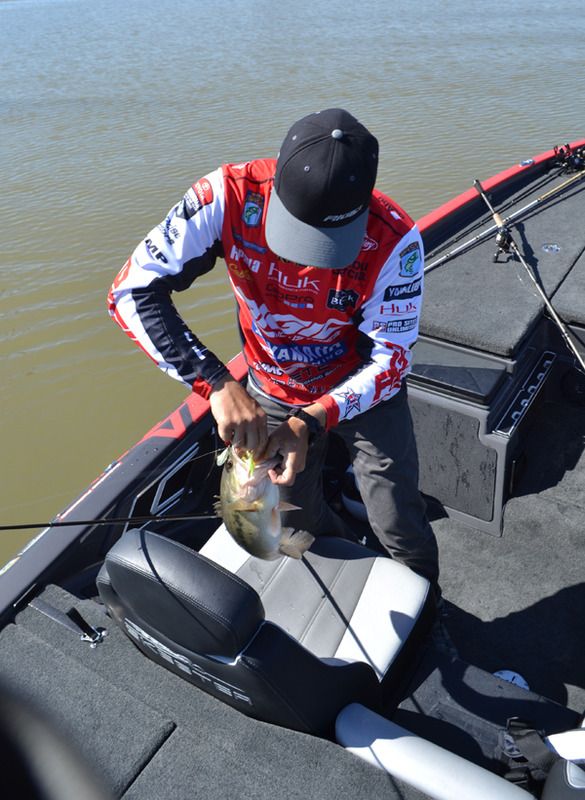 He made one quick last run back to the spot that we last saw Bernie.  He was desperately looking for his 5th keeper.  Once setup he was beside a couple of fellas Crappie fishing.  A few moments later one of them says "Is this one of the ones you were looking for? as he swung what looked like a keeper aboard his boat.  "Ya, if that is 14 inches please don't tell me." Brandon said playfully.
"Ok, I won't lie.  It was 15 inches".  Ouch.  I asked Brandon if he wanted me to pop him in the nose.  "Think you can reach him from here?"  He laughed and kept fishing like nothing even happened.  He picked up 2 more bites in there but both were just short of the minimum 14 inches.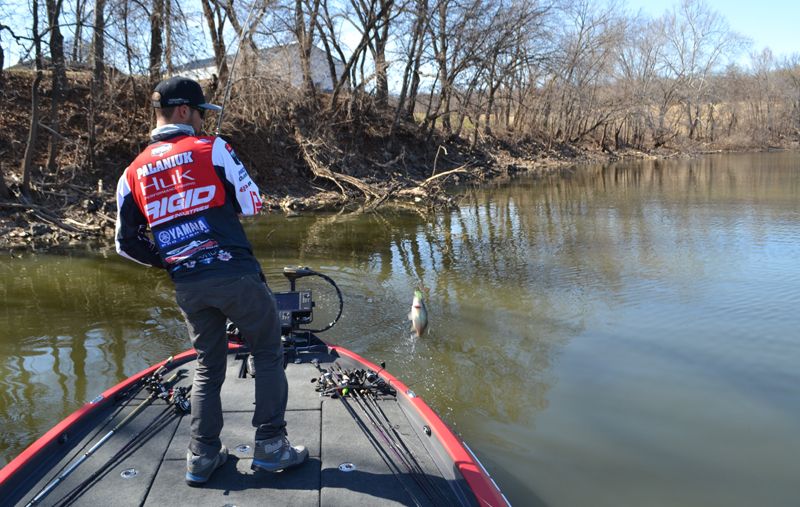 He ended the day with 4 fish, again.  "If this was a 4 fish derby I'd be right at the top!"
We ripped back to the dock to check in, after check in I asked him if I could tell him where he sat on BassTrakk. "Yep."  "You aren't working the Expo buddy, you're going to make the cut".   A pleased angler trailered his boat and headed to Tulsa to weigh em in.
He weighed in 12 lbs 7 oz for the second day in a row, easily making the cut to fish on Sunday.
Much like Casey, Brandon was great in the boat.  We chatted often about the lake, baits, and even Dave Mercer.  We even shared a bit of a moment in the boat that can only be told in person…so ask me next time you see me folks!
How he handled the Bernie deal in the morning tells me what kind of person he is.  Some would have had a total meltdown but he simply knew it could be him doing it to someone else next time.  It's part of the game, a game that he will be playing for a very long time.