I love it when my buddies from SW Ontario come up to visit.  Anyone who gets aboard the Lund gets the royal treatment but for them to get to see all we have up this way is a priority to me.  They are never disappointed!
Chris arrived mid day and we hit the road right away.  Largies were on the docket first!  We had a blast using various techniques to whack a nice 5 fish limit near 20 pounds.  No 5's but just solid 4 plus pound fish.  Double Wide Beavers on Title Shots, Wakebaits and one on a frog did the damage.
I threw a wakebait most of the time with the new Shimano Crucial Crankbait rod.  A Curado spooled with 30 lb Super Slick enabled me to make long bomb casts along the flats.  Paid off big time.
Chris rarely Bass fishes, he's a great lakes trolling machine.  Last trip up I gave him the basics, this time we expanded his repertoire.  His newly found "flippin" skills netted him this chunk….
We drifted over an area with a patch of pads about the size of my boat, it screamed Frog.  Paydirt.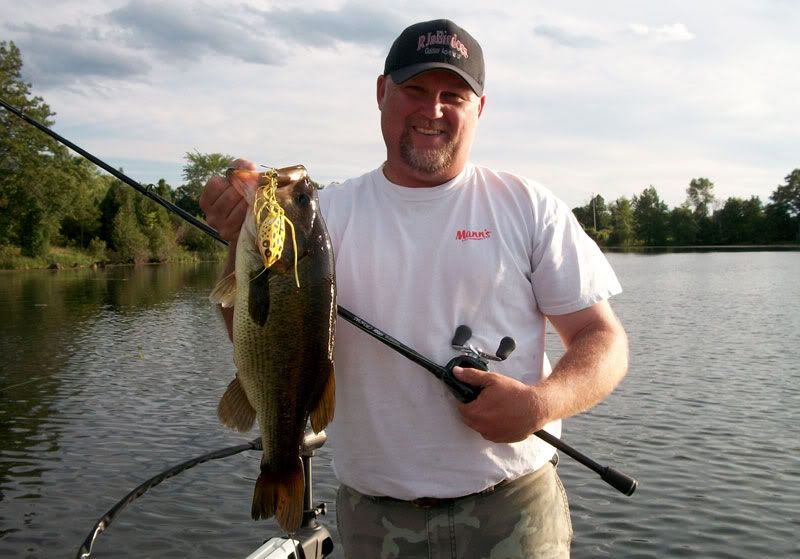 Up next were two on back to back casts on the 5 foot flat with the wakebait.
We fished til dusk, snapped this pic and headed for home…great night of fishin!
The next day we hit two lakes.  Chris started us off with this one one on a wakebait in 3 feet of water.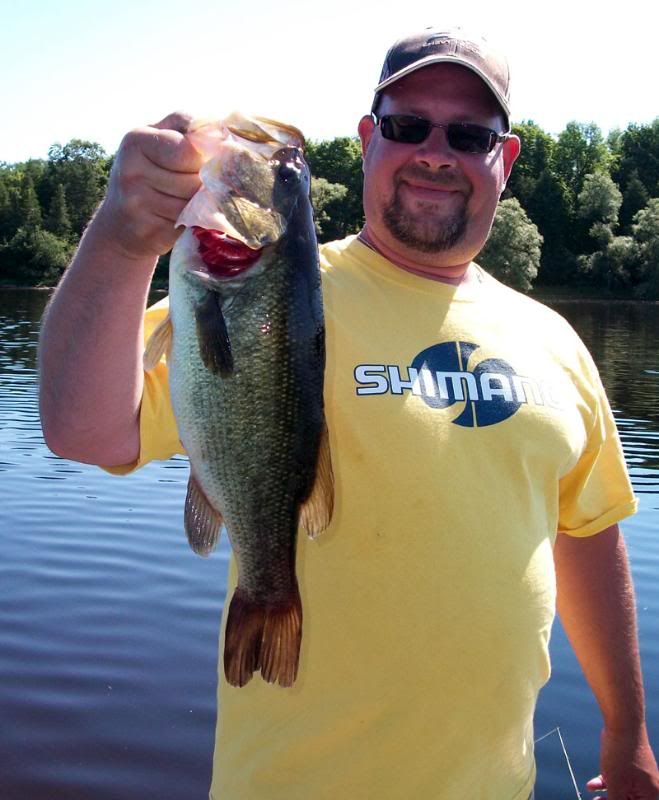 After finishing up a commitment I had to CTV news to celebrate National Fishing Week we grabbed a bite to eat and headed to another locale.
We had planned to fish the Lakers for a bit but they were off that day for some reason, bait was tough to find but I did manage to get a decent one before moving to the "Bassy" water…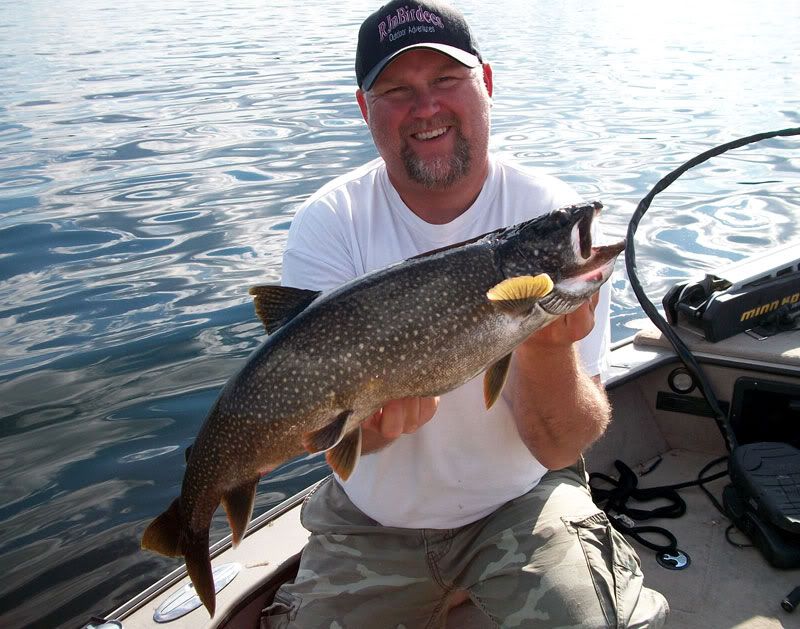 Once on the Bass, I introduced Chris to the ways of the Senko.  After that it was all over!
"I can't believe how stupid these fish are to eat that".
"I know, just like a steelhead, salmon or walleye eats a chunk of metal flipping around in the water."  HA!
The laughs in the boat were endless and the hooksets a plenty.
Earlier that day we bumped into a buddy of ours just by fluke which was awesome.  We quickly hatched plans for him to join us the next day.
On the glass calm waters early we hit weedlines and flats all day.  Hooksets were nearing the 100 range but we just had no luck landing anything of any real size.  Chris again was on his Senko bite.  Smallies on the sand flats couldn't resist.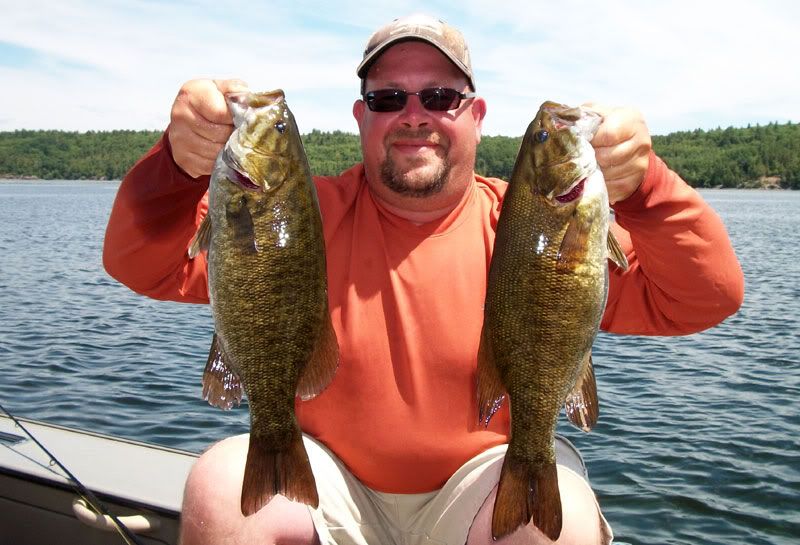 Pat had his trusty Pop-R going for a bit and the Smallies hated it!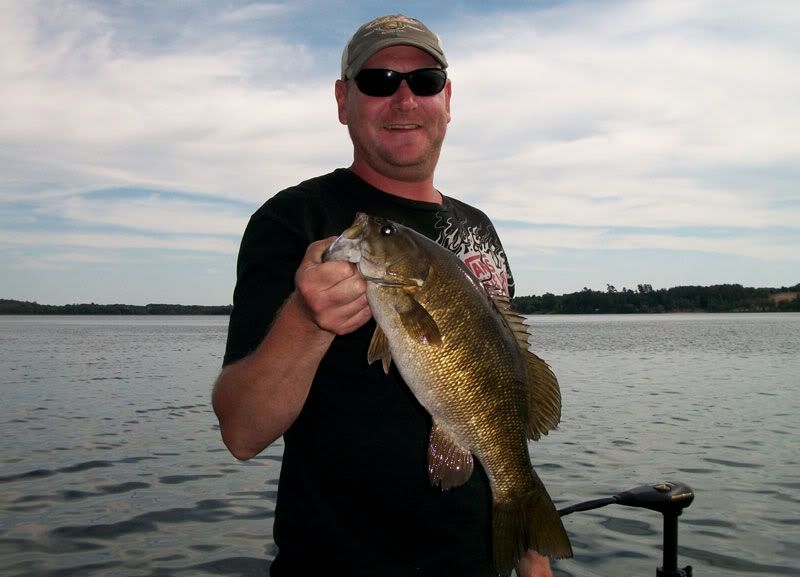 We had kept 3 Largies for a group photo at days end.  Chris decided to rinse his off for some reason…and this is the result! Ha!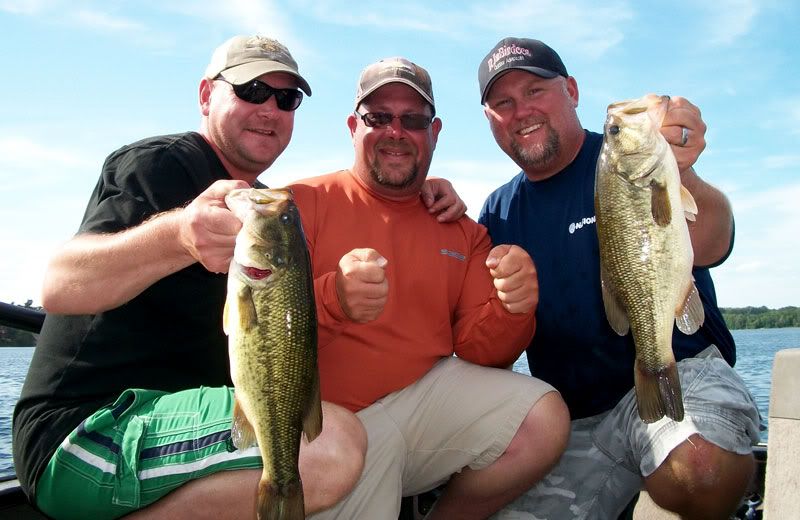 I'm lucky enough to live in one the best areas of the province to fish, getting to share that with people is a real treat.