I had such high hopes to drop the boat into Lake Ontario this weekend but Mother Nature had other ideas.  With winds fore-casted to be topping 35 mph the length of the lake had me scrambling for a Plan B.  Back onto the ice I go!
I met a buddy of mine with plans to hit some late ice Perch.  With my regular ol' reliable fishing buddy who loves to fish Perch on the shelf for the winter I had yet to give them a try this winter.  As with any species be it Muskies to Bluegill I just get pumped up to try and catch the biggest of that species.
When we arrived we noticed the shoreline had become VERY soft.  We had concerns that we couldn't even get on the ice.  We tip-toed out across the soft stuff, once out there we had loads of ice to play on.  Easily two feet of ice still.
We began ice trolling in 15 feet of water, and made our way out across the weedy bottomed flat.  We reached 20 feet and while we were picking Perch up at nearly every hole they just weren't concentrated like we hoped.  With nearly 60 holes punched we made our way back towards our starting point.
By this time we noticed the top 2 or 3 inches of hard-packed ice when we arrived was now slush.  We both knew what that meant at the shoreline.  "Dude, we're goin thru when we go to leave", "Ya I know".
We decided to open up about 15 holes in the original area and work it for the last few hours of our day.  I snuck in a bit shallower with the auger and into 8 and 9 feet of water.  This was the play of the day!
While only a few of the holes would pay off regularly it was the shallow holes that did.  Typical of Perch you'd hit a nice run of fish for about 10 minutes then they'd leave.  Leave it for 5 minutes and come back and they'd come back.
A little while back I had a reader email me about how to pick through the small Perch to get to the big ones.  My suggestion was to upsize his bait, following my own suggestion that's what I did and it paid off.
Another thing I can add to that after today is to not fish the bottom.  The smaller Perch have no issue with hitting a bait when it's near bottom but for the most part only the larger fish would come up to hit a bait that I suspended 3 to 4 feet off bottom.  That is exactly what this true Jumbo did.  Crunch.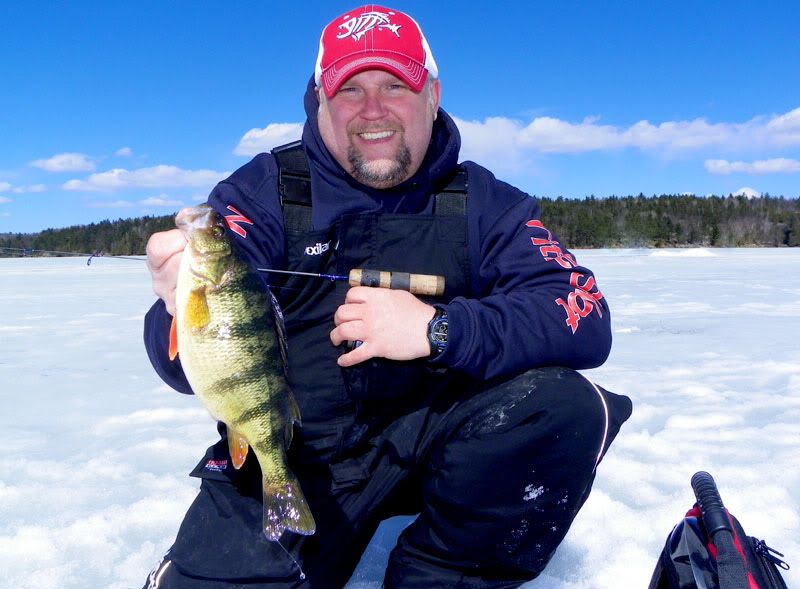 First sunburn of the year!  Yeeha!
For a weekend I thought may have been wasted due to weather, it's turning into a good one!
Oh ya, one of us did get wet getting off the ice.  But it wasn't me!