Mild temps are on us which is shortening safe ice fairly quickly.  With being away next weekend at the Toronto Sportsman Show I have a feeling today may have been the last trip out on the ice for the year.  We decided to do a bit of exploring in search of Whitefish.  Again.  Some guys are just in love with this fish, I've yet to understand it but I play along.  With a small group today we only took one machine, a Quad.
When we arrived we quickly noticed a smell around the trailer.  Not good.  Bearings are toast on the trailer.  How we made it that far I have no idea.  What a start to the day.  We decided to head out and fish and deal with the trailer via cell phone during the day.
We made our way out and punched a pile of holes.  After about 30 minutes a move was needed.  Steve took off on the Quad to do some ice trolling.  Basically he was punching holes and checking depths as he went along.  When he found an area for us to move to he shut the Quad off and drilled a pile more holes.  Watching him in the distance I knew something has gone wrong.  Now the Quad wouldn't start.  Lord.
We decided to walk out to that area and fish and hope the Quad would start at some point.  Well the area produced squat again.  Great!  Steve decided to go get his truck and tow the Quad back to the broken down trailer.  I hopped on for the wild ride back!
Now with the truck on the ice we made a big move.  It wasn't long before this was the scene.
Sadly they were all "brown" fish and not Whitefish.  After awhile we decided to move on as we clearly found the Smallie wintering lair.
Next move had me land a different character, still no Whitefish.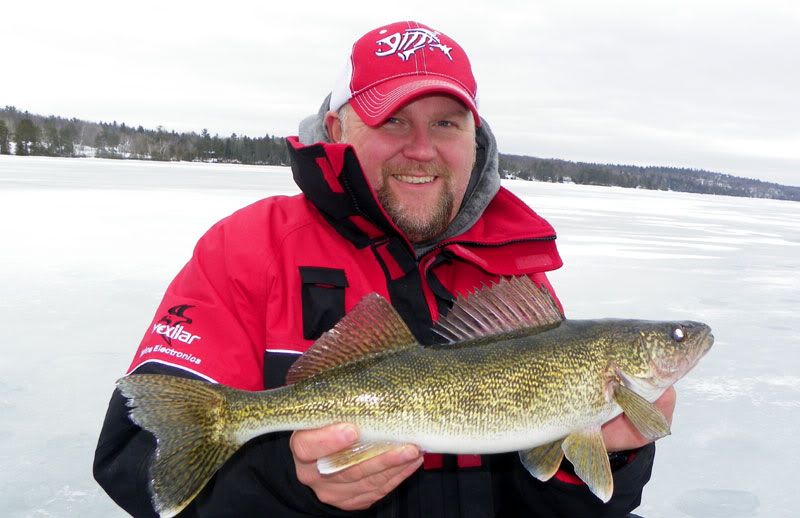 At this point we decided it was time to pull the plug as we still had the trailer to deal with.  We left the ice to find the flatbed tow truck already at the trailer and had it half loaded.  Finally something went right!
Damage report.  She don't look too good!
I sure hope my ice season doesn't end on this note!