The Fall time means one thing to me while chasing Largemouth.  Crankin' Time.  Birdee and I spent the day throwing shallow Cranks with some incredible success.  Not much beats the sudden stop of a Crank after being broadsided by an aggressive Bass.
We mainly worked main lake edges that quickly tapered to 10-12 feet of water but worked the milfoil tops the most.  For setups we both used Shimano Crucial TC4 Crankin rods teamed up with Curados.  10 lb test Fluro for mainline.
For cranks, I've always had an affection for the Mann's 1-Minus.  Great wobble and wild rattle.  I always add a small snap to the business end of my line.  This makes for easy bait swapping on the go as I swap out colours often.  My colour choices are dependent on 2 things: water clarity and fish reaction.
The Pike we just couldn't keep off today, it was wild.  Nothing picture worthy but loads of fun.  Birdee set the hook on what we thought was another Rocket but it went airborne!  Not a giant but when you've been harassed by Pike for awhile the steady pull of a Smallie was welcome.
While working a weed edge my Crank got slammed.  Stayed deep and I first thought this fish was bigger it turned out to be.  Still a nice chunk.
Birdee lit into another with a big hookset.  Steady heavy weight.  Had we included the weeds that came in with it she would have had her Nickel.
Birdee ended the day with a few nice fish for this shot.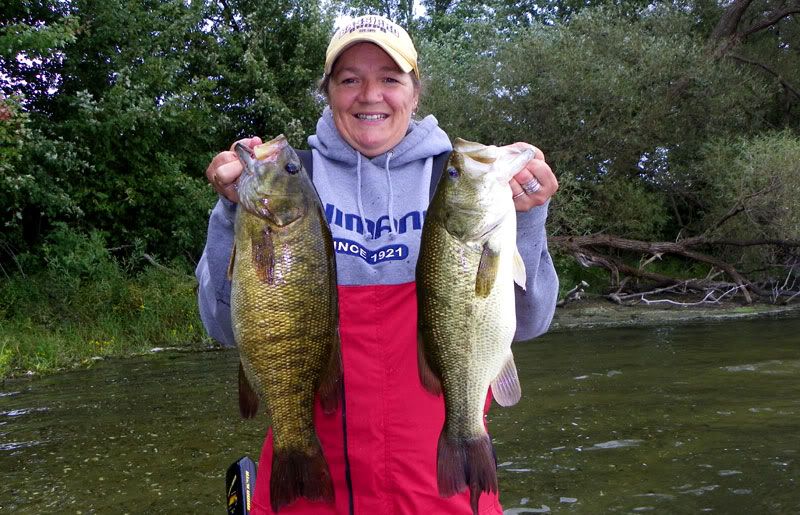 Great day on the water for us.  Back to work for a day, then back at it!