Another season on the Renegade Bass Tournament Trail has begun.  With the tours first stop being on Big Rideau Lake we felt fairly confident on this body of water.  Last years Renegade Classic was on Big Rideau and we put a pile of hours on it to prepare for that event so we decided to spend most of our pre-fish time visiting old waypoints.
I flew solo on Opening Day.  In the pouring rain I hopped around a lot looking at old areas we had fished in the past.  I immediately noticed how little weed growth there had been so far this year.  The deep weedlines that we visited last fall were non-existent or just beginning to show signs of life.  That was fine by us!  We aren't real strong fishing that style.  I plugged away and without weighing any fish that day I ballparked about a 13-14 pound 5 fish limit.  Not great but I didn't fish a whole lot and eliminated water due to lack of weed growth that we had fished before.  A productive day.  I only popped the camera out once while it wasn't raining, which wasn't often!  A typical Big Rideau largie.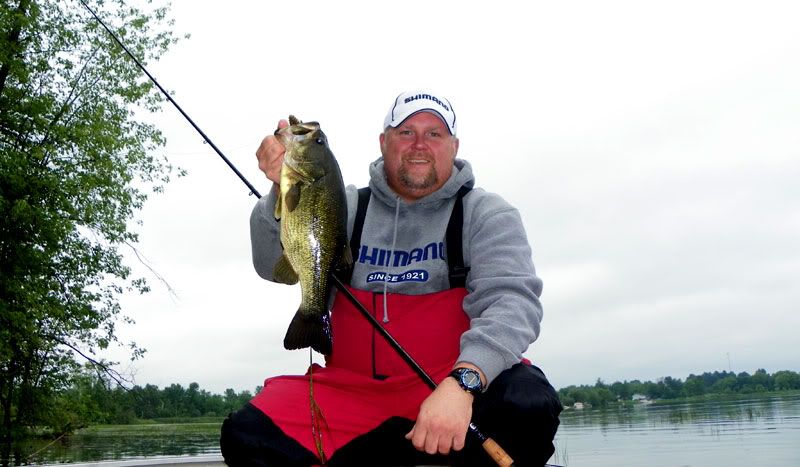 The next day Len and I were joined by our buddy Phil to put in a full day.  Foggy skies greeted us that later turned to sunny skies and we covered a ton of water that day.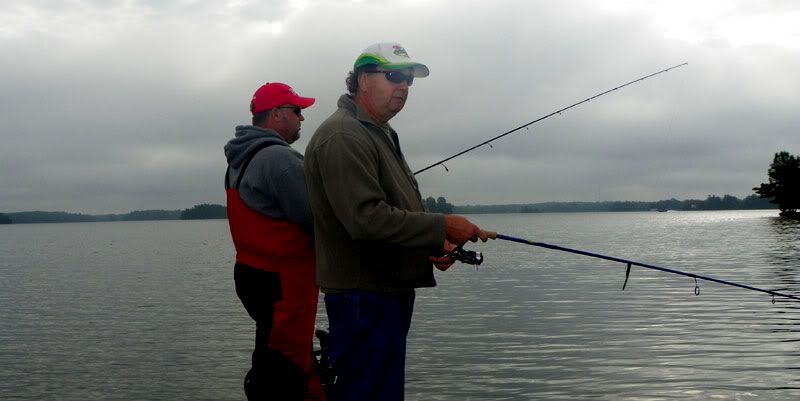 With all three of us working various baits it didn't take long to establish a pattern of type of water we were looking for.  And the fish started to come.  Lots of high 2 pounders and low 3's today.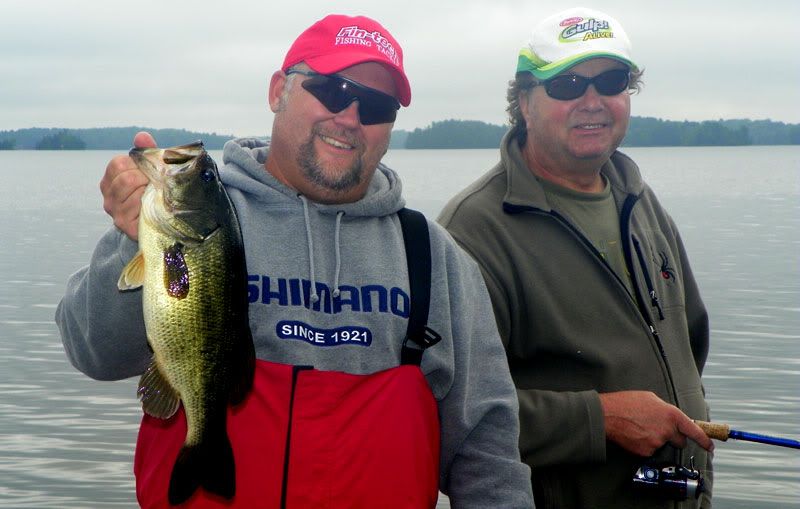 Len hit the highlight fish of the day.  No weight taken but it was a goodun.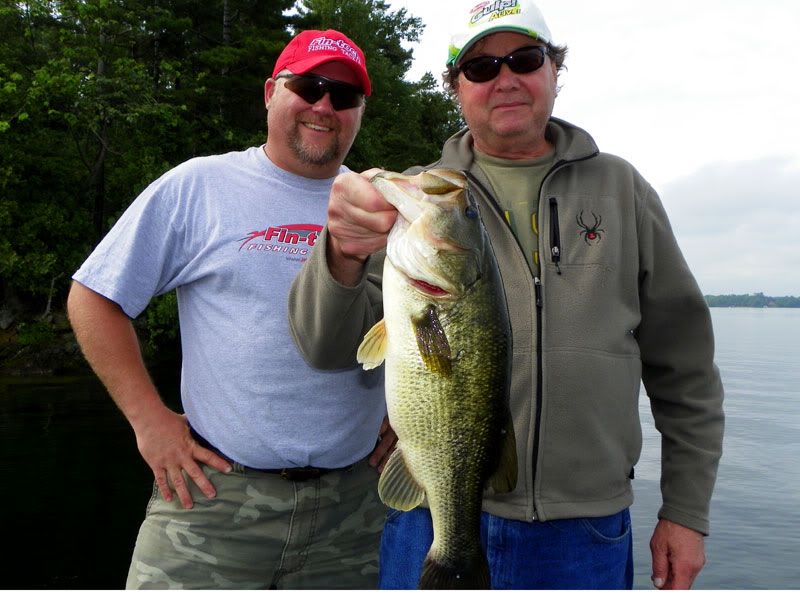 We sat down and wrote down a "spotlist".  We created a milkrun we wanted to visit once we had secured a limit off of two key areas we were going to head to first.  We started doing this last season and it works great.  Nothing worse than sitting waiting to weigh in and you realize that you forgot to fish that one dock or crib you wanted to hit.  In the heat of the day you can lose track of that so the list always works.
At days end we again ballparked our weight to be in the 17 pound plus range.  For the amount of running around we did as well we were very happy to see that.
With it being a long weekend we decided to spend some time with our families leading up the Saturday tournament.  We were satisfied with our two days on the water and confident we had put something together for the tournament.
Gameday!
While pulling into the launch location we noticed how the trees were being battered by strong winds.  This proved to be a real factor in our day.
Heavy winds from the West reaching near 50km's an hour made fishing our "A" spot near impossible.  Our gameplan was to load up a quick limit off of a flat using Tubes and Senko style baits.  The wind made it very difficult to maintain contact with your bait.  After 90 minutes of fighting it we made the call to give up on it.  Perhaps we should have left sooner.
Before we left we went over our "spotlist".  With this wind it wiped out a ton more of them!  If we were fishing deeper water with heavier rigs or dropshotting we would have been able to stay and work it but we were on a fairly shallow bite with lighter rigs.  Scramble time!
We made a long run to an area we knew had some quality fish.  We picked one up first cast on a Senko.  Phew.  We plucked around some down trees and picked up 4 more.  All very small fish though.  Panic was starting to set in a bit at this point, we needed some quality.
We started to fish another flat in the back of a bay where we had some success last weekend.  We took a moment to discuss what the fish had told us so far.  4 of the 5 fish in our limit came tight to shore in wood, docks or boathouses.  So to shore we go!
With the trolling motor on high we power fished every piece of structure we could find and upgraded all those fish but 1.  Our big fish of the day came from under an overhanging tree with 14 feet of water under it.  It is a big fish spot and today her smaller sister was home.
We picked away for the rest of the day and landed 26 largemouth.  We just couldn't get that last quality fish to give us a real good bag.
Weigh in time was 4 so we wound up the Ranger and flew back.  It's always great to see family waiting for us at the dock.
My nephews Emmerson and Ronin hopped in the Ranger to play around.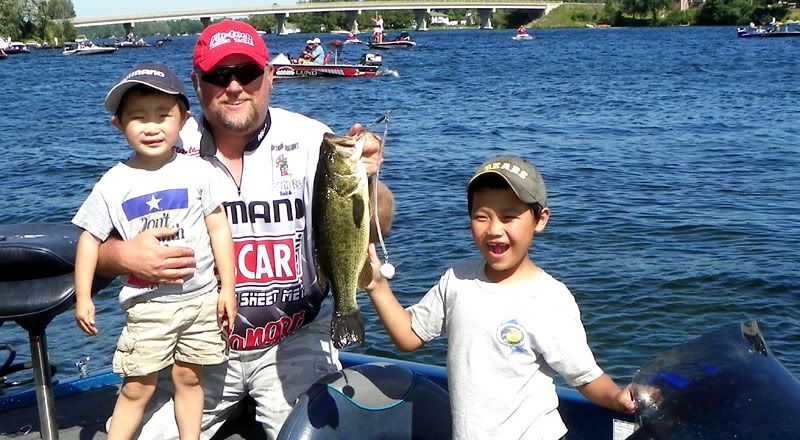 The moment of truth.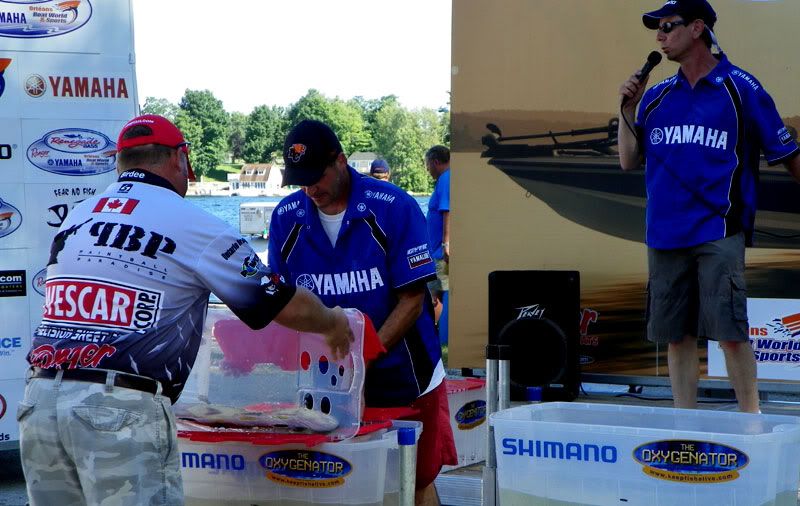 Hopped up to discuss our day with MC Ed Hand.  Of course I had every excuse in the books for him!
We weighed in 13.54 which for Big Rideau is a fairly mediocre bag historically, but not today.
That wind and generally tough fishing had a majority of teams struggling.  At the end of the day we sat in 22nd place of 68 teams.
That placing won't hurt us in the run to the Classic though we wanted so much more.
We were still able to crack a smile at days end.
Looking back on the day I think we did alright to scramble and adjust on the fly as to what the fish were telling us.  In the future we must consider to find areas that will give us the option to move if the conditions don't allow us to rely on one area.
Fin-Tech Title Shot jigs loaded up with Reaction Innovations Sweet Beavers and NetBait Paca Craws did all the damage.
The winning weight was 18.13 by Lenny Devos and Jeff Desloges, second was our buddy Charles Sim and his partner Nigel Touhey, third was another buddy of ours Steve Barnett and his partner Jack Levert.  Man the poker game this week will have some chatter I bet!
Next up is Newboro Lake on July 17th.  Let the pre-fishing begin!