Ever wanted to take up Ice Fishing?  Well the Bible of Ice Fishing has arrived.  Don't believe me?  Maybe these testimonials from these leaders in the fishing industry will confirm it for you.
"Ice Fishing – The Ultimate Guide is a great book for anglers of all skill levels. The content is easy to understand and will teach you things you never knew to catch more fish on the ice. The photos? This book has the finest array of photos – to deliver the fun of ice fishing and teach anglers – that I have ever seen. This book will not disappoint!" Jeff Gustafson, professional angler and ice fishing guide.
"Whether you are an ice fishing novice or pro, there is something in this book for you," says Bob Izumi, host of The Real Fishing Show.
"This book is a great tool for the modern ice angler,"
says Brian "Bro" Brosdahl. ice fishing pioneer and iconic northwoods guide.
"The most comprehensive look at the world of modern ice fishing there is. From a broad range of gear to refined techniques, this book will interest anyone who lives where the water gets hard." Dave Bennett of Wild Access Outfitting.
"Tim's an expert at catching anything that swims.  This guide also features the input of more than 20 veteran ice anglers.  Loaded with information, photos, and illustrations on tackle, tactics, fishing locations, along with safety tips and modern clothing options to keep warm, it's a must-have for beginners and old pros." John Kerr, Editor-in-Chief Ontario OUT OF DOORS Magazine.
You can check out screenshots at this http://www.helipress.com/media/pdf/Ice%20Fishing%20Book-websample.pdf.
You can purchase the book by clicking this http://www.helipress.com/product/ice-fishing-138.cfm.
It is also available at national book chains like Amazon, Chapters, Barnes & Noble; and specialty outdoor stores like Bennetts, Paddletales, Bits and Baits in the Ottawa area.
Now I am a bit biased when it comes to Tim's work, as Tim is one of my closest friends.  On a personal level it was a real treat for me to lend a hand whenever Tim needed me, be it with photos, ice fishing adventures or contribute pieces of content to the book.
The dedication, time and effort Tim put into this project absolutely blew me away but once I had the finished product in my hand it all made sense.  This book kicks ass!  I picked up a copy for my Dad  when it first hit the shelves, it hasn't left his coffee table.
While the content is second to none with input from the greatest ice anglers on the planet today the photography is what really sets this book apart.  It is more than worthy to sit on anyone's coffee table.  Even if you don't ice fish the photography is simply outstanding and of interest to anyone.
I've been lucky enough to have countless outings with Tim on ice and during open water season.  Fishing with him is always a blast. Our fishing styles mesh well together but he's also one of the funnest guys to spend time on the water with and has a wicked sense of humour.  Our trip to Georgian Bay this fall was one of my 2010 highlights without a doubt.
One of the many  perks to having Tim around is you know his camera is never far from his reach.  While I try to do my best with my photos for our site, Tim's just make me realize how much more I have to learn.
Here are some of the photos Tim has snapped for me over the years.  Awesome stuff.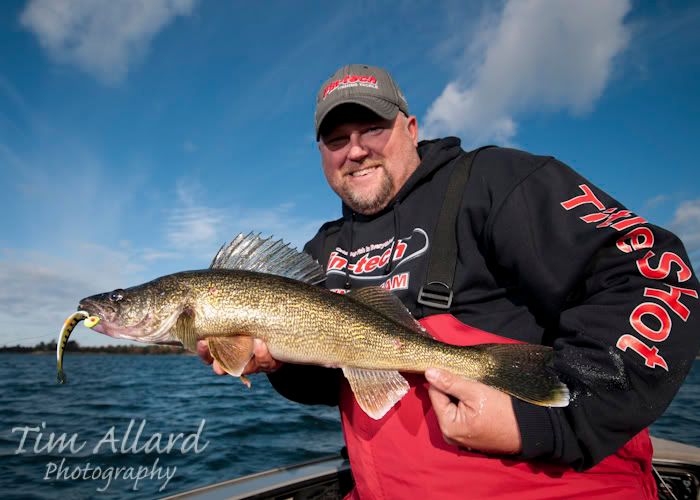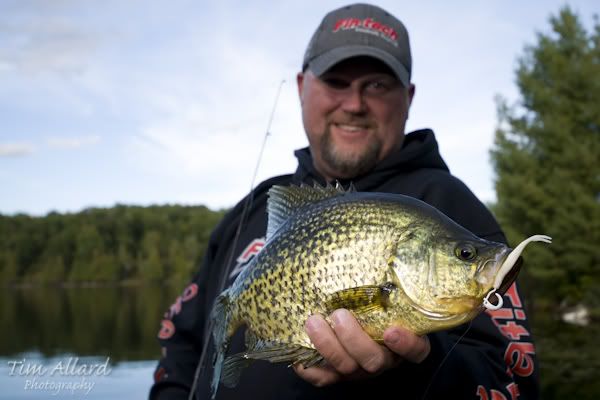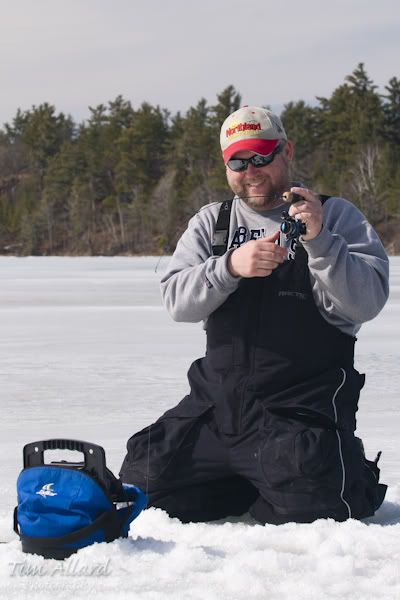 Birdee and I are real proud of ya dude.  It's been great to see your book be so well received by the angling public, and well it should!  It's a winner.